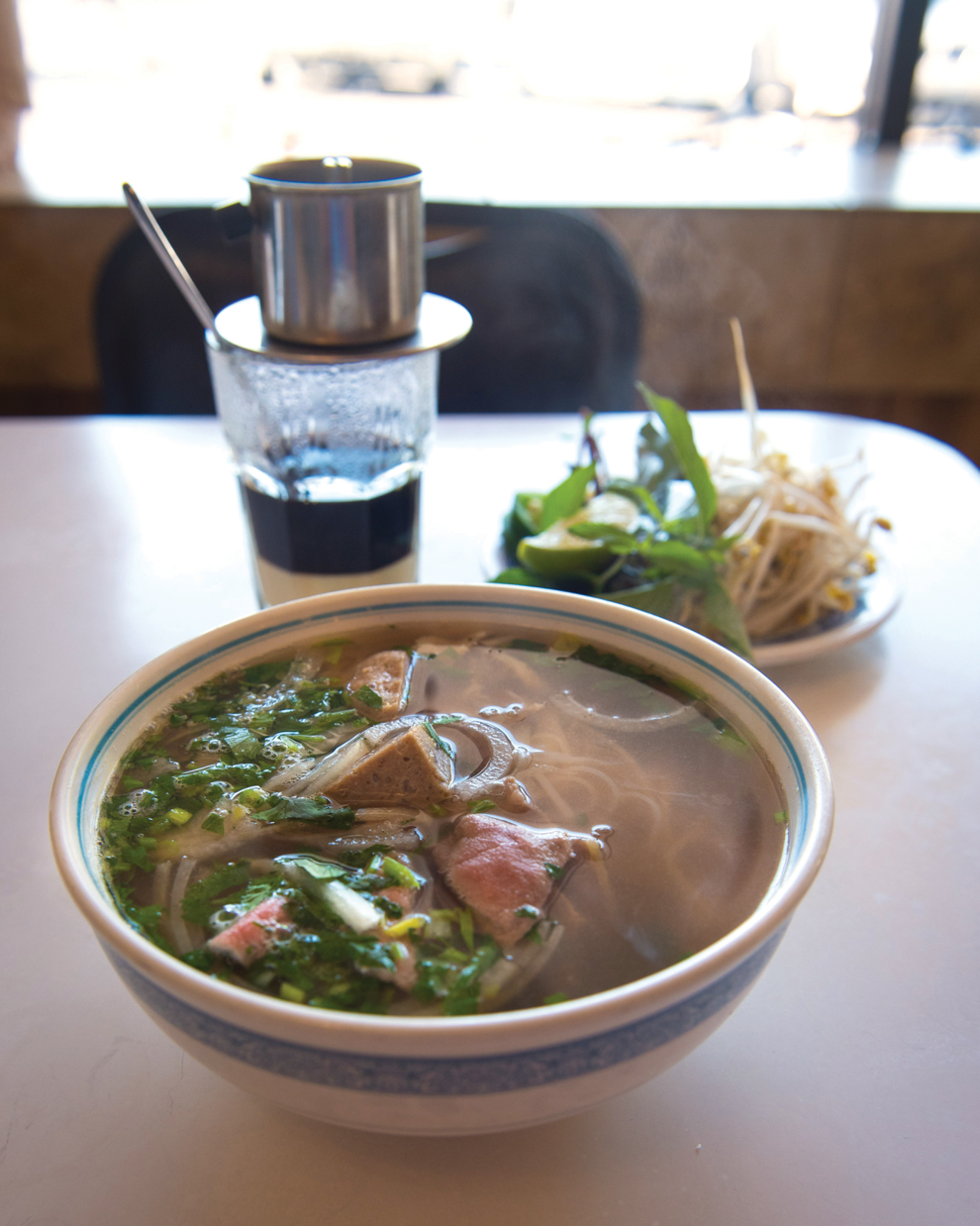 Nothing beats a hot, herby bowl of noodle soup on a chilly fall afternoon. As the temperature starts to descend, grab a bowl of beef pho and a hot French coffee with condensed milk at beloved hole-in-the-wall Kien Giang, a Vietnamese restaurant on Charlotte Pike. The pho is plentiful and filled with soft, chewy rice noodles and flavorful beef broth with an earthy smell, sprinkled with cilantro, green onions and sliced onions. The bowl comes with a plate of traditional items to embellish the soup: fresh basil, bean sprouts, sliced jalapeños and a wedge of lime. The broth is well-seasoned and savory, but I like to add a bit of Sriracha and hot pepper oil for a nice kick. There's a variety of protein options, including vegetarian, seafood and chicken — but the original beef beats them all. I got a medium bowl for $6.95: It's enough to get you good and full, and you might even have leftovers to take home.
I paired the beef pho with hot French coffee and condensed milk. It's a staple when you go to Kien Giang — rich, sweet coffee made by dripping coffee from a metal filter into a cup of condensed milk. Imagine having a Werther's Original hard candy in liquid form. If you're not much of a sweet-coffee drinker, ask for a half portion of the condensed milk. (A hack for iced-coffee lovers: Once the coffee finishes dripping, pour some ice water into the filter to cool it down and drop some ice cubes into the coffee. Voila.)
Be sure to bring cash — cards aren't accepted at Kien Giang. Every bite of soup reminds me of my dad's homemade pho, and immediately I feel at home. It might be my new favorite, but please don't tell my dad.