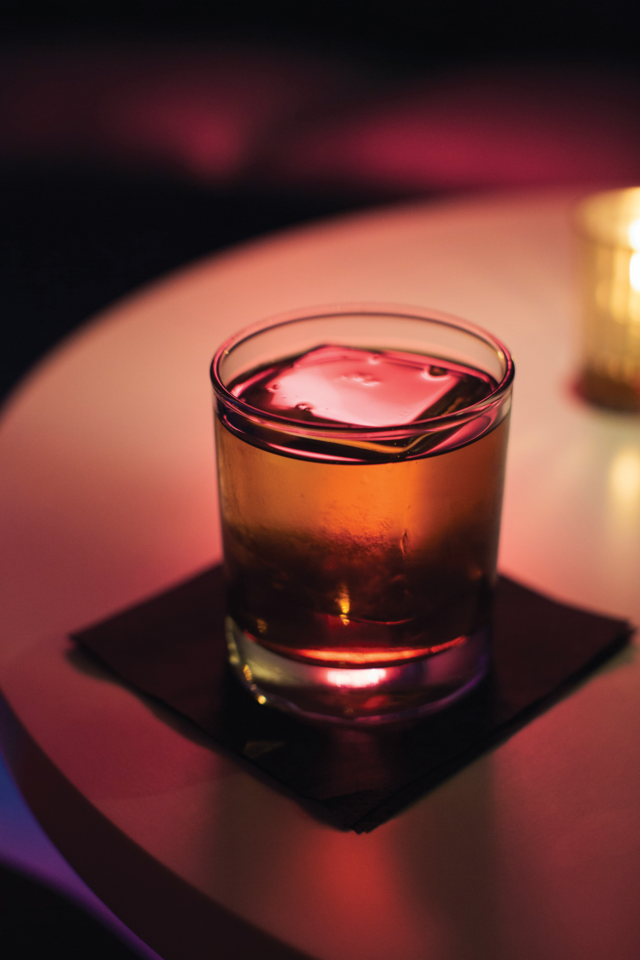 With its semicircular booths, low, warm lighting and modern-minimalist design, Rambler Cocktail Bar feels like something out of a Nicolas Winding Refn film — you know, the guy who did Drive and The Neon Demon. That is to say, it's sleek and hip, but not obnoxiously so, bathed in the glow of its interspersed neon lights.
Rambler, which is operated by Austin Ray's A.Ray Hospitality group and opened just a few weeks ago, is tucked away beneath A.Ray's Sutler Saloon, "down the stairs and past the big guy on your right," as one bartender put it. Once you find the spot, you'll probably find it pleasant. With a tightly curated drink menu programmed by Freddy Schwenk, Rambler's craft-cocktail options are lean but diverse. The Silk Road is great if you've got a sweet tooth, and the Pleasure Island is ideal for daiquiri-heads. But I'm a brown-water guy, so that means the Haymaker is the one for me — Old Forester 86 bourbon, amaro, banana and cacao. Chilled with one big ice cube (an OBC, as I like to call them), it's one of those disarmingly simple but potent cocktails that doesn't overstay its welcome. It's warm but also light, a fantastic drink for sipping over conversation.
At $13, the Haymaker isn't the cheapest cocktail you'll find in the Melrose neighborhood. But it is one of the tastiest, and you can get it for just $8 during WeDrink Wednesdays (5-10 p.m.). The bar also has a pretty enticing snack menu, and I recommend the Parmesan tater tots — because what pairs better with a classy cocktail than some cheesy tots?