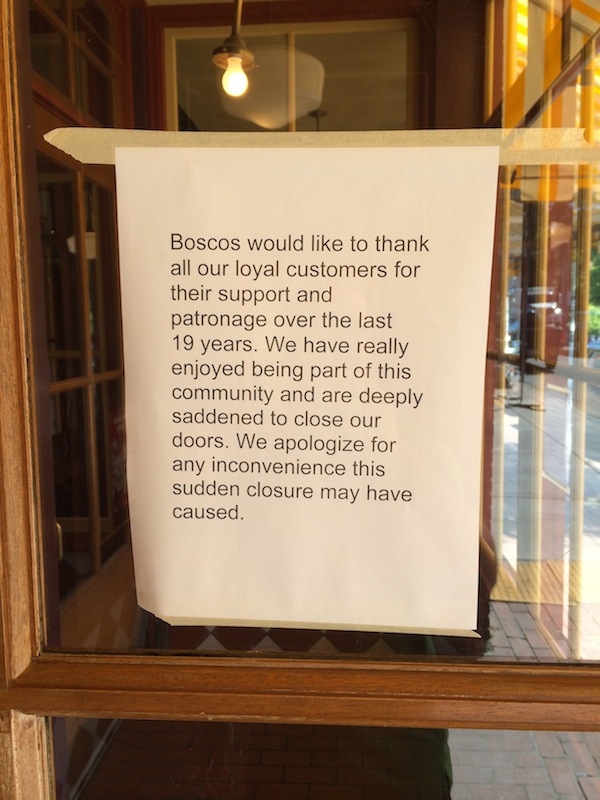 With a terse note to customers, Boscos in Hillsboro Village announced that it was closing by email.
Boscos Restaurant & Brewing Co. has closed its location in Nashville, Tennessee. We appreciate your years of support and invite you to visit us whenever you're in Memphis, TN or Little Rock, AR. If you are a 2014 Mug Club Member, you will be able to pick up your Mug on Monday, September 22, or Tuesday, September 23, from 9am until 5pm. We apologize for the inconvenience and sincerely appreciate your loyalty.
Sunday was Boscos' final day of operation. Reached at the company's Memphis headquarters, longtime president Jeremy Feinstone said a variety of factors went into the closure.
"It was a long time coming. We did everything we could to do it. We were under financial pressure," Feinstone said. "We had a situation out in Franklin that wasn't so good. It never materialized into the kind of sales we had in Nashville. It was one thing after another."
After the recession, sales at the Nashville store never recovered. When asked if their lease was up, Feinstone said that the brewpup originally had a 15-year lease followed by a short extension that "we have satisfied."
"I'd say that it seemed to have maybe run its course," he said. "I can't put an exact thing on it. I don't think the construction next to us helped very much."
The craft beer climate has changed dramatically in Nashville since Boscos opened at the end of 1994 as one of the city's first brewpubs. Boscos opened its first brewpub in the Memphis suburb of Germantown in 1992.
But with the growth of craft beer in the U.S. and the explosion of craft breweries in Nashville over the past decade, Boscos has recently faced a market where good craft beer is available almost everywhere locally.
"It's been an absolute hoot there," Feinstone said of the company's time in Nashville. "For our well-being, it was time for us to close up. We were glad that we were instrumental in bringing craft beer to Nashville. Tennessee is catching up with the rest of the world, as far as beer goes. And that's a good thing."
Boscos hefeweizen was very well-regarded, winning medals at both the Great American Beer Festival and the World Beer Cup.
Feinstone said the company will focus its efforts into its Memphis brewery Ghost River Brewing, which is in the middle of an expansion that will take production from 6,000 barrels a year to around 13,000. For perspective, Yazoo Brewing produced around 27,000 barrels last year. And like most of Nashville's brewers, Ghost River is having a hard time keeping up with demand.
"We don't sell any beer in Nashville because we don't have enough beer," he said. "We're trying to build the pipeline and hopefully we'll be back up there sometime," he said, but as Ghost River, not as Boscos. Those beers are gone locally "unless we decide to build another store."