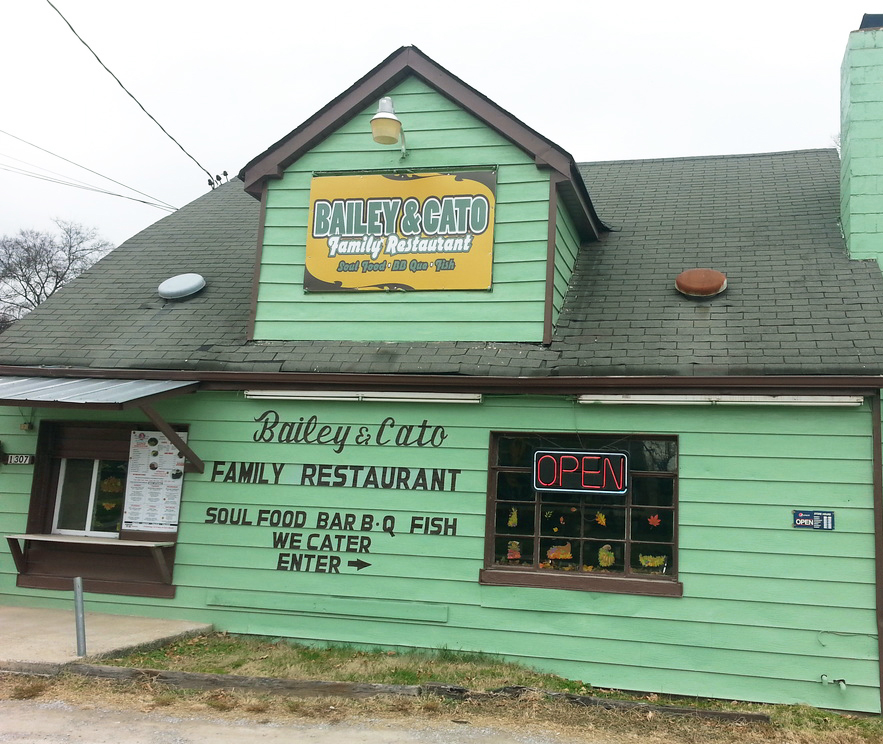 Sadly, the reports are true. Riverside Village is losing a longtime favorite eatery. The soul food meat-and-three that has anchored the intersection of Riverside Drive and McGavock Pike since 2000 is closing. Bailey & Cato Family Restaurant co-owner Derick Bailey says his parents, Linda and Robert, sold the property and are ready to retire. (A search of the Davidson County Property Assessor database indicates the 0.22-acre property, which has been part of a discussion of a larger neighborhood development for some time, was sold in June 2016.) The restaurant's last day in the current location — an unassuming converted house on McGavock Pike — is Oct. 30.
Over the years the house has changed colors — pink, green and beige. Bailey & Cato was a draw before Riverside Village had coffee shops and a record shop hosting an Americana Fest party this week. The rear gravel parking lot became a lot more crowded when Mitchell Deli moved in across the street. (Do not panic, sandwich lovers: Mitchell will continue to have overflow parking in the lot for the time being.) But the tempting smells of old-school home cooking have transcended all these neighborhood transitions.
The Bailey family opened their restaurant because they love to cook, and Nashvillians loved their cooking. "We had a reputation," Bailey says. "We would make these three-day feasts as part of our family reunions, we have a really big family, and everyone would come."
And come they did. In a town with no shortage of Southern cookin' spots (particularly 16 years ago) people still traveled across town for ribs, catfish and on Tuesdays, the wildly popular baked neck bones. Writer John T. Edge named their fried cornbread one of his best eats of 2012. Most meals are still a mere $6.50 for a meat and two veggies. Kids' plates are $4.50.
Bailey, now 40, with his siblings, hopes to reopen the beloved restaurant at another location in the next four to five months, but has yet to find the right spot due to ... you know what's coming ... high real estate prices. Bailey is looking to buy an East Side location, having grown up in Inglewood and graduated from Inglewood schools. East Nashville and suburban Madison, which is relatively close to its current locale, are possibilities. But, he says, "The places I've seen so far are too expensive or there isn't enough parking."
The good news is that you have plenty of notice so that you can grab a meal before these doors close. Bailey & Cato is open six days a week (11 a.m.-10 p.m. Tuesday and Wednesday, 11 a.m.- 11 p.m. Thursday through Saturday, and noon to 10 p.m. Sunday). Dishes change daily, and Bailey can't name a single favorite. "I'm an eater. I love to eat. Everything is good to me."