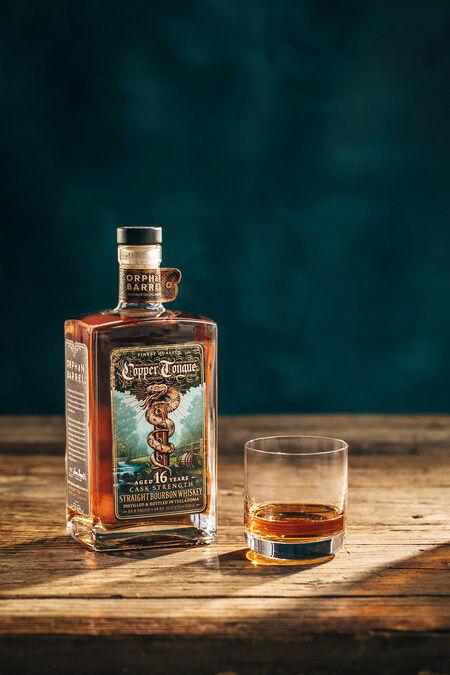 While the corporate nomenclature of George Dickel can be a bit confusing sometimes, there are advantages to being part of a big company. The distillery that produces Dickel in Tullahoma is named Cascade Hollow Distilling, an umbrella corp that encompasses all products made therein — but the whole shebang is owned by global spirits group Diageo. An ongoing initiative of Diageo's is what they call their Orphan Barrel Whiskey Project — limited releases of bottlings of older barrels from various Diageo holdings that have been discovered in rickhouse and that are usually too unique in their aged flavors to be included in normal everyday blending batches. The Tullahoma facility handles all the bottling and distribution for Orphan Barrel products, so it's quite appropriate that the latest release was actually distilled in the same location.
Copper Tongue Cask Strength Straight Bourbon Whiskey is another discovery by Dickel distiller Nicole Austin. It's a 16-year-old product that has been aging in one of her warehouses since she was still too young to drink it. The name of the whiskey comes from its distinct color in the glass, since all those years of leeching oak from the barrel have rendered it the shade of a penny. The time in repose hasn't muted all of the grain aromas, surprisingly, and vanilla and caramel still haven't given way to the smell of sawdust. A distinct nuttiness along with complex floral flavors and esters are also apparent in this boy-dog of a whiskey, and evaporation over time has lowered the cask strength to a palatable 90-ish proof.
I've tasted a lot of old whiskey from the Dickel distillery, from 13 to 17 years old, and I can now identify them from memory. The overwhelming and unique taste profile that I get from these aged products is cedar, like the smell of a dog crate filled with fresh shavings before the dog crawls in to mess it all up. While it's not as sweet or smooth as the usual vanilla extracted from young oak, it is unique and enjoyable. At $100 for a 750-milliliter bottle in limited release, this should be sought-after by collectors, especially fans of some of Dickel's previous venerable releases. Tennessee is one of the lucky states to get access to this rare whiskey, so look for it at your favorite spirits store before it dries up.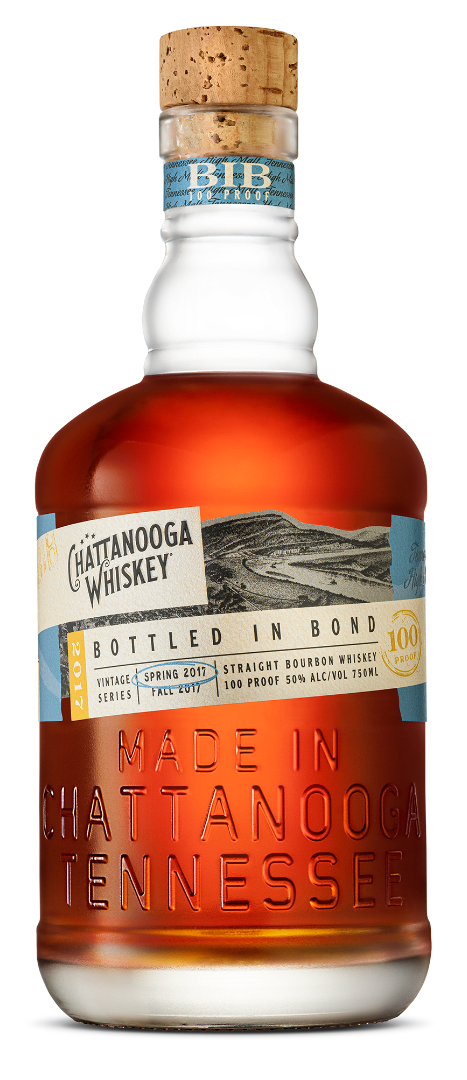 Copper Tongue was already ten years old when Chattanooga Whiskey Co. produced their first barrels in their experimental distillery back in 2015. I've always loved their adventurousness as they experimented with different mash bills and techniques on the way to developing their recipe for their flagship products, Chattooga Whiskey 91 and Cask 111. Their emphasis along the way was and remains the creation of a whole new category of whiskey that they call Tennessee High Malt style.
Even now that they are producing much larger runs of their staple products at their production facility, Chattanooga Whiskey continues to innovate with their smaller still. Their latest product is Chattanooga Whiskey Bottled in Bond Vintage Series. The rules of BiB dictate that the whiskey must be made in a single location during a specific six-month distilling season and then bottled at 100 proof after aging for at least four years. The idea behind the regulations is to ensure the provenance of the whiskey, stretching back to the days when unscrupulous rectifiers would just put any old whiskey into bottles and call it whatever they wanted.
Chattanooga Whiskey Co. never makes it easy on themselves, and they've stretched the boundaries again on this new product. Instead of just pulling barrels from one season and dumping them all together, they have created a whole new product using four different recipes that were distilled in spring 2017. Each was made with a different recipe comprised of at least 25 percent specialty malted grains. For example, the Batch 001 was made using corn, rye malt, caramel rye malt and honey malt, each of which contributed unique notes to the flavor. Batch 004 was described as "scotch meets bourbon" with the addition of peated barley malt to a more traditional American whiskey recipe. Batch 005 was one of my favorites, if I recall. The addition of an ingredient I'd never heard of before, oak-smoked wheat malt, added a completely novel soft smokiness to the whiskey. I'm not familiar with the fourth component to the blend, a specialty SB055 batch that supposedly adds chocolate and brown sugar attributes to the mix, but I'm sure it was delicious.
Put them all together, and you get the Spring 2017 Bottled in Bond Vintage, a remarkable whiskey that hits me right in the sweet spot with the overarching subtle maltiness that I've come to love, along with hints of honey, spice and dark chocolate. While the BiB product will be a permanent part of Chattanooga Whiskey's product line going forward, it will still be an ephemeral, mutating offering. Since the components are all limited releases, some will remain in the next fall 2017 edition, but others will drop out of the blend to be replaced by later distillings. So future releases will truly be a snapshot of where the distillers were in their growth process at that time in history and showcase what their current obsessions were then. It's as if Taylor Swift was continually releasing albums that she actually wrote and recorded years ago for your current listening pleasure. Oh wait, that's exactly what's she's doing …
So maybe fire up Spotify and stream Fearless while you sip on a snifter of Chattanooga Whiskey's Bottled in Bond Vintage Series. I can think of a whole lot worse ways to spend an evening!