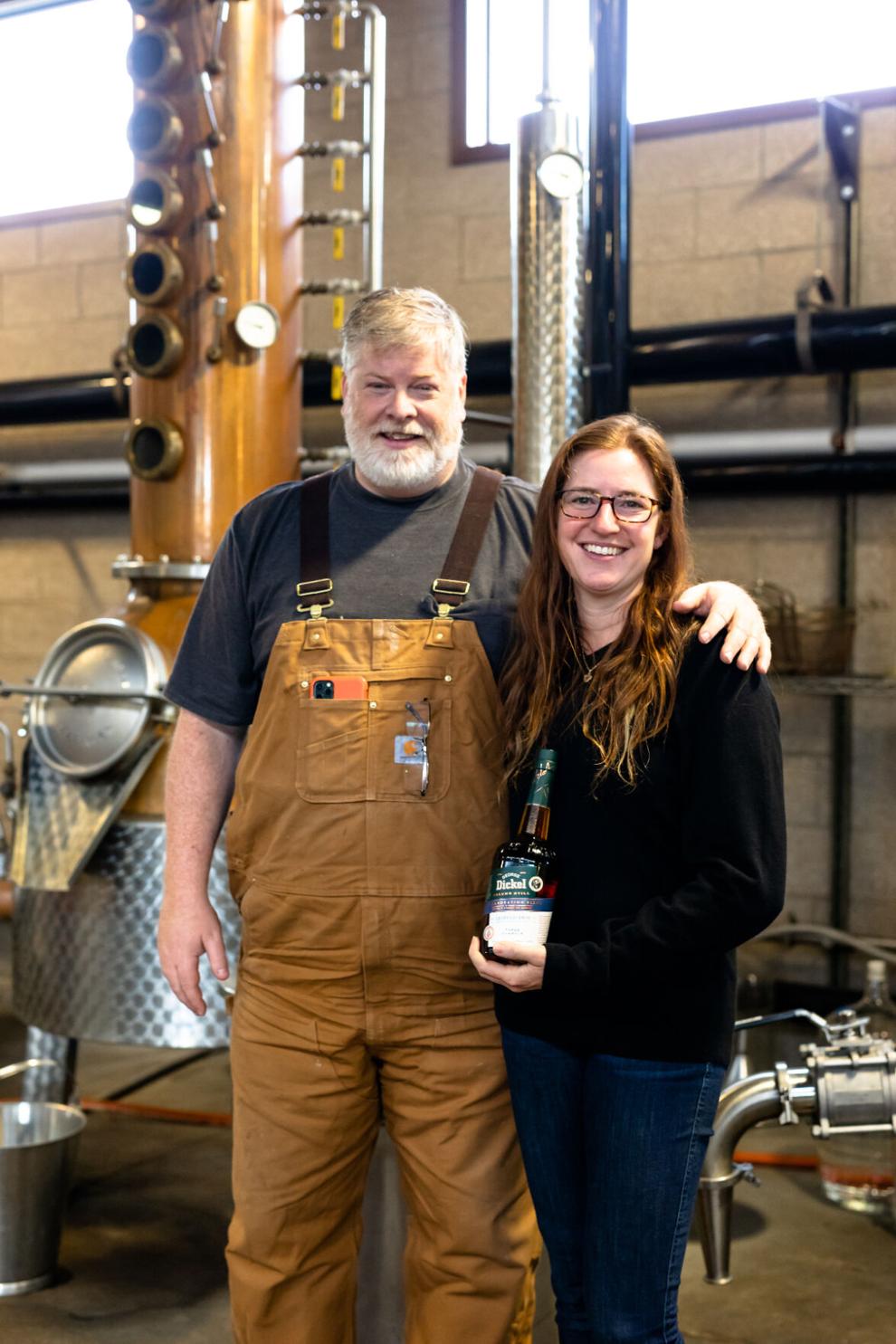 While we continue to wait with bated breath for talented Cascade Hollow distiller Nicole Austin's first George Dickel distillations to mature, she continues to keep busy at the Tullahoma facility. She has sought out collaborations, discovered new stores of old whiskey in her company's aging warehouses and even provided the base spirit for a new ready-to-drink (RTD) product from Social Hour Cocktails.
My FedEx delivery person continues to believe that I'm the world's laziest alcoholic as I have to sign for samples of these products from Dickel and other distilleries. But they don't realize how small the bottles are in those big padded boxes, and I feel no need to disabuse them of the notion. I can say that all three of the latest Cascade Hollow offerings have delivered in terms of creativity and flavor.
The first new project is a collaboration between George Dickel and Denver-based Leopold Bros. Distillery on a truly novel product that is plugged into both the past and the future of distilling. I was lucky enough to visit Leopold Bros. on a trip to discover the new George Dickel x Leopold Bros Collaboration Blend. I traveled with a few other spirits writers and Austin in a van out to the distillery on the outskirts of East Denver in a very industrial area. Austin explained why it was so remote and relatively uninhabited, saying, "You don't want to put the 'blowy-uppy' distillery next to all the people, so they tend to be in the not-so-nice parts of town!" Duly noted.
I knew I would like Leopold head distiller Todd Leopold as soon as we piled out of the van and were confronted with the skunky aroma of a nearby legal marijuana-growing operation. When I asked him about it, Leopold responded: "Yeah, we're a distillery right between a weed farm and a Mexican spice company. When the wind is blowing just right, it smells like the craziest party ever!"
Leopold is best known for its unique three-chamber still based on the design of early-20th-century stills that were used to create rye whiskey in the unique Pennsylvania and Maryland styles. This particular still allows the heritage Abruzzo rye to cook under different pressures as it moves from chamber to chamber, extracting more of the oils and flavors out of the grain than a more modern high-speed still can accomplish. Because of the slower process, premium ingredients and smaller batches, Leopold's Three Chamber Rye retails for about $300 a bottle, but it really is a remarkable product.
Leopold sent samples to Austin to see what she thought of it, and the first thing she thought was that she had to find a way to do something with Leopold's rye and her stores of experimental rye that had been manufactured a few years back at the Tullahoma facility. For years, George Dickel rye has been made by the massive MGP Distillery in Indiana, just like the majority of most commercially available ryes that have a mash bill of 95 percent rye and 5 percent barley. Before Austin arrive at Cascade Hollow, the company had experimented with manufacturing their own product to see if they could replicate the rye in-house. As is often the case, it was hard to duplicate the scale and experience of MGP, so the project was abandoned.
It's not like it was bad whiskey, though, just different. When Austin discovered those barrels, she and Leopold collaborated on a blend of their two products that has been bottled at 100 proof as George Dickel x Leopold Bros Collaboration Blend. Tennessee is one of the select states that has received inventory of the rare whiskey, and if you can find some on your local liquor store shelf, it really is a remarkable spirit.
It's pricey at $110 per bottle, but that's still a lot cheaper than the Leopold rye by itself. The Colorado whiskey definitely contributes luscious chocolate and pepper notes, plus a mouthfeel that coats the palate. Cascade Hollow brings more traditional rye notes of baking spices and dark fruits to the party, and together they have created a really interesting whiskey.
Cascade Hollow's next new release is also a rye, but one that has been through a very different lifespan. The third edition of Austin's special Cascade Moon series is a 13-year-old rye whiskey, only available in Tennessee, Texas and California. If you do the calendar math, it's clear that this whiskey was distilled at MGP in Indiana, but instead of aging and bottling taking palace in the Hoosier State, someone decided that a small number of barrels should come to Tullahoma to age in the Dickel warehouses.
Instead of aging in MGP's giant rickhouses with the dramatic differences in conditions and temperatures from level to level, these select barrels spent their first few years in Indiana and then a decade aging in Dickel's single-story aging houses. This allowed for a much gentler aging process, more like scotch than bourbon. Combined with a pass through the Lincoln County process of mellowing through maple charcoal, Cascade Moon No. 3 retains a lot more of the rye flavors than most older ryes would, without allowing the wood notes from so many years in oak to dominate. Finding a rye that has allowed its flavors to develop for so long without turning into a spirit that would give your nose splinters when sniffing it is exceedingly rare.
So when Austin discovered this lot and how it had aged, she knew she wanted to release it on its own. Bottled at 100 proof and packaged in Cascade Moon's distinctive tall, rectangular bottle, the clear glass demonstrates the lovely copper color imparted by the wood. At an MSRP of $299, this probably won't be your everyday sipper. But for a really special holiday gift to someone (or yourself!), this one is worth seeking out.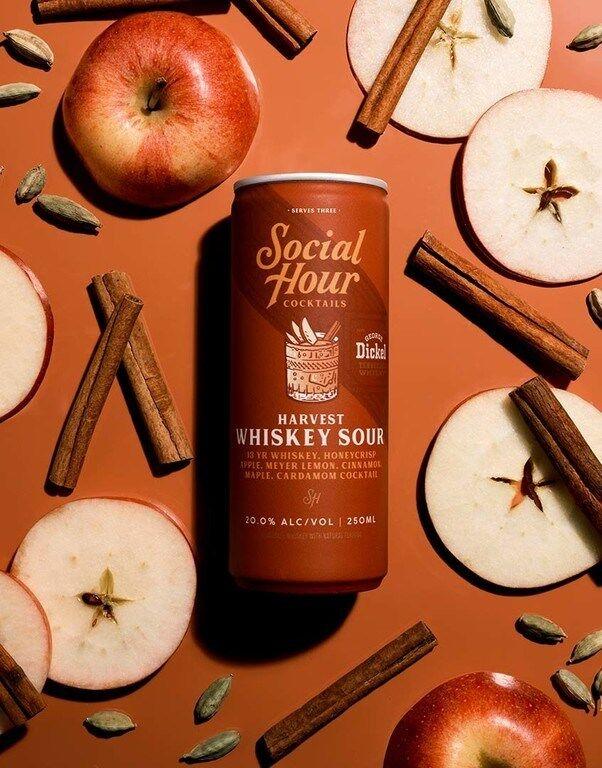 The third new release courtesy of Cascade Hollow is also based around a 13-year-old product, this time their bottled-in-bond Tennessee Whiskey. Social Hour Cocktails is a Brooklyn-based company started by two bartenders who have created a line of pre-mixed cocktails using premium ingredients.
Their latest release is a seasonal Harvest Whiskey Sour made using Dickel that was distilled in the spring of 2007 along with fall flavors like apples, cardamom, Meyer lemon, cinnamon and maple to create a version of a whiskey sour that is nuanced and balanced. A 250-milliliter single can serves three cocktails, and don't think you can just chug down the whole thing. At 40 proof, you'll definitely want to stir or shake it over ice and then strain it into a glass filled with new ice before sipping. The cold and the dilution from the pre-chilling is what allows the whiskey sour to taste more like a craft cocktail you would receive from a talented mixologist.
As opposed to many other flavored RTDs and (ugh) hard seltzers, the flavors really do taste natural and not overly sweet. I think I'd be hard-pressed to mix up a better cold-weather cocktail by hand at my home bar, so I'm definitely looking forward to ordering a four-pack from Social Hour whenever I finish my second sample can. (The three drinks that come from one can is plenty for an evening at home, especially if you have anything constructive to do the next morning.)
While retail distribution is still limited to New York, you can order a little taste of Tennessee and the Big Apple at the company's website for $28 for four cans. That might seem steep until you consider the fact that it's enough for a dozen drinks, so compare that with what you'd spend at a bar. I think it's a great deal and a great idea.