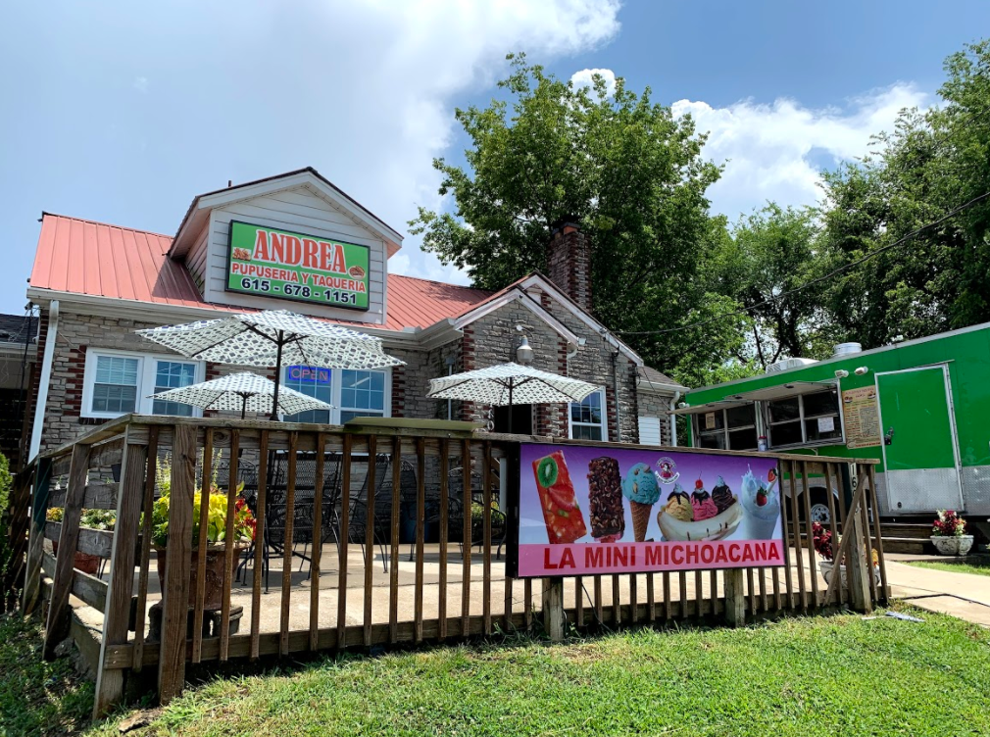 Much of the restaurant industry had to rapidly change its business model due to COVID-19, and we're highlighting the Nashville places that are attempting to stay open. As we hang out here in Phase 2.0 at least though mid-August, we're continuing to give you a critic's pick for a restaurant and a dish, as well as a running list of restaurants offering takeout and delivery that you can support. Today: Taqueria Andrea and La Mini Michoacana
It's been hot. So freaking hot. So hot that I just wanted a fresh popsicle. Not a watery frozen ice pop from the grocery store, but a paleta — frozen fruit and condensed milk on a stick. Something with some bite to it. Fortunately, I found my way to La Mini Michoacana. 
Omar and Candy Guerra have owned Taqueria Andrea at its current location, 1605 Dickerson Pike, for five years. (Before that they had a food truck down the street.) They serve Salvadoran, Honduran and Mexican favorites, including pupusas and tacos. The actual cooking takes place in the food truck outside, and inside, the brick house is set up with table service (they've taken out some tables this year so there's lots of room for social distancing and reduced capacity). 
Omar really loves ice cream, says his daughter Alejandra Guerra. Two years ago he was looking at the extra space they had in the building, and decided to make his favorite treat available to his customers, and let's just say, he went big. He added not only homemade scooped ice cream but also homemade paletas and also shaved ice to the Taqueria Andrea space and named his sweet tooth offshoot La Mini Michoacana.
On the menu are more than 25 different flavors of paletas, both dairy-based and water-based, depending on what is in season. Omar can't pick a favorite — he's been known to taste up to five a day.  Alejandra is partial to jocote, which is a Spanish plum, and strawberry pineapple, which she describes as tasting like your favorite smoothie. I opted for several to stock in my freezer for when the heat got to me (again) later: chocolate, strawberry and spicy cucumber. You can see the whole strawberries in the pop, and each one is a blast of flavor — and for $2.50 each, it's the best way for me to cool off and feel like summer was somewhat normal. I got so distracted by colorful displays of paletas fanned out like paint chips that I didn't even try the scooped ice cream, which is good, because now I have a legit excuse to go back.
If you've had a Las Paletas-shaped hole in your summer since that the 12South staple announced it was putting its business "on pause," La Mini Michoacana will more than fill it. Varieties change regularly, so that's another legit excuse to go back. (Personally, I am waiting for the Ferrero Rocher to be back in stock.) 
And as I mentioned, La Mini Michoacana is located inside a taqueria, so you get the bonus of the savory treats before your paletas feast. Omar has Salvadoran and Honduran background; Candy is Salvadoran, and both have traveled extensively in Mexico and learned how important Mexican foods are in the United States, so Alejandra says they made a point of learning to cook Mexican dishes too.
Taqueria Andrea and La Mini Michoacana are open Monday through Saturday, and they make it easy to grab to-go orders and are following COVID-19 protocols regarding social distancing, masks and more. There are several outdoor tables with umbrellas for sitting and enjoying your frozen treat if you aren't headed home to stock your freezer like I was. You do need to walk inside to place your order (yes, the hot food is made in the truck, but the register is inside). There are folks on staff inside who speak both English and Spanish. You can call in your order if you are in a hurry (615-678-1151), but then you don't get to peruse the ice cream and paletas options of the day, so that's not a decision I personally would make.
---
Below is a list of Nashville restaurants (with links) remaining open for takeout and delivery during the COVID-19 shutdown. While some may have had existing relationships with delivery providers, most of this list are offering the service for the first time. Most offer curbside pickup, but check when you order. As this list is a moving target, please leave any changes, suggestions or omissions in the comments.
Places with takeout or delivery as of Wednesday, July 29
12South Taproom (Postmates)
312 Pizza Co. (Grubhub)
51st Deli (Uber Eats, Grubhub, Postmates)
51st North Taproom (11 a.m.-8 p.m., Thursday-Sunday)
615 Deli (DoorDash. Grubhub, Postmates, Uber Eats)
Adele's/The 404 Kitchen (Friday-Sunday)
Arnold's Country Kitchen (Most delivery services)
B1281 (Uber Eats)
Barista Parlor (Postmates)
Barr's Music City Soul Food (Uber Eats, Tuesday-Sunday)
Big Bad Breakfast (DoorDash, Uber Eats)
Biscuit Kitchen by Loveless Cafe
Black Dynasty via Bar Sovereign
The Bluebird Cafe (Grubhub)
BoomBozz West (DoorDash)
Brightside Bakery (Ordering open at 3 p.m. Tues.-Sat. for next-day pickup Wed.-Sun.)
Burger Joint (Uber Eats, Grubhub)
Caffé Nonna (Uber Eats, Postmates)
Carniceria y Taqueria Don Juan
Central BBQ (DoorDash, Postmates)
Cinco de Mayo (9 locations)
Char (Postmates)
Cilantro Mexican Grill (Eighth Avenue location)
City Winery (Grubhub, Uber Eats)
Corner Pub (DoorDash)
Cupcake Collection (Sunday-Friday)
Doll's Family Cafe (Postmates, DoorDash)
Double Dogs (Uber Eats, Grubhub, Postmates)
Eastern Peak (Uber Eats, Grubhub)
Ed's Fish House (Thursday-Saturday)
Ellington's Mid Way Bar & Grill
Far East (Postmates)
Farm Burger (DoorDash)
Fat Kat Slim's (Uber Eats, Grubhub)
Fido (ChowNow)
Five Points Pizza (Postmates)
Folk (Postmates)
Frothy Monkey (Postmates, Uber Eats)
Ghot Wingz (Tuesday-Saturday)
Green Chile (Friday-Sunday)
Hattie B's (Uber Eats)
HoneyFire Barbeque Co. (Grubhub, DoorDash)
Hugh Baby's (DoorDash)
Hunters Station (The Grilled Cheeserie, Vui's Kitchen, Hugh Baby's, Tacos Aurora, Citizen Market)
IT'Z A Philly Thing (Wednesday-Sunday)
Jack's Bar-B-Q (Trinity Lane location only)
Jamaicaway (DoorDash, Grubhub, Postmates)
Jonathan's (Grubhub)
Josephine (Postmates)
Korea House
Lafayette Soup Company (Richland Park Farmer's Market)
Las Palmas (DoorDash)
Local Distro (Tuesday-Saturday)
McDougal's (Hillsboro Village only)
Miss Saigon (All delivery services)
M.L. Rose Craft Beer & Burgers (Postmates)
Moto (Uber Eats)
Nicky's Coal Fired (Postmates)
North Italia (DoorDash)
Nectar Urban Cantina (Grubhub, Uber Eats, Postmates)
Nomzilla! Sushi Et Cetera (Uber Eats, Postmates)
Pancho & Lefty's (Uber Eats, DoorDash)
The Party Line (Julia Sullivan's catering service through Strategic Hospitality)
Party Fowl (Uber Eats)
PDK Southern Kitchen and Pantry
Pinewood Social (Postmates, Grubhub, Uber Eats)
Pork Belly Cafe (Uber Eats, Grubhub, Postmates)
Prince's Hot Chicken (Nolensville Road)
Proper Bagel (Takeout & delivery only)
Red Bicycle (Postmates)
Red Perch (Monday-Friday, 11 a.m.-2 p.m.)
Red Phone Booth (DoorDash, Grubhub, Postmates)
Riddim N Spice (Postmates,DoorDash)
Rolf and Daughters (Postmates)
Rosemary & Beauty Queen (Postmates, Uber Eats)
Rosepepper Cantina (Postmates)
Saint Anejo (Uber Eats)
San Antonio Taco Co. (DoorDash)
Seafood Sensation (DoorDash)
Shugga Hi Bakery & Cafe (Friday-Saturday; Uber Eats) 
Slim & Husky's (DoorDash)
Southside Grill (DoorDash)
StrikeOut Wingz (Grubhub)
Subculture Urban Cuisine & Cafe (Uber Eats, Grubhub, DoorDash, Postmates)
Sushi Circle
Sweet 16th (Tuesday-Saturday, 8 a.m.-1 p.m.)
Tacos y Mariscos Lindo Mexico
Taj (Uber Eats)
TailGate Brewery (Postmates)
The Tasty Wheel (Postmates, Grubhub, DoorDash)
Taqueria Andrea and La Mini Michoacana
Taziki's (Postmates, Grubhub)
TennFold (Grubhub, Postmates)
TKO (Postmates)
Tower Market and Deli (Grubhub, Postmates, DoorDash, Bite Squad)
Union Teller (Uber Eats, DoorDash, Grubhub)
Vege-licious Cafe (Tuesday-Saturday; Chow Now)
Virago (Uber Eats)
Von Elrod's Beer Hall & Kitchen 
VN Pho & Deli
Walden (Postmates)
The Wild Cow (Postmates, DoorDash and Chow Now)
Wildman Smoothies, Soups & Salads
'Za Wood Fired Pizza (Grubhub)