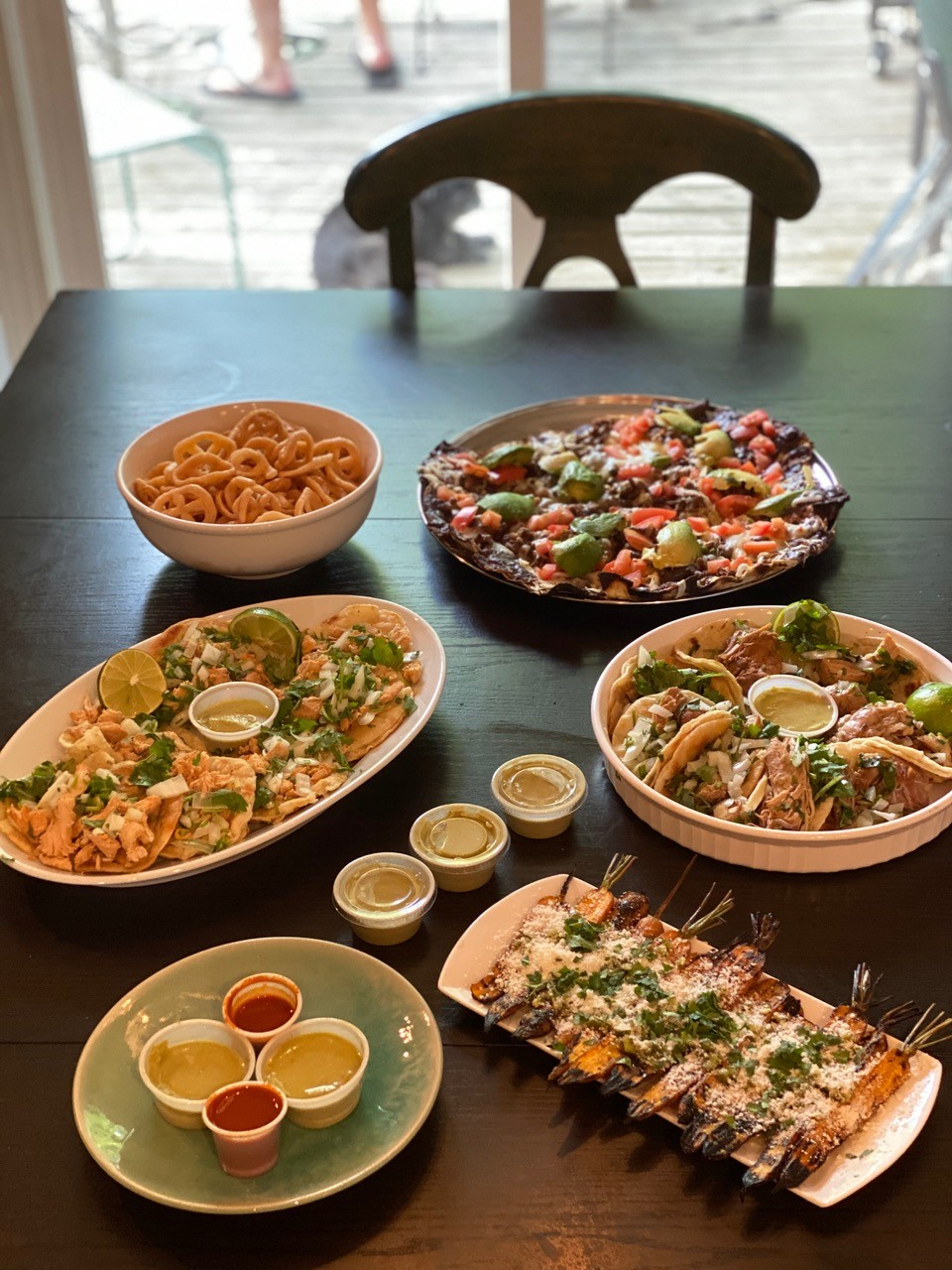 La … Who … Kah … Lee … Tah
Living a block away from La Juquilita in The Nations, I've heard their name pronounced every possible way. My favorite tries start with a "Juck," or a "Joo-Quill," which even my French-taking ass knows is wrong. Whatever I hear, I always recognize it once someone points in the general direction of the small orange-and-pink building and says, "You know, the awesome cash-only spot with the tacos and string lights and all the Virgin Marys?" That does it. Best I can figure (with a little help from HowToPronounce.com and Ms. Cheap), "who-kah-lee-tah" is close.
Whatever you call it, you should go. Yes, you have to call in your order, and yes, you have to do some digging to figure out what to get. (We can help with the latter.) But the family-run joint is entirely on-the-level, and it's so reasonably priced you will overorder. Tacos never run more than a few bucks, and the menu tops out at $12 for the huge, feed-a-family tlayuda. If you manage to spend more than $20 per person including duros, drink and tip, I salute you.
How to order
As mentioned, an online menu for La Juquilita is hard to find, so I did some legwork. Simply pick your protein (or go veggie with queso) and then add a preparation from the list below. 
Protein
For the less adventurous, ask for pollo (chicken), asada (steak), carnitas (pork) or camarón (shrimp). Yes, you can order these in English. 

For the more adventurous, ask for lengua (tongue), taco de buche (pork stomach) or for specials that day. 
Preparation
You know the first four, but here are quick-n-dirty definitions for the rest. Feel free to let me and Google know about all our egregious errors in the comments:
Tacos

Enchilada

Quesadilla

Burrito

Ceviche (marinated seafood, served on a tostada)

Torta (sandwich served on a roll or bun)

Tostada (flat, crispy tortilla loaded with toppings)

Gordita (pastry made with masa and stuffed with meat or cheese; gordita means "chubby" in Spanish)

Huarache (fried, puffy masa base, covered with toppings)

Flauta (deep-fried, rolled-up tortilla stuffed with cheese or meat)

Empanada (fried turnover stuffed with meat)

Pupusa (thick, griddle-fried cake stuffed with meat or cheese)

Sopes (flat corn cakes with small sides to hold fillings)

Tlayuda (huge Mexican-pizza-ish thing, details below)
Typically, La Juquilita also offers fried or marinated fish dishes and soups, but I'd stick with the classics for takeout. You can also ask for any of the above with mole — a deep, rich sauce made with dozens of ingredients including chiles and chocolate — which La Juquilita nails.
Tlayuda
The first thing I learned when I moved around the corner from La Juquilita was to always order the tlayuda. I wrote this about it for Cheap Eats a few years back: Mexican pizza that bears no resemblance to the fast-food version you slammed in college. An oversized homemade tortilla is crisped on a griddle and topped with refried black beans, meat, Oaxacan cheese, pico, cabbage, avocado and crema. It's like a giant nacho — it doesn't even all fit on the plate. Their fiery green hot sauce is the perfect complement.
Duros
For something made from wheat, duros taste a heck of a lot like pork rinds, and I think we could all use a diet pork rind. You'll find the crunchy, pinwheel-shaped treats hanging in Ziploc bags in the front window, and the easiest way to add them to your order is just to point and ask for them when you're invited in to pay (which you will do only while wearing a mask because you are not Chad). Tip: Dip these in your favorite Mexican hot sauce or leftover salsa for an unbeatable midnight snack.
Order La Juquilita
Use this Yelp page for a general outline of their menu and call 615-524-9053 to order. Hours vary, especially now, but most days they're open from around 10 or 11 a.m. to 7 or 8 p.m.
---
Below is a list of Nashville restaurants (with links) that are open for takeout and delivery. While some may have had existing relationships with delivery providers, many of this list are offering the service for the first time. Most offer curbside pickup, but check when you order. Many may also have outdoor dining. As this list is a moving target, please leave any changes, suggestions or omissions in the comments.
Places with takeout or delivery as of Friday, July 24
12South Taproom (Postmates)
312 Pizza Co. (Grubhub)
51st Deli (Uber Eats, Grubhub, Postmates)
51st North Taproom (11 a.m.-8 p.m., Thursday-Sunday)
615 Deli (DoorDash. Grubhub, Postmates, Uber Eats)
Adele's/The 404 Kitchen (Friday-Sunday)
Arnold's Country Kitchen (Most delivery services)
B1281 (Uber Eats)
Barista Parlor (Postmates)
Barr's Music City Soul Food (Uber Eats, Tuesday-Sunday)
Big Bad Breakfast (DoorDash, Uber Eats)
Biscuit Kitchen by Loveless Cafe
Black Dynasty via Bar Sovereign
The Bluebird Cafe (Grubhub)
BoomBozz West (DoorDash)
Brightside Bakery (Ordering open at 3 p.m. Tues.-Sat. for next-day pickup Wed.-Sun.)
Burger Joint (Uber Eats, Grubhub)
Caffé Nonna (Uber Eats, Postmates)
Carniceria y Taqueria Don Juan
Central BBQ (DoorDash, Postmates)
Cinco de Mayo (9 locations)
Char (Postmates)
Cilantro Mexican Grill (Eighth Avenue location)
City Winery (Grubhub, Uber Eats)
Corner Pub (DoorDash)
Cupcake Collection (Sunday-Friday)
Doll's Family Cafe (Postmates, DoorDash)
Double Dogs (Uber Eats, Grubhub, Postmates)
Eastern Peak (Uber Eats, Grubhub)
Ed's Fish House (Thursday-Saturday)
Ellington's Mid Way Bar & Grill
Far East (Postmates)
Farm Burger (DoorDash)
Fat Kat Slim's (Uber Eats, Grubhub)
Fido (ChowNow)
Five Points Pizza (Postmates)
Folk (Postmates)
Frothy Monkey (Postmates, Uber Eats)
Ghot Wingz (Tuesday-Saturday)
Green Chile (Friday-Sunday)
Hattie B's (Uber Eats)
HoneyFire Barbeque Co. (Grubhub, DoorDash)
Hugh Baby's (DoorDash)
Hunters Station (The Grilled Cheeserie, Vui's Kitchen, Hugh Baby's, Tacos Aurora, Citizen Market)
IT'Z A Philly Thing (Wednesday-Sunday)
Jack's Bar-B-Q (Trinity Lane location only)
Jamaicaway (DoorDash, Grubhub, Postmates)
Jonathan's (Grubhub)
Josephine (Postmates)
Korea House
Lafayette Soup Company (Richland Park Farmer's Market)
Las Palmas (DoorDash)
Local Distro (Tuesday-Saturday)
McDougal's (Hillsboro Village only)
Miss Saigon (All delivery services)
M.L. Rose Craft Beer & Burgers (Postmates)
Moto (Uber Eats)
Nicky's Coal Fired (Postmates)
North Italia (DoorDash)
Nectar Urban Cantina (Grubhub, Uber Eats, Postmates)
Nomzilla! Sushi Et Cetera (Uber Eats, Postmates)
Pancho & Lefty's (Uber Eats, DoorDash)
The Party Line (Julia Sullivan's catering service through Strategic Hospitality)
Party Fowl (Uber Eats)
PDK Southern Kitchen and Pantry
Pinewood Social (Postmates, Grubhub, Uber Eats)
Pork Belly Cafe (Uber Eats, Grubhub, Postmates)
Prince's Hot Chicken (Nolensville Road)
Proper Bagel (Takeout & delivery only)
Red Bicycle (Postmates)
Red Perch (Monday-Friday, 11 a.m.-2 p.m.)
Red Phone Booth (DoorDash, Grubhub, Postmates)
Riddim N Spice (Postmates,DoorDash)
Rolf and Daughters (Postmates)
Rosemary & Beauty Queen (Postmates, Uber Eats)
Rosepepper Cantina (Postmates)
Saint Anejo (Uber Eats)
San Antonio Taco Co. (DoorDash)
Seafood Sensation (DoorDash)
Shugga Hi Bakery & Cafe (Friday-Saturday; Uber Eats) 
Slim & Husky's (DoorDash)
Southside Grill (DoorDash)
StrikeOut Wingz (Grubhub)
Subculture Urban Cuisine & Cafe (Uber Eats, Grubhub, DoorDash, Postmates)
Sushi Circle
Sweet 16th (Tuesday-Saturday, 8 a.m.-1 p.m.)
Tacos y Mariscos Lindo Mexico
Taj (Uber Eats)
TailGate Brewery (Postmates)
The Tasty Wheel (Postmates, Grubhub, DoorDash)
Taziki's (Postmates, Grubhub)
TennFold (Grubhub, Postmates)
TKO (Postmates)
Tower Market and Deli (Grubhub, Postmates, DoorDash, Bite Squad)
Union Teller (Uber Eats, DoorDash, Grubhub)
Vege-licious Cafe (Tuesday-Saturday; Chow Now)
Virago (Uber Eats)
Von Elrod's Beer Hall & Kitchen 
VN Pho & Deli
Walden (Postmates)
The Wild Cow (Postmates, DoorDash and Chow Now)
Wildman Smoothies, Soups & Salads
'Za Wood Fired Pizza (Grubhub)