Much of the restaurant industry has had to change its business model in a couple of weeks due to COVID-19, and we're highlighting the Nashville places that are attempting to stay open. We'll give you a critic's pick for a restaurant and a dish, as well as a running list of restaurants still open that you can support. Today: Sunflower Cafe.
I've never been much of a meal planner. When COVID-19 hit and my husband and I were faced with having to stock our fridge with enough food to last a couple weeks, I wasn't sure where to begin. Amid the brink-of-a-pandemic chaos at Kroger we grabbed cereal, rice, pasta, cheese and bread. We figured the more we could buy that would last a long time, the better. And besides, all that remained of the produce section by the time we got there was ugly potatoes and mealy bruised apples. 
Those first couple weeks of nothing but cheese, carbs, frozen vegetables and bananas (which became banana bread because we didn't eat them fast enough) were long indeed. Things have leveled out a bit since March (remember March?!), but as we still try to limit our store runs to once every 14 days, we can't completely avoid those last few days where we're scraping the bottom of the pantry.
I'm not entirely complaining! A lot of pantry food is economical and can be supremely satisfying when done well. In this pandemic I learned about and fell in love with Victoria Granof's Pasta con Ceci, for example.
But when all the perishables have, well, perished, I still long for something green, something fresh, and I don't want to have to bob and weave through dozens of anti-social-distancing zombies to get it. So this week, without a single vegetable in the house and zero energy to deal with the weekend crowd at the grocery store, we opted for dinner from Sunflower Cafe, the glorious vegetable haven in Berry Hill.
The Buffalo Tempeh Wrap ($6.99) was surprisingly hearty, loaded with a very generous serving of tempeh tossed in tangy buffalo sauce, lettuce, tomato and red onion. Tempeh (fermented soybeans that are formed into a block) is underused, if you ask me. I highly prefer its nutty, dense bite to tofu's flavorless squish any day. I paired my wrap with a big scoop of broccoli salad ($2.99) with shredded carrots, raisins, sunflower seeds and chunks of broccoli cut big enough to hold their fresh crunch in the creamy dressing.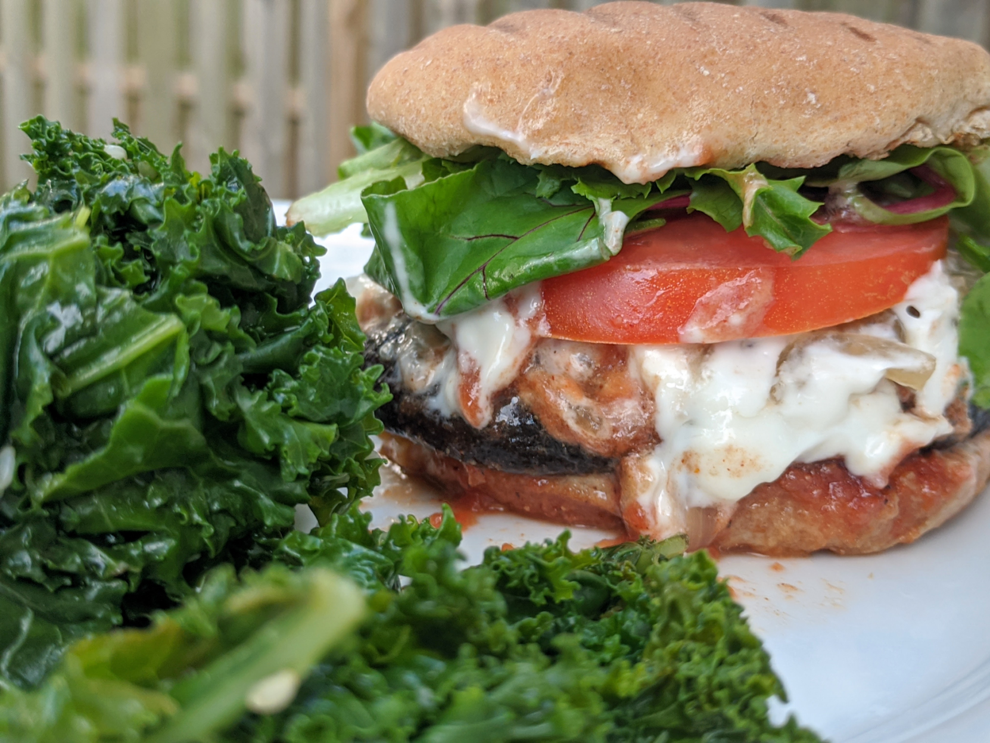 My husband had the Southern BBQ Veggie Burger ($6.99) with vegan cheddar ($0.75) and a side of sesame-y kale salad ($2.99). The flavorful dressing tenderized the leaves perfectly, so he wasn't left with that chewin' cud feeling that so often comes with raw kale.
It was the rejuvenating injection of nutrients and vitamins my body was craving after days in which the only fruit and vegetables I ingested included a too-old-to-eat-raw apple baked into a Dutch baby pancake and relish on a veggie dog. 
I know I'll have to go to the store eventually; I know I'll have to face the crowds and the carts and the people who think lace counts as a face mask. But placing a veggie-packed dinner order online and picking it up 30 minutes later with little to no contact with anyone is a real nice for those days when our fresh options are as depleted as our strength to put up with other people's bullshit.
Open Monday through Saturday, 11 a.m.-9 p.m.; order online for pickup or delivery (within 3 miles) at sunflowercafenashville.com.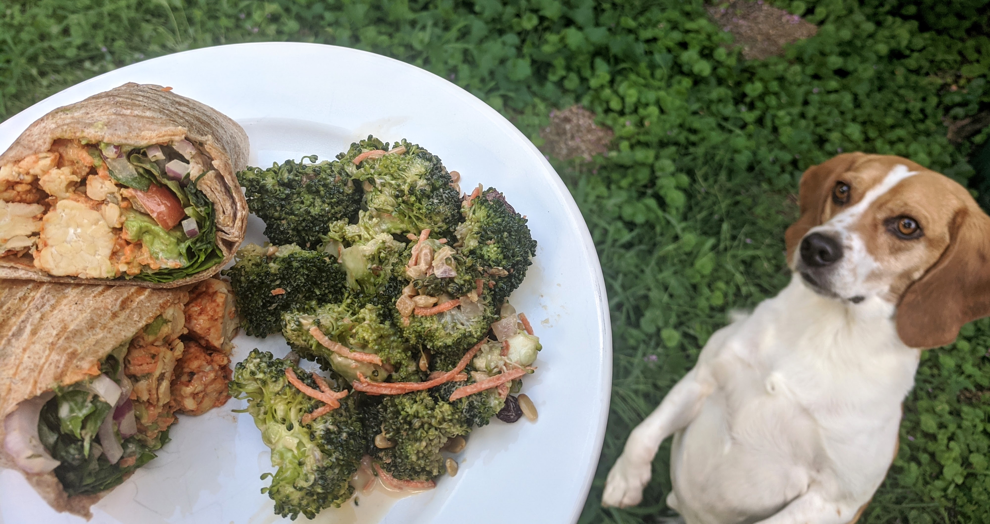 Below is a list of Nashville restaurants (with links) remaining open for takeout and delivery during the COVID-19 shutdown. While some may have had existing relationships with delivery providers, most of this list are offering the service for the first time. Most offer curbside pickup, but check when you order. As this list is a moving target, please leave any changes, suggestions or omissions in the comments.
Places with takeout or delivery as of Tuesday, July 21
12South Taproom (Postmates)
312 Pizza Co. (Grubhub)
51st Deli (Uber Eats, Grubhub, Postmates)
51st North Taproom (11 a.m.-8 p.m., Thursday-Sunday)
Adele's/The 404 Kitchen (Friday-Sunday)
Arnold's Country Kitchen (Most delivery services)
B1281 (Uber Eats)
Barista Parlor (Postmates)
Barr's Music City Soul Food (Uber Eats, Tuesday-Sunday)
Big Bad Breakfast (DoorDash, Uber Eats)
Biscuit Kitchen by Loveless Cafe
Black Dynasty via Bar Sovereign
The Bluebird Cafe (Grubhub)
BoomBozz West (DoorDash)
Brightside Bakery (Ordering open at 3 p.m. Tues.-Sat. for next-day pickup Wed.-Sun.)
Burger Joint (Uber Eats, Grubhub)
Caffé Nonna (Uber Eats, Postmates)
Carniceria y Taqueria Don Juan
Central BBQ (DoorDash, Postmates)
Cinco de Mayo (9 locations)
Char (Postmates)
Cilantro Mexican Grill (Eighth Avenue location)
City Winery (Grubhub, Uber Eats)
Corner Pub (DoorDash)
Cupcake Collection (Sunday-Friday)
Doll's Family Cafe (Postmates, DoorDash)
Double Dogs (Uber Eats, Grubhub, Postmates)
Eastern Peak (Uber Eats, Grubhub)
Ed's Fish House (Thursday-Saturday)
Ellington's Mid Way Bar & Grill
Far East (Postmates)
Farm Burger (DoorDash)
Fat Kat Slim's (Uber Eats, Grubhub)
Fido (ChowNow)
Five Points Pizza (Postmates)
Folk (Postmates)
Frothy Monkey (Postmates, Uber Eats)
Ghot Wingz (Tuesday-Saturday)
Green Chile (Friday-Sunday)
Hattie B's (Uber Eats)
HoneyFire Barbeque Co. (Grubhub, DoorDash)
Hugh Baby's (DoorDash)
Hunters Station (The Grilled Cheeserie, Vui's Kitchen, Hugh Baby's, Tacos Aurora, Citizen Market)
IT'Z A Philly Thing (Wednesday-Sunday)
Jack's Bar-B-Q (Trinity Lane location only)
Jamaicaway (DoorDash, Grubhub, Postmates)
Jonathan's (Grubhub)
Josephine (Postmates)
Korea House
Lafayette Soup Company (Richland Park Farmer's Market)
Las Palmas (DoorDash)
Local Distro (Tuesday-Saturday)
McDougal's (Hillsboro Village only)
Miss Saigon (All delivery services)
M.L. Rose Craft Beer & Burgers (Postmates)
Moto (Uber Eats)
Nicky's Coal Fired (Postmates)
North Italia (DoorDash)
Nectar Urban Cantina (Grubhub, Uber Eats, Postmates)
Nomzilla! Sushi Et Cetera (Uber Eats, Postmates)
Pancho & Lefty's (Uber Eats, DoorDash)
The Party Line (Julia Sullivan's catering service through Strategic Hospitality)
Party Fowl (Uber Eats)
PDK Southern Kitchen and Pantry
Pinewood Social (Postmates, Grubhub, Uber Eats)
Pork Belly Cafe (Uber Eats, Grubhub, Postmates)
Prince's Hot Chicken (Nolensville Road)
Proper Bagel (Takeout & delivery only)
Red Bicycle (Postmates)
Red Perch Monday-Friday, 11 a.m.-2 p.m.
Red Phone Booth (DoorDash, Grubhub, Postmates)
Riddim N Spice (Postmates,DoorDash)
Rolf and Daughters (Postmates)
Rosemary & Beauty Queen (Postmates, Uber Eats)
Rosepepper Cantina (Postmates)
Saint Anejo (Uber Eats)
San Antonio Taco Co. (DoorDash)
Seafood Sensation (DoorDash)
Shugga Hi Bakery & Cafe (Friday-Saturday; Uber Eats) 
Slim & Husky's (DoorDash)
Southside Grill (DoorDash)
StrikeOut Wingz (Grubhub)
Subculture Urban Cuisine & Cafe (Uber Eats, Grubhub, DoorDash, Postmates)
Sushi Circle
Sweet 16th (Tuesday-Saturday, 8 a.m.-1 p.m.)
Tacos y Mariscos Lindo Mexico
Taj (Uber Eats)
TailGate Brewery (Postmates)
The Tasty Wheel (Postmates, Grubhub, DoorDash)
Taziki's (Postmates, Grubhub)
TennFold (Grubhub, Postmates)
TKO (Postmates)
Tower Market and Deli (Grubhub, Postmates, DoorDash, Bite Squad)
Union Teller (Uber Eats, DoorDash, Grubhub)
Vege-licious Cafe (Tuesday-Saturday; Chow Now)
Virago (Uber Eats)
Von Elrod's Beer Hall & Kitchen 
VN Pho & Deli
Walden (Postmates)
The Wild Cow (Postmates, DoorDash and Chow Now)
Wildman Smoothies, Soups & Salads
'Za Wood Fired Pizza (Grubhub)