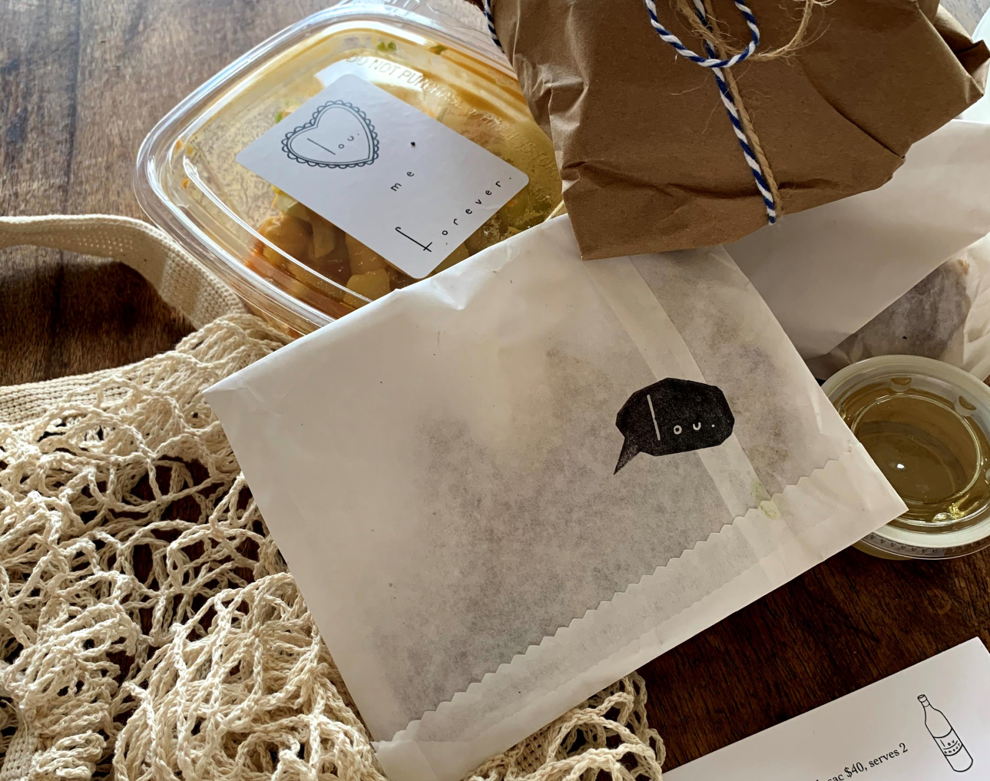 Much of the restaurant industry has had to rapidly change its business model due to COVID-19, and we're highlighting the Nashville places that are attempting to stay open. Each day we will give you a critic's pick for a restaurant and a dish, as well as a running list of restaurants still open that you can support. Today's pick: lou.
Last week I felt like I reached peak quarantine 2020 lunch:
Walked twice as far as my daily walk for pickup because, why not?  ✔

Took my quarantine foster Labrador retriever with me  ✔

Got a lunch exponentially fancier and better than my standard Before Times trail mix and apple combo  ✔

Gratuitous inclusion of sourdough ✔
All of this goodness was courtesy of
lou
, the Inglewood cafe with all-day brunch and dinners that make you feel like you are having a leisurely repast in Paris.
Chef-owner Mailea Weger designed lou's takeout offerings to be on-brand for her restaurant, which is less than a year old. You won't find yet another Styrofoam container here. Instead, she's lovingly packed food into: white paper bags stamped with the restaurant logo; reusable plastic containers for wet liquids, again with the logo and hearts; and cardboard boxes, all arranged in a reusable fabric net bag. Toss in a bottle of wine or other beverage of your choice and you're ready for a socially distanced excursion.
I went for the Snack Sac, which included: the aforementioned bag; chewy mango with guajillo sugar; a quarter loaf of Ornette sourdough infinitely better than the sourdough I make at home; a tart lime yogurt with papaya and fermented honey that I would have bathed in if I was given the opportunity; mole popcorn, which, while I eat popcorn several times a week, was nothing like anything I have eaten; raw chayote; cinnamon pan dulce; and hazelnut Mexican wedding cookies. The Snack Sac is $40 for two people, but I found it to be plenty of food for multiple meals, even while sharing some with a friend (though not the yogurt and papaya, that I did not share). 
Other takeout combos available include more substantial  brunch and dinner options, plus the breakfast cake and wine combo that is famous amongst lou fans.
Order online and then pick up by entering through the back patio (which is lovely; we told you about it in March). Pickup is well-organized, and there's plenty of hand sanitizer, with staff wearing masks. The to-go options are so well-packaged that if you aren't in the mood for a fancy picnic right now, which would be understandable, you can easily gift them to someone who is having a hard go of it. We all know people who could use a takeout pick-me-up.
---
Below is a list of Nashville restaurants (with links) remaining open for takeout and delivery during the COVID-19 shutdown. While some may have had existing relationships with delivery providers, most of this list are offering the service for the first time. Most offer curbside pickup, but check when you order. As this list is a moving target, please leave any changes, suggestions or omissions in the comments.
Places with takeout or delivery as of Tuesday, June 2
12South Taproom (Postmates)
312 Pizza Co. (Grubhub)
51st Deli (Uber Eats, Grubhub, Postmates)
51st North Taproom (11am-8pm, Thursday-Sunday)
Adele's/The 404 Kitchen (Friday-Sunday)
Arnold's Country Kitchen (Most delivery services)
Barista Parlor (Postmates)
Big Bad Breakfast (DoorDash, Uber Eats)
Biscuit Kitchen by Loveless Cafe
Black Dynasty via Bar Sovereign
The Bluebird Cafe (Grubhub)
BoomBozz West (DoorDash)
Burger Joint (Uber Eats, Grubhub)
Caffé Nonna (Uber Eats, Postmates)
Carniceria y Taqueria Don Juan
Central BBQ (DoorDash, Postmates)
Cinco de Mayo (9 locations)
Char (Postmates)
Cilantro Mexican Grill (Eighth Avenue location)
City Winery (Grubhub, Uber Eats)
Corner Pub (DoorDash)
Double Dogs (Uber Eats, Grubhub, Postmates)
Eastern Peak (Uber Eats, Grubhub)
Ellington's Mid Way Bar & Grill
Far East (Postmates)
Farm Burger (DoorDash)
Fat Kat Slim's (Uber Eats, Grubhub)
Fido (ChowNow)
Five Points Pizza (Postmates)
Folk (Postmates)
Frothy Monkey (Postmates, Uber Eats)
Green Chile (Friday-Sunday)
Hattie B's (Uber Eats)
HoneyFire Barbeque Co. (Grubhub, DoorDash)
Hugh Baby's (DoorDash)
Hunters Station (The Grilled Cheeserie, Vui's Kitchen, Hugh Baby's, Tacos Aurora, Citizen Kitchen)
Jack's Bar-B-Q (Trinity Lane location only)
Jamaicaway (DoorDash, Grubhub, Postmates)
Jonathan's (Grubhub)
Josephine (Postmates)
Korea House
Las Palmas (DoorDash)
Miss Saigon (All delivery services)
M.L. Rose Craft Beer & Burgers (Postmates)
Moto (Uber Eats)
Nicky's Coal Fired (Postmates)
North Italia (DoorDash)
Nectar Urban Cantina (Grubhub, Uber Eats, Postmates)
Nomzilla! Sushi Et Cetera (Uber Eats, Postmates)
Pancho & Lefty's (Uber Eats, DoorDash)
The Party Line (Julia Sullivan's catering service through Strategic Hospitality)
Party Fowl (Uber Eats)
PDK Southern Kitchen and Pantry
Pinewood Social (Postmates, Grubhub, Uber Eats)
Pork Belly Cafe (Uber Eats, Grubhub, Postmates)
Prince's Hot Chicken (Nolensville Road)
Red Bicycle (Postmates)
Red Perch Monday-Friday, 11 a.m.-2 p.m.
Red Phone Booth (DoorDash, Grubhub, Postmates)
Riddim N Spice (Postmates,DoorDash)
Rolf and Daughters (Postmates)
Rosemary & Beauty Queen (Postmates, Uber Eats)
Rosepepper Cantina (Postmates)
Saint Anejo (Uber Eats)
San Antonio Taco Co. (DoorDash)
Shalimar (Uber Eats, Postmates, DoorDash, Grubhub, Bite Squad)
Slim & Husky's (DoorDash)
Southside Grill (DoorDash)
Subculture Urban Cuisine & Cafe (Uber Eats, Grubhub, DoorDash, Postmates)
Sushi Circle
Sweet 16th (Tuesday-Saturday, 8 a.m.-1 p.m.)
Tacos y Mariscos Lindo Mexico
Taj (Uber Eats)
TailGate Brewery (Postmates)
Taziki's (Postmates, Grubhub)
TennFold (Grubhub, Postmates)
TKO (Postmates)
Tower Market and Deli (Grubhub, Postmates, DoorDash, Bite Squad)
Union Teller (Uber Eats, DoorDash, Grubhub)
Virago (Uber Eats)
Von Elrod's Beer Hall & Kitchen 
VN Pho & Deli
Walden (Postmates)
The Wild Cow (Postmates, DoorDash and Chow Now)
'Za Wood Fired Pizza (Grubhub)