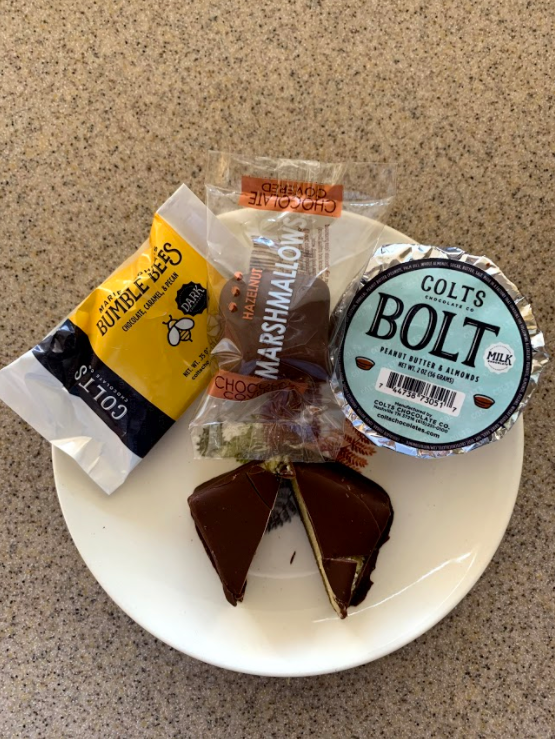 Much of the restaurant industry had to rapidly change its business model due to COVID-19, and we're highlighting the Nashville places that are attempting to stay open. As we hang out here in Phase 2.0, we're continuing to give you a critic's pick, as well as a running list of restaurants offering takeout and delivery that you can support. Today: Colts Chocolate Co.
Some days during quarantine and the aftermath I've been all about salads from kale I massaged after harvesting the leaves from my own garden, tossed with homemade dressing and topped with vegetables from my Middle Path Farm CSA. And other days I'm all about the meme that posits that chocolate is a vegetable thanks to its cacao bean roots. 
I heard that Colts Chocolate Co. has opened its long-awaited retail shop in Inglewood, so I decided to make it a chocolate-for-dinner day and head over to check it out.
As I told you last year, Colts, the oldest specialty chocolate candy maker in the city, moved its factory from the Gulch to Inglewood. Plans had been to open a retail shop in this same building, but wholesale was the priority. Now that the factory has been humming along, and like every other business, Colts has had to pivot due to the pandemic, there's a sign out front, plenty of parking in the former Piggly Wiggly lot, and a charming small retail shop for all your I-Need-Chocolate binges. In a normal year, selling chocolate at the airport, the convention center, and in hotels has been about 70 percent of the company's business. Now that wholesale orders have slowed, retail has become a bigger part of the company's plan.
The new retail shop has all the Colts goodies that they sell online, including the famous puck-shaped Colts Bolt (with peanut butter), Marie McGhee's Bumble Bees (essentially a turtle), chocolate-covered marshmallows (hint: go for the mint), and other sweets, available in both milk and dark chocolate. The brand's favorite desserts — brownies, chess pies, and truffle pies — are available only in whole-pie sizes on the website (not that there's anything wrong with that), but are available by the slice in the shop. Same goes for the candies. On the website you need to buy 12-piece packages of the chocolate-covered grahams (again, not that there's anything wrong with that). In the shop, you can buy one as a treat to enjoy after your kale salad. 
Company president Kate Blocher says they will be testing out new flavors and concoctions in the shop (no free samples right now, due to COVID precautions), so that means you get the chance to try some rotating only-for-the-shop special sweets. This week it was a chocolate-covered key lime pie which was refreshing and the closest thing I am going to get to being at the beach for a while. It doesn't yet have an official name; Blocher says to look for a contest naming the delicacy in the near future.
Many people know and love former owner Mackenzie Colt for her time on the small screen as a Hee Haw Honey on Hee Haw. Colt sold the company to Blocher and her partners last year, but is still involved in promoting the brand, and Blocher promises some fun developments with Colt in the near future.
Colts participated in the Nashville Convention and Visitors Corp. Good to Go program and is adhering to all protocols, including limiting the number of people in the shop and requiring masks. If you're not comfortable going inside, you can order online or by phone and get free local delivery (chocolate to your door!) or arrange for pickup where they'll bring it out to you in the store parking lot. 
Right now, Colts is open Monday through Friday at 3611 Gallatin Pike. Blocher plans to add weekend hours in the next month or so and to offer factory tours when possible. Folks who live in the 37206 and 37216 ZIP codes get 10 percent off their retail store purchases. I didn't need that incentive to indulge my sweet tooth, but it never hurts to feel that a local business loves its neighbors.
---
Below is a list of Nashville restaurants (with links) that are open for takeout and delivery. While some may have had existing relationships with delivery providers, many of this list are offering the service for the first time. Most offer curbside pickup, but check when you order. Many may also have outdoor dining. As this list is a moving target, please leave any changes, suggestions or omissions in the comments.
Places with takeout or delivery as of Friday, July 17
12South Taproom (Postmates)
312 Pizza Co. (Grubhub)
51st Deli (Uber Eats, Grubhub, Postmates)
51st North Taproom (11 a.m.-8 p.m., Thursday-Sunday)
Adele's/The 404 Kitchen (Friday-Sunday)
Arnold's Country Kitchen (Most delivery services)
B1281 (Uber Eats)
Barista Parlor (Postmates)
Barr's Music City Soul Food (Uber Eats, Tuesday-Sunday)
Big Bad Breakfast (DoorDash, Uber Eats)
Biscuit Kitchen by Loveless Cafe
Black Dynasty via Bar Sovereign
The Bluebird Cafe (Grubhub)
BoomBozz West (DoorDash)
Brightside Bakery (Ordering open at 3 p.m. Tues.-Sat. for next-day pickup Wed.-Sun.)
Burger Joint (Uber Eats, Grubhub)
Caffé Nonna (Uber Eats, Postmates)
Carniceria y Taqueria Don Juan
Central BBQ (DoorDash, Postmates)
Cinco de Mayo (9 locations)
Char (Postmates)
Cilantro Mexican Grill (Eighth Avenue location)
City Winery (Grubhub, Uber Eats)
Corner Pub (DoorDash)
Cupcake Collection (Sunday-Friday)
Doll's Family Cafe (Postmates, DoorDash)
Double Dogs (Uber Eats, Grubhub, Postmates)
Eastern Peak (Uber Eats, Grubhub)
Ed's Fish House (Thursday-Saturday)
Ellington's Mid Way Bar & Grill
Far East (Postmates)
Farm Burger (DoorDash)
Fat Kat Slim's (Uber Eats, Grubhub)
Fido (ChowNow)
Five Points Pizza (Postmates)
Folk (Postmates)
Frothy Monkey (Postmates, Uber Eats)
Ghot Wingz (Tuesday-Saturday)
Green Chile (Friday-Sunday)
Hattie B's (Uber Eats)
HoneyFire Barbeque Co. (Grubhub, DoorDash)
Hugh Baby's (DoorDash)
Hunters Station (The Grilled Cheeserie, Vui's Kitchen, Hugh Baby's, Tacos Aurora, Citizen Market)
IT'Z A Philly Thing (Wednesday-Sunday)
Jack's Bar-B-Q (Trinity Lane location only)
Jamaicaway (DoorDash, Grubhub, Postmates)
Jonathan's (Grubhub)
Josephine (Postmates)
Korea House
Lafayette Soup Company (Richland Park Farmer's Market)
Las Palmas (DoorDash)
Local Distro (Tuesday-Saturday)
McDougal's (Hillsboro Village only)
Miss Saigon (All delivery services)
M.L. Rose Craft Beer & Burgers (Postmates)
Moto (Uber Eats)
Nicky's Coal Fired (Postmates)
North Italia (DoorDash)
Nectar Urban Cantina (Grubhub, Uber Eats, Postmates)
Nomzilla! Sushi Et Cetera (Uber Eats, Postmates)
Pancho & Lefty's (Uber Eats, DoorDash)
The Party Line (Julia Sullivan's catering service through Strategic Hospitality)
Party Fowl (Uber Eats)
PDK Southern Kitchen and Pantry
Pinewood Social (Postmates, Grubhub, Uber Eats)
Pork Belly Cafe (Uber Eats, Grubhub, Postmates)
Prince's Hot Chicken (Nolensville Road)
Proper Bagel (Takeout & delivery only)
Red Bicycle (Postmates)
Red Perch Monday-Friday, 11 a.m.-2 p.m.
Red Phone Booth (DoorDash, Grubhub, Postmates)
Riddim N Spice (Postmates,DoorDash)
Rolf and Daughters (Postmates)
Rosemary & Beauty Queen (Postmates, Uber Eats)
Rosepepper Cantina (Postmates)
Saint Anejo (Uber Eats)
San Antonio Taco Co. (DoorDash)
Seafood Sensation (DoorDash)
Shugga Hi Bakery & Cafe (Friday-Saturday; Uber Eats) 
Slim & Husky's (DoorDash)
Southside Grill (DoorDash)
StrikeOut Wingz (Grubhub)
Subculture Urban Cuisine & Cafe (Uber Eats, Grubhub, DoorDash, Postmates)
Sushi Circle
Sweet 16th (Tuesday-Saturday, 8 a.m.-1 p.m.)
Tacos y Mariscos Lindo Mexico
Taj (Uber Eats)
TailGate Brewery (Postmates)
The Tasty Wheel (Postmates, Grubhub, DoorDash)
Taziki's (Postmates, Grubhub)
TennFold (Grubhub, Postmates)
TKO (Postmates)
Tower Market and Deli (Grubhub, Postmates, DoorDash, Bite Squad)
Union Teller (Uber Eats, DoorDash, Grubhub)
Vege-licious Cafe (Tuesday-Saturday; Chow Now)
Virago (Uber Eats)
Von Elrod's Beer Hall & Kitchen 
VN Pho & Deli
Walden (Postmates)
The Wild Cow (Postmates, DoorDash and Chow Now)
Wildman Smoothies, Soups & Salads
'Za Wood Fired Pizza (Grubhub)