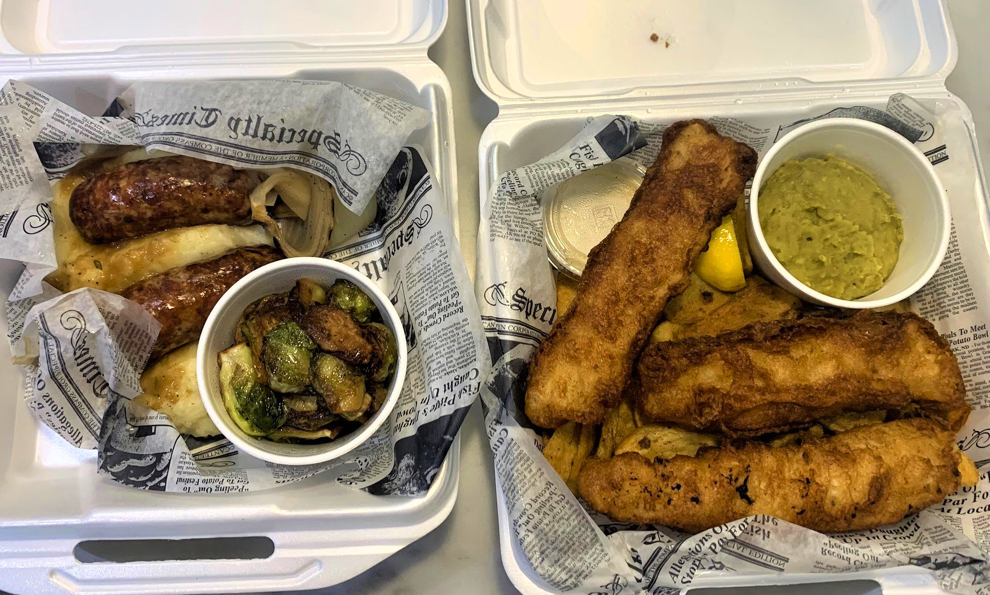 Much of the restaurant industry has had to rapidly change its business model due to COVID-19, and we're trying to highlight the Nashville places that are attempting to stay open. Each day we will give you a critic's pick for a restaurant and a dish, as well as a running list of restaurants still open that you can support. Today: Fleet Street Pub.
When it comes to ordering carryout, I know you're not afraid of a little challenge. Heck, last week I sent you to a place that doesn't even have online ordering, a posted menu to peruse, or, heck, even a website to speak of. You ain't skeered! So now I have come to offer you another challenge, something you might never have considered for takeout: pub food!
Specifically, the British stylings of Fleet Street Pub in Printers Alley. You'd think the obstacles would be many, but fear not! Let me break them down for you.
"Isn't Fleet Street a subterranean lair below the surface of Printers Alley?" Well, yes it is, but if you call them when you pull up, they'll happily and efficiently run your order out to the car for contactless delivery. "My car? Where the heck could I park anywhere near there that won't cost more than the meal?" If you turn off Church Street at Printers Alley, you drive right into the entrance of the attached parking garage which has plenty of room for you to wait the two minutes you'll need to pick up your food without having to pass through any sort of payment gate. There's also easy egress back onto Church.
"Won't my food be gross and disgusting when I get it home? I mean, we're talking fish-and-chips and bangers-and-mash, right?" Yes, that's exactly what I ordered because I relish a challenge. Part of the responsibility of getting to enjoy hot Fleet Street vittles relies on you, because you need to time your arrival. They don't dawdle in the kitchen down there, and since their online ordering platform doesn't really allow you to set a specific delivery time, you need to either call it in or hit "send" on your order and fire up your wheels. Because when they say it'll take 10 to 15 minutes, they aren't kidding.
When I arrived to pick up my two styro containers, the food inside was fresh out of the fryer and the oven, and it was steaming hot. I rushed home through the relative paucity of traffic and called ahead to get my girlfriend to set the table, pour the wine and pick out a UK-themed episode of House Hunters International to watch over dinner, as we are wont to do. (We're old. No regrets.)
After transferring our food to more attractive plates, it was still piping hot, and the golden crust on our battered Atlantic cod was appropriately crispy, even under a light application of the included malt vinegar. Dipped into Fleet Street's almost perfect tartar sauce which isn't thick and gloppy or studded with too much relish like many other restaurant versions, it remained the prototypical fish-and-chips dish in Nashville. Fleet Street offers a choice of sides alongside the requisite fried potato chunks, but I say go with a British classic, so-called mushy peas. "Mushy" is really an unfair adjective in this case because there was still a nice bit of al dente character to some of the peas, offering a nice textural contrast and reminding me of versions of the dish I enjoyed in the UK.
Also quite authentic were the sausages that came with the bangers-and-mash. The sausage itself wasn't overly spiced, but not bland. Just seasoned with restraint and the perfect palate to top with rosemary gravy and thyme-roasted onions. The mashed potatoes were also, well, fine. If you prefer Southern-style with a stick of butter in every serving, you're OK in my book, but you may also be a bit disappointed. The other side dish, however, was a standout. Our choice of malt-butter-sautéed Brussels sprouts was originally an afterthought, suggested by the online menu, but we ended up fighting over the last one.
Brussels had a moment a few years back when chefs began to roast the hell out of them and serve them on every farm-to-table menu, but that version was really more about the char than the vegetable. Fleet Street's are treated more delicately — the malt butter was a lovely flavor addition that still allowed the nutty character of the vegetable to shine through. Next time, we're getting bangers and sprouts with a side of more sprouts!
See what I mean when I say the challenge is worth the achievement? With apologies to any other longtime Nashvillagers who might recall Jody Faison's erstwhile vodka/cran-fueled pickup joint, I think I've found my new Pub of Love! Order online from Fleet Street Pub at their carryout page, but you'd better have your engine idling.
#CarryOutandCarryOn!
---
Below is a list of Nashville restaurants (with links) remaining open for takeout and delivery during the COVID-19 shutdown. While some may have had existing relationships with delivery providers, most of this list are offering the service for the first time. Most offer curbside pickup, but check when you order. As this list is a moving target, please leave any changes, suggestions or omissions in the comments.
Places with takeout or delivery as of Friday June 5
12South Taproom (Postmates)
312 Pizza Co. (Grubhub)
51st Deli (Uber Eats, Grubhub, Postmates)
51st North Taproom (11 a.m.-8 p.m., Thursday-Sunday)
Adele's/The 404 Kitchen (Friday-Sunday)
Arnold's Country Kitchen (Most delivery services)
Barista Parlor (Postmates)
Big Bad Breakfast (DoorDash, Uber Eats)
Biscuit Kitchen by Loveless Cafe
Black Dynasty via Bar Sovereign
The Bluebird Cafe (Grubhub)
BoomBozz West (DoorDash)
Burger Joint (Uber Eats, Grubhub)
Caffé Nonna (Uber Eats, Postmates)
Carniceria y Taqueria Don Juan
Central BBQ (DoorDash, Postmates)
Cinco de Mayo (9 locations)
Char (Postmates)
Cilantro Mexican Grill (Eighth Avenue location)
City Winery (Grubhub, Uber Eats)
Corner Pub (DoorDash)
Cupcake Collection (Sunday-Friday)
Doll's Family Cafe (Postmates, DoorDash)
Double Dogs (Uber Eats, Grubhub, Postmates)
Eastern Peak (Uber Eats, Grubhub)
Ed's Fish House (Thursday-Saturday)
Ellington's Mid Way Bar & Grill
Far East (Postmates)
Farm Burger (DoorDash)
Fat Kat Slim's (Uber Eats, Grubhub)
Fido (ChowNow)
Five Points Pizza (Postmates)
Folk (Postmates)
Frothy Monkey (Postmates, Uber Eats)
Ghot Wingz (Tuesday-Saturday)
Green Chile (Friday-Sunday)
Hattie B's (Uber Eats)
HoneyFire Barbeque Co. (Grubhub, DoorDash)
Hugh Baby's (DoorDash)
Hunters Station (The Grilled Cheeserie, Vui's Kitchen, Hugh Baby's, Tacos Aurora, Citizen Kitchen)
IT'Z A Philly Thing (Wednesday-Sunday)
Jack's Bar-B-Q (Trinity Lane location only)
Jamaicaway (DoorDash, Grubhub, Postmates)
Jonathan's (Grubhub)
Josephine (Postmates)
Korea House
Lafayette Soup Company (Richland Park Farmer's Market)
Las Palmas (DoorDash)
Local Distro (Tuesday-Saturday)
McDougal's (Hillsboro Village only)
Miss Saigon (All delivery services)
M.L. Rose Craft Beer & Burgers (Postmates)
Moto (Uber Eats)
Nicky's Coal Fired (Postmates)
North Italia (DoorDash)
Nectar Urban Cantina (Grubhub, Uber Eats, Postmates)
Nomzilla! Sushi Et Cetera (Uber Eats, Postmates)
Pancho & Lefty's (Uber Eats, DoorDash)
The Party Line (Julia Sullivan's catering service through Strategic Hospitality)
Party Fowl (Uber Eats)
PDK Southern Kitchen and Pantry
Pinewood Social (Postmates, Grubhub, Uber Eats)
Pork Belly Cafe (Uber Eats, Grubhub, Postmates)
Prince's Hot Chicken (Nolensville Road)
Red Bicycle (Postmates)
Red Perch Monday-Friday, 11 a.m.-2 p.m.
Red Phone Booth (DoorDash, Grubhub, Postmates)
Riddim N Spice (Postmates,DoorDash)
Rolf and Daughters (Postmates)
Rosemary & Beauty Queen (Postmates, Uber Eats)
Rosepepper Cantina (Postmates)
Saint Anejo (Uber Eats)
San Antonio Taco Co. (DoorDash)
Seafood Sensation (DoorDash)
Shugga Hi Bakery & Cafe (Friday-Saturday; Uber Eats) 
Slim & Husky's (DoorDash)
Southside Grill (DoorDash)
StrikeOut Wingz (Grubhub)
Subculture Urban Cuisine & Cafe (Uber Eats, Grubhub, DoorDash, Postmates)
Sushi Circle
Sweet 16th (Tuesday-Saturday, 8 a.m.-1 p.m.)
Tacos y Mariscos Lindo Mexico
Taj (Uber Eats)
TailGate Brewery (Postmates)
The Tasty Wheel (Postmates, Grubhub, DoorDash)
Taziki's (Postmates, Grubhub)
TennFold (Grubhub, Postmates)
TKO (Postmates)
Tower Market and Deli (Grubhub, Postmates, DoorDash, Bite Squad)
Union Teller (Uber Eats, DoorDash, Grubhub)
Vege-licious Cafe (Tuesday-Saturday; Chow Now)
Virago (Uber Eats)
Von Elrod's Beer Hall & Kitchen 
VN Pho & Deli
Walden (Postmates)
The Wild Cow (Postmates, DoorDash and Chow Now)
Wildman Smoothies, Soups & Salads
'Za Wood Fired Pizza (Grubhub)