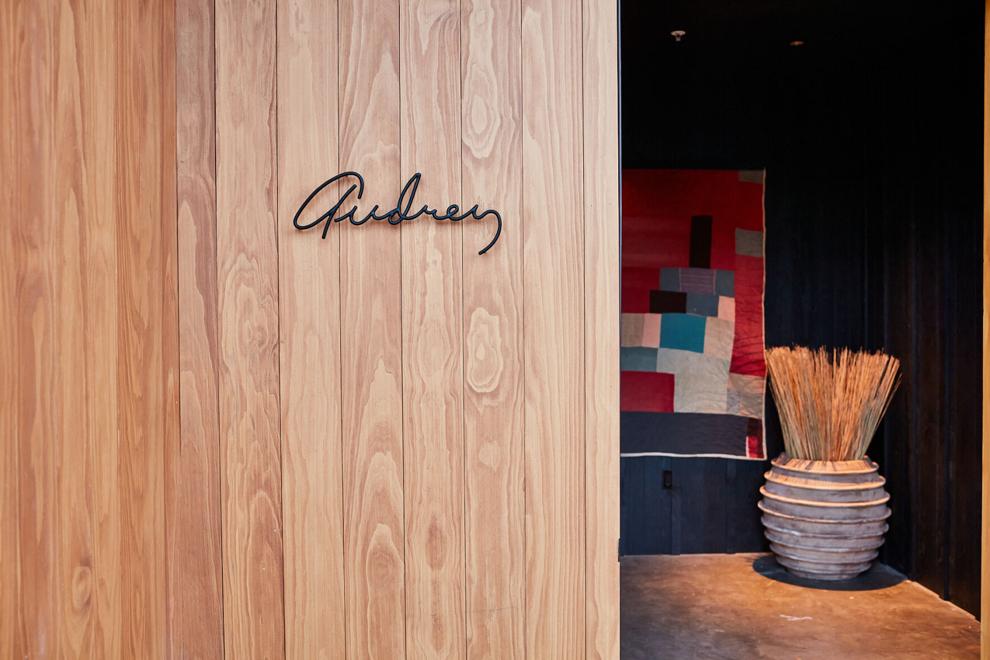 If you'd peeked in the windows of Sean Brock's massive Audrey restaurant in East Nashville at 809 Meridian St. any time over the past year-and-a-half (and I admit I have more than once), you would have seen something that seems like some sort of a "Flying Dutchman" of a restaurant. Since March 2020, construction on the project was pretty much completed, the interiors were decorated, and the tables were set awaiting diners. And awaiting. And awaiting.
In a testament to Brock and his investors, Audrey remained shuttered while all involved struggled to determine a safe and responsible time to open in the midst of the pandemic. This patience is even more extraordinary when you consider the fact that Brock considers Audrey to be the culmination of his life's work in the kitchen, the place where he wants to cook his last meal. "I wanted to create a place where I'd want to work for the rest of my life. A place where we all leave happier and healthier," Brock explained.
Fortunately for all involved, including ravenous diners anxious to see what's cooking, Audrey is finally ready to welcome visitors starting on Friday, Oct. 15. The project is so much more than just a restaurant. Yes, there will be what should surely be a fine upstairs bar and a revolutionary dining room on the ground floor, with cuisine showcasing Brock's pride in his Appalachian heritage as well as his borderline otaku-level interest in Japanese culture. It will also be an homage to the food traditions passed on to him by his beloved grandmother Audrey, the namesake of the restaurant.
But sometime in the hopefully not-too-distant future (probably early next year), Audrey will also open upstairs with an intimate dining space offering extensive tasting menu format dining and an innovative food and drink research kitchen/lab. Those are likely inspired by Brock's exposure to similar R&D kitchens at global powerhouse restaurants like El Bulli and Noma and by his exposure to fellow genius mad scientist chefs during his participation in Noma chef René Redzepi's MAD Food Camp.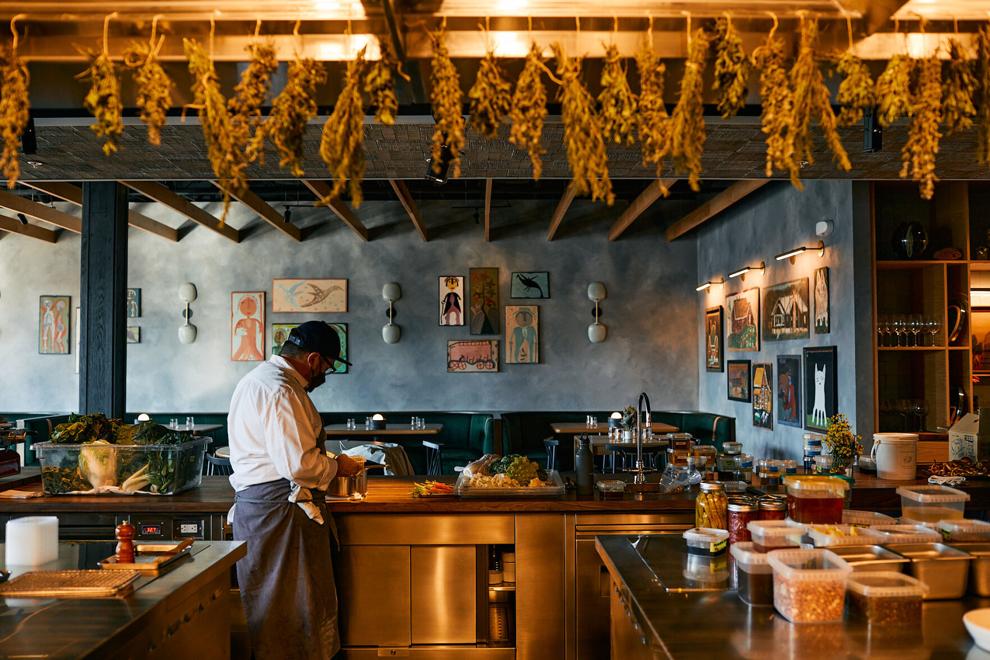 Consistent with Brock's painful decision to delay the opening until his guests and staff could dine in relative safety, the chef is adamant about the health and well-being of everyone involved with the Audrey project. Offering above-industry-normal wages and benefits for employees, he has also committed to setting aside valuable real estate within his restaurant for safe spaces where employees can concentrate on their own wellness, including commissioning works of art to delight the staff that will be displayed in spots never visible to restaurant guests.
Audrey is also committed to education, from ongoing staff work/life training, mentorship programs, dedicated office and research space with access to Brock's personal book collection and a tricked-out podcast studio to help spread the word on themes that are important to Brock and his friends.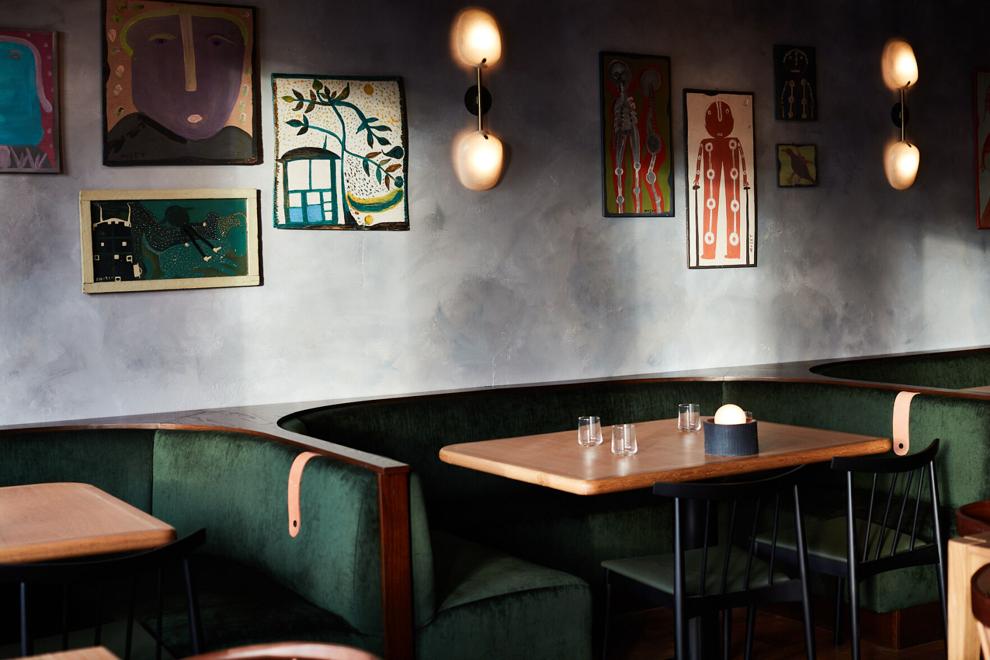 This is all well and good (seriously, it is!), but most diners are probably even more curious about what the guest experience will be like. It's no surprise that Brock intends the menu to change daily — a longtime hallmark of his previous restaurants — and the restaurant intends to focus intensely on organic, bio-dynamic and sustainable producers to provide all food and beverage ingredients that will show up on the menu. Guests to the downstairs dining area will have access to a five-course dining experience, which will be different upon each return visit.
Now that I'm not peeking in the window anymore, I can report that the interior is a gorgeous combination of opulent and homey fixtures and features, a design gestalt that Brock describes as: "My idea in designing Audrey was blending the scenes of where I grew up in Appalachia with my passion for a modern Japanese architecture — to make it feel like an Appalachian tobacco barn, but also to be contemporary." Yeah, I couldn't have described it any better than that.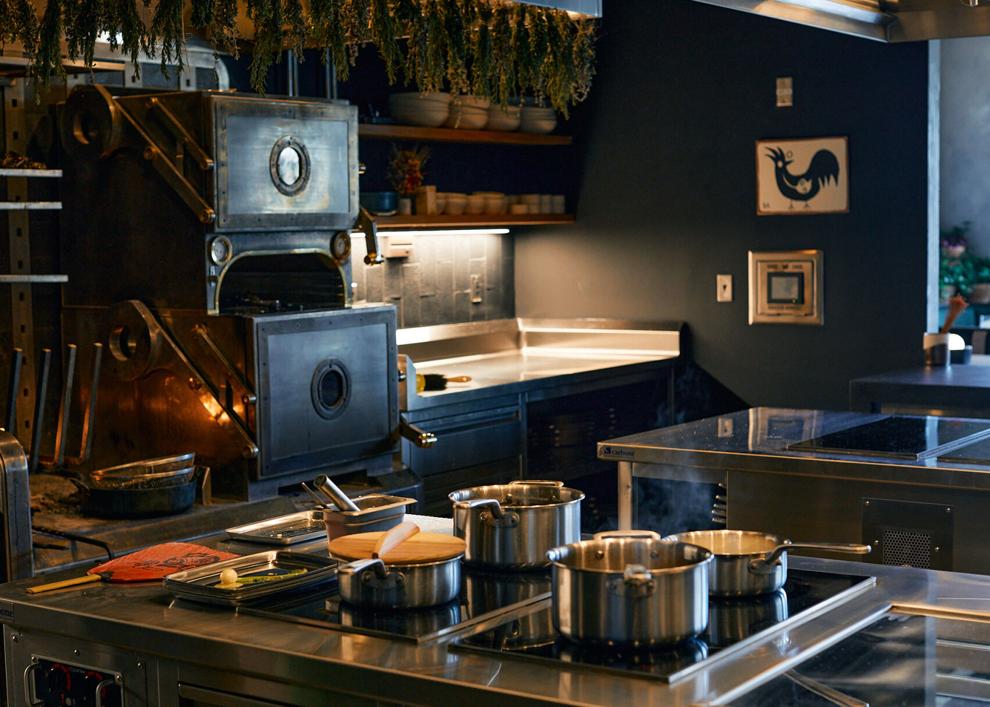 Ingredients and cooking equipment contribute to the decor, with herbs hanging from the hood in the open kitchen, wood stacked high next to the striking ember oven and jars of pickled and preserved everything lining shelves and counters. Interior designer Katie Vance collaborated with Brock to bring the warm wood and green forest canopy of Appalachia into the dining room with wall sconces evoking the shapes of leaves to light works of folk art from Brock's personal collection, including some of his own creations. Acknowledging how much of the Appalachian art actually inspired him in the kitchen, Brock reverently displays the collection almost like a museum gallery, so don't be surprised if your eyes wander from the plate to scan the walls around you. (And don't be creeped out if it looks like some of your fellow diners are staring at you. They're probably admiring the paintings or photographs hanging above your table.)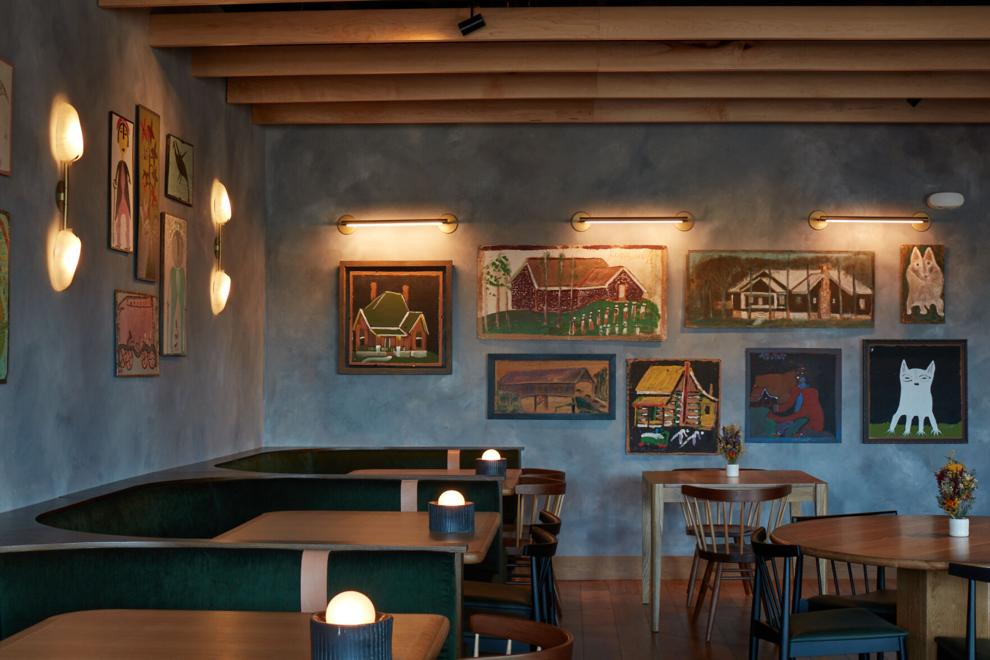 After a 24-hour head start for those followers intelligent enough to subscribe to the Audrey e-newsletter, reservations will officially open to the general public today at 2 p.m. Like at his downtown restaurant The Continental, Brock intends to open up reservations on one day for the following month. Even if this is the first you're hearing of it, it's worth searching Resy.com or the Audrey website at 2 on the dot, because I've been assured that they plan to hold back some reservations for those that didn't have access to yesterday's initial landrush of bookings by newsletter subscribers.
But don't dawdle. This is gonna be a hot ticket. Say howdy to Audrey!