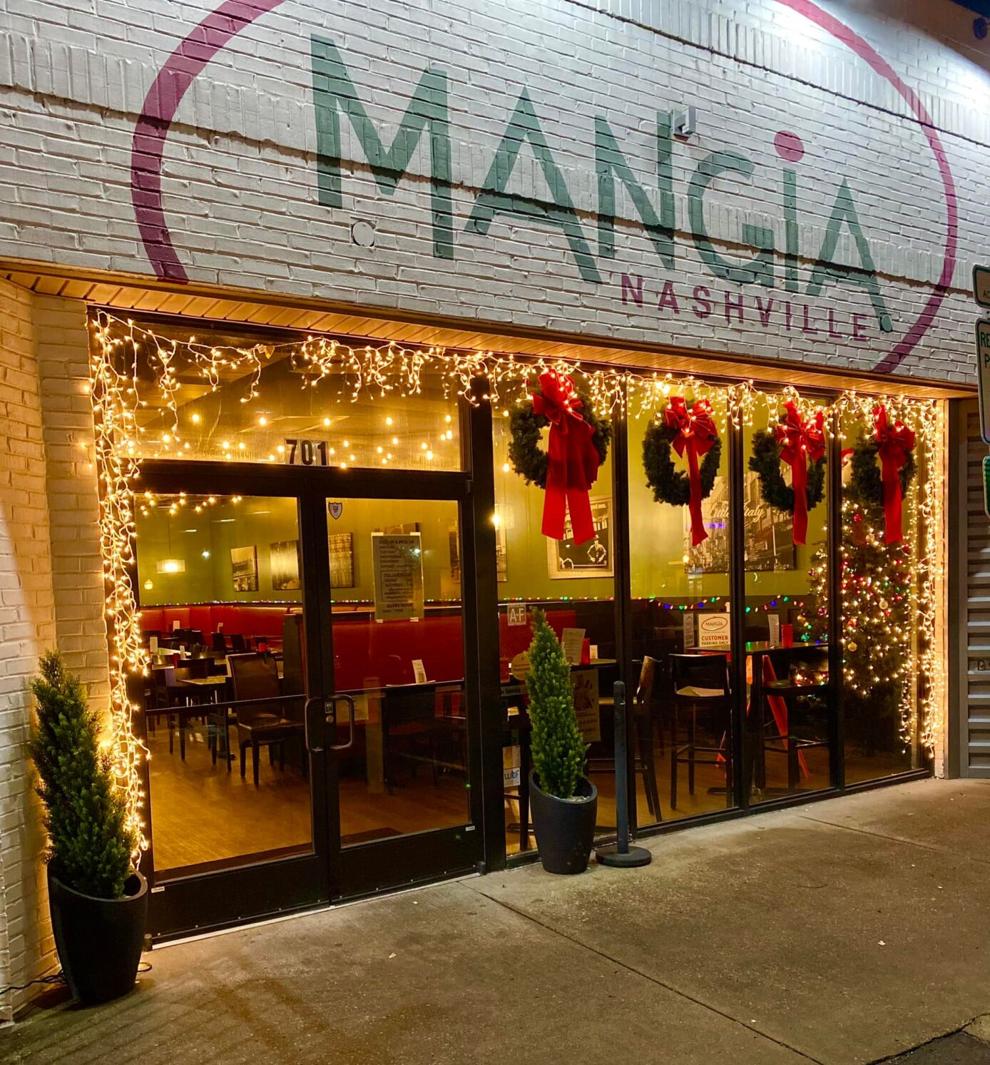 Since 2011, Nick Pellegrino and his wife Jeanine have shared re-creations of their family holiday feasts at Mangia Nashville, a festive dining experience that started out as a weekend pop-up at Cool Cafe in Franklin before settling into its own dedicated space in the Melrose neighborhood. Nick Pellegrino was the perfect candidate to combine his experience as an entertainer in the music business and as a cook in a catering kitchen to create a phenomenon that became a celebratory weekend staple for more than a decade.
Alas, after the weekend's NYE service, Pellegrino announced he would be shutting down the party for good. There's a certain bittersweet cyclicality to the announcement, as the idea for Mangia began at a New Year's party in 2010 when Pellegrino mused about how he could spread the sort of holiday joy that his family shared.
His concept was a multi-course Italian feast served family-style, with frequent breaks between courses for dancing and various frivolity. The Godfather played on a loop on television screens on mute in the background, lest diners forget that the Mangia experience was meant to be like being invited to the Pellegrino household. (Repeat diners learned to keep their eyes on their plates during the "horse head in the bed" scene and the culmination of the Five Families War.)
The menu featured simple and delicious Italian fare, but above all, the Pellegrinos emphasized creating an environment of hospitality where strangers became friends and families scheduled celebrations of major life events around the weekend Mangia party. In the age before Tock and Resy, Facebook was the primary way to snag a coveted table at Mangia, and dinners sold out weeks in advance.
As jovial as Nick always appeared in the kitchen, it wasn't an easy gig, especially during the pandemic. There were many nights when Nick was the only one in the kitchen. Imagine serving as host and cook for a party of 100-plus people looking for a great time. Still, Nick cooked with grace and a smile on his face, always willing to step away from the stove and drop his apron to bang out a drum solo with spoons on pots or take the lead in the conga line that often wound through the restaurant between the primo and secondo courses. As our own Jack Silverman shared in 2011, on the best nights Nick would belt out Frankie Valli songs or dust off his spot-on Christopher Walken impersonation. Speaking of dust, if you went home without a dusting of powdered sugar on your clothes from the fantastic zeppole dessert, you weren't eating with the sort of gusto Pellegrino deserved.
Nick was always ready, willing and able to help out local charitable efforts, offering classes for University School of Nashville's evening program, hosting dinners for charitable and arts organizations and cooking at various tasting events around town. His charismatic personality was made for television, and Nick frequently appeared on local cooking segments and national food programs. Chef Maneet Chauhan recognized his efforts for the community by sharing part of her winnings from Food Network's prestigious Tournament of Champions with Mangia along with two other local restaurants.
I know this is starting to sound like an obituary, but it's not meant to be. Pellegrino has already excelled in several careers, and whatever he does next, I'm certain he'll do well. And I hope if there's room at the table, I'll be able to join the party again.
I'll let Nick have the last words from his social media announcement of the closing: "Our family survived COVID-19, but sadly our family business did not. We thank our local Nashville guests and visitors from all over for making Mangia Nashville a part of your lives and becoming part of the biggest Italian family in Tennessee. Eat, drink, sing, dance and celebrate life. Cent' Anni!"