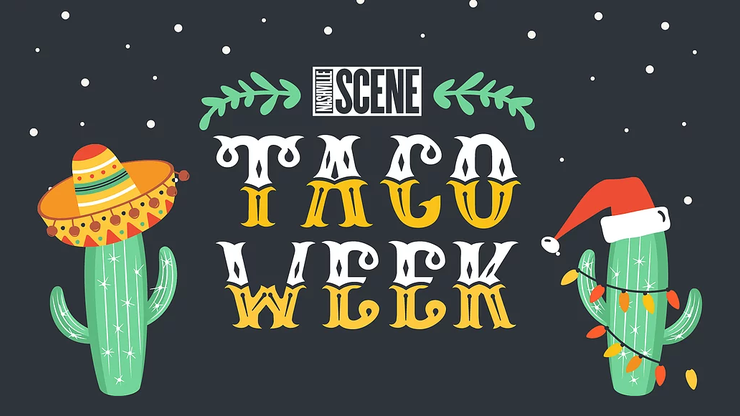 OK, Bitesters. It's the most wonderful time of the year — specifically Nashville Scene Taco Week. It's like Taco Tuesday all week long!
We do a few of these weeks, so you probably know the drill. Visit as many of the 24 participating restaurants between Dec. 6 and 12 as possible, and sample their special $5 taco deals. Make sure to take lots of photos for the 'Gram or Twitter and tag them with #SCENETACOWEEK21 for the chance to win prizes and piggyback on the Scene's social media juggernaut for more likes. Then vote for your favorite to help pick this year's top taco.
Yes, there may be lines at some of these spots, and they might even run out of tacos before the end of service. That's what happens when you offer these sorts of deals and serve fantastic tacos. Show some grace and tip generously.
You can visit the official Nashville Scene Taco Week site to see the participating restaurants and preview their offerings. And you should, because that's also where you'll vote for a winner. If you'd like to see everything in one place, I've got you covered, along with some preview comments — bear in mind that I haven't actually sampled any of these yet. Here are the candidates for your tacotinerary:
Bakersfield Bistec Chicken Taco
"Bistec" is Spanish for "beef steak," so this one's a little puzzling. Chicken with beef sauce? We'll try that.
Casa Rosa Hot Chicken Taco
Miranda Lambert's Lower Broad restaurant is playing the hot chicken card. Hopefully, it's not just "tourist-level" spicy.
Chago's Cantina Smoked Brisket Taco
This one is an occasional special at Chago's, and I can personally vouch that it's a really solid taco.
Cheap Charlie's Taco Shop Trio Special
Cheap Charlie lets you pick three tacos with any of their meats for just a five spot. You can't beat that for a bargain.
Condado Blue Dream
This one sounds like a stoner special, with both a soft tortilla and a crunchy "kewl ranch" shell surrounding ground beef, gooey queso, veggies and avocado ranch sauce. You might want to make this the last stop before Ubering home.
El Paso Mexican Restaurant Stuffed Poblano Pepper and Bacon-Wrapped Shrimp Taco
I like stuffed peppers, bacon and shrimp, so I'm predisposed to love all of those rolled up in a flour tortilla.
Esquina Cantina Tacos de Nopal of Tacos al Pastor
If you thought Corner Pub was only about draft beer and wings, their sister restaurant is offering one of the only vegetarian options with a grilled cactus with roasted potatoes, peppers, onions and tomatoes. I'm sure the al Pastor is good, too, but that Nopal calls to me.
Fable Fable Street Tacos
Fable is a fancy cocktail lounge, so street tacos are a surprise. But they're stuffed with braised short rib, and they are on a street, specifically 28th Avenue North. We'll allow it.
Haute Wheels Rolling Sandwich Shop Double Decker Carnitas
It's a sandwich truck, so a double-decker taco seems appropriate. Pretend the soft tortilla is the bread and the crunchy shell is the middle layer of a good club sandwich.
Las Palmas Nashpalmas Tacos
If you thought Las Palmas was just a kitchen with vats of cheese, meat and rice that they ladle in different permutations to create their voluminous menu, well, that's what we've always loved about them. But don't sleep on their taco, especially this customized Chicken Tinga version.
Mestizo's Mestizo Taco
This looks like a pretty "cheffy" version of carnitas, with baby arugula, pepitas and a blue corn tortilla. It could be a sleeper.
Moe's Southwest Grill Taco Your Way
"WELCOME TO MOOOOOE'S! Just point at anything in front of us and we'll stuff it in a taco for you." I guess if you really like it, you deserve all the credit.
Mojo's Tacos Adovada Pork Taco
Adovada isn't an auto-correct fail for "avocado." It's a slow-cooked pork preparation marinated in red chiles, and it's usually pretty spectacular.
Otto's 1980's Taco
Otto's is embracing the theme, to the max, with their homage to the '80s. Well, actually it's just your choice of a beef, chicken or vegan taco, but maybe you can gag yourself with a spoon.
Pancho & Lefty's Cantina Steak Alambre
Flank steak rubbed with guajillo pepper, grilled over mesquite, topped with smoked peppers and onions and stuffed in a house-made tortilla. It's also topped with Chihuahua cheese, so give them extra credit for taking the time to milk all those tiny dogs.
Peachtree Drive-in Spicy Chicken Taco
It's not "hot chicken," it's spicy. That gives Peachtree the chance to play with some different flavors without being compared to all the hot chickens in town. 
Phat Bites Phat Phish Tacos
I'd imagine that a Phish Taco would take three hours to complete and would have a clever sense of humor and a bunch of noodling. Prove me wrong, Phat Bites!
Scoreboard Bar & Grill Brisket, Pulled Pork, Hot Chicken or Fish Taco
For a sports bar, Scoreboard has always made some really legit hot chicken, so that's the obvious play here.
Smokin' Thighs Applewood Smoked Chicken Tacos
I've always respected Smokin' Thighs because they choose to use the most delicious part of the chicken in most of the items on their menu. These smoky tacos are no exception, and they should be great!
Sopapillas Blue Corn Chicken Taco
I love a blue corn tortilla, although they tend to shatter pretty easily when they're converted into hard shell tacos, like these are. Just grab a fork and eat them like nachos.
Tacos 1989 Baja Quesabirria
Quesabirria is still having a bit of a moment, so this looks like a clever move by the Gulch taqueria. Slow-cooked brisket is always a good idea.
Taco Chela Bang Bang Shrimp or Pastor
If "Bang Bang" makes you think of Bonefish Grill or P.F. Chang's, disabuse yourself of that notion with these tacos stuffed with sautéed shrimp and topped with mango pico.
Taco Mama The Mayor
How many of you bet that Taco Mama would last longer than Taco Mamacita (or our last mayor, for that matter?). I'm not sure what's mayoral about this basic chicken taco, but it might earn your vote.
Wilco Fusion Grill Birria Fusion Tacos
The "fusion" here shows up in the form of beef braised in coconut milk and served with a side of birria dipping sauce. It's a quick trip around the globe in a blue corn tortilla.