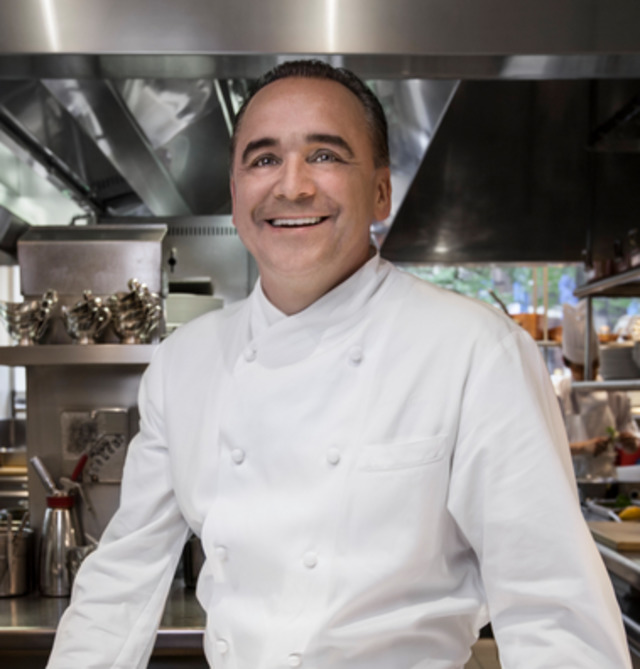 The owners of the Hermitage Hotel announced Tuesday that chef and restaurateur Jean-Georges Vongerichten will oversee their culinary operations — with major upgrades to the spaces long home to Capitol Grille and Oak Bar, plus plans for a new cafe.
According to a release, work is underway to reinvent the current spaces and both Capitol Grille and Oak Bar are closed, though hotel guests can still order from the two and dine in the hotel's lobby. The work, being done via a permit valued at $310,000 (read more here), will be completed in the fall. 
Vongerichten, a Michelin-star chef, has been affiliated with restaurants in New York City, Miami, London, Paris and Shanghai, the release notes. His future restaurant at the Hermitage will focus on Tennessee's regional produce, some of which will be sourced from the hotel's Glen Leven garden. The menu will incorporate his plant-based offerings and oven-fired pizzas. Vongerichten will also oversee all food and beverage concepts for weddings and meetings.
Once the project is finished, Capitol Grille will have a new name, which has not been announced. The release does not note if Oak Bar will have a new name.
"As I look ahead to my Nashville debut, I could not have asked for a more fitting locale than the city's exquisite Grand Dame, the Hermitage Hotel," Vongerichten says in the release. "I am inspired by the bounty of the American South and look forward to honoring the recipes, flavors and traditions of the region, while also presenting a global perspective at this beloved and iconic Music City landmark."
The release notes the Hermitage's restaurant space will undergo a modern design update from Thomas Juul-Hansen, including a new kitchen visible from the dining room. The future cafe will be housed in an adjacent space and will offer both indoor and outdoor seating.
The 1908-opened building most recently saw a renovation in 2003. Capitol Grille began serving meals in 1910. Also opened in 1910, the accompanying Oak Bar began life as a "private gentleman's club," according to the hotel website. It offers a 208-bottle bourbon selection, billed as one of the largest such collections in Nashville.
Molly Hardie and Robert Hardie serve as co-owners of both the hotel business and the property via Historic Hotels Inc. Dee Patel serves as managing director of the Hermitage Hotel.
"We can imagine no greater complement to the Hermitage Hotel than to welcome the inimitable Chef Jean-Georges Vongerichten to lead our culinary program," the Hardies say in the release. "As we usher in a new era, we are delighted that Jean-Georges has chosen the Hermitage to serve as his Nashville presence."
Located at 231 Sixth Ave. N. and with 122 rooms, the hotel is ranked five stars and the building is listed on the National Register of Historic Places.