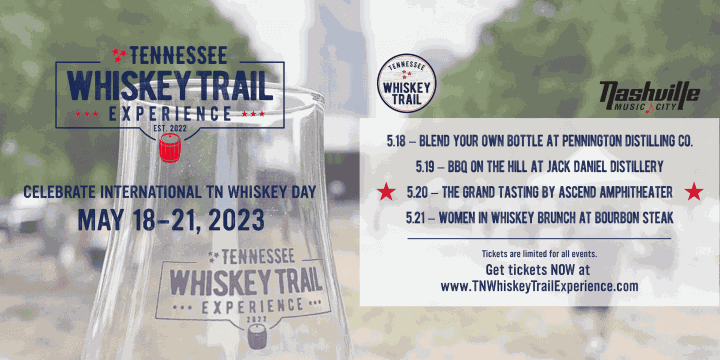 In case your calendar isn't already marked to commemorate International Tennessee Whiskey Day on May 21, the Tennessee Whiskey Trail invites you to make an entire week of it with seven days of special deals at some of your favorite watering holes, tastings, pairings dinners and tours. The week of whiskey will climax with a Grand Tasting event on The Green at Ascend Amphitheater on Saturday, May 20, and a special Women in Whiskey brunch on Sunday, May 21, at Bourbon Steak.
The easiest way to participate is to simply belly up to the bar at one of the establishments listed below which will be offering special deals on whiskey cocktails and straight pours from May 15 through May 21. Here's where to save a little scratch: 
Bastion
Bay 6
Black Rabbit
Bourbon Steak
Corsair
Cumberland Bar at JW Marriott
Earnest Bar & Hideaway
The Fox
Hathorne
Jane's Hideaway
Love Language
Nashville Barrel Co.
Nashville Craft
Ole Smoky and 6th & Peabody
Peg Leg Porker
Pennington Distilling Co.
Pullman Standard
Scout's Pub
Southern Collective Spirit
Standard Proof Whiskey Co.
Urban Cowboy
For a more extensive experience, join members of the Tennessee Distillers Guild at one of these whiskey pairing dinners during the week where chefs have designed special menus to accompany the meal:
You can make reservations for the dinners here.
A couple of distilleries are opening their doors for unique experiences as part of International Tennessee Whiskey Week, and you might want to pencil them in for some fun. On Thursday, May 18, Pennington Distilling Co. invites you to take part in their "Blend Your Own Bottle" experience. PDC staff members will lead attendees through a guided tasting from selected barrels to help create a unique blend of whiskeys which they will blend into a bottle. The ticket includes all instructions and materials, hors d'oeuvres, an open bar during the experience, and a customized 750 milliliter bottle of your personal blend. Tickets are $199 and are limited to the first 50 participants.
On Friday, May 19, jump on a bus to Lynchburg for an unprecedented Jack Daniel's Tour, Tasting, and BBQ on the Hill Experience. The Jack Daniel's Distilling team will lead the experience as part of the TN Whiskey Trail Experience. Buses depart at 9 am and will return by 4 pm. Enjoy a full day of education, touring, tasting, a barbecue lunch with live music, and a meet-and-greet with the Jack team with roundtrip transportation included to Lynchburg. Tickets are $129 and are limited to the first 300.
The Grand Tasting at Ascend will take place on Saturday, May 20, from 1 until 7 p.m. Participating distilleries include:
Big Machine Distillery
Bootleggers Distillery
Brushy Mountain Distillery
Cascade Hollow (George Dickel)
Chattanooga Whiskey
Company Distilling
Corsair Distillery
Gate 11 Distillery
Jack Daniel's Distillery
Junction 35 Spirits
Knox Whiskey Works
Leiper's Fork Distillery
Lost State Distilling
Nashville Barrel Company
Nashville Craft Distillery
Nearest Green Distillery
Nelson's Green Brier Distillery
Old Forge Distillery
Old Glory Distilling Company
Old Tennessee Distilling Company
Ole Smoky Distillery
Pennington Distilling Company
PostModern Spirits
Prichard's Distillery
Short Mountain Distillery
Sugarlands Distilling Company
Tennessee Legend Distillery
Old Dominick Distillery
All attendees will receive a souvenir tasting Glencairn glass to enjoy samples from all the Tennessee Whiskey Trail Distilleries in one place, an opportunity to purchase bottles to go, live music from Sheriff Scott and the Deputies and Haden Carpenter Band, a cigar lounge and interactive games. VIP ticket holders will receive early admission, special VIP area with seating, tastings and small bites and a subscription to BOURBON+.
There will also be a "Featured Chef Food Experience" with food tastings from some of you favorite local chefs. The tastings are either paired with a local Tennessee whiskey or include Tennessee whiskey-infused menu items.  Here's who's cooking:
Marino Bianchi – Chef of Urban Grub
Alyssa Gangeri – Pastry Chef of The Butter Milk Ranch / Urban Gru
Aaron Hall – Chef of Jasper's
Deb Paquette – Chef / Owner of Etch & etc.
Joshua Peoples – Executive Chef of Deacon's New South
Finally, the week will conclude with a Sunday brunch featuring a celebration of International Tennessee Whiskey Day, including a tasting flight from the top women representing Tennessee whiskey.  A cash bar for additional alcoholic beverages will be available.  Tickets are $159 and are limited to the first 100. Here's the august list of panelists:
Nicole Austin – General Manager & Distiller at George Dickel / Cascade Hollow
Alex Castle – Old Dominick Distillery Master Distiller
Cary Ann Fuller (host) – Straight Up 615 / Whiskey Wanderer
Lexie Philips – Jack Daniel's Assistant Distiller
You might think about taking Monday off, too.