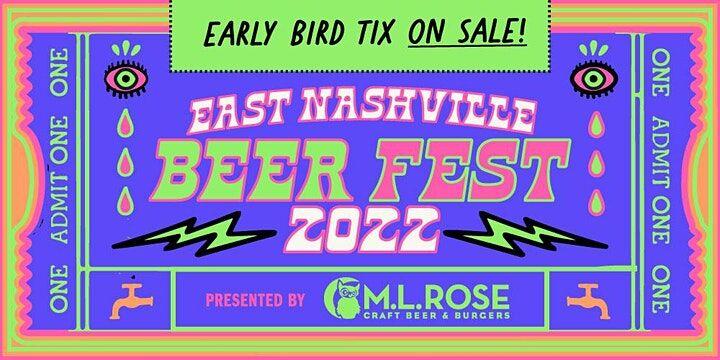 Beer lovers: Circle Saturday, April 9, on your calendar, because the popular East Nashville Beer Fest is returning to East Park for an afternoon of fellowship, beer tasting, food trucks and music! (Well, actually don't circle it unless you still use a paper calendar. Bites takes no responsibility for Sharpie marks on your iPhone screen.)
The annual harbinger of spring is celebrating its 10th edition (we shan't speak of 2020's cancelation). The event benefits the Tennessee Breast Cancer Coalition and the organization's efforts to improve the quality of life of those undergoing treatment. Through the years, Rhizome has donated more than a million dollars from their many events to local charities, so they're definitely worth your attention.
As always, you can expect more than 50 breweries to showcase their wares and help you find a new favorite brew for '22 out of 150-plus options. That's why it's important that Rhizome Productions is again offering a Designated Driver ticket to help get folks home safely. DDs will get water and a food truck voucher, and they'll have access to all the food options and musical entertainment. It's probably cheaper than an Uber!
Both Designated Driver and Debaucherous Drinker tickets are already on sale at the event's ticketing site, and Early Bird pricing is available until the end of February. Tickets are only $50 for those who act early, and they'll go up in price incrementally until the day of the event. Commemorative T-shirts with cool new ENBF artwork are also available at checkout on the ticketing site.
Among the first round of confirmed breweries are:
3 Floyds
Bad Idea Brewing
Common John Brewing Co
Crazy Gnome Brewery
Crosstown Brewing Company
Diskin Cider
East Nashville Beer Works
Monday Night Brewing
Sierra Nevada Brewing Co.
Southern Grist Brewing Company
TailGate Brewery
Tennessee Brew Works
Terrapin Beer Co
The Black Abbey Brewing Company
Urban South Brewery
WISEACRE
Xul Beer Co
Keep an eye on the event website for an updated brewery and beer list. Gates will open at noon, and the fun will go on until 5 p.m. The best news is that by April, it won't be dark at that time. Don't dawdle, get your tix today!