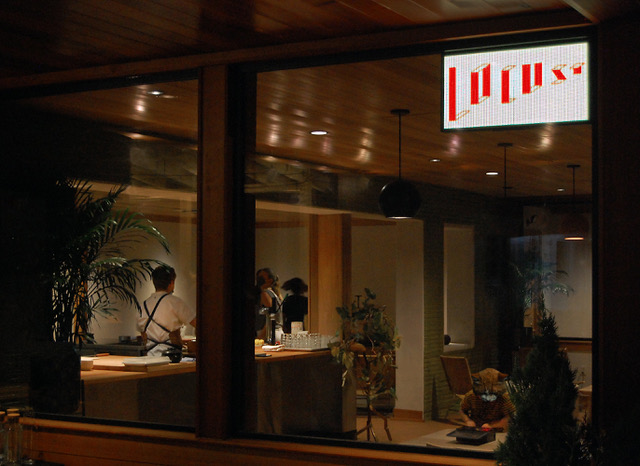 Former Catbird Seat chef Trevor Moran announced in January 2019 that he planned to open a new Asian-inspired restaurant in 12South. Since then, the wait has felt as long as the time between broods of 13-year cicadas. I'm pleased to report that Locust opens on Thursday, Oct. 29. 
I remember spying Moran playing around with his kakigōri ice creations in the dining room at another Strategic Hospitality restaurant Le Sel, not long after he had left his post at Catbird — so it was that long ago. This latest offering from Strategic Hospitality admirably demonstrates the mutual commitment between the company and Moran to wait out all these delays and still open in the middle of a pandemic. Good for both parties!
Moran is nothing if not obsessive about his food, and that's a very good thing. Early descriptions in some unnamed media outlets misstated that Locust would be serving sno-cones, which is decidedly not what kakigōri is. Moran has spent years perfecting his version of the Japanese shaved-ice and condensed-milk dessert, and this should be a good indication of how deadly serious he is about his cuisine.
And if you've ever glanced at his social media, you'll find it has been filled with images of dumpling experimentation stretching back to the beginning of the current presidential administration. You can't help but appreciate his Noma-esque attention to detail and quest for perfection.
This is all to say that Locust should be an important addition to the local restaurant firmament. I've been leaving nose prints on the windows of the attractive remodeled building for months during my morning walks, trying to gauge how far along they were in the reconstruction. Like many restaurant projects, the rush to the finish was greatly accelerated, and Moran has been putting the kitchen through its paces with practice dinner runs for a short time now.
The space is cozy with 44 seats in the dining room and room for 30 more patrons on the heated patio, and the menu is intentionally minimalist. The opening savory offerings include a couple of dumpling dishes, something called "numbing noodles from hell" — which I can only assume (and hope!) has some serious Szechuan influences — and charcoal-roasted oysters with chili butter. Frankly, that's all I need to know to be excited about eating there soon and often.
For desserts, we'll get to sample two versions of shaved ice. One is an almond concoction with a side of cherry sauce. The other involves chocolate, salted caramel and passionfruit, and it seems to have been designed by jacking straight into the pleasure center of my brain. Beverage options are also intentionally spartan — a Japanese whiskey highball, a canned sake, Orion beer and two flavors of Italian soda.
Moran's Irish background, Nordic culinary training and Asian obsessions are all perfectly evident in his menu choices and the overall vibe of the restaurant and dining experience. I, for one, am fully on board with the gestalt and happy that our wait is almost over! Locust will be open Thursday through Sunday from noon till 10 p.m., at 2305 12th Ave. S. For more information and to make a reservation, visit locustnashville.com or follow @LocustNashville on Instagram.