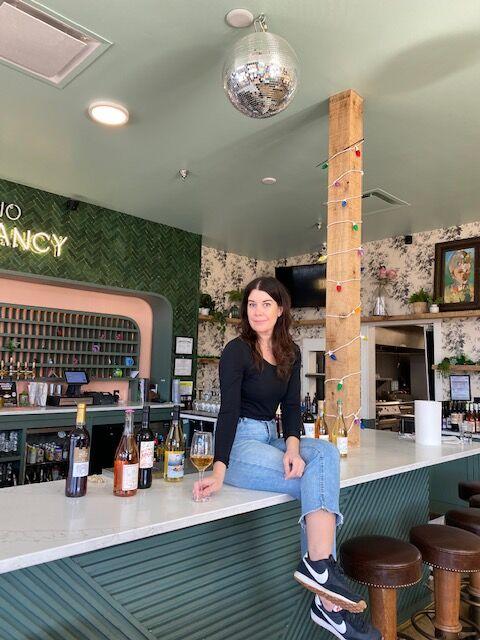 In May, I told you about what was then the most exciting new way to share a bottle of wine (or two) with friends in East Nashville: The opening of Kate Cunningham's By the Bottle wine bar adjacent to Urban Cowboy.
The new little wine bar was a big success, Cunningham says, and she's grateful for the response she received. But most of the space there on Woodland Street was outdoors, so after six months, By the Bottle has a new space in the works. Starting this Friday, Dec. 3, By the Bottle will open inside The Bar at Vandyke Bed and Beverage in East Nashville.
The new spot is just half a mile from the old one, and that was on purpose, Cunningham says. "When we needed to make a change for winter, we wanted to stay close," she says. "We built such a loyal following this summer."
The new location at the beverage-themed boutique hotel in Five Points also marks a homecoming of sorts for Cunningham. She was one of the bar's original bartenders when it opened in 2019. Other pop-ups and residencies have graced Vandyke's kitchen and bar (including Setsun East and St. Vito Focacciaria), and Cunningham thinks her natural wine will continue the tradition of good food, wine and conversation.
"It is so pretty inside and cozy inside — it is similar to that Rumor's feel," she says, referring to her sister's now-shuttered (RIP) bar and restaurant in East Nashville, where Cunningham got her start. "It is homey and cozy, and I think it will be a great spot."
The new iteration of By the Bottle will expand upon this summer's success. There will be a rotating selection of natural and sustainable wines available by the bottle as well as by the glass, plus cocktails, beer and some nonalcoholic options. On Fridays, Steven Anthony's Pizza Lolo will be firing up pies.
"My second love, aside from wine, is food, so we're all about kitchen takeovers, and we're hoping to get some fun culinary collaborations going once we settle into the space," she says.
By the Bottle will open at Vandyke this Friday, Dec. 3. The Pizza Lolo popup will be Saturday this week only (Dec. 4) and Fridays thereafter. (If you're confused, follow By the Bottle on Insta and stay updated on the schedule.)
Full bottles will not be available for sale for takeaway because Vandyke is so close to Woodland Wine Merchant, Cunningham's former employer, and the OG wine shop of East Nashville. Cunningham hopes folks will come try wines in a friendly, cozy environment at By the Bottle and then go to buy their favorites for at-home sipping down the street at Woodland. "We think we are creating a place where people can congregate and hang." 
Hours will be: 4-10 p.m. Tuesday-Thursday; 4 p.m.- midnight Friday-Saturday; 2-8 p.m. Sunday. Happy hour runs 4-6 p.m. Tuesday-Thursday (that's $5 by-the-glass wines, dealer's choice). The entire bar also will be available for full and partial buyouts for private parties, wine tastings and other events. 
Vandyke is located at 105 S. 11th St.