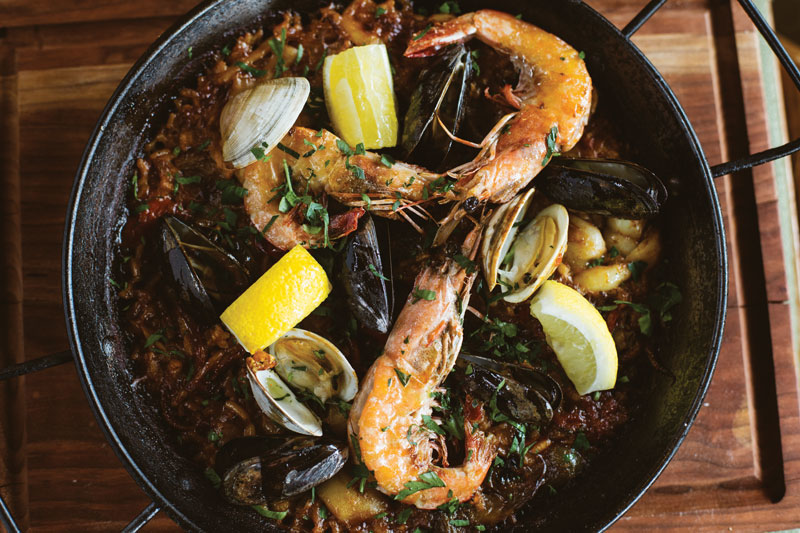 I've been waiting years for Nashville to fully embrace the concept of tapas, but it looks like the idea has finally taken root.
I base that conclusion on the city's positive response to Butcher & Bee's menu of Mediterranean-inspired mezze (quite similar to tapas), and also the way folks are flocking to the new Barcelona Wine Bar in Edgehill Village.
It's about time. I can't even put a number on the various restaurants that have opened over the past 15 or so years vowing to introduce Nashvillians to tapas — usually described as "elevated small plates" or some such phrase — only to suffer defeat at the hands of diners perplexed or irritated by the sight of small portions. The idea that a whole party would order an array of these little plates, then share them, didn't seem to click. (Another discouraging hazard of the early days of the concept: the inevitable lame jokesters pretending to confuse "tapas bar" and "topless bar.")
While I've never yet been to Spain, the birthplace of tapas, I've been desperately hoping for Nashville to get a full-blown tapas restaurant since the '90s, when I first ate at Spanish chef José Andrés' wonderful Jaleo in Washington, D.C. It was a revelation to enjoy a dazzling assortment of small, perfect dishes — some reflecting centuries of Spanish culinary tradition, others improvised by the chef that day, based on the happenstance of ingredients available, and a flutter of inventive whimsy.
I'm not expecting Chef Andrés to open an outpost of any of his restaurants in Nashville soon (though I'm rooting for him in his D.C. litigation battle with President Trump). But happily, Barcelona is now giving us a serious and well-crafted take on tapas cuisine.
Barcelona Wine Bar is part of a 12-restaurant chain that started in Connecticut in 1996; its sister concept is the taco joint Bartaco, which has a Nashville location in 12South. Barteca, the parent group, makes a point of encouraging autonomy in each Barcelona location, with the individual kitchen teams creating dishes and using local ingredients. In Nashville, the executive chef is the talented Andy Hayes, a Tennessee native who cooked with Sean Brock and Tyler Brown at the Capitol Grille, rising to chef de cuisine there before a stint at New York's Gramercy Tavern.
I was terrifically eager to try Barcelona, which opened in November, but I also wanted to give the team plenty of time to work out the kinks. Some early reports alluded to service glitches, but after several visits I can say the restaurant appears to be firing on all cylinders.
A word about the location: Barcelona occupies space in the former White Way complex; it's the fourth restaurant within the repurposed 1920s-era dry cleaning plant, the fifth if you count the Legato Gelato ice cream shop next door (and you should count it — it's great). The site provides Barcelona with the opportunity for some stylish industrial decor. As at nearby bar Old Glory, the exterior is deceptively plain — step inside, and the space opens up dramatically, with high ceilings and exposed ducts and brickwork. A large bar projects into the center of the room, serving up drinks and tapas, with the restaurant's open kitchen visible at one end.
A smaller dining room faces toward a patio that offers outdoor seating in good weather, while on the far side of the bar, a towering lattice screens a cavernous larger dining room (which wasn't yet being used the first couple times we visited).
Gradually over the months since it opened, Barcelona has really soared in popularity. It's hard to get in there many nights without a reservation or a long wait. I've done a couple of those waits and employed some strategic eavesdropping; the crowd appears to be a mix of folks from nearby neighborhoods and universities, diners drawn from across the river in East Nashville, and out-of-town visitors. The vibe is buzzy and energetic, but pleasantly so.
Once seated, you'll note that the menu is divided into three parts: charcuterie at the top, a slate of 30 or so tapas across the middle swath, and at the bottom, a list of larger plates to share, including paella. Given my obsession with tapas, I haven't fully explored the charcuterie, though the selection of meats and cheeses — many are from Spain — looks promising. (On one visit we did try a plate of Fra'Mani salametto from California, seasoned with red wine, and it was delicious.)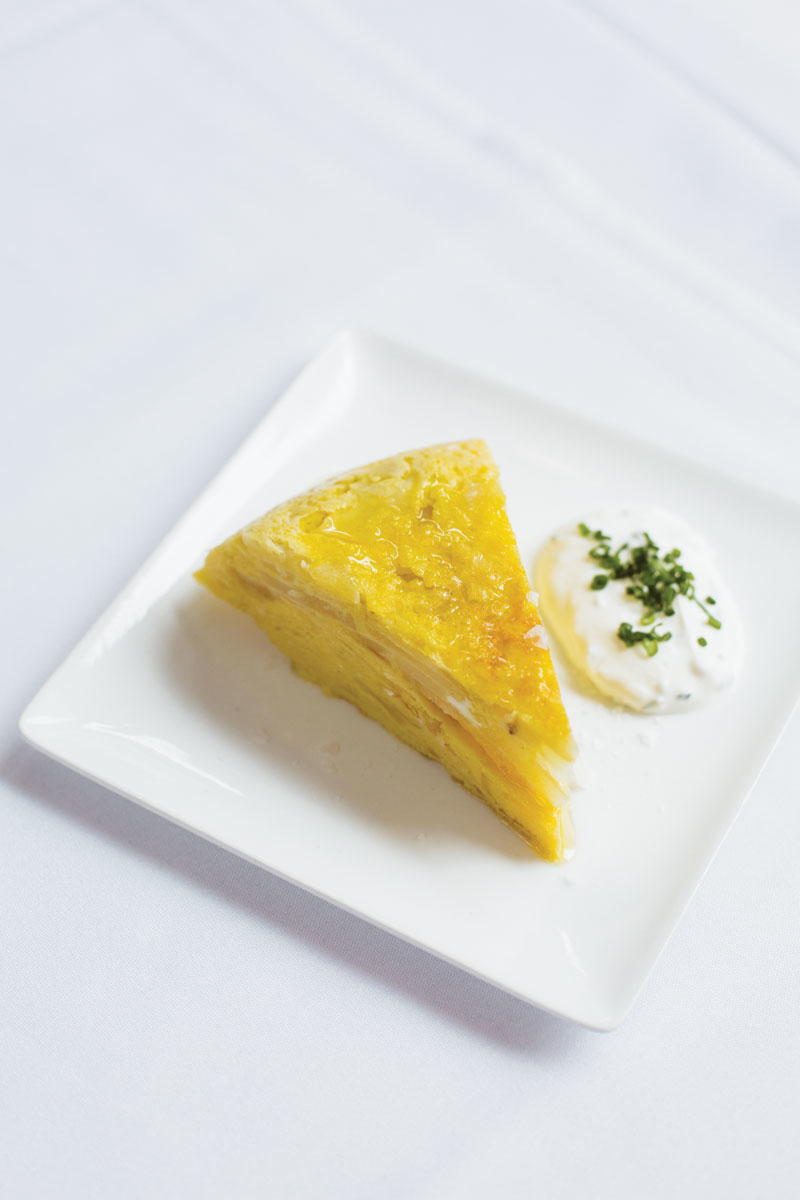 Based on my enjoyment of tapas in other cities, the first thing I homed in on was the tortilla espanola, or as Barcelona calls it, potato tortilla. One of the most celebrated dishes of Spain, it's completely different from a Mexican tortilla and more akin to a potato frittata. Sliced potatoes and onions are fried up in a deep skillet, bound together by scrambled egg. After the dish sets, the skillet is upended and a hemisphere of potato and eggy goodness hits a platter, to be sliced into wedges. It's usually served either room temperature or cold.
It's probably one of my favorite foods in the world, so I had to have it. Barcelona's version is well-executed, with a tender bite and not a lot of browning around the edges (that's my preference). Topped with sour cream and fresh chives, it was everything I hoped for, and set the tone for a satisfying experience.
If I were forced to pick just one other memorable dish off the tapas menu, it would probably be the roasted baby carrots, topped with a spoonful of trout roe nestled in a dollop of caraway-scented crème fraîche. Unlike the arid little sticks sealed in plastic in the grocery store, Barcelona's carrots deliver full veggie flavor, followed by hits of creamy and savory sensation, courtesy of the toppings.
The menu changes almost daily. One dish that was available on our most recent visit was a plate of sliced blood oranges, grilled to a darkly caramelized state with bits of burnt shishito pepper. The combo of sweet oranges, peppery heat and char is outstanding, and I am strategizing how to re-create the dish at home.
On a couple of occasions we started with tapas then moved on to the paella mariscos — paella studded with a variety of seafood, including mussels, clams, squid and large shrimp served in their shells. It's a classic Spanish dish of global fame, cooked in a large shallow pan, with flavorful saffron rice cradling the seafood. Traditionally, paella is served communally, with groups gathered around the pan, all the diners tucking in with their forks.
It's basically offered as a group thing at Barcelona, though each diner gets an individual side plate to transfer their portions to, if they wish. On the advice of our server, we as a party of four split a paella designated for two, and it was plenty of food (although our paella had been preceded by quite a few tapas). The quality of the fresh seafood was really remarkable for Nashville, and the technique was good — the squid, in particular, was cooked to perfect tenderness.
The only quibble with the paella was that the first time we ordered it, the pan was almost completely lacking in the crusty bottom layer of caramelized rice that is one of the famous attributes of paella. That layer even has its own name: the socarrat. I'm not really a purist on the issue — I found the paella to be mind-bendingly delicious, even without the crispy-rice bottom crust. But in texture it was more like a tasty seafood-and-rice casserole than a true paella.
The second time, we asked the server to communicate our preference for a crunchy crust, and we got a more traditional crispy layer at the bottom. As I've said, either way, the flavor was great. And a procedural note: If you want paella, try to put your order in at the start of your meal — it takes considerably longer to prepare than the tapas.
Prior to the bounty of seafood, I found myself craving a little beef, so we also locked in the tapa of grilled hanger steak with truffle vinaigrette. It was cooked to exquisite internal pinkness, and the flavor of truffle is a classic pairing with steak. I also I felt a desire for a sprightly salad, so we ordered the Greener Roots, a beautiful combo of fresh lettuces and thinly shaved giant radish.
And of course we had to have dessert, and what would tapas be without wine? At this point, it's worth noting one of the potential pitfalls at Barcelona — you may find yourself wanting everything, and ordering too much. But I don't regret dessert: Barcelona's flan is a solid version of the traditional crème caramel, and the burnt cheesecake dessert, complete with a blackened-and-somehow-especially-delicious top layer, was one of the better sweets I've discovered in a while.
As for wine, the Barcelona chain is known for its well-curated list, leaning heavily to Spain, of course, but on my visits I stuck mostly to the very dry house cava. (Cava is Spain's excellent version of sparkling wine.) The fuller list, including sherry, is something I hope to explore on future visits. I will note that one of my dining companions got a flight of three Catalan wines (the cava was part of that trio) and was very pleased.
So again, Barcelona represents a bounty that may blow your budget if you order indiscriminately. But it's also possible to order a glass of wine and just a tapa or two and move on to the next convivial destination, in the Spanish way. I'm just glad Nashville has welcomed a restaurant that truly does tapas justice.