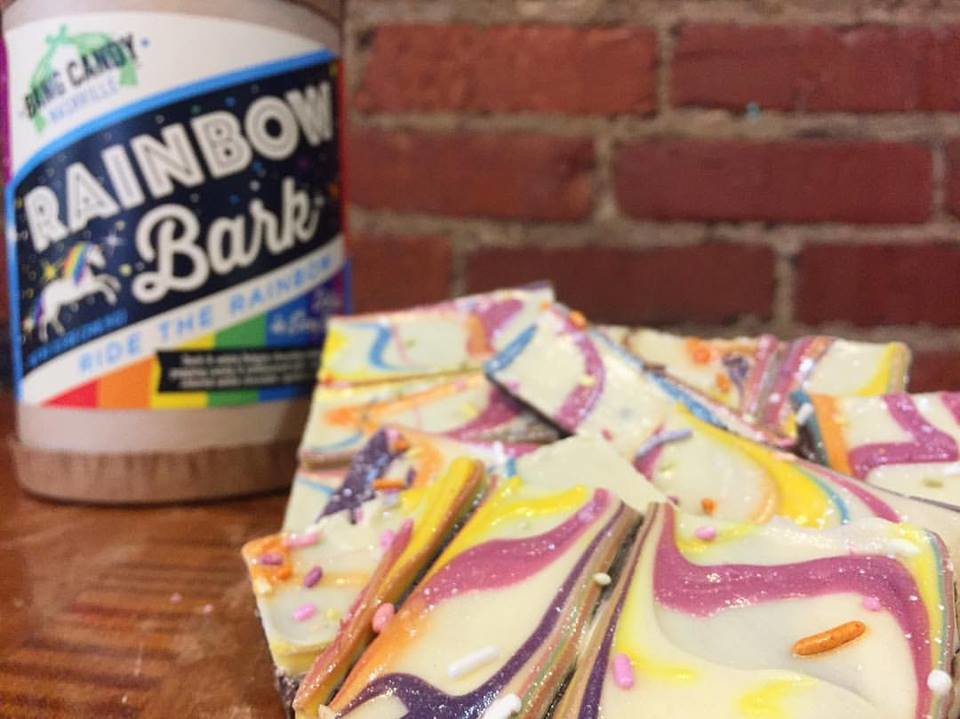 Just in time for Pride month, the sugar scientists over at Bang Candy have expanded their line of chocolate bark to include Rainbow Bark, a colorful salted chocolate version of their famous treat that's loaded with popping candy. Bang Candy founder Sarah Souther hinted that the Rainbow Bark was in the works earlier this year when I talked to her for my Sugar Shock column, and it's even prettier than I imagined. (Other bark flavors are also still available and include Sparkle Bark with peppermint, Firecracker Bark with hot spices and cinnamon candy, and Bark in the Dark with lavender and lemon. They're all amazing. Eat them immediately.)
A percentage of Rainbow Bark proceeds will benefit Oasis Center, a local organization focused on helping at-risk youth. Souther tells the Scene: "The Oasis Center is a charity right around the corner from us — they are doing incredible work for the sector of Nashville's youth who are disenfranchised, marginalized and don't feel they fit into society's norms. They offer all kinds of help and support to kids, from those experiencing homelessness to those in need of assistance enrolling in college, and everything in between. Rainbow Bark is all about inclusivity, as is the Oasis Center, which is why I chose them to benefit from the proceeds. Got to take care of the kids and henceforth the future!"
Learn more about Oasis Center here. Cans of Rainbow Bark are $25 and available at Bang Candy's shop in Marathon Village at 1300 Clinton St.
And speaking of Bang Candy, they also recently released their line of summer marshmallow flavors, which include peanut butter and jelly, smoked almond cherry and mango tamarind. If you have some July Fourth grilling plans, a box of those would sure as hell up your s'mores game.