Generally, I find most online food debates to be tiresome. Take, for example, the humble hot dog. Is it a sandwich? Should you put ketchup on it? Beef or pork? Skinless or no? Dude, I don't care what you call your meat tube or what condiments you slather on it, just save me a couple if they happen to be from Porter Road.
One ongoing argument that does occasionally grab my interest on the Twitters is the fiery debate over cheese dip, particularly from the west side of the state. Is it the same as queso? Where was it invented? In a Mexican restaurant in Arkansas, in Mississippi, as part of the Tex-Mex canon or in Memphis? Whose is the best? White or yellow? Should it be served hot or cold? Believe it or not, in Memphis, cheese dip lovers prefer it at fridge temperature over the piping bowls of queso that you expect from your local Mexican joint. I must point out that in matters of cheese dip and all things Memphian, I always defer to former longtime Bites contributor and Memphis native Lesley Lassiter. She says "Pancho's" and "cold." 
Grind City expats are excited that they can now buy Pancho's online or at Sam's Club and Walmart after years of begging friends to mule them home a few tubs after a trip to Memphis. You can also buy Gordo's Cheese Dip at Kroger, but really, why would you? That stuff is so thin that I need to create a runway of paper towels down the middle of my kitchen table to catch the drippings from tub to plate. Eww!
Another Memphis source I depend on is my friend and Commercial Appeal food writer Jennifer Chandler, and when she told me I needed to check out a new cheese dip product coming to town, I bought it (and a bag of chips). She was excited that Music City was finally going to get a chance to try Arbo's Cheese Dip, a truly unique family recipe that has recently come to the market.
Arbo's is named after entrepreneur Andrew Arbogast, who sought to re-create his father's secret recipe that was a staple at gatherings of friends and family for years. A party wasn't complete unless "Charlie's Dip" was on the menu, so Arbogast had years of market research under his belt before setting off on his new venture.
As a longtime military man flying Apache helicopters in Iraq and Afghanistan, Arbogast knows how to make a plan and stick to it. While working in his post-Army job at International Paper, he began manufacturing his first versions of Arbo's in a small commercial kitchen to sell at pop-up events. Within a few months, he decided to go all in and quit his day gig to sell cheese dip full-time as a living.
This meant ramping up production by partnering with a co-packer he could trust to follow his family recipe, and by increasing batch sizes from a single Crock-pot to 10 80-quart production runs at a time. Arbogast worked closely with his new production partner to ensure that the desired viscosity of his product stayed the same and that the flavor profile remained consistent.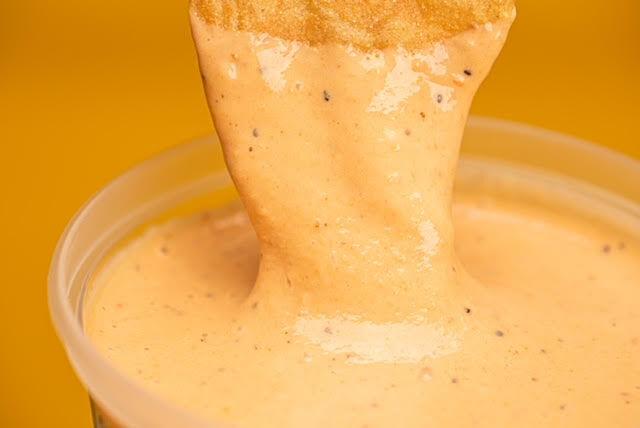 "I'm a stickler for paying attention to small details," he explains. "I want to be able to dip a chip in it without breaking, but I also want the dip to be thick enough to stick to it." His yellow American cheese-based product is indeed thicker than most store-bought dips, and it's unique in that you can actually see grains of spice in Arbo's as opposed to the pale white or yellow dips that dominate the grocery shelves.
Arbogast likes it cold, ("I think it's refreshing on a hot day," he suggests,) but heated or room temp is fine as well. It needs to stay refrigerated throughout the supply chain, but it does have a 75-day shelf life. The tub I purchased didn't last two days after I pulled it out before the Titans game with friends.
Delicious and creamy on an unsalted tortilla chip, Arbo's is versatile in other applications, too. Arbogast recommends drizzling it over a plate of BBQ pork nachos, in a taco, baked potatoes, as the base for a spicy mac 'n' cheese or as a topping for burgers. He also says it's great on a simple dish of noodles with a sprinkling of mozzarella to provide a little contrast. I'm gonna need to buy another tub soon!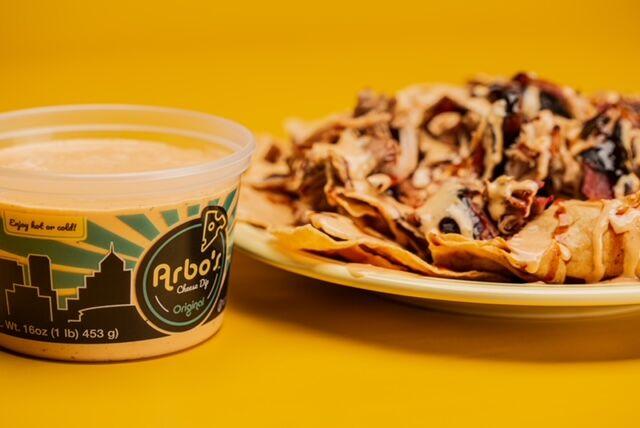 So where can I (or you) find Arbo's dip? Arbogast would certainly love to be in the big box stores, but his initial strategy has been to aim at smaller independent stores through the Associated Wholesale Grocers distribution group. His partnership with AWG offers access to more that 650 stores across the Southeast, a pretty remarkable growth for a product that really only launched last spring.
He explains his strategy this way: "Smaller independent stores are easier to get into. You don't have to go through all the corporate layers." Arbogast has been hard at work hitting the road to introduce Arbo's to deli managers in stores like Piggly Wiggly, Osborne's, H.G. Hill and Cash Saver. Most stores are indeed stocking it in the deli sections instead of the cheese case, so you might have to ask for it. I can vouch that Arbo's is indeed in stock at the Piggly Wiggly on West End next to Centennial Park, at least it was before I go back and buy them out.
Arbogast seeks no less than world peace, or at least state peace. "If I can do one small thing to bring Tennessee together as a state, that would make me happy," he shares. "I want to bring love to Nashville from Memphis through a love of cheese." Maybe we should send a few tubs to each member of the state legislature.