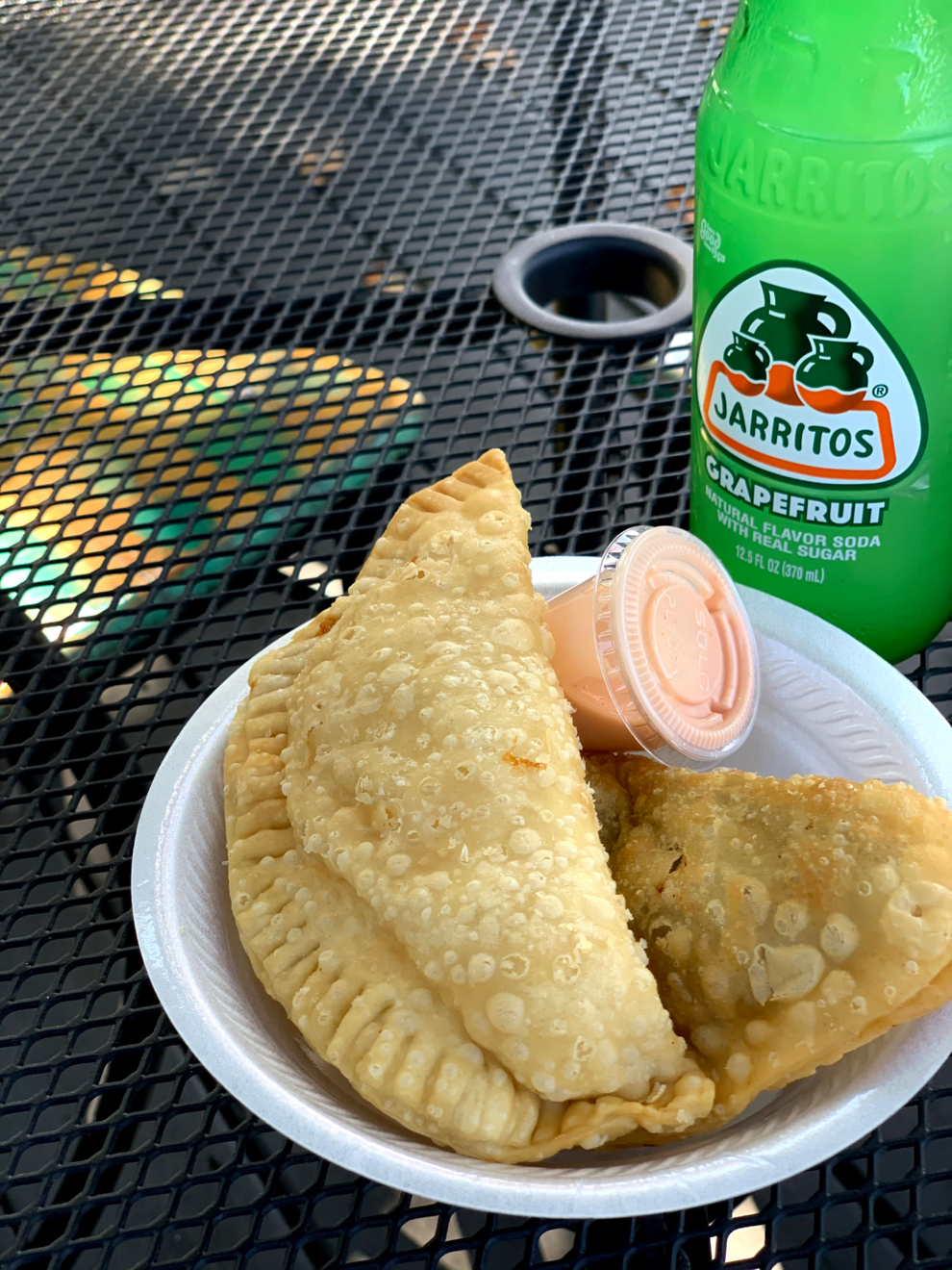 Much of the restaurant industry had to rapidly change its business model due to COVID-19, and we're highlighting the Nashville places that are attempting to stay open. Here in Phase 3, we're continuing to give you a critic's pick for a restaurant and a dish, as well as a running list of restaurants offering takeout, delivery or outdoor dining that you can support. Today: Chivanada and Merengue Cafe. 
For weeks I've had Merengue Cafe on my list of places for an upcoming Takeout Pick. For two years the sweet Berry Hill house has been home to my go-to empanada. The welcoming eatery serves Puerto Rican, Cuban and Dominican specialties, including fried plantains as mofongo or tostones, topped with chicken, meat or vegetables. Beans of the day and Cuban sandwiches are also on the menu. I usually peruse and then go for the tempting aforementioned empanadas. Merengue Cafe's take on the half-moon shaped meat pies has a light, pastry-like flaky dough and filling choices including chicken, beef and cheese. They are fried and crispy, but not greasy or heavy. 
Merengue Cafe is set up cafeteria-style, with lots of room for social distancing as you go through the line and look at the day's specials. Call 615-915-3642 to place an order for curbside pick up, or go through the line and choose from not one, but two outdoor dining areas (one covered, one not). Takeout containers are standard divided Styrofoam containers with compartments, so you can keep all your different Caribbean delicacies separated. Merengue Cafe is the kind of super-friendly place where they make you feel like they have been waiting to see you again as soon as you walk in, even if you haven't been in a while, and even if they're facing a long line of socially distanced hungry customers.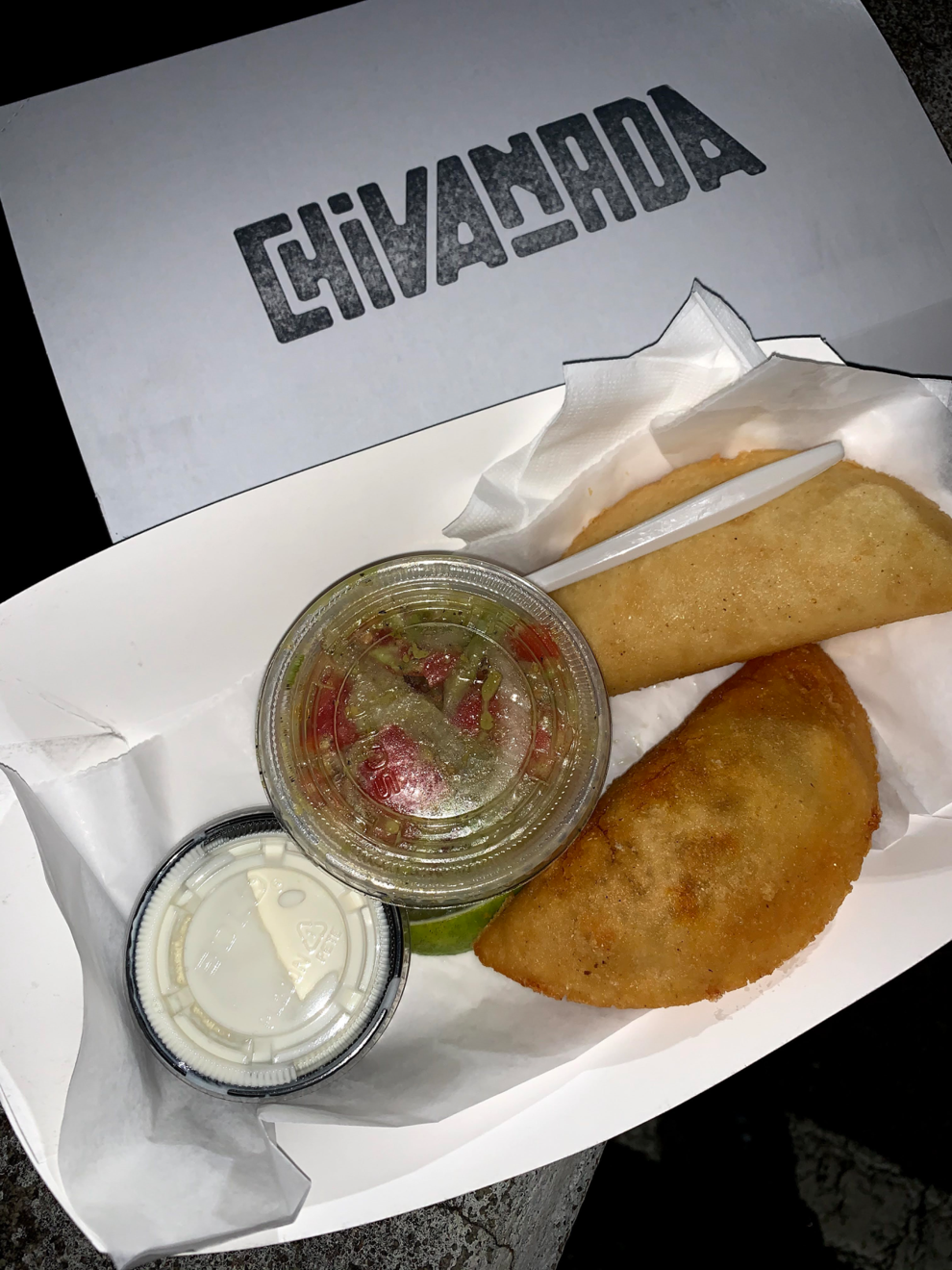 Then I went to Columbia's First Friday, 45 minutes south of Nashville. This is the unsung gem of area art crawls, with reliable sunsets creating a magical glow over the Public Square. I was perusing the food trucks in the New South Marketplace parking lot when my eyes met Chivanada, a black-and-white painted beauty with a selection of empanadas ranging from the classic ground beef to the creative chocolate y queso. I ordered a couple (regretfully, not the chocolate and cheese). The fried pockets steamed with gooey joy and melted Dutch gouda. The carne was a spicy ground beef with the right amount of paprika. The dough was breadier than the Merengue Cafe variety. The empanadas are served in a clever paper takeout basket with a sliding cardboard cover so that your food and sauces stay in good shape until you get home or wherever you are planning to eat. (I ate mine right there in the parking lot, but, you know, for future info.)
Daniel Yarzagaray and his brother Kai opened the food truck two years ago. They use to serve up their Colombian-style empanadas by bringing the truck to live music festivals. They even have a waterproof portable dance floor for non-pandemic times and private events. "That's what's missing from food trucks," Yarzagaray says. "We want to go beyond good food and serve art and culture." They had plans to open a brick-and-mortar restaurant this year, which they are postponing until 2021. Instead, they are hitting apartment complexes and residential neighborhoods, posting where the truck will stop for the coming week on Instagram (@chivanada). You can also sign up for text alerts and get the empanada 411 sent to your phone so you can know just when to get that chocolate-and-cheese empanada you didn't order before.
In the past Chivanada also had the more labor-intensive arepas on the menu, and in the future, Yarzagaray plans to bring those back as well as adding breakfast, too. But it is in the name, so empanada will always reign. The business's name is a combination of "chiva," the brightly colored buses seen all over Colombia, and "empanada."
Unlike, say bagels, which I grew up eating, I don't have emotional opinions about what makes for the ideal empanada recipe. So, for me, two favorite local empanada-makers (and thus two takeout picks) is a good problem to have.
---
Below is a list of Nashville restaurants (with links) remaining open for takeout and delivery during the COVID-19 shutdown. While some may have had existing relationships with delivery providers, most of this list are offering the service for the first time. Most offer curbside pickup, but check when you order. As this list is a moving target, please leave any changes, suggestions or omissions in the comments.
Places with takeout or delivery as of Wednesday, Oct. 14
12South Taproom (Postmates)
312 Pizza Co. (Grubhub)
51st Deli (Uber Eats, Grubhub, Postmates)
51st North Taproom (11 a.m.-8 p.m., Thursday-Sunday)
615 Deli (DoorDash. Grubhub, Postmates, Uber Eats)
Adele's/The 404 Kitchen (Friday-Sunday)
Arnold's Country Kitchen (Most delivery services)
B1281 (Uber Eats)
Barista Parlor (Postmates)
Barr's Music City Soul Food (Uber Eats, Tuesday-Sunday)
Big Bad Breakfast (DoorDash, Uber Eats)
Biscuit Kitchen by Loveless Cafe
Black Dynasty via Bar Sovereign
The Bluebird Cafe (Grubhub)
BoomBozz West (DoorDash)
Brightside Bakery (Ordering open at 3 p.m. Tues.-Sat. for next-day pickup Wed.-Sun.)
Burger Joint (Uber Eats, Grubhub)
Caffé Nonna (Uber Eats, Postmates)
Carniceria y Taqueria Don Juan
Central BBQ (DoorDash, Postmates)
Cinco de Mayo (9 locations)
Char (Postmates)
Cilantro Mexican Grill (Eighth Avenue location)
City Winery (Grubhub, Uber Eats)
Corner Pub (DoorDash)
Cupcake Collection (Sunday-Friday)
Doll's Family Cafe (Postmates, DoorDash)
Double Dogs (Uber Eats, Grubhub, Postmates)
Eastern Peak (Uber Eats, Grubhub)
Ed's Fish House (Thursday-Saturday)
Ellington's Mid Way Bar & Grill
Far East (Postmates)
Farm Burger (DoorDash)
Fat Kat Slim's (Uber Eats, Grubhub)
Fido (ChowNow)
Five Points Pizza (Postmates)
Folk (Postmates)
Frothy Monkey (Postmates, Uber Eats)
Ghot Wingz (Tuesday-Saturday)
Green Chile (Friday-Sunday)
Hattie B's (Uber Eats)
HoneyFire Barbeque Co. (Grubhub, DoorDash)
Hugh Baby's (DoorDash)
Hunters Station (The Grilled Cheeserie, Vui's Kitchen, Hugh Baby's, Tacos Aurora, Citizen Market)
IT'Z A Philly Thing (Wednesday-Sunday)
Jack's Bar-B-Q (Trinity Lane location only)
Jamaicaway (DoorDash, Grubhub, Postmates)
Jonathan's (Grubhub)
Josephine (Postmates)
Korea House
Lafayette Soup Company (Richland Park Farmer's Market)
Las Palmas (DoorDash)
Local Distro (Tuesday-Saturday)
McDougal's (Hillsboro Village only)
Miss Saigon (All delivery services)
M.L. Rose Craft Beer & Burgers (Postmates)
Moto (Uber Eats)
Nicky's Coal Fired (Postmates)
North Italia (DoorDash)
Nectar Urban Cantina (Grubhub, Uber Eats, Postmates)
Nomzilla! Sushi Et Cetera (Uber Eats, Postmates)
Pancho & Lefty's (Uber Eats, DoorDash)
The Party Line (Julia Sullivan's catering service through Strategic Hospitality)
Party Fowl (Uber Eats)
PDK Southern Kitchen and Pantry
Pinewood Social (Postmates, Grubhub, Uber Eats)
Pork Belly Cafe (Uber Eats, Grubhub, Postmates)
Prince's Hot Chicken (Nolensville Road)
Proper Bagel (Takeout & delivery only)
Red Bicycle (Postmates)
Red Phone Booth (DoorDash, Grubhub, Postmates)
Riddim N Spice (Postmates,DoorDash)
Rolf and Daughters (Postmates)
Rosemary & Beauty Queen (Postmates, Uber Eats)
Rosepepper Cantina (Postmates)
Saint Anejo (Uber Eats)
San Antonio Taco Co. (DoorDash)
Seafood Sensation (DoorDash)
Shugga Hi Bakery & Cafe (Friday-Saturday; Uber Eats) 
Slim & Husky's (DoorDash)
Southside Grill (DoorDash)
StrikeOut Wingz (Grubhub)
Subculture Urban Cuisine & Cafe (Uber Eats, Grubhub, DoorDash, Postmates)
Sushi Circle
Sweet 16th (Tuesday-Saturday, 8 a.m.-1 p.m.)
Tacos y Mariscos Lindo Mexico
Taj (Uber Eats)
TailGate Brewery (Postmates)
The Tasty Wheel (Postmates, Grubhub, DoorDash)
Taqueria Andrea and La Mini Michoacana
Taziki's (Postmates, Grubhub)
TennFold (Grubhub, Postmates)
TKO (Postmates)
Tower Market and Deli (Grubhub, Postmates, DoorDash, Bite Squad)
Vege-licious Cafe (Tuesday-Saturday; Chow Now)
Virago (Uber Eats)
Von Elrod's Beer Hall & Kitchen 
VN Pho & Deli
Walden (Postmates)
The Wild Cow (Postmates, DoorDash and Chow Now)
Wildman Smoothies, Soups & Salads
'Za Wood Fired Pizza (Grubhub)
TBD
CLOSED THIS does not go in the Takeout list. If one of the above restaurants closes, add it down here and then into Chris's post with a new timestamp
Alladin's Hookah Bar & Lounge CLOSED (permanently)
Antonio's CLOSED (permanently)
Cabana CLOSED
Calypso Cafe CLOSED (still taking catering business)
Charcoal Cowboys CLOSED (permanently)
Clawson's Pub & Deli CLOSED at least until 4/12
Dino's CLOSED
Dozen Bakery CLOSED
E3 CLOSED
Gabby's Burgers CLOSED
Henrietta Red CLOSED
Marché Artisan Foods CLOSED (permanently)
McDougal's White Bridge CLOSED
Nash House CLOSED
Parson's Chicken & Fish CLOSED (temporarily)
PM CLOSED
Saltine CLOSED
Shalimar CLOSED (permanently as of 5/26)
Silo CLOSED (permanently)
Silver Sands Cafe CLOSED (assuming they will open back up based on Tandy's fundraiser)
Slow Hand Coffee CLOSED
Sutler CLOSED
Sunda CLOSED
Tànsuǒ CLOSED
Yeast Nashville CLOSED