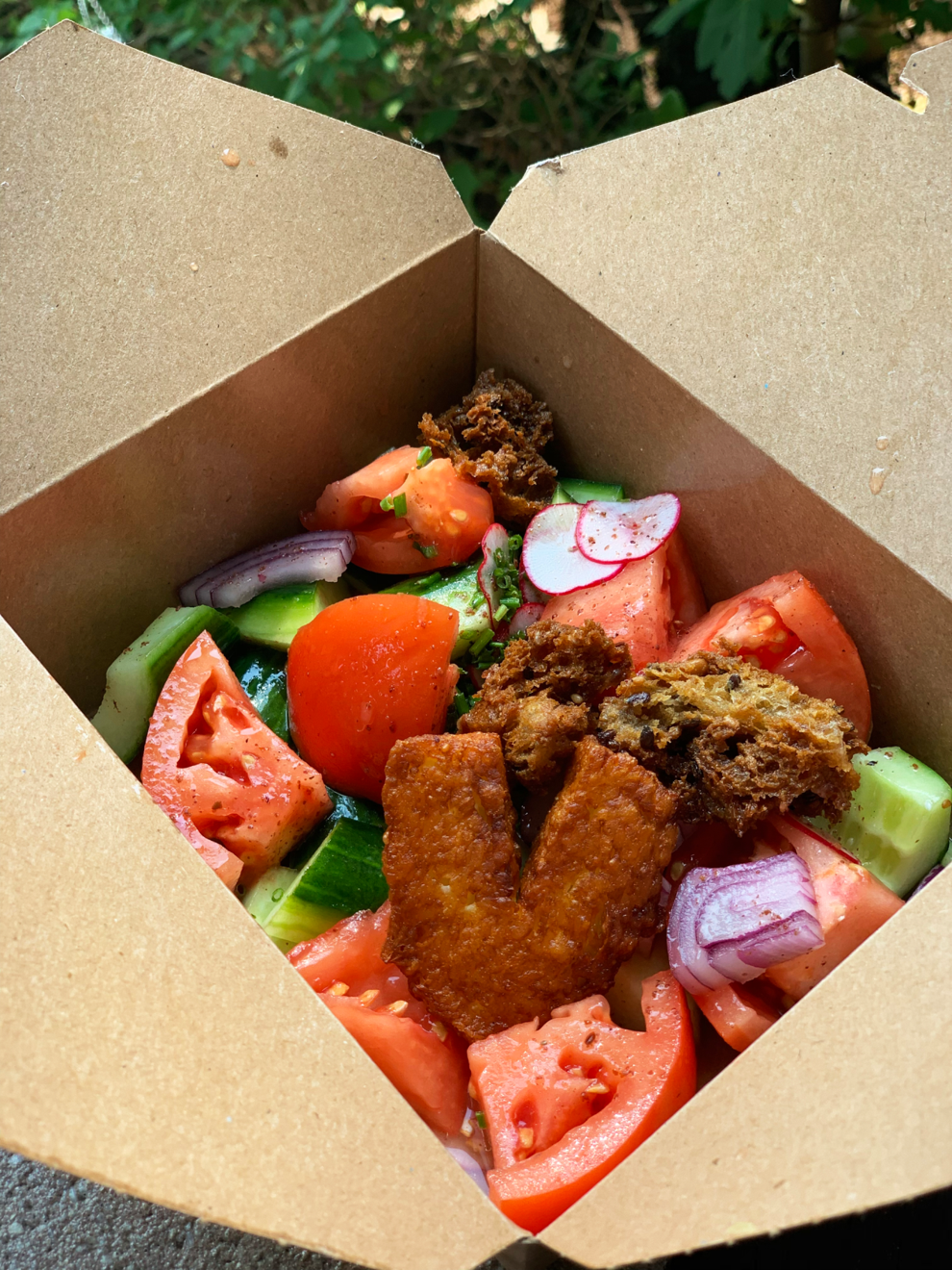 Much of the restaurant industry had to rapidly change its business model due to COVID-19, and we're highlighting the Nashville places that are attempting to stay open. As we prepare to move to phase three on Oct. 1, we're continuing to give you a critic's pick for a restaurant and a dish, as well as a running list of restaurants offering takeout, delivery and outdoor dining that you can support. Today: Hearts
It was a revelation to walk into Hearts, East Nashville's new Australian all-day cafe, and feel buzz. Actual people-out-and-about-eating-drinking-laughing buzz. Even in a pandemic with social distancing and reduced capacity, and even as I was picking up lunch for takeout, still I felt the energy of the neighborhood in a way that felt "normal."
Hearts opened in July because co-owner Kate Ross missed the cafes of her native Melbourne — places where people hung out all day or left and came back throughout, transitioning from morning coffee shop to evening bar scene. 
Ross, her twin Sam Ross and their business partner Michael McIlroy, also own two bars in East Nashville: Attaboy, which is being rebuilt after the March tornado, and Lakeside Lounge. Their goal was to make Hearts in the style of those Melbourne eateries.
"Aside from the weirdness [of opening a new restaurant during a pandemic], we are so happy with how the response has been," says Ross. "We have had great community support. It has been really great energy and a great vibe."
The menu is chock-full of dishes made with seasonal ingredients and locally grown produce, such as zucchini-and-corn fritters at breakfast and a charred broccoli roll at lunch. I went with the Fattoush salad, a twist on the Israeli salad that has been one of my make-from-home staples this summer, stacked with tomatoes and cucumbers and crunchy torn bread (more like panzanella than croutons). The halloumi cheese on top was heart-shaped, which is a lovely detail I wouldn't bother with (or think of) at home. Many sides, including the halloumi, can be added to dishes, so you can customize the salads, bowls and sandwiches. Pastries are from Brightside Bakeshop.
You can order online. I ordered in person and waited so I could check out the space. Hearts' Gallatin Avenue location once housed an auto repair shop. The signage still includes remnants of its old life, as do other elements, including the original facade. In addition to that glass-filled interior, there's an ample outdoor dining area with picnic tables and bright-orange umbrellas. That backyard was a selling point for Ross. "In Australia it is easy to find places with outside seating, but we hit the jackpot with this. It really helped us in these crazy COVID times."
That grassy picnic area is dog-friendly. My quarantine rescue yellow lab is the first dog I have ever had who is chill enough to hang around patiently while someone nearby eats an Aussie beef burger, so I'll be back to take advantage of that perk.
My only regret is that I missed six weeks of good eating and neighborhood friendliness at Hearts between when they opened and when I first showed up. I'll be back to check out the after-hours menu (5-9 p.m. Friday through Sunday), which includes cheese boards and a charred veggie sandwich that sounds up my alley — plus Friday-night oysters for my dining companions.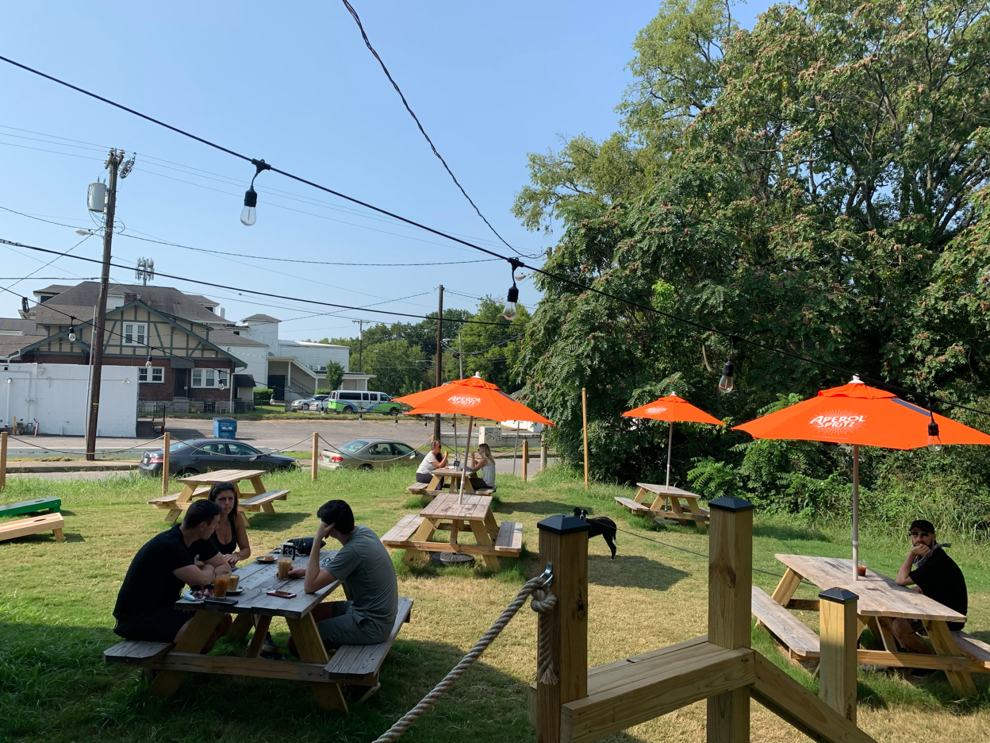 ---
Places with takeout or delivery as of Thursday, Sept. 24
12South Taproom (Postmates)
312 Pizza Co. (Grubhub)
51st Deli (Uber Eats, Grubhub, Postmates)
51st North Taproom (11 a.m.-8 p.m., Thursday-Sunday)
615 Deli (DoorDash. Grubhub, Postmates, Uber Eats)
Adele's/The 404 Kitchen (Friday-Sunday)
Arnold's Country Kitchen (Most delivery services)
B1281 (Uber Eats)
Barista Parlor (Postmates)
Barr's Music City Soul Food (Uber Eats, Tuesday-Sunday)
Big Bad Breakfast (DoorDash, Uber Eats)
Biscuit Kitchen by Loveless Cafe
Black Dynasty via Bar Sovereign
The Bluebird Cafe (Grubhub)
BoomBozz West (DoorDash)
Brightside Bakery (Ordering open at 3 p.m. Tues.-Sat. for next-day pickup Wed.-Sun.)
Burger Joint (Uber Eats, Grubhub)
Caffé Nonna (Uber Eats, Postmates)
Carniceria y Taqueria Don Juan
Central BBQ (DoorDash, Postmates)
Cinco de Mayo (9 locations)
Char (Postmates)
Cilantro Mexican Grill (Eighth Avenue location)
City Winery (Grubhub, Uber Eats)
Corner Pub (DoorDash)
Cupcake Collection (Sunday-Friday)
Doll's Family Cafe (Postmates, DoorDash)
Double Dogs (Uber Eats, Grubhub, Postmates)
Eastern Peak (Uber Eats, Grubhub)
Ed's Fish House (Thursday-Saturday)
Ellington's Mid Way Bar & Grill
Far East (Postmates)
Farm Burger (DoorDash)
Fat Kat Slim's (Uber Eats, Grubhub)
Fido (ChowNow)
Five Points Pizza (Postmates)
Folk (Postmates)
Frothy Monkey (Postmates, Uber Eats)
Ghot Wingz (Tuesday-Saturday)
Green Chile (Friday-Sunday)
Hattie B's (Uber Eats)
HoneyFire Barbeque Co. (Grubhub, DoorDash)
Hugh Baby's (DoorDash)
Hunters Station (The Grilled Cheeserie, Vui's Kitchen, Hugh Baby's, Tacos Aurora, Citizen Market)
IT'Z A Philly Thing (Wednesday-Sunday)
Jack's Bar-B-Q (Trinity Lane location only)
Jamaicaway (DoorDash, Grubhub, Postmates)
Jonathan's (Grubhub)
Josephine (Postmates)
Korea House
Lafayette Soup Company (Richland Park Farmer's Market)
Las Palmas (DoorDash)
Local Distro (Tuesday-Saturday)
McDougal's (Hillsboro Village only)
Miss Saigon (All delivery services)
M.L. Rose Craft Beer & Burgers (Postmates)
Moto (Uber Eats)
Nicky's Coal Fired (Postmates)
North Italia (DoorDash)
Nectar Urban Cantina (Grubhub, Uber Eats, Postmates)
Nomzilla! Sushi Et Cetera (Uber Eats, Postmates)
Pancho & Lefty's (Uber Eats, DoorDash)
The Party Line (Julia Sullivan's catering service through Strategic Hospitality)
Party Fowl (Uber Eats)
PDK Southern Kitchen and Pantry
Pinewood Social (Postmates, Grubhub, Uber Eats)
Pork Belly Cafe (Uber Eats, Grubhub, Postmates)
Prince's Hot Chicken (Nolensville Road)
Proper Bagel (Takeout & delivery only)
Red Bicycle (Postmates)
Red Phone Booth (DoorDash, Grubhub, Postmates)
Riddim N Spice (Postmates,DoorDash)
Rolf and Daughters (Postmates)
Rosemary & Beauty Queen (Postmates, Uber Eats)
Rosepepper Cantina (Postmates)
Saint Anejo (Uber Eats)
San Antonio Taco Co. (DoorDash)
Seafood Sensation (DoorDash)
Shugga Hi Bakery & Cafe (Friday-Saturday; Uber Eats) 
Slim & Husky's (DoorDash)
Southside Grill (DoorDash)
StrikeOut Wingz (Grubhub)
Subculture Urban Cuisine & Cafe (Uber Eats, Grubhub, DoorDash, Postmates)
Sushi Circle
Sweet 16th (Tuesday-Saturday, 8 a.m.-1 p.m.)
Tacos y Mariscos Lindo Mexico
Taj (Uber Eats)
TailGate Brewery (Postmates)
The Tasty Wheel (Postmates, Grubhub, DoorDash)
Taqueria Andrea and La Mini Michoacana
Taziki's (Postmates, Grubhub)
TennFold (Grubhub, Postmates)
TKO (Postmates)
Tower Market and Deli (Grubhub, Postmates, DoorDash, Bite Squad)
Vege-licious Cafe (Tuesday-Saturday; Chow Now)
Virago (Uber Eats)
Von Elrod's Beer Hall & Kitchen 
VN Pho & Deli
Walden (Postmates)
The Wild Cow (Postmates, DoorDash and Chow Now)
Wildman Smoothies, Soups & Salads
'Za Wood Fired Pizza (Grubhub)