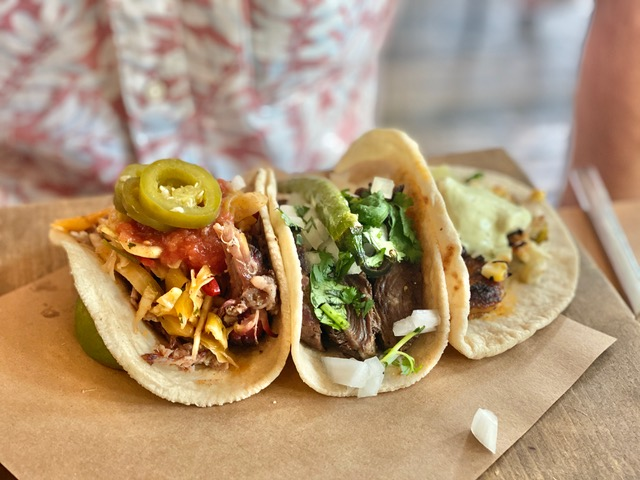 Executed well, socially distant dining can feel, well ... distant. Fewer people and big spaces between tables can leave a place feeling empty, which leaves you craving the buzz, hum and community you were dining out to get. Germantown's Butchertown Hall has no such feel.
Because it was designed with big, airy warehouse vibes, Butchertown was kind of built for this moment. It feels both safe and spacious yet cozy and convivial, so if you're itching to dine in, do it here — and do it early. Their happy hour, served daily from 2-6 p.m., offers a handful of snacks and drinks for less than $10. Here's what to order. 
Queso 
If queso's on the menu, you get it; that's the law. Butchertown's comes with pico and chorizo, so it's the upscale RO-TEL of your dreams. 
Street Corn Empanadas
These flaky, oversized pastries are stuffed with sweet corn, spicy poblano peppers and creamy cotija cheese. The corn inside is cooked — a step I'd skip since I wholeheartedly believe summer corn is best uncooked, cut straight off the cob — but that's my only quibble with these decadent empanadas. 
My favorite part: the chimichurri they're served with. The bright, zingy mix of cilantro, garlic and fresh herbs is the perfect accompaniment — both to these pastries and to all the rich meats Butchertown serves. Order extra to use with your:
Tacos
Most of the menu at Butchertown is taco-based, served with fresh flour tortillas. They're a little thick for my liking, but the meat is rich enough to make them work. 
Standout tacos include:
Fire-roasted shrimp, topped with funky, charred cabbage and rich avocado crema.
Carne asada, served with cilantro, onion and a whole roasted serrano, which is waaaaay spicier than you remember, so get that water ready.
Wood-fired chicken, served with cilantro, tangy white barbecue sauce and onion-pineapple relish. Typically, pineapple on any taco but pork skews sweet for me, but this is the right amount paired with biting white onion.
Oak-smoked brisket, loaded with southwestern slaw, pickled jalapenos and charred salsa. Remember that extra chimichurri? This is where it goes. 
TX Hot Link
The most takeout-friendly items on Butchertown's menu are their by-the-pound meats. Pick from ribs, chicken, pork, brisket or sausage, all of which come with fresh tortillas, thinly sliced raw onion and bread-and-butter pickles. 
For my money, the Hot Link is the way to go. It's just spicy enough to balance out the fatty pork, it's charred for a smoky flavor and it's served with zippy beer mustard. If a hot dog taco is something you've always secretly wanted, this is your blissfully judgment-free zone.
Smoked Onion-Potato Hash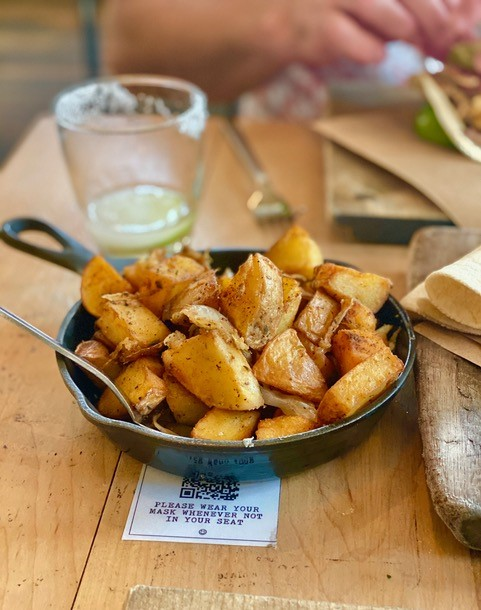 The street corn gets all the side-dish love at Butchertown, but I am here to make the case for this deceptively simple hash. Smoking the caramelized onions and chunky, seasoned potatoes takes this dish to a new level. Bonus: if you have leftovers, throw these in a skillet, crack a few eggs, and top it with leftover hot links and chimichurri. Brunch of champions. 
Booze
If you're still making blanco margaritas with Grand Marnier or triple sec, Combier will change your life. It's somewhat like a less-expensive Cointreau, but I like it better. (Shoutout to the boys at Grand Cru for schooling me on this last summer.)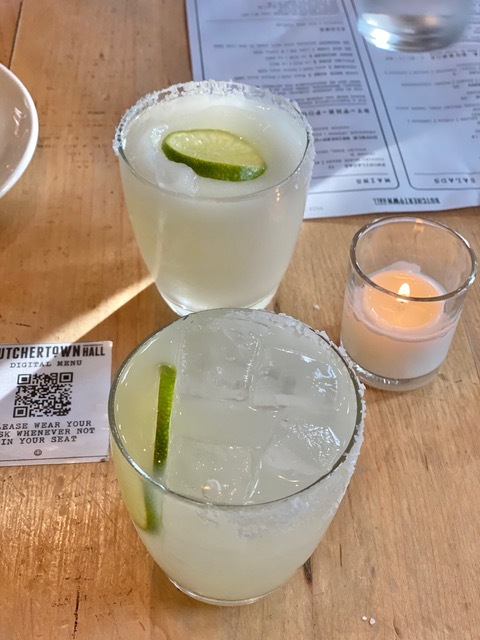 As tequila pros, the bartenders at Butchertown Hall know this, and they make a banging classic margarita using Combier, fresh lime and Altos Tequila Plata. They are also the rare spot where I think the frozen version edges out the rocks in terms of balance and flavor.
If you're more of a mezcal gal, check out the La Venenosa Raicilla Sur de Jalisco, which is smooth and dangerously drinkable straight-up. Tequila'ed out? Try the Foxglove, an herbaceous blend of vodka, grapefruit, lemon, pineapple and sage. 
Order Butchertown Hall
Order online through ChowNow or call 615-454-3634. Tip: I'd call. ChowNow doesn't always have the full menu online, but a real human on the phone is apt to make exceptions. 
---
Below is a list of Nashville restaurants (with links) remaining open for takeout and delivery during the COVID-19 shutdown. While some may have had existing relationships with delivery providers, most of this list are offering the service for the first time. Most offer curbside pickup, but check when you order. As this list is a moving target, please leave any changes, suggestions or omissions in the comments.
Places with takeout or delivery as of Friday, Aug. 14
12South Taproom (Postmates)
312 Pizza Co. (Grubhub)
51st Deli (Uber Eats, Grubhub, Postmates)
51st North Taproom (11 a.m.-8 p.m., Thursday-Sunday)
615 Deli (DoorDash. Grubhub, Postmates, Uber Eats)
Adele's/The 404 Kitchen (Friday-Sunday)
Arnold's Country Kitchen (Most delivery services)
B1281 (Uber Eats)
Barista Parlor (Postmates)
Barr's Music City Soul Food (Uber Eats, Tuesday-Sunday)
Big Bad Breakfast (DoorDash, Uber Eats)
Biscuit Kitchen by Loveless Cafe
Black Dynasty via Bar Sovereign
The Bluebird Cafe (Grubhub)
BoomBozz West (DoorDash)
Brightside Bakery (Ordering open at 3 p.m. Tues.-Sat. for next-day pickup Wed.-Sun.)
Burger Joint (Uber Eats, Grubhub)
Caffé Nonna (Uber Eats, Postmates)
Carniceria y Taqueria Don Juan
Central BBQ (DoorDash, Postmates)
Cinco de Mayo (9 locations)
Char (Postmates)
Cilantro Mexican Grill (Eighth Avenue location)
City Winery (Grubhub, Uber Eats)
Corner Pub (DoorDash)
Cupcake Collection (Sunday-Friday)
Doll's Family Cafe (Postmates, DoorDash)
Double Dogs (Uber Eats, Grubhub, Postmates)
Eastern Peak (Uber Eats, Grubhub)
Ed's Fish House (Thursday-Saturday)
Ellington's Mid Way Bar & Grill
Far East (Postmates)
Farm Burger (DoorDash)
Fat Kat Slim's (Uber Eats, Grubhub)
Fido (ChowNow)
Five Points Pizza (Postmates)
Folk (Postmates)
Frothy Monkey (Postmates, Uber Eats)
Ghot Wingz (Tuesday-Saturday)
Green Chile (Friday-Sunday)
Hattie B's (Uber Eats)
HoneyFire Barbeque Co. (Grubhub, DoorDash)
Hugh Baby's (DoorDash)
Hunters Station (The Grilled Cheeserie, Vui's Kitchen, Hugh Baby's, Tacos Aurora, Citizen Market)
IT'Z A Philly Thing (Wednesday-Sunday)
Jack's Bar-B-Q (Trinity Lane location only)
Jamaicaway (DoorDash, Grubhub, Postmates)
Jonathan's (Grubhub)
Josephine (Postmates)
Korea House
Lafayette Soup Company (Richland Park Farmer's Market)
Las Palmas (DoorDash)
Local Distro (Tuesday-Saturday)
McDougal's (Hillsboro Village only)
Miss Saigon (All delivery services)
M.L. Rose Craft Beer & Burgers (Postmates)
Moto (Uber Eats)
Nicky's Coal Fired (Postmates)
North Italia (DoorDash)
Nectar Urban Cantina (Grubhub, Uber Eats, Postmates)
Nomzilla! Sushi Et Cetera (Uber Eats, Postmates)
Pancho & Lefty's (Uber Eats, DoorDash)
The Party Line (Julia Sullivan's catering service through Strategic Hospitality)
Party Fowl (Uber Eats)
PDK Southern Kitchen and Pantry
Pinewood Social (Postmates, Grubhub, Uber Eats)
Pork Belly Cafe (Uber Eats, Grubhub, Postmates)
Prince's Hot Chicken (Nolensville Road)
Proper Bagel (Takeout & delivery only)
Red Bicycle (Postmates)
Red Phone Booth (DoorDash, Grubhub, Postmates)
Riddim N Spice (Postmates,DoorDash)
Rolf and Daughters (Postmates)
Rosemary & Beauty Queen (Postmates, Uber Eats)
Rosepepper Cantina (Postmates)
Saint Anejo (Uber Eats)
San Antonio Taco Co. (DoorDash)
Seafood Sensation (DoorDash)
Shugga Hi Bakery & Cafe (Friday-Saturday; Uber Eats) 
Slim & Husky's (DoorDash)
Southside Grill (DoorDash)
StrikeOut Wingz (Grubhub)
Subculture Urban Cuisine & Cafe (Uber Eats, Grubhub, DoorDash, Postmates)
Sushi Circle
Sweet 16th (Tuesday-Saturday, 8 a.m.-1 p.m.)
Tacos y Mariscos Lindo Mexico
Taj (Uber Eats)
TailGate Brewery (Postmates)
The Tasty Wheel (Postmates, Grubhub, DoorDash)
Taqueria Andrea and La Mini Michoacana
Taziki's (Postmates, Grubhub)
TennFold (Grubhub, Postmates)
TKO (Postmates)
Tower Market and Deli (Grubhub, Postmates, DoorDash, Bite Squad)
Vege-licious Cafe (Tuesday-Saturday; Chow Now)
Virago (Uber Eats)
Von Elrod's Beer Hall & Kitchen 
VN Pho & Deli
Walden (Postmates)
The Wild Cow (Postmates, DoorDash and Chow Now)
Wildman Smoothies, Soups & Salads
'Za Wood Fired Pizza (Grubhub)