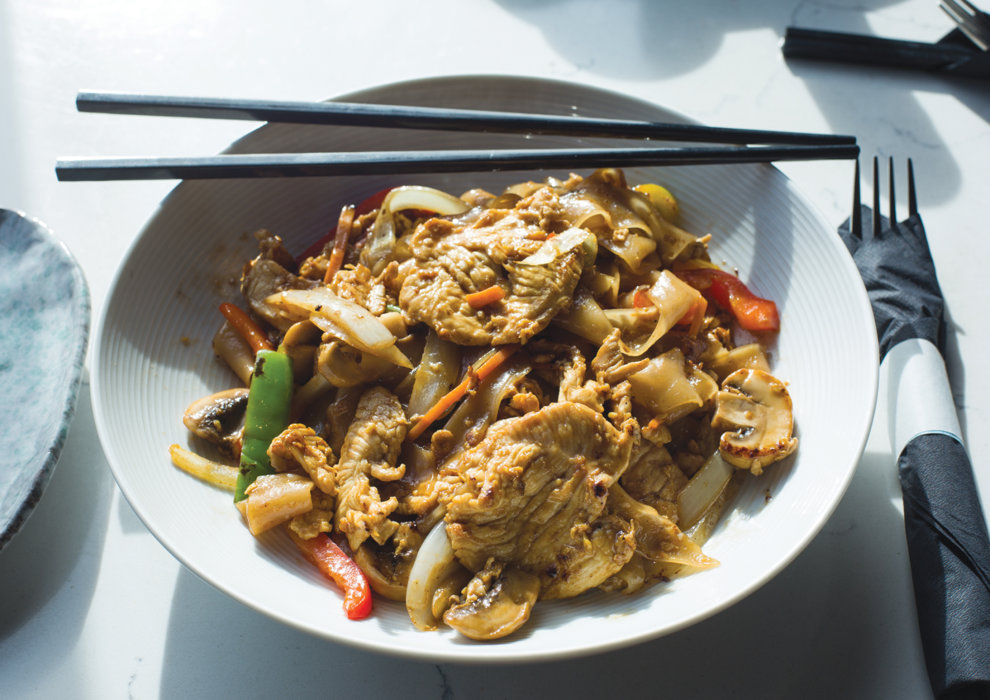 Much of the restaurant industry has had to rapidly change its business model due to COVID-19, and we're highlighting the Nashville places that are attempting to stay open. We will give you a critic's pick for a restaurant and a dish, as well as a running list of restaurants still open that you can support. Today's pick: The Eastern Peak.
One of the pitfalls of delivery or carryout dining is, of course, the condition of the food when it finally arrives on your home table. With this in mind, sushi would seem to be a poor choice, but there are work-arounds. Take The Eastern Peak, for example. With locations in Bellevue, the North Gulch and on Thompson Lane near the railroad tunnel, both delivery and pickup can be arranged at the spot closest to your house. Of course, picking up your food ensures that you're at least in control of how much time your food waits in transit, an issue with many third-party delivery services. But regardless, the chance to choose a closer location is a good idea.
I've been a fan of The Eastern Peak since way back when it was still on the other end of Thompson Lane, in the same Kroger strip center as Honest, which I highly recommend. I've always been impressed by the restaurant's fresh ingredients, bold flavors and attractive plating, and its version of Pad Kee Mao (or "Drunken Noodles" on the menu) has been a go-to for years.
So when I'm craving a little spice in my life, The Eastern Peak has always been there for me. I usually start out a meal with some Tom Kha Chicken, a delightful coconut-based soup flavored with Thai ginger, lemongrass and red onions for some nice bite. If you do dine in, ask for the tray of hot condiments to add a little extra fire to the soup, which exhibits a lovely sour-spice balance.
Then there are those Drunken Noodles. I order it "medium plus," a made-up heat level that they always seem to suss out to mean that I want to break a sweat but not punish myself too much. The heaping platter of wide, brown rice noodles usually arrives steaming hot straight from the wok to the table, making it a good carryout choice, plus it survives a quick minute in the microwave well if needed. The Eastern Peak offers your choice of proteins ranging from tofu or vegetables to chicken, pork, shrimp or beef. While the shrimp option is a nice change of pace, I don't think it would hold up well to nuking if it arrives home a little cool.
In addition to the noodles and chicken, my favorite version is flavored with plenty of garlic, peppers, eggs and a medley of veggies including carrots, onions, bell peppers and mushrooms. Finally, the kitchen makes it rain with lots of torn Thai basil leaves to add color and a hint of anise to the mix. Serving sizes should be enough for a meal plus leftovers for lunch, but I can never bring myself to stop myself before I polish it all off.
The sushi at The Eastern Peak is often underrated. I guess it's because of the restaurant's Thai focus, as opposed to strictly Japanese restaurants, but I think The Eastern Peak offers some of the loveliest and freshest rolls around. The Green Dragon Roll is perhaps the most visually striking, and since I'm a fan of eel, I usually go for the Beauty and the Beast with a split of unagi and spicy tuna rolled up with avocado and sprinkled with more eel, eel sauce, sesame seeds and black tobiko flying-fish roe. Basic rolls will run you in the $6-8 range while some of the specialty rolls hover around $16 and up. But you're worth it!
#CarryOutandCarryOn
---
Below is a list of Nashville restaurants (with links) remaining open for takeout and delivery during the COVID-19 shutdown. While some may have had existing relationships with delivery providers, most of this list are offering the service for the first time. Most offer curbside pickup, but check when you order. As this list is a moving target, please leave any changes, suggestions or omissions in the comments.
Places with takeout or delivery as of Tuesday, Sept. 29
12South Taproom (Postmates)
312 Pizza Co. (Grubhub)
51st Deli (Uber Eats, Grubhub, Postmates)
51st North Taproom (11 a.m.-8 p.m., Thursday-Sunday)
615 Deli (DoorDash. Grubhub, Postmates, Uber Eats)
Adele's/The 404 Kitchen (Friday-Sunday)
Arnold's Country Kitchen (Most delivery services)
B1281 (Uber Eats)
Barista Parlor (Postmates)
Barr's Music City Soul Food (Uber Eats, Tuesday-Sunday)
Big Bad Breakfast (DoorDash, Uber Eats)
Biscuit Kitchen by Loveless Cafe
Black Dynasty via Bar Sovereign
The Bluebird Cafe (Grubhub)
BoomBozz West (DoorDash)
Brightside Bakery (Ordering open at 3 p.m. Tues.-Sat. for next-day pickup Wed.-Sun.)
Burger Joint (Uber Eats, Grubhub)
Caffé Nonna (Uber Eats, Postmates)
Carniceria y Taqueria Don Juan
Central BBQ (DoorDash, Postmates)
Cinco de Mayo (9 locations)
Char (Postmates)
Cilantro Mexican Grill (Eighth Avenue location)
City Winery (Grubhub, Uber Eats)
Corner Pub (DoorDash)
Cupcake Collection (Sunday-Friday)
Doll's Family Cafe (Postmates, DoorDash)
Double Dogs (Uber Eats, Grubhub, Postmates)
Eastern Peak (Uber Eats, Grubhub)
Ed's Fish House (Thursday-Saturday)
Ellington's Mid Way Bar & Grill
Far East (Postmates)
Farm Burger (DoorDash)
Fat Kat Slim's (Uber Eats, Grubhub)
Fido (ChowNow)
Five Points Pizza (Postmates)
Folk (Postmates)
Frothy Monkey (Postmates, Uber Eats)
Ghot Wingz (Tuesday-Saturday)
Green Chile (Friday-Sunday)
Hattie B's (Uber Eats)
HoneyFire Barbeque Co. (Grubhub, DoorDash)
Hugh Baby's (DoorDash)
Hunters Station (The Grilled Cheeserie, Vui's Kitchen, Hugh Baby's, Tacos Aurora, Citizen Market)
IT'Z A Philly Thing (Wednesday-Sunday)
Jack's Bar-B-Q (Trinity Lane location only)
Jamaicaway (DoorDash, Grubhub, Postmates)
Jonathan's (Grubhub)
Josephine (Postmates)
Korea House
Lafayette Soup Company (Richland Park Farmer's Market)
Las Palmas (DoorDash)
Local Distro (Tuesday-Saturday)
McDougal's (Hillsboro Village only)
Miss Saigon (All delivery services)
M.L. Rose Craft Beer & Burgers (Postmates)
Moto (Uber Eats)
Nicky's Coal Fired (Postmates)
North Italia (DoorDash)
Nectar Urban Cantina (Grubhub, Uber Eats, Postmates)
Nomzilla! Sushi Et Cetera (Uber Eats, Postmates)
Pancho & Lefty's (Uber Eats, DoorDash)
The Party Line (Julia Sullivan's catering service through Strategic Hospitality)
Party Fowl (Uber Eats)
PDK Southern Kitchen and Pantry
Pinewood Social (Postmates, Grubhub, Uber Eats)
Pork Belly Cafe (Uber Eats, Grubhub, Postmates)
Prince's Hot Chicken (Nolensville Road)
Proper Bagel (Takeout & delivery only)
Red Bicycle (Postmates)
Red Phone Booth (DoorDash, Grubhub, Postmates)
Riddim N Spice (Postmates,DoorDash)
Rolf and Daughters (Postmates)
Rosemary & Beauty Queen (Postmates, Uber Eats)
Rosepepper Cantina (Postmates)
Saint Anejo (Uber Eats)
San Antonio Taco Co. (DoorDash)
Seafood Sensation (DoorDash)
Shugga Hi Bakery & Cafe (Friday-Saturday; Uber Eats) 
Slim & Husky's (DoorDash)
Southside Grill (DoorDash)
StrikeOut Wingz (Grubhub)
Subculture Urban Cuisine & Cafe (Uber Eats, Grubhub, DoorDash, Postmates)
Sushi Circle
Sweet 16th (Tuesday-Saturday, 8 a.m.-1 p.m.)
Tacos y Mariscos Lindo Mexico
Taj (Uber Eats)
TailGate Brewery (Postmates)
The Tasty Wheel (Postmates, Grubhub, DoorDash)
Taqueria Andrea and La Mini Michoacana
Taziki's (Postmates, Grubhub)
TennFold (Grubhub, Postmates)
TKO (Postmates)
Tower Market and Deli (Grubhub, Postmates, DoorDash, Bite Squad)
Vege-licious Cafe (Tuesday-Saturday; Chow Now)
Virago (Uber Eats)
Von Elrod's Beer Hall & Kitchen 
VN Pho & Deli
Walden (Postmates)
The Wild Cow (Postmates, DoorDash and Chow Now)
Wildman Smoothies, Soups & Salads
'Za Wood Fired Pizza (Grubhub)