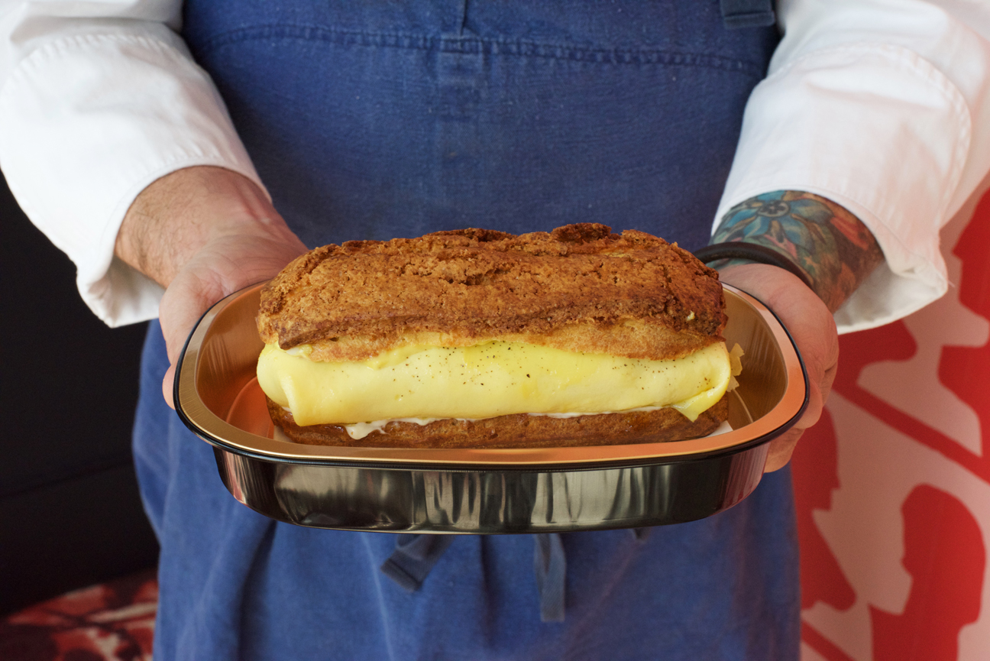 Much of the restaurant industry has had to rapidly change its business model due to COVID-19, and we're highlighting the Nashville places that are attempting to stay open. We will give you a critic's pick for a restaurant and a dish, as well as a running list of restaurants still open that you can support. Today's pick: The Continental.
I'm sure that when super-talented chef Sean Brock signed on to take the helm at The Continental early this year, the flagship restaurant property at the new Grand Hyatt at 1000 Broadway, he probably didn't envision opening up his oasis of classic Americana cuisine for carryout only. But that's where we are.
Ordinarily, most folks wouldn't consider ordering carryout from a hotel restaurant, — especially not one that specializes in classic dishes like kaluga caviar service, pâté en croûte and prime rib. But sometimes you just gotta treat yo'self! So I did.
Ordering such high-end food online feels a little weird, but the user experience is just about the same as picking up a bowl of spaghetti and meatballs from Roma. The Continental is currently serving lunch and dinner Thursday through Sunday, so you need to plan ahead to make sure you get your order in while the online system is open (11 a.m.-2 p.m. for lunch and 4-8 p.m. for dinner).
I didn't order lunch, but I would still recommend it, because one of the only two sandwich options features a slab of that prime rib, which I so enjoyed as part of my dinner order. The other sandwich is somewhat confusingly named an egg-salad sandwich, which sells it really short. In reality, the egg salad is stuffed into an omelet along with a soft boiled egg and then tucked into a gougère roll with a swath of white truffle mayo. I challenge you to find a more decadent sandwich in town for 10 bucks!
Ordering dinner was simple enough, and the restaurant is set up well to handle carryout service. In fact, the dining room has temporarily been converted into a staging area for pickups, so all you have to do is pull up into the turning lane in front of the restaurant and call to let them know you've arrived. Put your emergency flashers on though, lest you have angry commuters honking at you for blocking their right turn on Broadway like I did.
As usual, we over ordered for our family of two in the spirit of treating ourselves. The pâté was definitely a highlight, rich with creamy duck liver studded with pistachios and nestled inside onion puree and a delicate pastry crust. Totally worth the ensuing gout flare-up!
For mains, we ordered the prime rib and the roast chicken, pretty traditional choices for an upscale hotel restaurant. They turned out to be far from ordinary. The prime rib was a huge slab of beef, appropriately marbled with fat and served with a delicate jus-and-horseradish cream sauce on the side. The chicken was quite innovative with different preparations for the dark meat and the breast. The leg was deboned, confited and pressed, leaving melt-in-your-mouth tender slices for dark-meat lovers. The breast was stuffed with bread pudding, creating a contrast between crispy skin, rich stuffing and tender breast meat in every bite. Served with seasonal autumn squash sprinkled with a crunchy seed praline and impossibly creamy whipped potatoes, it was the roast chicken dinner of my dreams.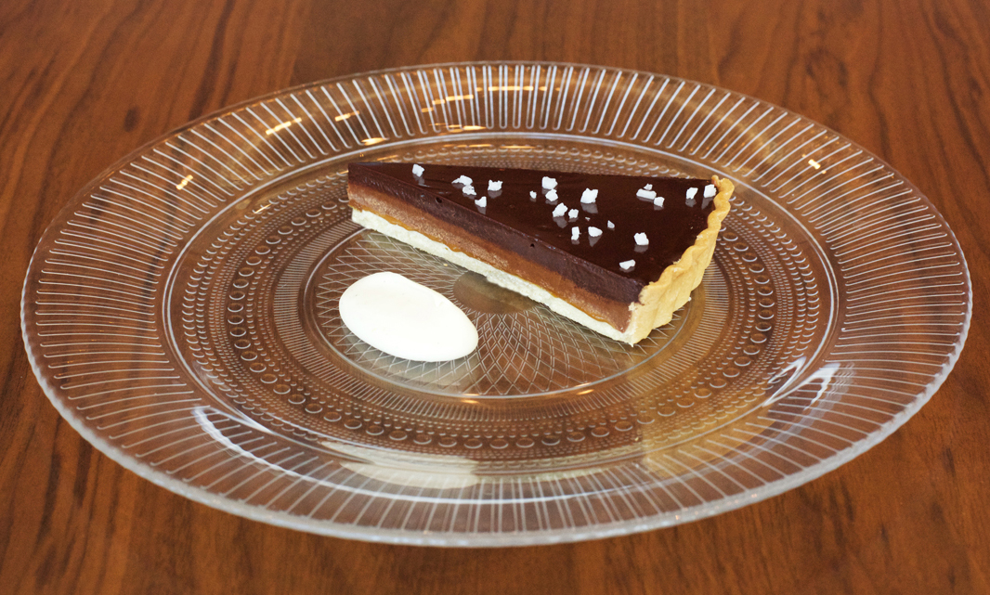 For dessert, pastry chef Keaton Vasek whipped up a dark chocolate tart, layered with caramel, malt ganache, brown butter and citrus, which I was lucky to get a single bite of. Next time, I'll order two. And there will be a next time, and soon!
#CarryOutandCarryOn
---
Below is a list of Nashville restaurants (with links) remaining open for takeout and delivery during the COVID-19 shutdown. While some may have had existing relationships with delivery providers, most of this list are offering the service for the first time. Most offer curbside pickup, but check when you order. As this list is a moving target, please leave any changes, suggestions or omissions in the comments.
Places with takeout or delivery as of Wednesday, Nov.4
12South Taproom (Postmates)
312 Pizza Co. (Grubhub)
51st Deli (Uber Eats, Grubhub, Postmates)
51st North Taproom (11 a.m.-8 p.m., Thursday-Sunday)
615 Deli (DoorDash. Grubhub, Postmates, Uber Eats)
Adele's/The 404 Kitchen (Friday-Sunday)
Arnold's Country Kitchen (Most delivery services)
B1281 (Uber Eats)
Barista Parlor (Postmates)
Barr's Music City Soul Food (Uber Eats, Tuesday-Sunday)
Big Bad Breakfast (DoorDash, Uber Eats)
Biscuit Kitchen by Loveless Cafe
Black Dynasty via Bar Sovereign
The Bluebird Cafe (Grubhub)
BoomBozz West (DoorDash)
Brightside Bakery (Ordering open at 3 p.m. Tues.-Sat. for next-day pickup Wed.-Sun.)
Burger Joint (Uber Eats, Grubhub)
Caffé Nonna (Uber Eats, Postmates)
Carniceria y Taqueria Don Juan
Central BBQ (DoorDash, Postmates)
Cinco de Mayo (9 locations)
Char (Postmates)
Cilantro Mexican Grill (Eighth Avenue location)
City Winery (Grubhub, Uber Eats)
Corner Pub (DoorDash)
Cupcake Collection (Sunday-Friday)
Doll's Family Cafe (Postmates, DoorDash)
Double Dogs (Uber Eats, Grubhub, Postmates)
Eastern Peak (Uber Eats, Grubhub)
Ed's Fish House (Thursday-Saturday)
Ellington's Mid Way Bar & Grill
Far East (Postmates)
Farm Burger (DoorDash)
Fat Kat Slim's (Uber Eats, Grubhub)
Fido (ChowNow)
Five Points Pizza (Postmates)
Folk (Postmates)
Frothy Monkey (Postmates, Uber Eats)
Ghot Wingz (Tuesday-Saturday)
Green Chile (Friday-Sunday)
Hattie B's (Uber Eats)
HoneyFire Barbeque Co. (Grubhub, DoorDash)
Hugh Baby's (DoorDash)
Hunters Station (The Grilled Cheeserie, Vui's Kitchen, Hugh Baby's, Tacos Aurora, Citizen Market)
IT'Z A Philly Thing (Wednesday-Sunday)
Jack's Bar-B-Q (Trinity Lane location only)
Jamaicaway (DoorDash, Grubhub, Postmates)
Jonathan's (Grubhub)
Josephine (Postmates)
Korea House
Lafayette Soup Company (Richland Park Farmer's Market)
Las Palmas (DoorDash)
Local Distro (Tuesday-Saturday)
McDougal's (Hillsboro Village only)
Miss Saigon (All delivery services)
M.L. Rose Craft Beer & Burgers (Postmates)
Moto (Uber Eats)
Nicky's Coal Fired (Postmates)
North Italia (DoorDash)
Nectar Urban Cantina (Grubhub, Uber Eats, Postmates)
Nomzilla! Sushi Et Cetera (Uber Eats, Postmates)
Pancho & Lefty's (Uber Eats, DoorDash)
The Party Line (Julia Sullivan's catering service through Strategic Hospitality)
Party Fowl (Uber Eats)
PDK Southern Kitchen and Pantry
Pinewood Social (Postmates, Grubhub, Uber Eats)
Pork Belly Cafe (Uber Eats, Grubhub, Postmates)
Prince's Hot Chicken (Nolensville Road)
Proper Bagel (Takeout & delivery only)
Red Bicycle (Postmates)
Red Phone Booth (DoorDash, Grubhub, Postmates)
Riddim N Spice (Postmates,DoorDash)
Rolf and Daughters (Postmates)
Rosemary & Beauty Queen (Postmates, Uber Eats)
Rosepepper Cantina (Postmates)
Saint Anejo (Uber Eats)
San Antonio Taco Co. (DoorDash)
Seafood Sensation (DoorDash)
Shugga Hi Bakery & Cafe (Friday-Saturday; Uber Eats) 
Slim & Husky's (DoorDash)
Southside Grill (DoorDash)
StrikeOut Wingz (Grubhub)
Subculture Urban Cuisine & Cafe (Uber Eats, Grubhub, DoorDash, Postmates)
Sushi Circle
Sweet 16th (Tuesday-Saturday, 8 a.m.-1 p.m.)
Tacos y Mariscos Lindo Mexico
Taj (Uber Eats)
TailGate Brewery (Postmates)
The Tasty Wheel (Postmates, Grubhub, DoorDash)
Taqueria Andrea and La Mini Michoacana
Taziki's (Postmates, Grubhub)
TennFold (Grubhub, Postmates)
TKO (Postmates)
Tower Market and Deli (Grubhub, Postmates, DoorDash, Bite Squad)
Vege-licious Cafe (Tuesday-Saturday; Chow Now)
Virago (Uber Eats)
Von Elrod's Beer Hall & Kitchen 
VN Pho & Deli
Walden (Postmates)
The Wild Cow (Postmates, DoorDash and Chow Now)
Wildman Smoothies, Soups & Salads
'Za Wood Fired Pizza (Grubhub)