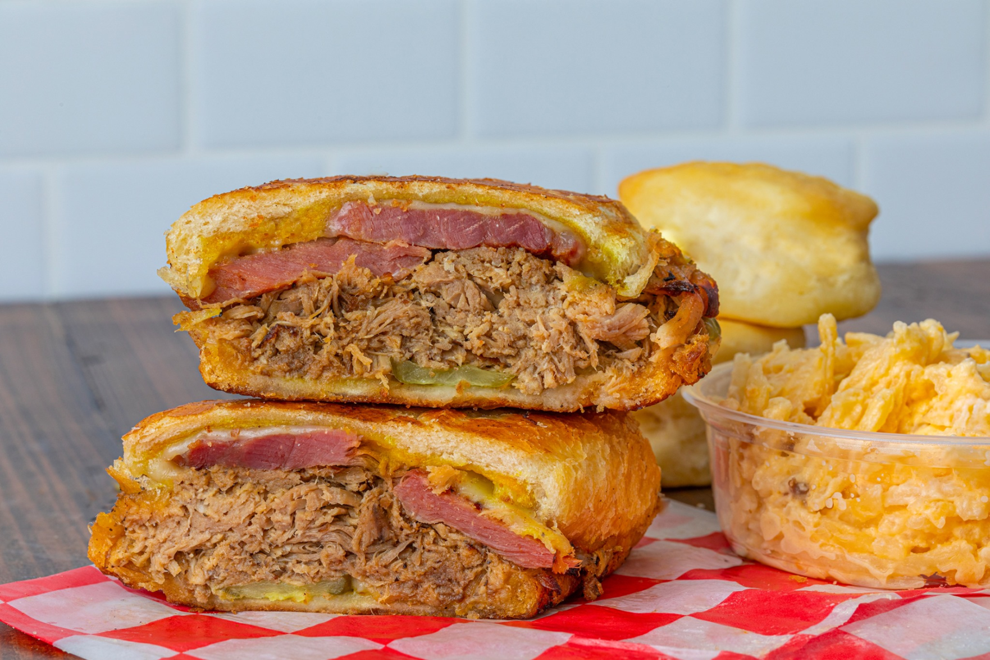 Much of the restaurant industry has had to rapidly change its business model due to COVID-19, and we're highlighting the Nashville places that are attempting to stay open. We will give you a critic's pick for a restaurant and a dish, as well as a running list of restaurants still open that you can support. Today's pick: Loveless Biscuit Kitchen.
I only seem to make the schlep out to The Loveless Cafe when I have a guest in town who wants an iconic Nashville experience that they read about in a magazine. I mean, the biscuits are indeed top-notch, and the fried chicken stands up to anywhere in town, but it's a haul out to Highway 100 when there are other great biscuit/chicken options closer to town. Plus, the crowds can make it a bit of a marathon experience, especially on weekends. (If you try to go after church, hopefully the preacher's sermon mentioned the virtue of patience.)
However, lately my old dog has been having some old-dog health issues, and my veterinarian's office is right near the Loveless, so I've spent more time than usual way out west. While waiting for some lab results, I discovered something that's a bit of a game changer: Loveless Biscuit Kitchen.
It's not actually located at the Loveless campus proper. Instead it's tucked into the back of the Natchez Trace Market in the Shell Station at Highway 100 and McCrory Lane, making it really easy to access from Interstate 40 or the highway or even the Natchez Trace if you happen to be at the end of a long bike ride.
I, for one, am not put off one iota at the thought of eating food from a gas station. In fact, much of the South's most iconic foods can be found in the back of convenience marts, from the chicken-on-a-stick at the Chevron in Oxford, Miss., to tamales nestled in coffee cans sitting on the counters of service stations, and the legendary gas-station sushi in East Memphis. The kitchen at the Loveless Biscuit Kitchen is fairly impressive, and they offer many of the more popular items from the Cafe menu — including biscuits and preserves, fried chicken tenders, barbecue and banana pudding.
Breakfast is served until 11 a.m., and biscuits are served all day. The menu offers a standard selection of eggs and breakfast meats plus grits and potato dishes. For an affordable and quick morning meal, it's quite easy to order at the counter or even from the drive-thru. In fact, you'll probably be done with breakfast before the guests next door can get their names on the list at the host stand.
Supper starts at 11 a.m. at the Biscuit Kitchen, and that's where the menu really expands with salads, sandwiches, platters and family packs to serve four or eight people. Of course, there's pie: chess and pecan, to be specific. Don't miss out on the daily specials, either. Smoked quarter chickens are a weekend highlight, and every other day features a different special dish.
Some of the specials are predictable but delicious, like Monday's hot chicken sandwich and Wednesday's fried chicken sandwich with mustard-barbecue sauce. But Tuesday and Thursday offer some delightfully wacky creations that are so crazy, they just work. Tuesday offers the Biscuit Kitchen Sink, a grilled sandwich overstuffed with barbecue pulled pork and mac-and-cheese that's sure to make your cardiologist consider buying a bigger boat. On Thursday, they go international with the Country Cuban, more of the pulled pork served with country ham, Swiss cheese and pickles on a pressed Cuban roll. Go ahead and upgrade that slip at the marina, Doc!
Loveless food with the logistics of convenience-mart food? Heck yeah, count me in! If you really don't want to make the drive, you can also order via Uber Eats, so now what's your excuse?
#CarryOutandCarryOn
---
Below is a list of Nashville restaurants (with links) remaining open for takeout and delivery during the COVID-19 shutdown. While some may have had existing relationships with delivery providers, most of this list are offering the service for the first time. Most offer curbside pickup, but check when you order. As this list is a moving target, please leave any changes, suggestions or omissions in the comments.
Places with takeout or delivery as of Wednesday, Nov.25
12South Taproom (Postmates)
312 Pizza Co. (Grubhub)
51st Deli (Uber Eats, Grubhub, Postmates)
51st North Taproom (11 a.m.-8 p.m., Thursday-Sunday)
615 Deli (DoorDash. Grubhub, Postmates, Uber Eats)
Adele's/The 404 Kitchen (Friday-Sunday)
Arnold's Country Kitchen (Most delivery services)
B1281 (Uber Eats)
Barista Parlor (Postmates)
Barr's Music City Soul Food (Uber Eats, Tuesday-Sunday)
Big Bad Breakfast (DoorDash, Uber Eats)
Biscuit Kitchen by Loveless Cafe
Black Dynasty via Bar Sovereign
The Bluebird Cafe (Grubhub)
BoomBozz West (DoorDash)
Brightside Bakery (Ordering open at 3 p.m. Tues.-Sat. for next-day pickup Wed.-Sun.)
Burger Joint (Uber Eats, Grubhub)
Caffé Nonna (Uber Eats, Postmates)
Carniceria y Taqueria Don Juan
Central BBQ (DoorDash, Postmates)
Cinco de Mayo (9 locations)
Char (Postmates)
Cilantro Mexican Grill (Eighth Avenue location)
City Winery (Grubhub, Uber Eats)
Corner Pub (DoorDash)
Cupcake Collection (Sunday-Friday)
Doll's Family Cafe (Postmates, DoorDash)
Double Dogs (Uber Eats, Grubhub, Postmates)
Eastern Peak (Uber Eats, Grubhub)
Ed's Fish House (Thursday-Saturday)
Ellington's Mid Way Bar & Grill
Far East (Postmates)
Farm Burger (DoorDash)
Fat Kat Slim's (Uber Eats, Grubhub)
Fido (ChowNow)
Five Points Pizza (Postmates)
Folk (Postmates)
Frothy Monkey (Postmates, Uber Eats)
Ghot Wingz (Tuesday-Saturday)
Green Chile (Friday-Sunday)
Hattie B's (Uber Eats)
HoneyFire Barbeque Co. (Grubhub, DoorDash)
Hugh Baby's (DoorDash)
Hunters Station (The Grilled Cheeserie, Vui's Kitchen, Hugh Baby's, Tacos Aurora, Citizen Market)
IT'Z A Philly Thing (Wednesday-Sunday)
Jack's Bar-B-Q (Trinity Lane location only)
Jamaicaway (DoorDash, Grubhub, Postmates)
Jonathan's (Grubhub)
Josephine (Postmates)
Korea House
Lafayette Soup Company (Richland Park Farmer's Market)
Las Palmas (DoorDash)
Local Distro (Tuesday-Saturday)
McDougal's (Hillsboro Village only)
Miss Saigon (All delivery services)
M.L. Rose Craft Beer & Burgers (Postmates)
Moto (Uber Eats)
Nicky's Coal Fired (Postmates)
North Italia (DoorDash)
Nectar Urban Cantina (Grubhub, Uber Eats, Postmates)
Nomzilla! Sushi Et Cetera (Uber Eats, Postmates)
Pancho & Lefty's (Uber Eats, DoorDash)
The Party Line (Julia Sullivan's catering service through Strategic Hospitality)
Party Fowl (Uber Eats)
PDK Southern Kitchen and Pantry
Pinewood Social (Postmates, Grubhub, Uber Eats)
Pork Belly Cafe (Uber Eats, Grubhub, Postmates)
Prince's Hot Chicken (Nolensville Road)
Proper Bagel (Takeout & delivery only)
Red Bicycle (Postmates)
Red Phone Booth (DoorDash, Grubhub, Postmates)
Riddim N Spice (Postmates,DoorDash)
Rolf and Daughters (Postmates)
Rosemary & Beauty Queen (Postmates, Uber Eats)
Rosepepper Cantina (Postmates)
Saint Anejo (Uber Eats)
San Antonio Taco Co. (DoorDash)
Seafood Sensation (DoorDash)
Shugga Hi Bakery & Cafe (Friday-Saturday; Uber Eats) 
Slim & Husky's (DoorDash)
Southside Grill (DoorDash)
StrikeOut Wingz (Grubhub)
Subculture Urban Cuisine & Cafe (Uber Eats, Grubhub, DoorDash, Postmates)
Sushi Circle
Sweet 16th (Tuesday-Saturday, 8 a.m.-1 p.m.)
Tacos y Mariscos Lindo Mexico
Taj (Uber Eats)
TailGate Brewery (Postmates)
The Tasty Wheel (Postmates, Grubhub, DoorDash)
Taqueria Andrea and La Mini Michoacana
Taziki's (Postmates, Grubhub)
TennFold (Grubhub, Postmates)
TKO (Postmates)
Tower Market and Deli (Grubhub, Postmates, DoorDash, Bite Squad)
Vege-licious Cafe (Tuesday-Saturday; Chow Now)
Virago (Uber Eats)
Von Elrod's Beer Hall & Kitchen 
VN Pho & Deli
Walden (Postmates)
The Wild Cow (Postmates, DoorDash and Chow Now)
Wildman Smoothies, Soups & Salads
'Za Wood Fired Pizza (Grubhub)