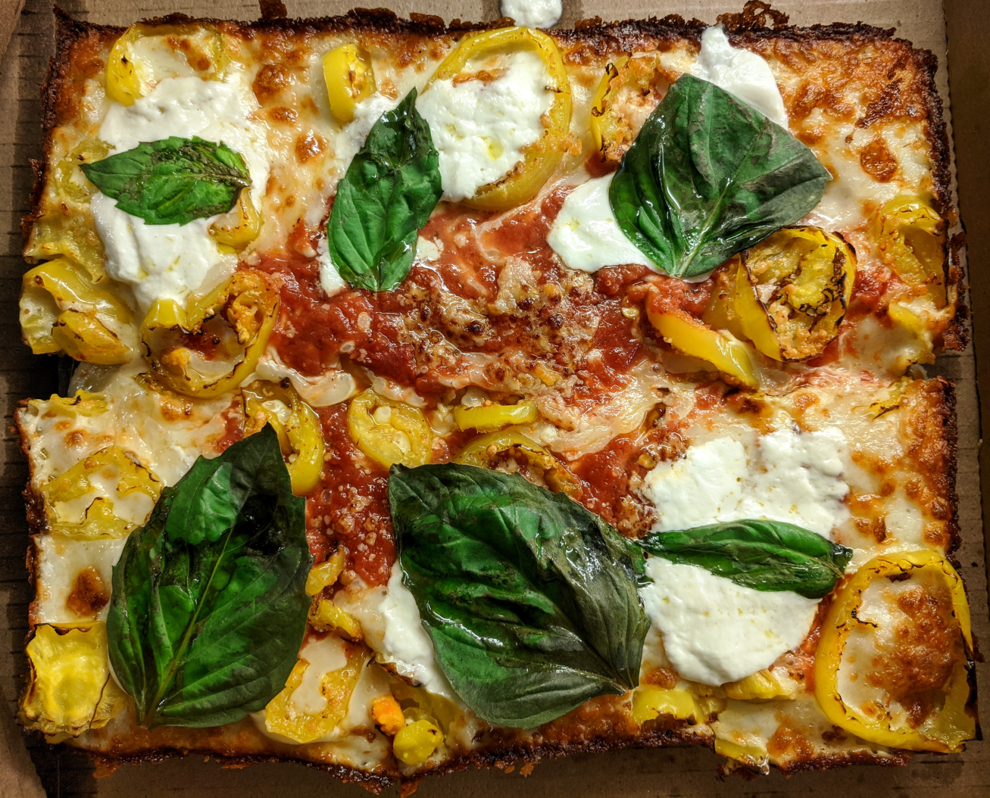 Much of the restaurant industry has had to rapidly change its business model due to COVID-19, and we're highlighting the Nashville places that are attempting to stay open. We will give you a critic's pick for a restaurant and a dish, as well as a running list of restaurants still open that you can support. Today: Emmy Squared Pizza in Green Hills
We wanted something crunchy. Not just crunchy, but cheesy, chewy and caramelized. It's a very specific craving that my husband and I get once every few months and there's exactly one acceptable option: Emmy Squared's Detroit-style pizza.
Those edges! That cheese that has bubbled and browned in the square pan's corners! It's a crunch you can't find on round pizza or even Chicago pizza. Something happens in that rectangle pan that can't happen without a 90-degree angle. Spare me your Detroit vs. New York vs. Chicago debates — I'm not here to argue about which is best. They're all good, all their own. Let's just agree that there is no crunch like a Detroit-style pizza crunch and sometimes that's the only crunch that will do.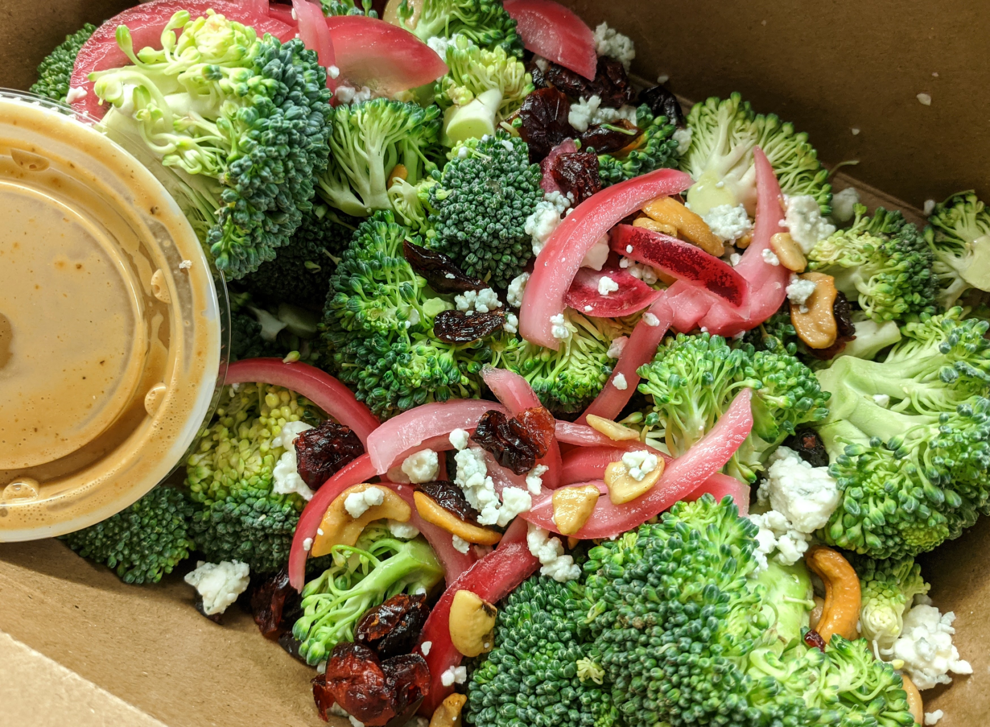 After paying probably too much to get it delivered via Postmates (the curse of living in the suburbs — good delivery is either unavailable or expensive), our Margarita pizza ($19, plus $2 to add banana peppers because yum) arrived lukewarm at best. Another curse of living in the suburbs. But that's the beauty of pizza, right? A quick blast in a super hot oven brought it back to life, no crunch lost, and that gave us time to dress the broccoli salad so the tangy miso dressing could begin to lightly tenderize the large chunks broccoli. 
Have you had Emmy's broccoli salad? It's perfect. (And it's $13, so it better be good.) Imagine the mayo-soaked, raisin-filled broccoli salad you already know but with every component kicked up a level with pickled red onions, cashews, cherries and blue cheese.
Months ago, at the beginning of the pandemic when restaurants were closed and everyone everywhere was potentially a terrifying walking germ, we had cravings like this. But all were could do was hope they'd pass quickly and quietly as we dreamed of a day the world would return to normal (or, at least, right itself just enough to crunch a pizza crust once more). We still have a long way to go before things start to feel like they were — I personally don't see myself sitting down to eat in a restaurant until 2021 at this point — but sometimes it helps to indulge in the cravings that remind us of how things used to be. Or maybe that's the cheese talking — crispy, caramelized cheese can fix almost anything.
---
Below is a list of Nashville restaurants (with links) remaining open for takeout and delivery during the COVID-19 shutdown. While some may have had existing relationships with delivery providers, most of this list are offering the service for the first time. Most offer curbside pickup, but check when you order. As this list is a moving target, please leave any changes, suggestions or omissions in the comments.
Places with takeout or delivery as of Tuesday, Sept. 22
12South Taproom (Postmates)
312 Pizza Co. (Grubhub)
51st Deli (Uber Eats, Grubhub, Postmates)
51st North Taproom (11 a.m.-8 p.m., Thursday-Sunday)
615 Deli (DoorDash. Grubhub, Postmates, Uber Eats)
Adele's/The 404 Kitchen (Friday-Sunday)
Arnold's Country Kitchen (Most delivery services)
B1281 (Uber Eats)
Barista Parlor (Postmates)
Barr's Music City Soul Food (Uber Eats, Tuesday-Sunday)
Big Bad Breakfast (DoorDash, Uber Eats)
Biscuit Kitchen by Loveless Cafe
Black Dynasty via Bar Sovereign
The Bluebird Cafe (Grubhub)
BoomBozz West (DoorDash)
Brightside Bakery (Ordering open at 3 p.m. Tues.-Sat. for next-day pickup Wed.-Sun.)
Burger Joint (Uber Eats, Grubhub)
Caffé Nonna (Uber Eats, Postmates)
Carniceria y Taqueria Don Juan
Central BBQ (DoorDash, Postmates)
Cinco de Mayo (9 locations)
Char (Postmates)
Cilantro Mexican Grill (Eighth Avenue location)
City Winery (Grubhub, Uber Eats)
Corner Pub (DoorDash)
Cupcake Collection (Sunday-Friday)
Doll's Family Cafe (Postmates, DoorDash)
Double Dogs (Uber Eats, Grubhub, Postmates)
Eastern Peak (Uber Eats, Grubhub)
Ed's Fish House (Thursday-Saturday)
Ellington's Mid Way Bar & Grill
Far East (Postmates)
Farm Burger (DoorDash)
Fat Kat Slim's (Uber Eats, Grubhub)
Fido (ChowNow)
Five Points Pizza (Postmates)
Folk (Postmates)
Frothy Monkey (Postmates, Uber Eats)
Ghot Wingz (Tuesday-Saturday)
Green Chile (Friday-Sunday)
Hattie B's (Uber Eats)
HoneyFire Barbeque Co. (Grubhub, DoorDash)
Hugh Baby's (DoorDash)
Hunters Station (The Grilled Cheeserie, Vui's Kitchen, Hugh Baby's, Tacos Aurora, Citizen Market)
IT'Z A Philly Thing (Wednesday-Sunday)
Jack's Bar-B-Q (Trinity Lane location only)
Jamaicaway (DoorDash, Grubhub, Postmates)
Jonathan's (Grubhub)
Josephine (Postmates)
Korea House
Lafayette Soup Company (Richland Park Farmer's Market)
Las Palmas (DoorDash)
Local Distro (Tuesday-Saturday)
McDougal's (Hillsboro Village only)
Miss Saigon (All delivery services)
M.L. Rose Craft Beer & Burgers (Postmates)
Moto (Uber Eats)
Nicky's Coal Fired (Postmates)
North Italia (DoorDash)
Nectar Urban Cantina (Grubhub, Uber Eats, Postmates)
Nomzilla! Sushi Et Cetera (Uber Eats, Postmates)
Pancho & Lefty's (Uber Eats, DoorDash)
The Party Line (Julia Sullivan's catering service through Strategic Hospitality)
Party Fowl (Uber Eats)
PDK Southern Kitchen and Pantry
Pinewood Social (Postmates, Grubhub, Uber Eats)
Pork Belly Cafe (Uber Eats, Grubhub, Postmates)
Prince's Hot Chicken (Nolensville Road)
Proper Bagel (Takeout & delivery only)
Red Bicycle (Postmates)
Red Phone Booth (DoorDash, Grubhub, Postmates)
Riddim N Spice (Postmates,DoorDash)
Rolf and Daughters (Postmates)
Rosemary & Beauty Queen (Postmates, Uber Eats)
Rosepepper Cantina (Postmates)
Saint Anejo (Uber Eats)
San Antonio Taco Co. (DoorDash)
Seafood Sensation (DoorDash)
Shugga Hi Bakery & Cafe (Friday-Saturday; Uber Eats) 
Slim & Husky's (DoorDash)
Southside Grill (DoorDash)
StrikeOut Wingz (Grubhub)
Subculture Urban Cuisine & Cafe (Uber Eats, Grubhub, DoorDash, Postmates)
Sushi Circle
Sweet 16th (Tuesday-Saturday, 8 a.m.-1 p.m.)
Tacos y Mariscos Lindo Mexico
Taj (Uber Eats)
TailGate Brewery (Postmates)
The Tasty Wheel (Postmates, Grubhub, DoorDash)
Taqueria Andrea and La Mini Michoacana
Taziki's (Postmates, Grubhub)
TennFold (Grubhub, Postmates)
TKO (Postmates)
Tower Market and Deli (Grubhub, Postmates, DoorDash, Bite Squad)
Vege-licious Cafe (Tuesday-Saturday; Chow Now)
Virago (Uber Eats)
Von Elrod's Beer Hall & Kitchen 
VN Pho & Deli
Walden (Postmates)
The Wild Cow (Postmates, DoorDash and Chow Now)
Wildman Smoothies, Soups & Salads
'Za Wood Fired Pizza (Grubhub)