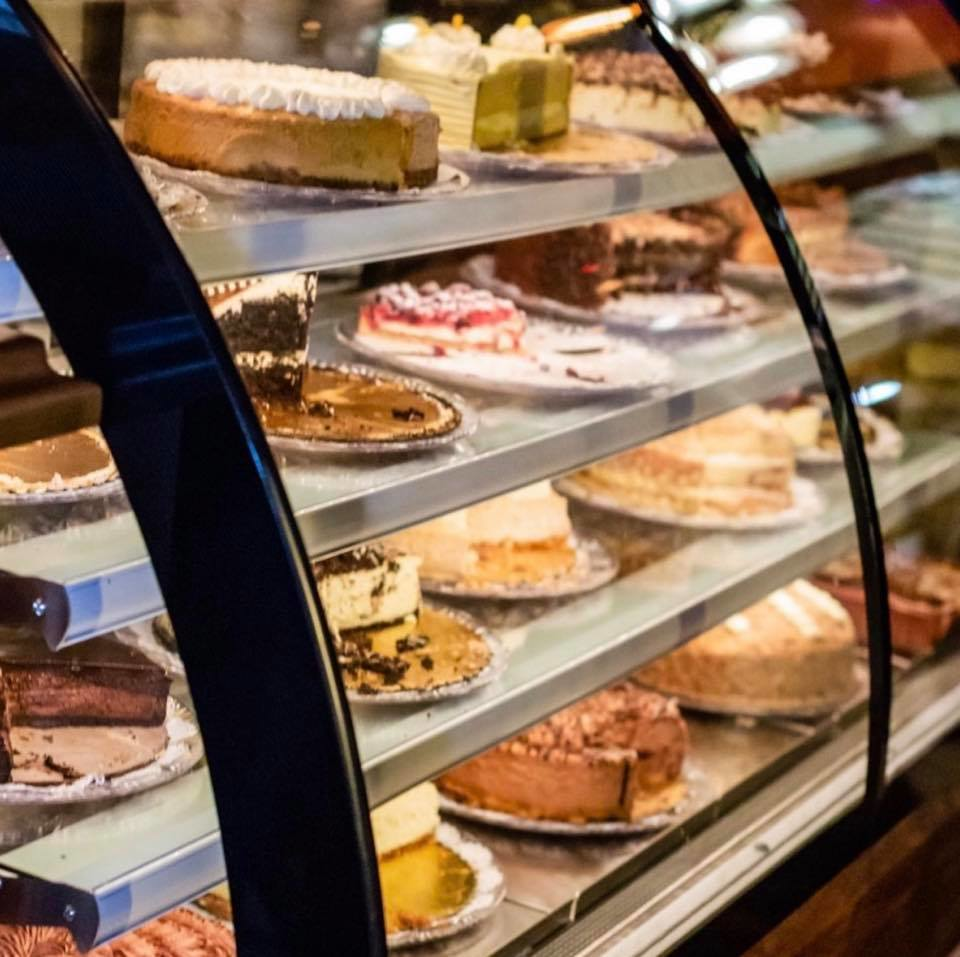 Much of the restaurant industry has had to rapidly change its business model due to COVID-19, and we're highlighting the Nashville places that are attempting to stay open. We will give you a critic's pick for a restaurant and a dish, as well as a running list of restaurants still open that you can support. Today's pick: Café Intermezzo.
Earlier this month, downtown cafe/bakery Café Intermezzo reopened after eight months of on-and-off service. Despite the advantage of being on the ground floor of The SoBro luxury apartments, as opposed to, say, a completely empty office building, the folks at Café Intermezzo felt the smart move was to keep the doors locked for most of the year except for a brief reopening early in the summer. Now that they're open, they're reaching out to attract diners from outside the urban core to visit for dining in or carrying out, and they have a lot to offer.
I've been surprised that more people don't know about this attractive European-style cafe with its excellent coffee service and decadent bakery items, but people have always been surprised when I've suggested meeting up there for a cuppa in the past. It is a little hard to find since it's surrounded by tall buildings, but once you realize that it's at the corner of Second Avenue South and Demonbreun, it's easily walkable from just about anywhere downtown.
Sure, parking is an issue, but that's true just about anywhere downtown. On a recent visit for carryout, I parked in a grossly illegal manner in the loading zone in front of the building and left my blinkers on while I ran in for my quick and efficient pickup. I was assured by employees that my car would be fine, and it was. Maybe they give free coffee and pastries to the traffic cops riding around downtown in those little tuk-tuks. I don't know.
Ordering from the online menu of salads, sandwiches and entrees is easy, but you might miss out on something important if you do it that way. (More on that later.) I was surprised by how much seafood was on the menu, but that didn't deter me from adding a few fruits de mer to my order.
A spicy seafood dip made with shrimp, scallops and jumbo lump crab whipped with cream cheese was an excellent choice, especially since it was still warm when I brought it home. It was accompanied by crunchy bread. More lunches should start with an appetizer, even at home. I followed the starter with two mains, a plate of tomato basil pasta with big chunks of tomatoes, mushrooms and plenty of garlic. The added crab cake that was almost 100 percent crab without the bready filler of many other cakes. Our second entree was a chicken saltimbocca featuring a well-grilled breast topped with salty prosciutto and provolone and served on a bed of garlicky wilted spinach. (Wilted in a good way, in a sauté pan.)
I thought I'd put together a pretty good order there, but when I walked into the front door and was confronted by the large display case filled with cakes, pastries and tortes, that's when I realized that I'd made the mistake that I referenced earlier. More than just a last minute impulse buy, the desserts at Café Intermezzo need to be an integral part of your plan, so either wait until you arrive to pick something or at least make sure to scan to the bottom of the online menu to see what's available. Fortunately, the manager at Café Intermezzo corrected my error and slipped a couple of slices into my bag.
Times are tough, and you deserve a treat like strawberry cream torte or a white chocolate amaretto cheesecake. If you have to skip the appetizer to justify dessert, go ahead. But really, make it a three-course meal. 2020 has been a lot!
#CarryOutandCarryOn
---
Below is a list of Nashville restaurants (with links) remaining open for takeout and delivery during the COVID-19 shutdown. While some may have had existing relationships with delivery providers, most of this list are offering the service for the first time. Most offer curbside pickup, but check when you order. As this list is a moving target, please leave any changes, suggestions or omissions in the comments.
Places with takeout or delivery as of Thursday, Dec 17
12South Taproom (Postmates)
312 Pizza Co. (Grubhub)
51st Deli (Uber Eats, Grubhub, Postmates)
51st North Taproom (11 a.m.-8 p.m., Thursday-Sunday)
615 Deli (DoorDash. Grubhub, Postmates, Uber Eats)
Adele's/The 404 Kitchen (Friday-Sunday)
Arnold's Country Kitchen (Most delivery services)
B1281 (Uber Eats)
Barista Parlor (Postmates)
Barr's Music City Soul Food (Uber Eats, Tuesday-Sunday)
Big Bad Breakfast (DoorDash, Uber Eats)
Biscuit Kitchen by Loveless Cafe
Black Dynasty via Bar Sovereign
The Bluebird Cafe (Grubhub)
BoomBozz West (DoorDash)
Brightside Bakery (Ordering open at 3 p.m. Tues.-Sat. for next-day pickup Wed.-Sun.)
Burger Joint (Uber Eats, Grubhub)
Caffé Nonna (Uber Eats, Postmates)
Carniceria y Taqueria Don Juan
Central BBQ (DoorDash, Postmates)
Cinco de Mayo (9 locations)
Char (Postmates)
Cilantro Mexican Grill (Eighth Avenue location)
City Winery (Grubhub, Uber Eats)
Corner Pub (DoorDash)
Cupcake Collection (Sunday-Friday)
Doll's Family Cafe (Postmates, DoorDash)
Double Dogs (Uber Eats, Grubhub, Postmates)
Eastern Peak (Uber Eats, Grubhub)
Ed's Fish House (Thursday-Saturday)
Ellington's Mid Way Bar & Grill
Far East (Postmates)
Farm Burger (DoorDash)
Fat Kat Slim's (Uber Eats, Grubhub)
Fido (ChowNow)
Five Points Pizza (Postmates)
Folk (Postmates)
Frothy Monkey (Postmates, Uber Eats)
Ghot Wingz (Tuesday-Saturday)
Green Chile (Friday-Sunday)
Hattie B's (Uber Eats)
HoneyFire Barbeque Co. (Grubhub, DoorDash)
Hugh Baby's (DoorDash)
Hunters Station (The Grilled Cheeserie, Vui's Kitchen, Hugh Baby's, Tacos Aurora, Citizen Market)
IT'Z A Philly Thing (Wednesday-Sunday)
Jack's Bar-B-Q (Trinity Lane location only)
Jamaicaway (DoorDash, Grubhub, Postmates)
Jonathan's (Grubhub)
Josephine (Postmates)
Korea House
Lafayette Soup Company (Richland Park Farmer's Market)
Las Palmas (DoorDash)
Local Distro (Tuesday-Saturday)
McDougal's (Hillsboro Village only)
Miss Saigon (All delivery services)
M.L. Rose Craft Beer & Burgers (Postmates)
Moto (Uber Eats)
Nicky's Coal Fired (Postmates)
North Italia (DoorDash)
Nectar Urban Cantina (Grubhub, Uber Eats, Postmates)
Nomzilla! Sushi Et Cetera (Uber Eats, Postmates)
Pancho & Lefty's (Uber Eats, DoorDash)
The Party Line (Julia Sullivan's catering service through Strategic Hospitality)
Party Fowl (Uber Eats)
PDK Southern Kitchen and Pantry
Pinewood Social (Postmates, Grubhub, Uber Eats)
Pork Belly Cafe (Uber Eats, Grubhub, Postmates)
Prince's Hot Chicken (Nolensville Road)
Proper Bagel (Takeout & delivery only)
Red Bicycle (Postmates)
Red Phone Booth (DoorDash, Grubhub, Postmates)
Riddim N Spice (Postmates,DoorDash)
Rolf and Daughters (Postmates)
Rosemary & Beauty Queen (Postmates, Uber Eats)
Rosepepper Cantina (Postmates)
Saint Anejo (Uber Eats)
San Antonio Taco Co. (DoorDash)
Seafood Sensation (DoorDash)
Shugga Hi Bakery & Cafe (Friday-Saturday; Uber Eats) 
Slim & Husky's (DoorDash)
Southside Grill (DoorDash)
StrikeOut Wingz (Grubhub)
Subculture Urban Cuisine & Cafe (Uber Eats, Grubhub, DoorDash, Postmates)
Sushi Circle
Sweet 16th (Tuesday-Saturday, 8 a.m.-1 p.m.)
Tacos y Mariscos Lindo Mexico
Taj (Uber Eats)
TailGate Brewery (Postmates)
The Tasty Wheel (Postmates, Grubhub, DoorDash)
Taqueria Andrea and La Mini Michoacana
Taziki's (Postmates, Grubhub)
TennFold (Grubhub, Postmates)
TKO (Postmates)
Tower Market and Deli (Grubhub, Postmates, DoorDash, Bite Squad)
Vege-licious Cafe (Tuesday-Saturday; Chow Now)
Virago (Uber Eats)
Von Elrod's Beer Hall & Kitchen 
VN Pho & Deli
Walden (Postmates)
The Wild Cow (Postmates, DoorDash and Chow Now)
Wildman Smoothies, Soups & Salads
'Za Wood Fired Pizza (Grubhub)