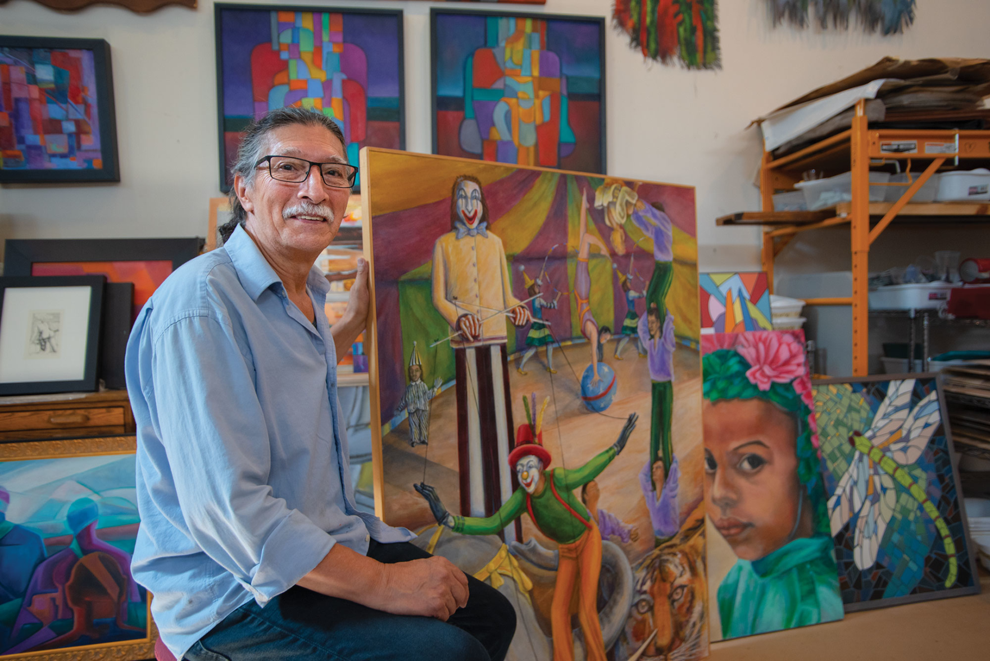 Jairo Prado truly encountered snow for the first time when he arrived in Nashville from Bogotá, Colombia. He had seen it on a Colombian mountaintop, but he'd never been fully immersed in the frosty fluff. His memory of it is one of a true artist: "You see this white thing," he tells the Scene. "But when you start really looking, you see this purple, then blue, then gold. It's so beautiful to see how the white snow reflects true colors." 
Prado's vision for color — as well as his multicultural perspective, keen observation and synthesis of the ordinary and the spiritual — encapsulates what he accomplishes with his art.  The retrospective of his work that's currently on view at the Monthaven Arts and Cultural Center in Hendersonville, Between Two Worlds: The Art of Jairo Prado, speaks to the artist's biography as well as his artistic mission: Being an immigrant from Colombia and a celebrated artist in Nashville influences how he thinks and creates.
Prado studied art-making and art history at The National University of Colombia and the Bogotá Museum of Contemporary Art, but his education was not all formal — he followed his curiosity and explored European-style art in cathedrals and pre-Columbian artifacts at museums and archaeological sites. He traveled from the Atlantic to the Pacific — to the Andes, to the Amazon —  soaking in Colombia's landscapes and diverse cultures. In museums, he fell in love with the vibrant colors and expressive brushstrokes of modern artists such as Colombian painter Alejandro Obregón. The sacred symbols, history of techniques and mountainous vistas have all found their way into his work.   
When Prado moved to Nashville in the 1980s, he acclimated to a city of 550,000 people instead of the 4 million he was accustomed to in Bogotá. He says he felt "like a fish out of water." He had moved to Nashville to be with his aunt and sister, but he didn't speak English, and the city was noticeably segregated. 
"There may be some discrimination in Bogotá," he recalls, "but it wasn't like what I saw here. There, we are all races, all colors — we are all humans." Prado moved back to Colombia for a brief period because of this discomfort. "One of my struggles was that being here I felt like I was losing my freedom," he says. "I felt mute and deaf." 
When he realized he was also lost in Bogotá, he returned to Nashville with a plan. "I needed to get a job," he explains, "but it must be connected to my dream so I will be able to handle the situation."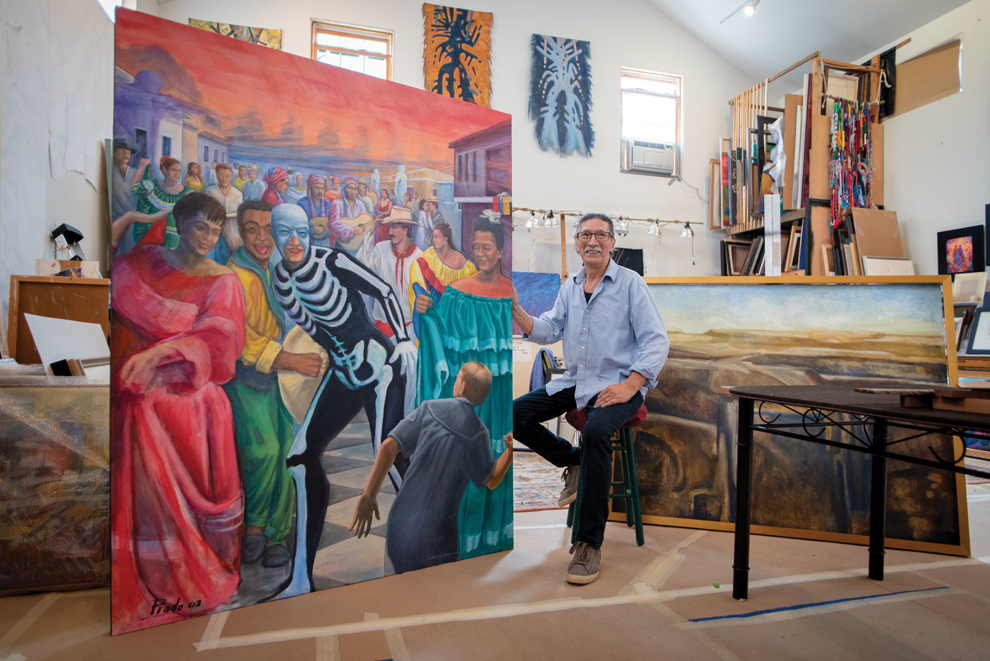 Back in Nashville, he studied at Watkins College of Art — then the Watkins Institute — and worked there for 17 years. He developed community, got married and made art. Determined to build a life here, he invested himself in creating, exploring and dreaming. 
"One thing that I learned about American people is that they mean well," he says. "I found along the way many people who saw my potential."  
Prado's fluency in various disciplines is shown in his painting "Journey to Macondo," which references Colombian author Gabriel García Márquez's novel One Hundred Years of Solitude. The painting's title refers to Macondo, the land Márquez modeled after Colombia. The ensemble of mountains, a typical hat and plants is familiar to a Colombian audience. Prado says the recurring image of butterflies in his art signifies spiritual travelers. For anyone who has read Solitude, the yellow wings evoke the fantastical butterflies that followed the ill-fated Mauricio Babilonia. Prado follows Márquez's lead, using the insects to hint at the beauty of life as well as its existential pain.   
Having lived in Colombia during a civil war that began in 1964 and only recently ended, Prado has a perspective that was shaped by a fear of violence in a land that he loved. The coexistence of celebration and foreboding in Colombia appears in Prado's "Guacarí," in which the artist creates tension between the underlying turmoil in Colombia and the joyful experience of the participants. The colorful palette, folkloric attire and smiling faces in the painting capture a lighthearted spirit — but if you look closely, you see silhouettes of men with guns in the background.
In the 1980s, Prado concentrated on the agony of the human condition, making what he calls "grotesque" works filled with suffering. But in recent years, his perspective has shifted.
"I think there is more to life than what we see," he explains. "I allow the spirit to speak. Even when there is suffering, the pain is never going to go away, but if we have mutual hope we can keep moving up." 
The acrylic-on-canvas painting "Everything Under the Sun" asserts this positive transformation with both prismatic colors and the upturned gaze of the central figure.  
Prado's positive perspective has influenced the visual culture of Nashville. Of the several public art projects he's completed, the most notable is a multicolored mosaic mural at Casa Azafrán that shines as a bridge between communities. That project had personal meaning for him as an expatriate — it's literally the entry point for a building that serves as a cultural, educational hub and is filled with nine nonprofits that support immigrants with financial, health care and legal services. He says the experience of creating the mosaic was memorable. "We had over 350 people, and they were dedicating their time to this," Prado says. "We had people from different communities coming together — Native American, Black, white, Asian, Latin people from all countries." 
He valued the civic collaboration even more because it was a stark contrast to his early experience in Nashville. 
"I have to say that it's not that people were not accepting before," he reflects. "It's that they did not know how to respond. There was a lack of information about what was going on outside the area then. Now there is more awareness of more cultures." 
The cultural sea change that Nashville has undergone since Prado's initial arrival is reflected in the exhibition title. But being between worlds can also apply to the transition Prado has made from creating art based on his external experiences to connecting to a higher spiritual force. 
"I used to want to paint the destruction," he says. But now? "I want to illustrate how we are going to overcome what is happening. We need to focus on fighting with the spirit — we are spiritual warriors."