Wayne White grew up in Chattanooga and helped create a kids' television show in Nashville before he brought his wacked-out vision to the iconic Pee-wee's Playhouse. These days, White is better known for his large public art installations of giant puppet heads — the kind that were featured at his Wayne-O-Rama happening in Chattanooga in 2016 and 2017.
White's word paintings have also evolved into iconic signature works, and Julia Martin Gallery is currently hosting a new show of White's paintings and sculptures called Radio Magic Eightball. He kicked off the exhibit on Saturday with an opening reception and a performance from his new band Username Password, and the work will be on display until Nov. 27. The Scene recently spoke with White about his new art and his three-string guitar — and also asked him what's so cubist about the pandemic.
This is your second exhibition at Julia Martin Gallery. How did you two connect?
I connected with Julia through Daniel [Lonow] at the Country Music Hall of Fame. Daniel works with the gallery there, Hatch Show Print's Haley Gallery. [Lonow is also the curator at Julia Martin Gallery.] It was 2018 I believe. I did a country music show with lots of country music portraits and a giant George Jones puppet. 
I just read about that. It was the largest giant George Jones head ever made, evidently?
Well that, no, that was way back in 2009 at Rice University in Houston. I did a smaller version for Daniel, plus a whole body. Rice was just a giant head.
For this show at Julia's you're returning to your word paintings.
Yeah, this is a word-painting show. It's mostly new word paintings. I'm trying out some new stuff, trying out some wall reliefs — little pop-art 3-D wall-relief cubist versions of the word paintings. I'm doing stuff on paper, then the classic thrift-store reproduction word paintings and a couple of other small sculptural things.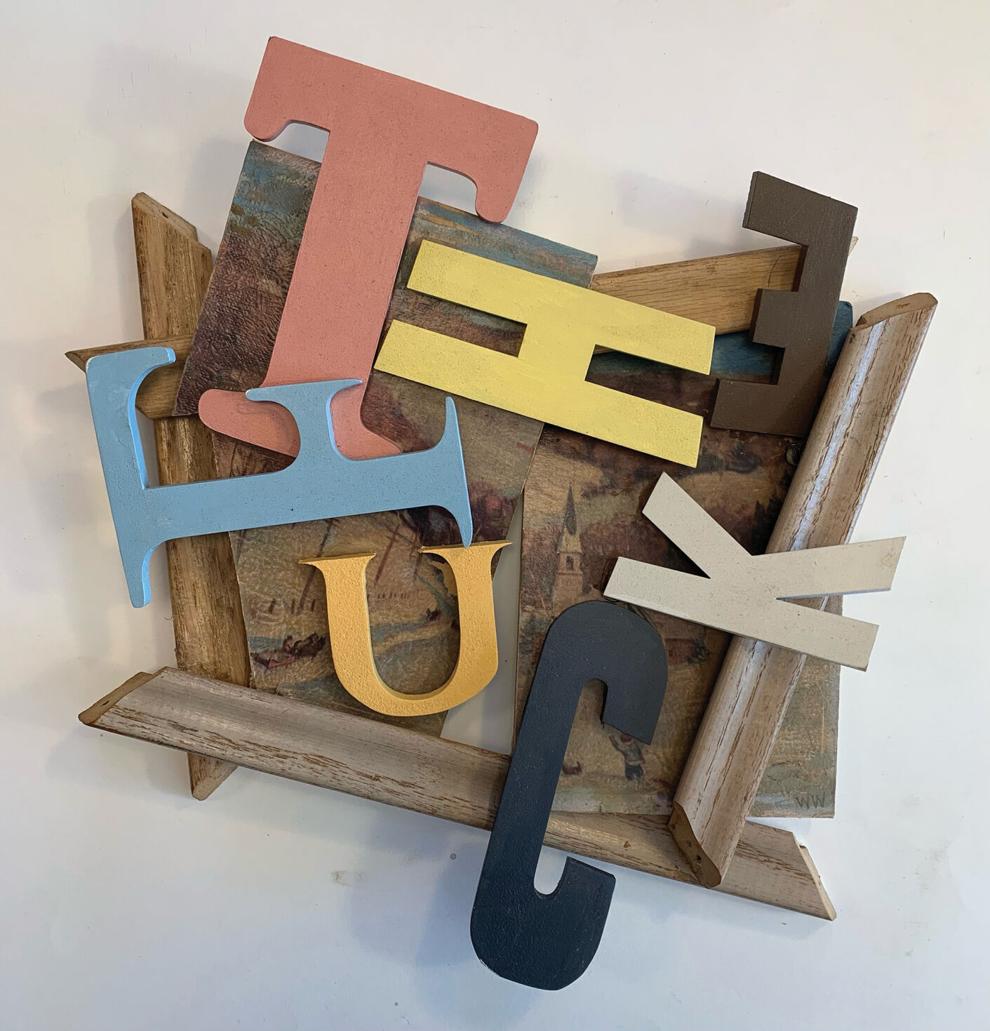 I saw an image of one of the wall reliefs. I can't remember if it said, like, "Fuck It?"
"The Fuck." 
What are those made of? How did you develop those?
Yeah, those are from early this year, and I've never shown them anywhere. And this will be the premiere of those on the wall. And those are just an exploration of Cubism. I kind of cut the frames up and re-glued them back together in a fractured kind of way. I had all these letters that I had laser-cut from MDF board, which is like Masonite. I had all these letters laying around that I wanted to play with somehow. And so it's really just my nod to Cubism, really fracturing the space and putting it back together. I kind of wanted to express the fractured year that we've all gone through, and the exasperation and the sort of scrambling of all our worlds. Those were like an expression of that, I guess. But really, they're just also on another level — they're just my ongoing exploration of trying to find a new way to do the word paintings really. I'm always looking for a new variation.
You're always finding new ways to combine the elements of "low" popular culture with "higher" fine art ideas. Nowadays, you're sort of in a postmodern golden age where everybody's mixing all this stuff up anyway, but you've always been doing this. I find it interesting that you're making sculptures of country music stars in a fine art context, and at the same time combining materials like MDF with these profane phrases, and then using that to explore something like Cubism. How much of this is just an instinct for you? How much is an agenda?
I would say it's all instinctual. I don't have an overriding agenda. Once I decide on a direction, then I do create a little agenda I guess, just to structure it, right? But I kind of give myself the permission to experiment or try anything I really want to do and not worry about how it fits into the Wayne White brand. Although I'm very conscious of the Wayne White brand — by now I've been doing these word paintings for 21 years. And so I know a lot of people immediately identify me with them, so there's that issue, which is a good thing to have. It's nice to have a brand that distinguishes you from the pack, right? But it also can kind of  type you and put you in a corner if you're not careful. So I reserve the right to stretch it and expand on it as much as I can.
But I feel very lucky that the word paintings are a part of our culture now and that they can have many different contexts in many different roles. They can be very pricey fine art at a fine art gallery, right down to a very affordable jigsaw puzzle you can buy online. 
You've previously exhibited at Cheekwood, at Zeitgeist and at the Country Music Hall of Fame, but what about your bigger connections to Nashville?
Well, I love Nashville. I've been around Nashville since 1975. When I started school at MTSU in Murfreesboro, Nashville was definitely a big destination for us constantly. The big city. So I went through four years of MTSU going to Nashville all the time. I made a lot of friends there. And then when I graduated, I moved to Nashville, lived here for a year in 1984. And yeah, I love country music. I love old country music.
Nashville is my favorite city in a lot of ways. It's where I first started to become an artist. That's where I first met other artists that were going to MTSU or were living in Nashville. One of my favorite artists, Bill Killebrew, is still painting there in Nashville. He was the first really good professional artist that I ever met. So I had all these early origins in Nashville as an artist. That's where I really started to get in touch with the bigger outside world, and it was my jumping-off point to New York City. It was the first really kind of taste of culture that I had — Chattanooga wasn't like that at the time. And so I have a real deep connection with Nashville that's been going on since '75, and some of my best friends still live there. Nashville is also where I started my TV career in 1985 when I did the kids' show for WDCN-Channel 8, Mrs. Cabobble's Caboose. That was my first professional job as a set designer and a puppeteer. And I took that portfolio back up to New York City, and Mrs. Cabobble's Caboose is how I got the Pee-wee's Playhouse job. So Nashville has been a great place for me to grow and learn as an artist, and to get my confidence to go out into the bigger world. It really nurtured me.
You say you find that people identify the word paintings as the Wayne White brand. How has that been a change for you, given your early career when you were more known for your work on Pee-wee's Playhouse or other television projects?
I'll always be linked to Pee-wee's Playhouse and various other projects I did on television, and I'm very proud of that. I don't run away from it. But I was glad that I was given the chance, and I'm happy that I succeeded in finding my own name and my own identity, and not just somebody that made somebody else look good, you know? Pee-wee's Playhouse was one of the greatest things that ever happened to me as an artist. It's such a thrill and privilege to work in something that was so big in our culture, that had such a positive magic to it. You know, that's very rare. Very rare. And I'm glad I caught that merry-go-round. 
When you were doing your tour that ended up being filmed for the 2012 documentary Beauty Is Embarrassing, you were also performing some music during your show.
A little bit, yeah. I played a little banjo during my talks, but I didn't do anything like what I'm going to try at Julia Martin's this weekend. 
Is this the first musical performance you've done in Nashville?
Yeah, this is my first performance with a little band in Nashville. And boy am I asking for it. Come on, man! You're going to Nashville to show your mediocre music talent? Please!
It sounds like fun to me.
I'm gonna be playing a three-string guitar in this project. It's a band called Username Password, and we got together online during COVID — it was pretty much a quarantine band. I've been playing the same electric cigar-box guitar for a while now. Somebody gave it to me as a gift at one of my talks, actually. I put down my banjo to sign some books, and this guy got in line and gave me this guitar. And so that was back in 2013 or 2014, and I got interested in playing it, and I post little videos from time to time on social media. I'm playing with my buddies back in Chattanooga — Bob Stagner is a drummer, and Jim Tate, who's a bass player. I asked them if they would like to put some tracks on some recordings I made, and they did. And so we started this long-distance collaboration last year, and it was a fun thing to do while we were all locked down. And so I've just been doing my guitar tracks and sending them, and then they add their parts, and then we show the composite video. And we've never really played live together. Never. So this will be our debut. 
I would assume with making music again, that your instincts for creativity pay off big time in terms of just getting a hunch about something, and then just following it where it leads?
Yeah. I mean, these musical things I do are just very small sketches. They're less than a minute long. And there's no pressure to be professional, or make money or anything like that. It's just pure play. This is how I can play without any strings attached. I'm not a musician, but I have a few musical ideas I like to play with, and I like to keep it short. You know, we're like this short-attention-span social media band, quarantine band. I don't know quite how to label it, but it's a real fun thing for me. And as long as I don't take it too seriously I have a lot of fun with it. And I'm really lucky to have real musicians, real working musicians like Jim and Bob, that take me seriously enough to support me and make me sound even better.