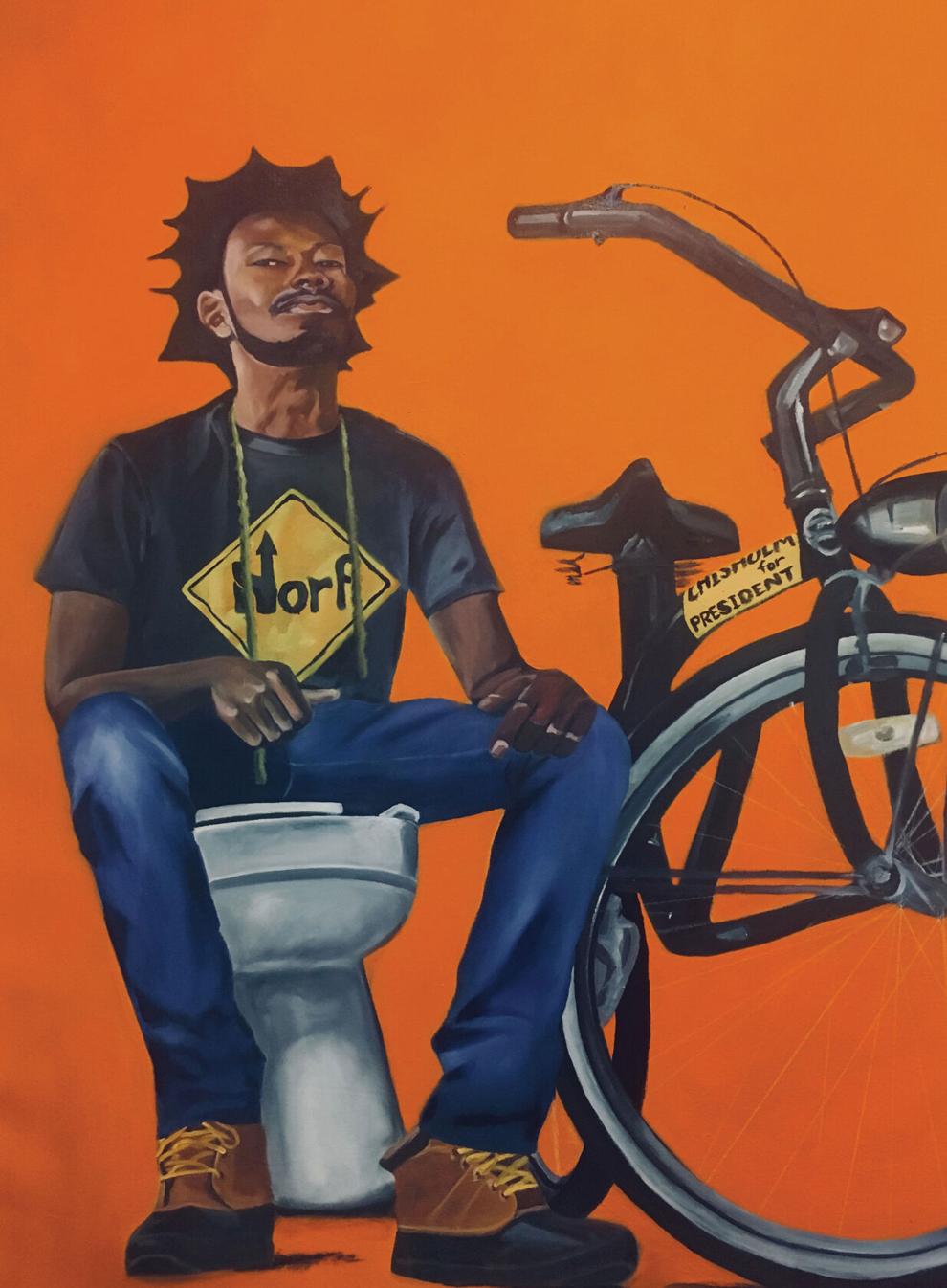 Donna Woodley's display at Coop Gallery's 2016 group show of new members did two things: It broadened the artist's audience, and it established her as an irreverent and curious painter who is unafraid to explore her community's experiences as Black women in the South. In that show, Woodley and her friends wear white granny panties on their heads in disarmingly silly images that prompt conversation about the visibility of Black women and the toxicity of selfie culture.
That show, in addition to the Gallery Luperca display at the long-lost Fond Object, led Scene culture editor Erica Ciccarone to name Woodley the city's Best New Artist in that year's Best of Nashville issue. Some of those same breakthrough works are now on display at Perception and Perspective, Woodley's latest exhibition at NKA Gallery. The new art gallery — pronounced "inka" — is presented by Slim & Husky's, and is located next to the Buchanan Street pizzeria.
In her artist's statement, Woodley writes that the exhibit includes work created before COVID-19 alongside new pieces, and the title emphasizes how circumstances before and since the pandemic have shaped our understanding of the world, ourselves and each other. The pandemic is the backdrop for everything right now, and it's an understandable timeline to organize a contemporary art show around. But this isn't really a show about the virus or its effects; it functions more as a thoughtful retrospective of a half-decade of art-making by a unique artist with a personal voice that's both offbeat and right on time.  
Both "Kelsheika'' and "Trasheena the 5th District Councilwoman" are from 2017, and give a bit of context to the development of Woodley's more recent work. "Trasheena" features those signature white granny panties — here they're worn outside the hypothetical councilwoman's jeans. Both these works point to the struggles parents of color grapple with when it comes to giving children names that might limit their opportunities due to racial discrimination. In Woodley's world, a woman named Trasheena can still get out the vote.   
The humor that Woodley brings to serious issues and important ideas can be found throughout Perception and Perspective, and one of the best things about the display is that it reminds viewers that art doesn't have to be brooding and tortured to address serious subject matter. " 'Sup Nigga? #justiceforbreonnataylor" references a comment made on a social media post by musical mogul Rihanna. The artist reposted a Black History Month announcement from Kentucky Attorney General Daniel Cameron, then added her own question regarding the death of the young Black medical worker who was killed by the Louisville Police during a raid of her apartment. Woodley pictures the pop star wearing a face mask with her questioning post written across it, conjuring the social unrest, the pandemic, and the pop culture and social media of 2020 in one portrait.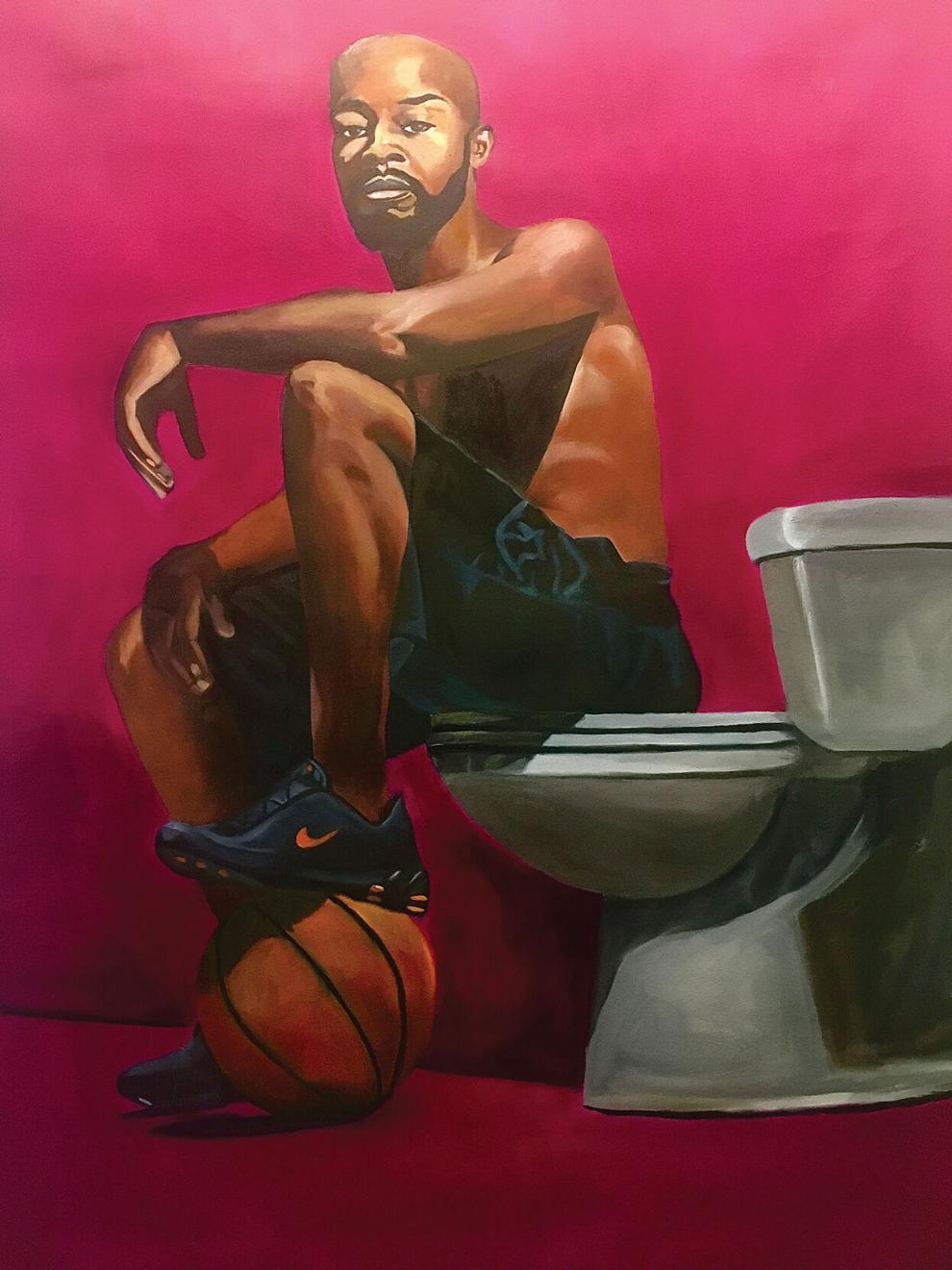 Woodley's humor comes through again in her series The Royal Court, which pictures Black men through the lens of royalty, with each image unexpectedly including a toilet — a tongue-in-cheek reference to a "throne." Actual Black royals have ruled in kingdoms all over the planet long before Harry met Meghan, and the idea of Black royalty pops up in the stage names of reggae legends like King Tubby and Prince Buster; in the paintings of Kehinde Wiley; in the Afrofuturist imagery deployed by pop stars like Beyoncé. Woodley's royals include a pair of North Nashville artists who have helped recenter the North Nashville neighborhood — and the creative legacies of its HBCU institutions — in the middle of the city's contemporary art scene. 
"Prince Joseph III" pictures muralist and member of the Norf Art Collective Joseph "doughjoe" Love. He sits on the closed lid of a toilet with a proud look in his eye. His bike is parked next to the toilet, with a prominent "Chisholm for President" sticker on the top tube of the bike frame. Shirley Chisholm became a different kind of Black royalty — in 1972 she became the first African American to run for a major party's presidential nomination and the first woman to run for the Democratic Party's presidential nomination. Another work features former Nashvillian Brandon Donahue. "Sir Brandon the Great" pictures the artist sitting on the closed lid of his ceramic "throne," his left foot propped up on a basketball just like the ones he uses in his iconic flowerlike sculptures. 
Both of these images shout out local creative leaders with equal parts humor and respect. And like all of Woodley's work, they ask questions about identity with more mirth than militance, more poetry than pedantry.