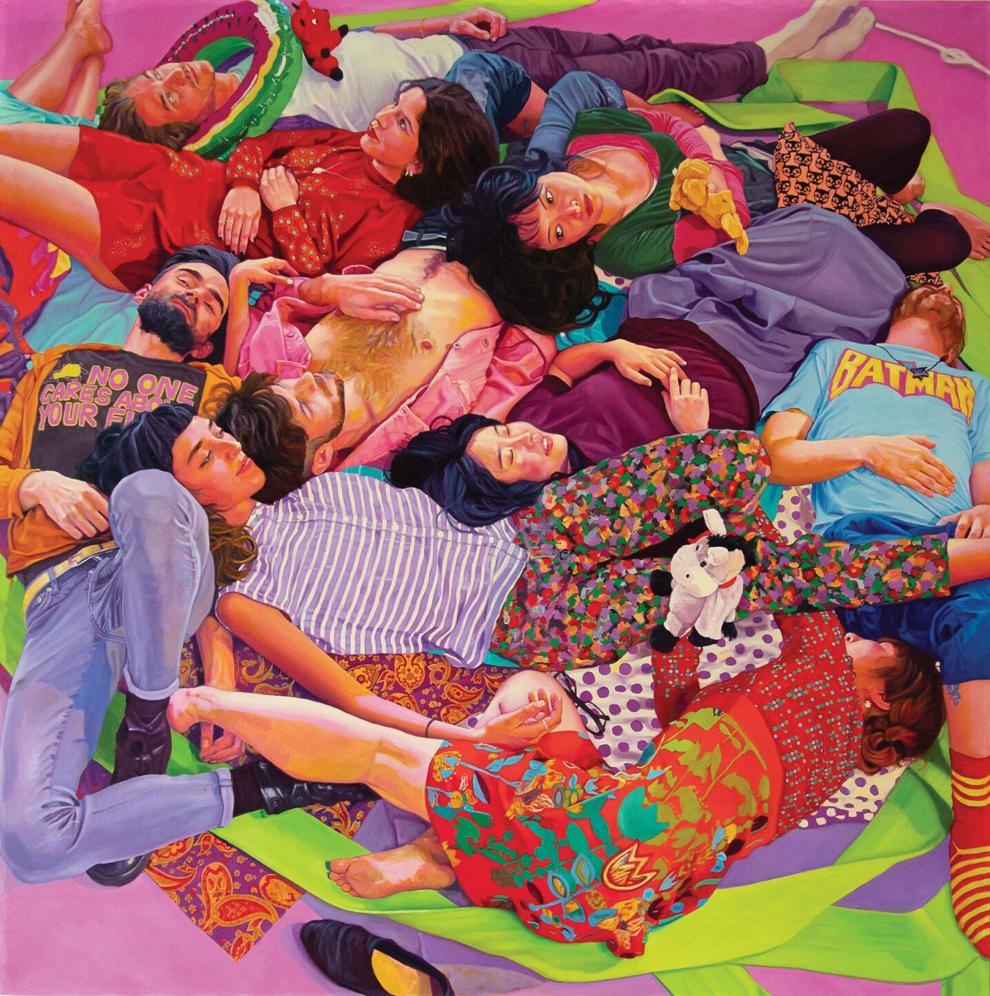 Brooklyn-based painter Buket Savci's first show at The Red Arrow Gallery was a highlight of this month's First Saturday happenings. Beyond the Dreampond is a series of oil paintings on canvas, linen and panel — jam-packed compositions of entwined figures tangled with a menagerie of animal-shaped pool floats, foam noodles, life preservers and stuffed toys.
These pieces are packed with people, but their combined poses, gestures and textures mean the crowded compositions can sometimes read like landscapes, or even abstractions. Savci's precision brushwork rushes right toward photorealism, just before making a much smarter and more interesting turn into a pleasantly stylized look that's perfectly complemented by the summer garden palette that makes these paintings so fragrant and juicy — they taste like strawberries and they smell like vinyl baking in the sun. Beyond the Dreampond splashes around all of art history's depictions of relaxing humans, but also touches on Savci's personal story as a Turkish immigrant.  
Savci's models in repose recall the reclining figures lazing throughout Western and Eastern art history. If reclining Buddhas look particularly relaxed, it's because they represent the after-death state of a person who has reached enlightenment. The poses of reclining emperors and sultans demonstrate the ease of their stations, and even gods and goddesses go horizontal in Greek and Roman statuary, bringing their respective pantheons down to earth. The lay-back goes way back.  
Savci's painted people are silly, sexy, somber and sometimes uneasy. "No One Cares About Your Floatie" presents a pile of people who've splashed down into a cuddle puddle with legs draped over torsos, heads on hips, arms woven together. This is one of the works that really reads like a landscape described by the hills and valleys formed from all these linked-together limbs, clothing, skin and hair textures. This painting is emblematic of Savci's penchant for creating treasure-box scenes brimming with tiny details when viewed up-close. But the composition has so much integrity that I like it just as much from across the gallery, when all those surprises merge into energized but balanced abstractions.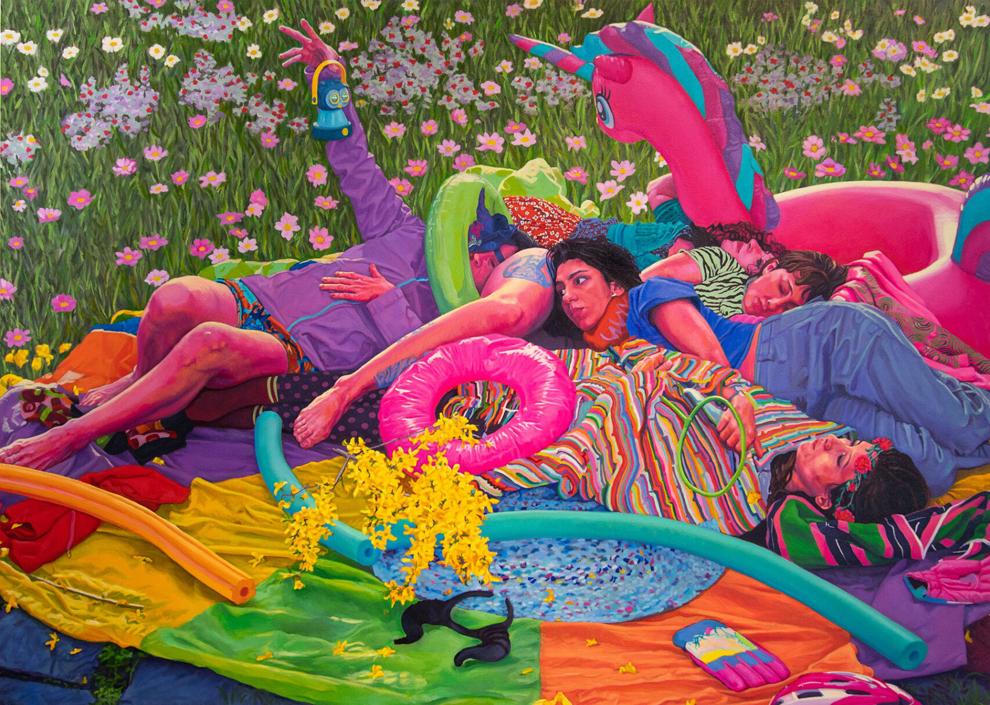 Some of the people populating "No One Cares About Your Floatie" have their eyes closed. Some look like they're sleeping peacefully, and some are smiling like they're trying to stifle laughs. One woman has a dreamy, lidded expression, and another's eyes are wide open, curiously peeping the scene. Savci's "Wild Flowers" painting is detailed and colorful like "'Floatie," but the mood is completely different. "Wild Flowers" depicts a collection of female figures lying down on a blanket in a meadow dotted with wildflowers. The women with their eyes closed looked like they're sleeping but uneasy, and the central figure is covered in a striped blanket — her head is wreathed with a crown of fuchsia flowers, and she's holding something that looks like a knife in her right hand, resting on her chest. This one feels like a funeral scene. A woman in the background stares blankly up at the sky. Another stares uneasily toward the horizon. It's a da Vinci composition lit with a toy lantern shaped like an owl. An inflatable pink unicorn side-eyes the scene.
Savci's pooltime aesthetics bring both literal and figurative buoyancy to these works, but a piece like "Wild Flowers" points to the life-preserving function of inflatable pool companions like floating creatures and pink and chartreuse inflatable plastic rings. Savci was born in Istanbul, and her scenes are joyous people-jumbles in the sun, but they also speak to her experiences as an immigrant, figuratively floating between continents and cultures. They also recall the harrowing cross-border journeys refugees have always made across rivers, lakes and seas, fleeing danger or rushing toward the promise of a better life.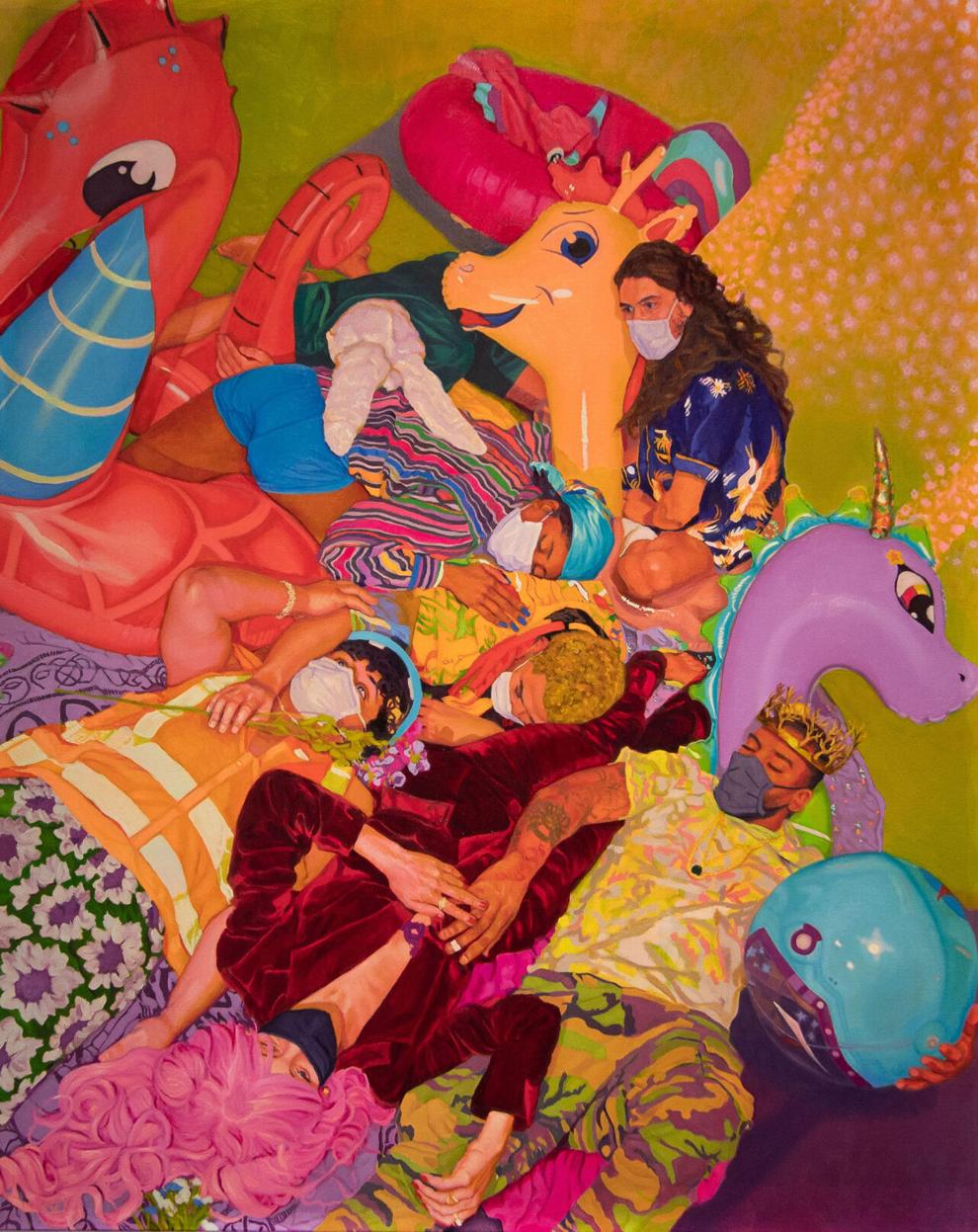 Paintings like "Wild Horses" and "The Search Party" offer more examples of Savci's knack for the bittersweet. These are both vibrant, colorful depictions of young, attractive people lying all over each other, but they're all wearing face masks covering their mouths and noses. Of course, these works were painted during the pandemic, when even the idyllic shores of Savci's Dreampond works weren't immune to the cultural upheaval, social wreckage and deadly health scares that accompanied the beginning of this new decade.
After years of face-covering and various levels of social distancing, the best thing about Savci's series is how her posed scenes evoke the intimacy, reliance, loyalty, trust and love that connect families, friends and communities of every stripe and size. These paintings are about closeness — in the best of times and the worst of times. These scenes feel like both the return of the spring and the end of the summer, and they remind us that we'll get through all tomorrow's tragedies and triumphs better together.