When I visit Beizar Aradini's studio, she's working on a commission — stretched across the embroidery hoop on her desk is fabric stitched with a grinning couple posed with their heads together. It's based on a snapshot hanging above. But on a nearby table is another work in progress. This one is based on a photo of Aradini's aunt and other women in a Kurdish refugee camp. They wear colorful dresses and pose confidently, as if they are standing in front of some tourist attraction on vacation, documenting the moment to remember for years to come. 
"It's just amazing how my family would still celebrate their culture, even in such an intense time of their lives," says Aradini, whose work was awarded Best in Show at the Best of Tennessee Craft exhibition last year at the Tennessee State Museum. "Not having anything, they would still just dress up and celebrate."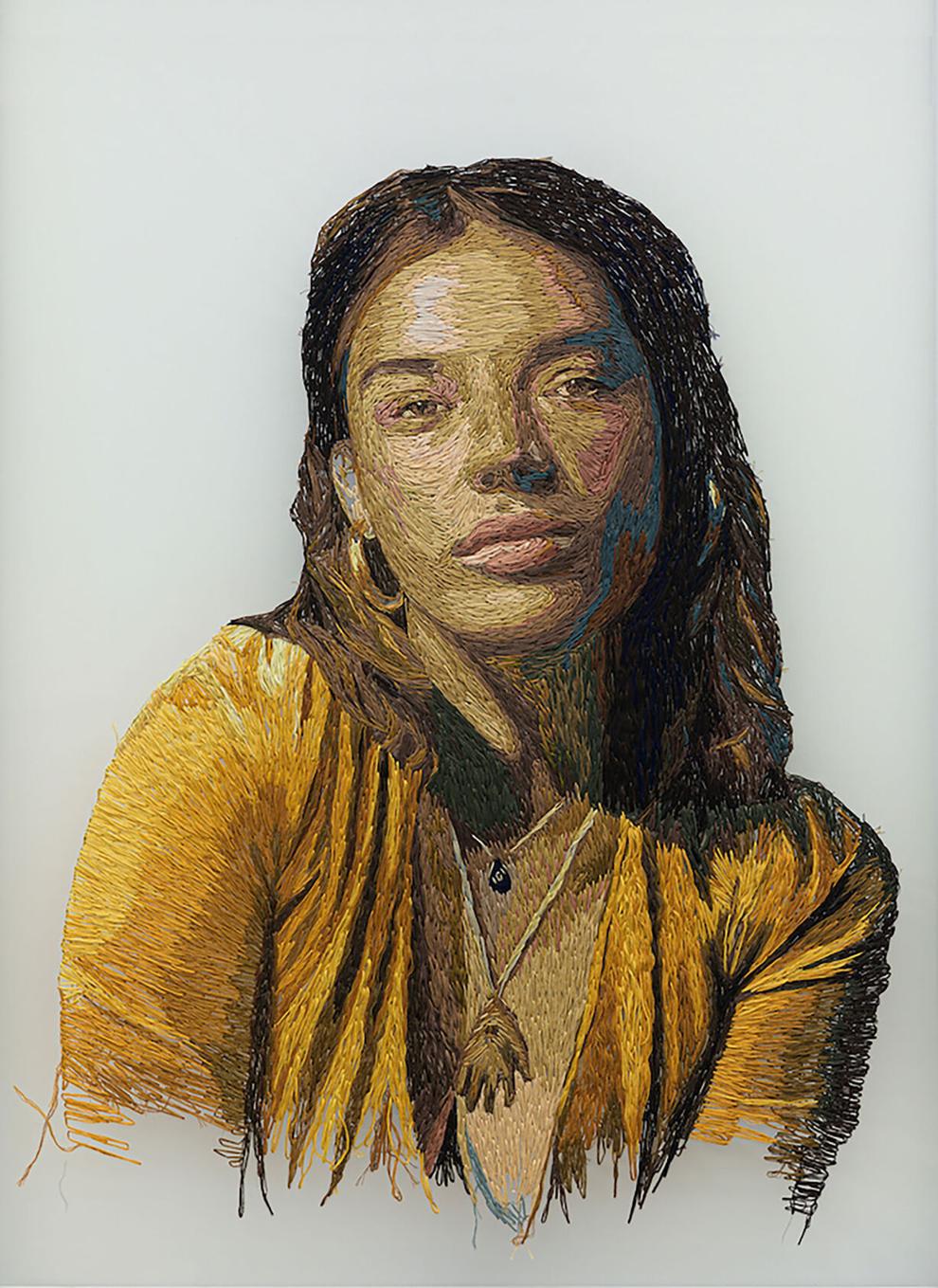 By stitching painterly scenes based on family photos, she's creating touchstones to connect with that culture and time. Her portraits are incredibly detailed, with the shading and depth you'd find in a well-executed oil painting. The vivid colors speak to a desire to bring her family's past to life before her eyes. The documentation of these scenes is an act of preservation. "If you look at the history of Kurds," she explains, "we've just dealt with so much ethnic erasure in our stories, in our culture and even in language. This becomes my way of finding and rediscovering our roots in a way and telling these stories."
Kurdish civilization dates back to the 10th century, but Kurds have no internationally recognized nation to call their own. On maps, the Kurdish-majority region known as Kurdistan appears as parts of Iraq, Iran, Syria and Turkey. Though documents from late antiquity exist that name the region "Land of the Kurds," empires, treaties and colonial powers continually split up the territory, named and renamed it. In the late-'80s, Aradini's family fled for their lives from Saddam Hussein's genocidal campaigns to a refugee camp in Mardin, a city in southeastern Turkey. Aradini was born there and lived the first two years of her life in the camp before her family settled in Nashville in 1992. 
Calling the region "Kurdistan" is important to Kurds, despite how the rest of the world draws its maps. Doing so legitimizes their culture, history, language and identity. In the same way, Aradini's embroidered portraits of Kurdish people validate her heritage.
She grew up without her extended family. "My grandparents, my uncles, my aunts, everyone else was back in Kurdistan," she says. "I never had those relationships. … The only ways I've known them are literally through photos." 
As a first-generation Kurdish American child, Aradini always felt like she was living between two cultures. Her parents rarely talked about Kurdistan. "It was just too traumatic," she says, "and they're just trying to survive with seven children in America." This widened the cultural divide she felt from her roots and put up barriers between herself and her parents. 
In college, she started asking her mother about her life before coming to the U.S., and her mother was ready to answer her questions. "I would ask her about her experience of coming to America," says Aradini. "And like, 'What would you do in refugee camps?' And she would talk about taking rice sacks and cross-stitching with her friends as a way to pass time, because there was literally nothing to do other than try to get through the day. And so I just started researching more about rug weaving in Kurdistan, and thinking about fibers and thinking about embroidery as a way of storytelling. And so it honestly reconnected me with my family in so many ways." 
The craft of embroidery is painstaking. Aradini often uses tulle as her canvas — a slippery fabric that is delicate but strong. Other times, she uses wash-away embroidery sheets that disintegrate when put in water, leaving only the layers of thread to hold the design together. She works by hand and with her sewing machine. The process has proven important to her emotionally. "I was avoiding so much of my past," she explains, "like literally blocking it out. [Embroidery] became a way of centering myself and really paying attention to these stories and to myself and to my background that really got me feeling more grounded. There's a lot of concentration and patience that goes into it. I can't rush it." 
Lately, she's focusing on photos from when her family first came to Nashville. "My parents don't have heirlooms to pass down," Aradini adds, but they can pass down stories. "I think about how important storytelling is. I think about the preservation of our culture."