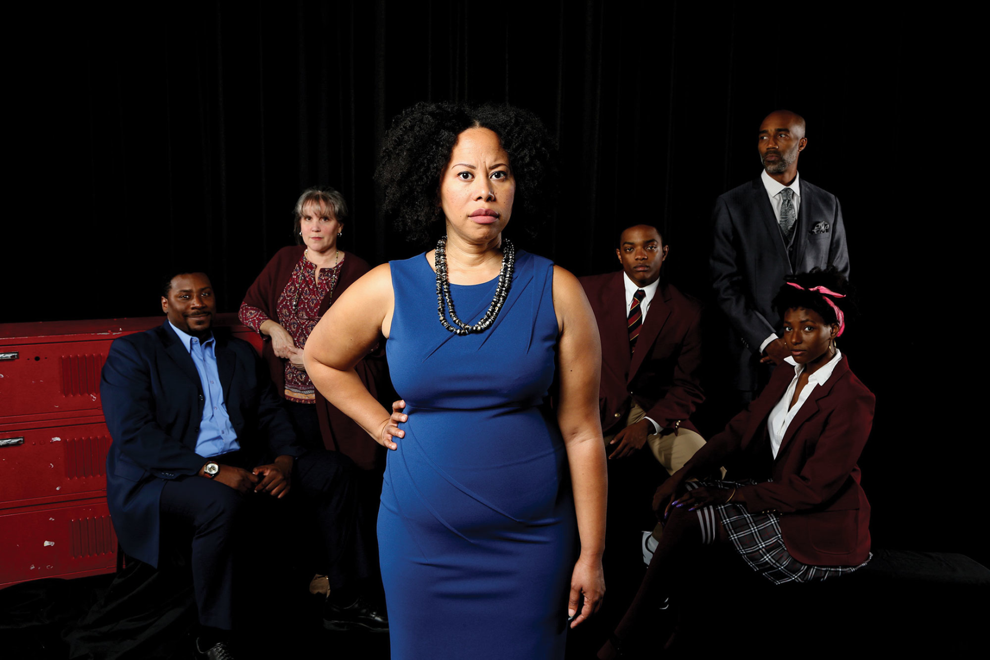 Navigating what's known to education theorists as the school-to-prison pipeline takes much more than a glance at a few statistics, but demographic information about our schools can be telling. In Nashville, Hume Fogg Magnet High School's student population is 24 percent black, and 7 percent of students qualify for free or reduced lunch. The school can boast that 99.6 percent of students graduate. 
Less than three miles away, Pearl-Cohn Entertainment Magnet High School has a student population that is 94 percent black, and 70 percent of students qualify for free or reduced lunch. Pearl Cohn students have a 79.7 percent chance of graduating, and 42.9 percent of students are chronically out of school. The Nashville ZIP code 37208, where Pearl-Cohn is zoned, has one of the country's highest rates of incarceration among people born between 1980 and 1986. 
Though statistics show a stark reality, they can be limiting — not to mention dehumanizing. Students are children, not numbers, and the details of their lives tell stories that are much more nuanced. Nashville Repertory Theatre's production of playwright Dominique Morisseau's Pipeline, playing through Nov. 3 at TPAC's Johnson Theater, gets at the heart of educational inequality, illuminating the effects of unofficial racial segregation in our schools. On the night of the play's preview, the audience was packed with high school-age teens who appeared to be fully engrossed in the story. Morisseau's script is piercing, rhapsodic — and the Rep's production is sublime. 
Directed by Jon Royal, Pipeline stars Alicia Haymer as Nya, a dedicated African American public school teacher who is desperate to keep her teenage son Omari (Gerold Oliver) from succumbing to the school-to-prison pipeline. Omari, tender and honest to his core, attends an upstate New York private school called Fernbrook, where he is treated as only a visitor — not a member of the community. There Omari is isolated, cut off from his support system, and goaded into conflict by the subtle but deep-seated racism of the environment.
Gary C. Hoff's set is flawless — a school hallway complete with tile floor, an old-school loudspeaker, and lockers that flip around to reveal a blackboard for in-class scenes. Sound designer Kyle Odom pipes announcements over the loudspeaker throughout the school day. A floating set piece becomes the teachers' lounge, and when turned around, the dorm room of Omari's girlfriend, Jasmine. Both are treated with detailed furnishings and props that lend authenticity to these scenes.
But the truly original component of Pipeline's scenic design happens during scene transitions. Artist Omari Booker painted six scenes based on the play — the brick facade of the school, the interior of a city bus and others — and photos of these oil paintings are projected onto the stage. If Booker were less of a painter, or if projectionist Colin Peterson were less capable, this staging could have easily appeared amateurish. But Booker's impressionistic style and saturated colors capture the moods of the characters and set a just-right atmosphere for Morisseau's script. 
Alicia Haymer is one of Nashville's most talented stage actors, and her performance as Nya is faultless. Like many mothers and many teachers, Nya must balance her many everyday obligations with her emotional well-being. There's plenty of fight in Haymer's Nya, but the actor also summons palpable vulnerability. Gerold Oliver, playing Omari, has shone in Nashville productions like Ghost and The Flick, and we really see him come into his own in Pipeline. Omari is caught between two worlds, and Oliver delivers a multifaceted and memorable performance.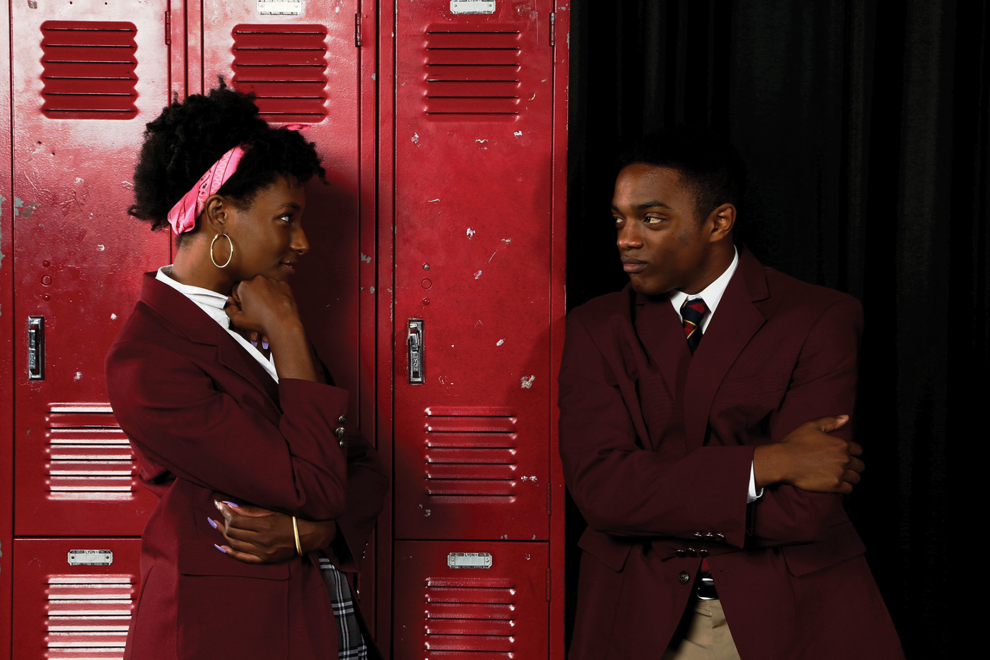 Candace-Omnira LaFayette confidently takes the stage as Jasmine, Omari's private-school girlfriend. She muses that her relationship with Omari is an urban romance novel, but LaFayette gives us the sense that her character is also quite knowing. Like Omari, Jasmine has been sent to Fernbrook by parents who hope that her classmates' privilege will rub off on her — and that Fernbrook will reel in her wildness. But despite her age-appropriate naivete, Jasmine is also bold, smart and savvy. Joel Diggs plays Omari's father and Nya's ex-husband Xavier — a cold businessman who thinks he can swoop in and save the day without trying. Diggs plays Xavier well — he's more clueless than embittered, and I wish Morisseu's script gave the character greater depth. 
Back at Nya's school, Mary Tanner's Laurie is the bawdy, straight-shooting, self-described "white chick" teacher who calls the school a battleground. You can't fault her for it. She's back after three weeks of medical leave because she was attacked by a student's family members. Tanner is a perfect vision of the veteran public school teacher, unsurprised by the state of affairs but nonetheless rowing against the current with everything she's got. 
Like a Greek tragedy, Pipeline has a chorus. Poet Gwendolyn Brooks' "We Real Cool" is a short, muscular poem about a gang of boys who are headed toward an early grave. Nya's lessons in her classroom are like continuous prayers to protect Omari, but those prayers are interrupted by visions of Omari himself, transformed into a menacing and potentially violent man who is seething with rage. He stalks the stage in a hoodie, spitting out the words of the poem like they're bullets. This is not the Omari we know. This is the black male that's conjured by the white imagination, present every day in the fears of white America — and Nya, who spends her days with teenagers, sees that sometimes those fears become prophetic. The white fear of losing what white people have, of ceding ground to black Americans, becomes the boogeyman conjured by Nya's visions. White fear triggers white flight, which segregates our public schools and leaves black- and Latino-majority schools under-resourced and "failing" — or to use the latest euphemism, "priority." 
The unexpected sage of Pipeline is the school security guard, Dun. He first presents himself as a lighthearted flirt — running into him in the teacher's lounge is a bright spot in Nya and Laurie's day. But a crisis at school leads to a transcendent moment that actor Barry G. Kennedy Jr. delivers with powerful gravitas. Dun is the school peacekeeper, barely making minimum wage, tasked with holding high school students back from pummeling one another. He knows that for teenage boys at this school, violence is an act of desperation, of fighting to claim space in a world that is closing in on them. "How are you going to stop it if you don't know the source?" he asks Nya, both about her students and her son. "It's older than the bricks in this building."
Pipeline is a call to value young people as individuals, to believe that they can overcome the limits of other people's imaginations. It's offered like a talisman of protection for both students and their parents — but the future is in our hands.