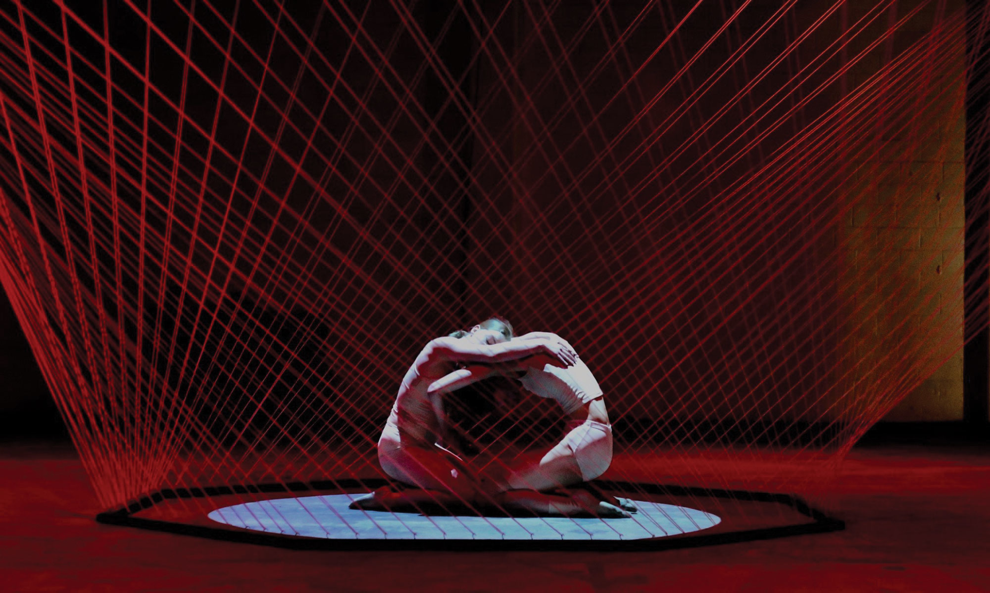 It's been almost exactly one year since OZ Arts closed its doors in response to the COVID-19 pandemic. But this weekend, the contemporary arts center will reopen with a unique work that promises to explore timely issues of isolation and interpersonal connection.
Conceived and choreographed by David Flores, Prism is described as "a performance installation experience created for a physically distanced world." The work, which blends striking visual elements with live music and innovative dance, will be performed in 35-minute cycles for small audience groups of no more than 20 people at a time — all wearing masks and maintaining social distance.
"This work feels so connected to everything we've all been experiencing over the last year," says Flores, a Nashville-based artist originally from Costa Rica. "I started working on it about two-and-a-half years ago, and from the beginning I was interested in looking at human connection and physical interaction. But within the context of COVID, those themes became even more heightened and universal. It really feels like a metaphor for what we've all been going through — locked in our own spaces, unable to interact outside our own bubbles." 
In Prism, those physical spaces and limitations are often represented through a series of large-scale sculptures that incorporate patterns of interwoven thread and innovative lighting. Flores says he immediately liked the idea of creating movement in relationship to these huge installations, exploring their negative space and diving deep into "aspects of voyeurism and our changing relationships to physical intimacy."
"The whole idea of physical proximity and contact is just more evocative right now," Flores says, "so to see the dancers interacting with — or contained by — these sculptures is quite powerful. There's a strong, visceral impact. But the more we played with the sculptures, the more possibilities seemed to unfold. For example, we found that we could use black lights so that some sections of the sculptures would be visible and others hidden from view. And by using more of an elastic thread, we can actually move and create new lines and boundaries — a pretty useful tool during a pandemic."
In fact, where some artists might have struggled to work around current COVID guidelines and safety protocols, Flores has embraced them, allowing them to inform and shape the work. And while he certainly has been meticulous in his approach to audience and performer safety, he's still found plenty of ways to honor the magic of live performance. 
"Although we have to be very thoughtful in terms of where people are standing and that sort of thing, audience members will actually have quite a bit of freedom in how they move through the space and experience the work," Flores says, noting that OZ's open warehouse space is particularly well-suited to the project, enabling him to create a truly immersive experience without sacrificing safety. "We've also incorporated the role of chance, with each performance showcasing different combinations of dancers chosen at random. The audience plays a part in that selection, so each run will be different. That really feeds my need for play and fun, which is exciting. The whole process has been incredibly inspiring, thanks in large part to the team at OZ Arts, as well as my collaborators." 
Those artistic collaborators include composer George Miller, who has created an original score for Prism, which will be performed live by Alicia Enstrom on violin and Adam Lochemes on electronics and production. And in addition to Flores, the company of dancers includes Lenin Fernandez, Becca Hoback, Emma Morrison, Rebeccah Peshlakai, Sarah Salim and Joi Ware.
"It's such a wonderful group," Flores says. "I think we're all just so thrilled to be able to share live performance again. We're eager to get back to work — and to connect with Nashville audiences."