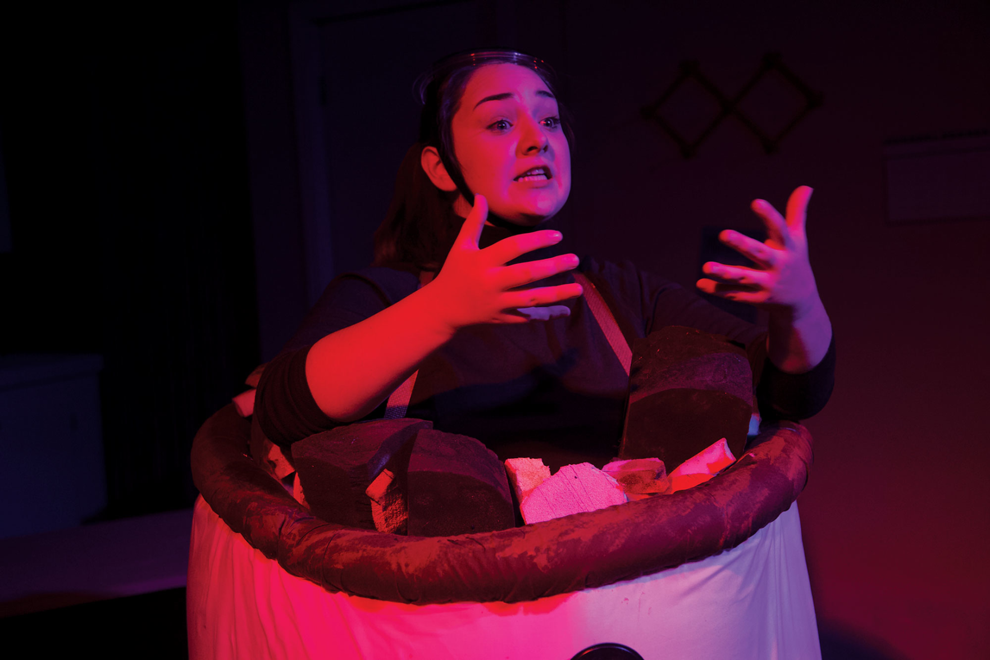 Billed as a dark comedy, Pittsburgh-based artist Mora V. Harris' highly imaginative new work, You Are What You, centers on a competitive eater named Francie. The play — which is currently receiving its world-premiere run at The Barbershop Theater courtesy of Garden Theatre Company — showcases Harris' fresh, distinctive voice.
Our lead is desperate to win the big prize money in an eating contest in order to cover the cost of her kid sister's eating disorder treatment program. Francie enlists the help of snooty celebrity chef Electra Sinclair, but soon finds she may have bitten off more than she can chew. It's a clever setup, and Harris has a lot to say about complicated relationships, whether they're with food or family. But she's also thrown in some unexpected twists — from a conniving ex-girlfriend to a talking pot roast. The roast actually works as a fanciful device that personifies our need for comfort and our yearning for happier times. (You know, back "before kale was invented.")
You Are What You runs roughly two hours, with a 10-minute intermission, and it might benefit from some judicious cuts. For example, there's an interesting bit that has the stagehands distributing miniature servings of comfort food to the audience. Sure, it's a funny idea, but it also shifts the scene's focus and slows momentum. Another scene, involving a Lyft ride gone terribly wrong, shows off Harris' comedic instincts but doesn't advance the story.
Even so, there's plenty to celebrate here. Harris gives us a pair of compelling characters in Francie and Trisha, and it's refreshing to see a play in which the lead character's sexuality is simply part of the story — not a defining element that drives the plot. While Harris clearly has a knack for absurdist humor and zippy one-liners, some of my favorite scenes are those that give us (and the characters) more room to reflect. In one particularly poignant moment, Electra lets down her guard to extol the virtues of the savory tart — a tasty morsel that, unlike its sweeter counterpart, represents a beginning rather than an ending. Moments like these are thoughtful, taking a hard look at grief, trauma and that which truly nourishes us. 
You Are What You definitely marks a promising beginning for this fledgling company. Garden Theatre's founder and producing artistic director Jillian Frame directs the piece, and also deserves credit for the nicely detailed set design. Meanwhile, Ross Bolen's lighting and sound add to the production's overall impact, and Colleen Garatoni's costumes help establish each character, including dear Pot Roast and her oh-so-comfy slow cooker.
Even with the play's long runtime, Frame keeps the action humming along, making good use of the Barbershop Theater's intimate space and capitalizing on the script's quirky humor. The downstage placement of the family television, however, occasionally leaves us looking at the back of the actors' heads and losing bits of dialogue. Still, Frame's ensemble is likable and earnest. Christy Berryessa is well cast as Francie, a weary young woman determined to save her sister and heal their fractured relationship. It's a demanding role that requires some significant emotional heavy-lifting, but Berryessa approaches the work with honesty and vulnerability.
Rosemary Fossee also succeeds as Trisha, a sharp-tongued teen who can't stand the sight of food — unless it's on her favorite cooking show. Fosse can deliver a caustic zinger with the best of them, but the way she carries the weight of her character's sorrow is heartbreaking. Meredith Daniel pulls double duty as dysfunctional sisters Electra and Mignon, attacking the dual roles with great energy, and Jordan Scott makes the most of her time onstage as Francie's manipulative ex, Megan.
But it's Merrie Shearer who offers the evening's biggest treat as Pot Roast, charming the opening-night audience with tantalizing bits of wit and wisdom. As she assures us, "Whether or not you were raised in a pot roast household, I am there for you. I will take you home." 
Like good food, good theater has the power to transport us. You Are What You bodes well for the future of Garden Theatre Company, and with a bit more focus, this intriguing new work could prove even more satisfying.