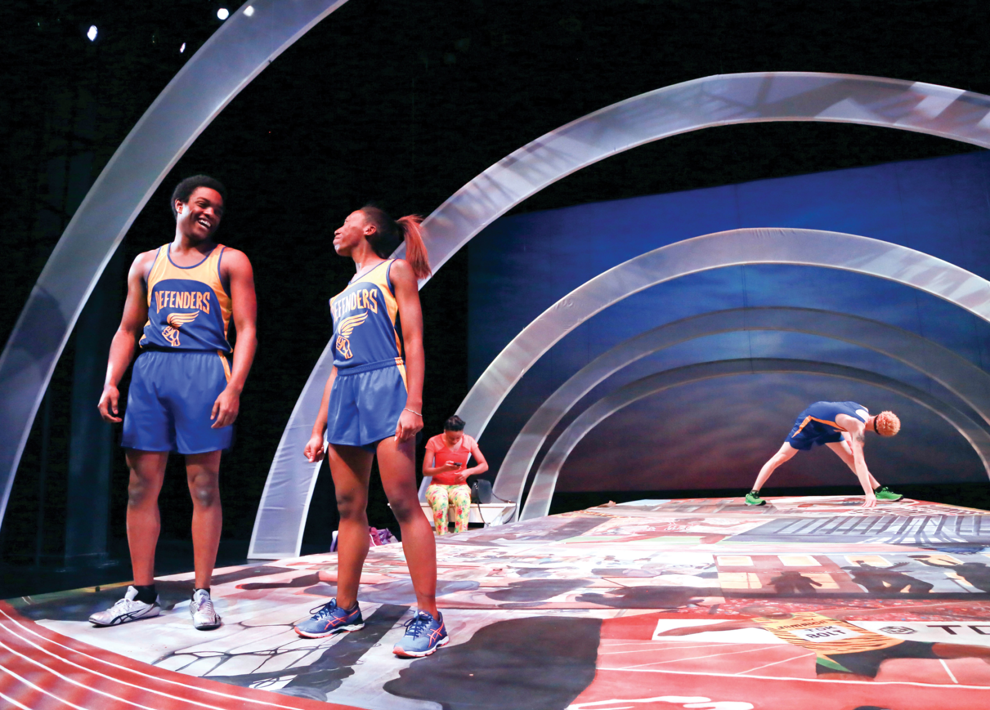 Ghost, put on by Nashville Children's Theater, is about a kid who can't stop running. Within the first few minutes of the play, we learn that Castle "Ghost" Crenshaw and his mother were chased out of their home at gunpoint by Ghost's father years before. With his old man in prison for the offense, Ghost navigates middle school as a loner — fending off taunts from his peers with his fists. When Ghost happens upon track practice after school, he decides to race the team's star sprinter. Ghost is fast — not that he's ever practiced running. The play is just 70 minutes long — a great length for young attention spans — and moves at an energetic pace.
The title role is played by Gerold Oliver. Ghost has a bombastic personality — he's plenty rude, testing the boundaries of adults, and he's always looking for shortcuts. After his second practice session, he rushes home and cuts his high tops down to approximate running shoes. Oliver has mastered this attitude — he delivers Ghost's many monologues and asides with a wink and a nudge when it's needed, but he also summons an air of vulnerability that's at the character's core. When Ghost makes mistakes, whether it's getting into a fight at school or committing a more serious crime, you get the sense that he's fighting the action with everything he's got.
His performance is matched by Joel Diggs as Coach and, briefly, Ghost's father. Diggs is right at home in the role of mentor, and his chill vibe evens out Oliver's frenzied one. Diggs will star in next month's Nashville Repertory production of Topdog/Underdog. Here, he issues a solid performance that's laced with humor.
Tamiko Robinson Steel plays Ghost's mom, Terri. In 2017, she acted opposite Eddie George in Nashville Rep's A Raisin in the Sun, and in 2018, she starred in Smart People. In both, she was clearly the audience favorite, capable of cracking the audience up and hushing the house a moment later. Her part in Ghost is minor, and like most of the other actors, she also plays even more minor roles — a retail clerk and a teacher. But she anchors the performances with her presence, and Terri is Ghost's moral compass. Like most teens, Ghost has to learn to do the right thing for himself.
Director Jon Royal has been coaching youth theater for decades in Nashville and around the country, and he has a healthy list of directorial roles under his belt. This isn't the first you'll be hearing about Royal this year. He's set to direct the aforementioned Topdog/Underdog next month and Actors Bridge's Citizen: An American Lyric in March. Royal is a Nashville native who grew up going to see plays at Nashville Children's Theater, and Ghost is infused with a respect for young people.
I've yet to meet an adult who would willingly repeat their middle school years. It's a time of transition and uncertainty, when small-potatoes challenges feel like life or death scenarios. Feelings of isolation and alienation from peers can be a breeding ground for all types of mistakes, and when kids like Ghost are victimized at home, that only increases their troubles. Teens will identify with Ghost, no matter their backgrounds — though the majority of the cast is black. This is significant given conversations happening both in Nashville and abroad about representation in literature, on stages and on screens. The kids on the track team have vastly different personalities and backgrounds — swaggering Lu (Jordan White), preppy Sunny (Cameron Mitchell) and confident Patina (Nikkita Staggs) accept Ghost as a teammate at various paces. These young actors do just fine, but Oliver steals the show.
Ghost isn't just for kids and teens. Will adults find it predictable and reliant on common coming-of-age tropes? Sure. But Ghost is also a cure for cynicism and a reminder that loneliness can be temporary — if you open up your door just a crack.
The play is based on the bestselling YA novel of the same name by Jason Reynolds. The novel boasts a long list of awards and nominations — it was a National Book Award finalist in the category of young people's literature in 2016. It's the first in Reynolds' Track series; the subsequent three novels focus on Ghost's teammates. Ghost was adapted for the stage by Louisville-based playwright Idris Goodwin, and the Nashville Children's Theater production marks the play's debut.
Nashville Children's Theater is more than half way through with its production of Ghost, but there's still time to catch it before the curtain goes down on Feb. 3.