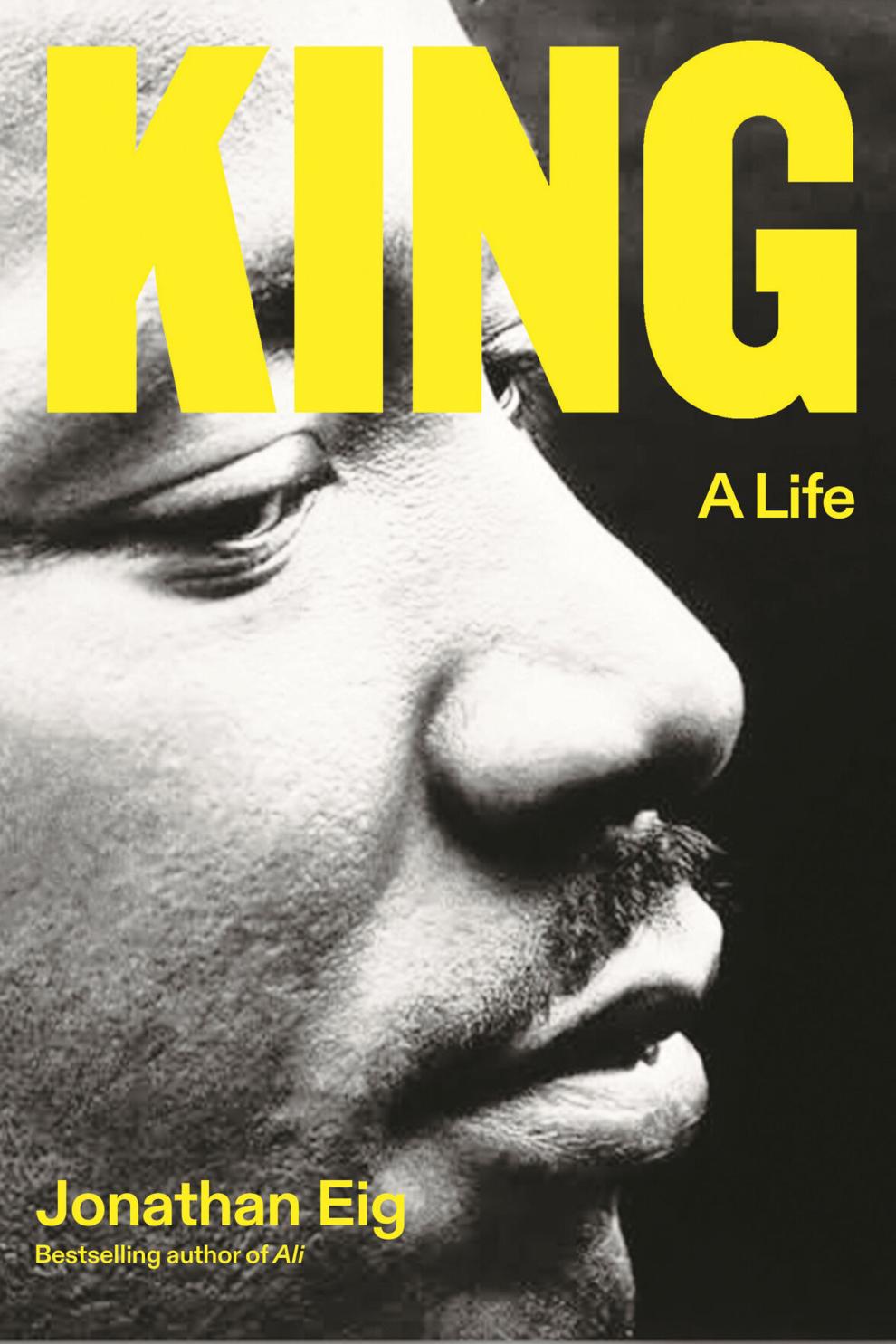 It might seem that Martin Luther King Jr. is more a myth than a man. Thanks to his soaring oratory and moral courage, he has emerged in popular memory as a kind of Founding Father, compelling a nation to better realize its democratic ideals. Yet author Jonathan Eig urges us to "embrace the complicated King, the flawed King, the human King, the radical King." In King: A Life, Eig paints a vivid portrait of the civil rights leader in all his complexities. Marked by deep research and sharp writing, it is the definitive King biography of this generation.
Jonathan Eig worked as a reporter for various newspapers, including the Wall Street Journal, before becoming a bestselling author. His 2017 biography of Muhammad Ali, titled Ali: A Life, won the PEN/ESPN Award for Literary Sports Writing. Eig answered questions via email.
Many of the early books of the civil rights movement were biographies of Martin Luther King Jr. More recently, historians have questioned and complicated the place of King in the movement. How can a new biography shed light on King's role in the struggle for Black freedom?
I'm a big fan of questions and complications! Our understanding of King (and history in general) ought to shift with time. Even though many excellent books on King and the civil rights movement had been published, biography serves a special purpose — it allows readers a more intimate view of history. I wanted to remind readers that King was a man before he became a monument and a national holiday, that he struggled, that he possessed flaws, and that he possessed even more courage than we appreciate.
Biographers live with their subjects for years. What was it like to live with Martin Luther King? As you researched and wrote King: A Life, what was your own journey?
He was terrific company — never dull, often inspiring, full of surprises, deep. I spent six years on this book and could have spent another six, easily, without getting bored. I always dream about my biographical subjects. In my dreams, Lou Gehrig ran from me. Muhammad Ali taunted me. Jackie Robinson menaced me. Honestly, Martin Luther King was so kind, so encouraging. And funny!
The shadow of Martin Luther King Sr. loomed over MLK Jr. How did "Daddy King" shape his son's worldview and personality?
Daddy King was a genuine hero — raised in a sharecropping family with an abusive father, all but illiterate as a child, and yet he left home and remade himself in Atlanta as a minister, a teacher and an activist. Daddy King led voter drives and inspired his congregation to fight for civil rights. He also used his prominence to force white politicians to make concessions to his community's demands.
He created a template for his son. And his son — or Little Mike, as he was known in his early years — wasn't afraid to seize the moment when it came. With his education, his speaking skills, his leadership ability, his courage, MLK Jr. surpassed his father in every way. And that wasn't easy.
The most vivid "supporting character" in your book might be Coretta Scott King. How would you characterize her relationship to her husband?
When I interviewed Harry Belafonte, I got the impression that he didn't care much for Coretta. But when I asked him why King fell in love with her, Belafonte answered immediately. It was because Coretta was the more experienced activist at that time. She had attended Antioch College and been engaged in many organized campaigns for civil rights. King was attracted to her smarts, to her passion, to her determination above all else.
But if you accept that as truth (which I do), it complicates everything that comes after. She gave up her activism, for the most part, to be a wife and mother, as so many women of her generation did. She didn't know that Martin was going to become a leader of a nationwide movement. She didn't know that he would be away from home so often and for so long. She didn't know that he would be tempted by other women.
And yet she persisted. She made a big impact on the civil rights movement, not only as the support behind MLK, but also as a force in her own right. She's the one who said, after King won the Nobel Peace Prize, that the award would require them to speak out more on international issues. She spoke out against the war in Vietnam. She was a remarkable and fascinating figure, and I hope someone writes her biography soon.
To read an uncut version of this interview — and more local book coverage — please visit Chapter16.org, an online publication of Humanities Tennessee.