The 25 Best Films of 2021
1. The Power of the Dog
2. Drive My Car
3. Licorice Pizza
4. Pig
5. Titane
6. The Worst Person in the World
7. Memoria
8. Dune: Part One
9. Benedetta
10. (tie) C'mon C'mon
10. (tie) Summer of Soul
12. (tie) Bergman Island
12. (tie) Wheel of Fortune and Fantasy
14. (tie) Petite Maman
14. (tie) Spencer
16. The French Dispatch
17. Barb and Star Go to Vista Del Mar
18. Bad Luck Banging or Loony Porn
19. The Harder They Fall
20. West Side Story
21. Days
22. The Scary of Sixty-First
23. Parallel Mothers
24. Red Rocket
25. Nightmare Alley 
---
Participants:
Sean Abley, Sadaf Ahsan, Kevin Allen, Sean Atkins, Brooke Bernard, Billy Ray Brewton, Sean Burns, Erica Ciccarone, BJ Colangelo, CK Cosner, Jacob Davison, A.A. Dowd, Alonso Duralde, Ben Empey, Steve Erickson, Celina Faur, Doctor Gangrene, Zack Hall, Cody Lee Hardin, Sheronica Hayes, Odie Henderson, Allison Inman, Brennan Klein, Rob Kotecki, John Lichman, Craig D. Lindsey, Brian Lonano, William Mahaffey, Matt McGuire, Richie Millennium, Brian Owens, D. Patrick Rodgers, Witney Seibold, Jason Shawhan, Michael Sicinski, Graham Skipper, Nadine Smith, Sam Smith, James Spence, Scout Tafoya, Kyle Turner, Dave White, Lisa Ellen Williams, Cory Woodroof, Ron Wynn
---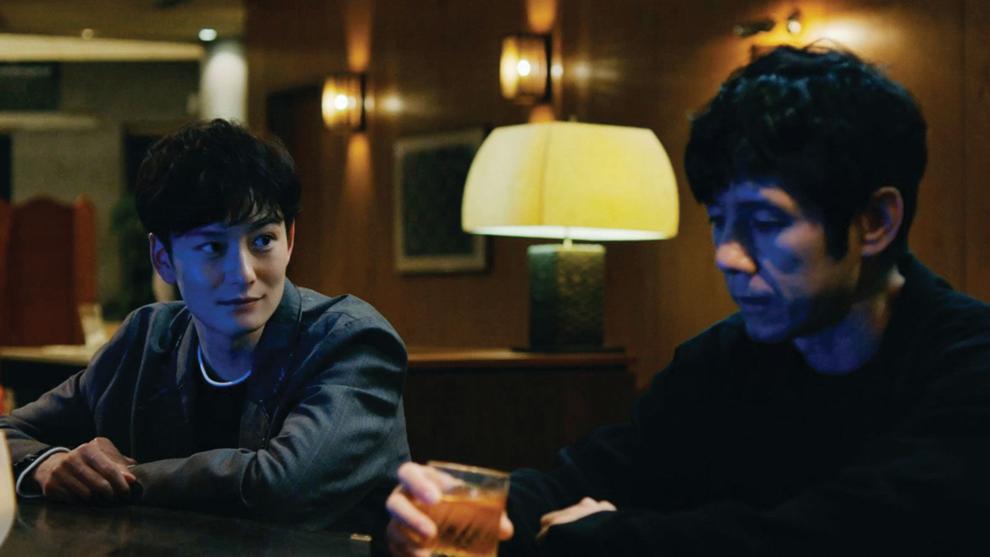 What is the musical moment of the year for you?
The fact that no one mentioned to me that Titane was a secret musical kind of blows my mind. The multiple dance sequences throughout — in particular The Zombies' "She's Not There" emotional father-son dance/fight — served some serious Beau Travail vibes and was the spoonful of sugar that helped that bitter, bitter medicine go down. Runner-up goes to Bergman Island's use of ABBA's "The Winner Takes it All." Zack Hall
Does the boom in Memoria count? Otherwise, all of the atonal specters of The Power of the Dog, from Jonny Greenwood's detuned automatic piano to the instantly iconic piano/banjo scene. Sam Smith
I really loved the needle drop of "Be My Baby" by Vanessa Paradis in Nadav Lapid's Ahed's Knee, in which the director's avatar puts the song on his headphones as he walks through the desert around Arava in Israel. Lapid's camera breaks out in song as the character would do, swaying back and forth, whipping up and down, in a moment of ecstasy. Kyle Turner
The amazing performances throughout Summer of Soul. Ron Wynn
"So May We Start" in Annette. Honestly that five-minute sequence is film of the year for me, and the rest of the film is pretty good too. Scout Tafoya
From Resident Evil: Welcome to Raccoon City, when Leon S. Kennedy is at the front desk of the police station at 1 a.m. and idly falling asleep while listening to music on his headphones. A trucker infected with the T-virus crashes out front, and his zombified, flaming body walks toward Leon as he listens to Jennifer Paige's "Crush" only for Chief Brian Irons to shoot the inferno zombie dead. Jacob Davison
The Grace Jones deep cut, "Edgar's Prayer" and "Guilty" in Barb and Star Go to Vista Del Mar. "Runaway" in Siberia. "Paciencia y Fe" in In the Heights. "Goldene Reiter" in Enfant Terrible. "That Funny Feeling," the bridge to "30" and "Problematic" from Inside. The Giorgio Moroder section of The Sparks Brothers. "So May We Start" in Annette. "Macarena" in Titane. The Scandinavian pop triptych throughout Flee. "Sincerely Me" and "For Forever" in Dear Evan Hansen. "All I Need Is a Miracle" in Spencer. "You're My World" and "Happy House" in Last Night in Soho. (Note: If LNIS had segued between "Happy House" and "Neue Dimensionen" or "U Got 2 Know," it would have been a five-star moment.) Jason Shawhan
As completely underwhelmed as I was by the movie, I gotta admit it — when those opening notes of "Let Me Roll It" kick in during the motorcycle stunt scene in Licorice Pizza, it ignited something so nostalgic and wonderful inside of me. Sheronica Hayes
Jamie Dornan's "Edgar's Prayer" in Barb and Star Go to Vista Del Mar. Dave White
Many good musicals this year, but I was very fond of Tick, Tick ... Boom!, a love letter to Generation X. The impromptu a cappella "Bohemia" in Jonathan Larson's apartment felt like a genuine theater kid's afterparty. And one I've attended. Witney Seibold
The opening of Annette, "So May We Start." It was the first thing that made me feel like, "Oh my God, movies are back!" Ben Empey
Christina Ricci kidnapping a reporter on Yellowjackets while the overture of Phantom of the Opera plays is the best needle-drop of the year, and Andrew Garfield singing "30/90" from Tick, Tick ... Boom! is without a doubt the most impactful musical performance in a film, but Bo Burnham's Inside takes the cake for me this year. Both "Content" and "All Eyes on Me" wiggled their way into my Spotify Wrapped this year because Burnham is acutely aware of the way writers and creatives in the current landscape are forced to exist. Depending on my mood, Inside is either my comfort food or a bleak reflection of my own insecurities. BJ Colangelo
That swimming-pool number in In the Heights. Talk about bisexual eye candy overload! Odie Henderson
I really liked The Sparks Brothers. Fantastic documentary, I really need to listen to those dudes more. Doctor Gangrene
The ending of Annette was *chef's kiss*. Cody Lee Hardin
In Mogul Mowgli, Riz Ahmed gets to flex all his muscles: the acting, the storytelling, but also the rapping, which punctuates nearly every scene of the film. He plays Zed, a burgeoning rapper straddling his British and Pakistani cultures while facing an illness that might be the ultimate roadblock (not creatively, however). Formulating Ahmed's real-life song "Toba Tek Singh" — a poetic figure who is a running, haunting motif in the film — seems to be his character's goal, and watching as he searches his soul for its words is moving. But it's the way Ahmed and director Bassam Tariq put the past into each pivotal musical moment of the present that stays with you. For instance, when Zed discovers an old mixtape of his, only to learn he'd recorded over one of his father's qawwali albums (Muslim devotional music), one whose gorgeous music proves to hold a far more motivating power. Sadaf Ahsan
Tough one. So many great ones from which to choose. But being a musical-theater geek and an enormous fan of Tick, Tick … Boom! for as long as I can remember, I have to go with the "Sunday" sequence from the film, in which director Lin-Manuel Miranda spoon-feeds us musical-theater geeks with five minutes of bliss. Slowly, every musical-theater star you might want to see fills the screen — Brian Stokes Mitchell, Joey Grey, Chita Rivera, Bebe Neuwirth, Bernadette Peters — and that's just to name a few. It's a moment where the film steps outside of itself to honor all the people who probably helped inspire its existence. It's exhilarating. Billy Ray Brewton
Cassandra Violet's cover of Springsteen's "Fire" at the end of Pig. Tender and unyielding, it was perfectly suited to Cage's performance, and gave the movie one last, graceful wallop. Rob Kotecki
A tie, at opposite ends of the spectrum: "I Feel Pretty" in West Side Story and the communist anthem from Pankrti — the Slovenian Sex Pistols — used in Her Socialist Smile. Steve Erickson
---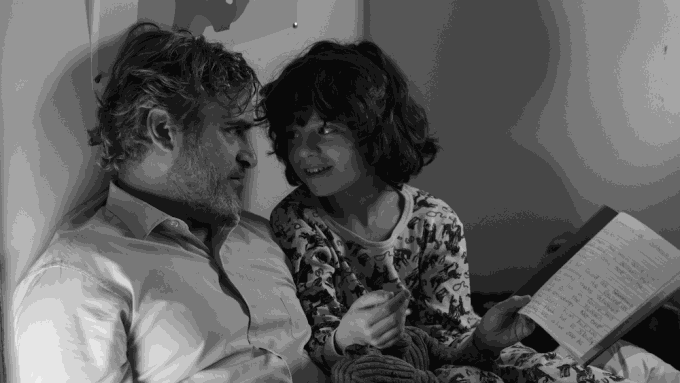 Did any films make you cry this year?
It takes a lot for a movie to make me cry, but the ending of Days really got to me because it's something we all have gone through since the early days of the pandemic. The film is a minimalist exploration of solitude and physical pain in addition to the agony of loneliness, and after proposing the latter as something recurring that never goes away, the final shot of the escort listening to the music box his previous client gave him underneath the loud sounds of the city suggests that what quells the sadness that comes with solitude is the power of the connections we have, our memories of them, and the hope that there are more connections we can make out there in this big, terrifying world. Kevin Allen
No tears, but Pig really hit home for me. Was a lot more than just John Wick with a pig, as it seemed ahead of time. Doctor Gangrene
Asking if I cried during a film is like asking if water is wet. I cried being in the theater again and seeing In the Heights, I cried multiple times during Inside and Tick, Tick … Boom!, I cried A LOT during CODA, but seeing Katie Mitchell and her dad find an understanding during The Mitchells vs. the Machines absolutely broke me. BJ Colangelo
C'mon C'mon. Sam Smith
As an editor, I'm fairly well-versed in the manipulative power of the medium's use of cloying sentimentality, well-placed music, and a good voice-over. Nevertheless, the calculated (but authentic) human heart of C'mon C'mon definitely hit me harder than expected. Maybe I was still reeling from the absolutely crushing but ultimately optimistic Futura, which shares the same DNA in a documentary framework (and is much more Italian and a much better film). Zack Hall
No. That said, Sonya's concluding monologue from Uncle Vanya, as presented in Drive My Car, was the most moving moment in any film from 2021. I was checking in with myself as it went on, waiting and expecting to cry. James Spence
I cried during Annette, pretty openly. I just could not believe I was sitting in a movie theater, experiencing something this audacious and fun. Ben Empey
Plenty, but the biggest surprise was how moving I found the end of No Time to Die. As much as James Bond was our first true blockbuster superhero, Craig's portrayal put his vulnerability front and center, which started to feel like a kink after bloated, joyless entries like Skyfall and Spectre. What a delight it was to see some of the franchise's slick, sensual fun return in the Cuba sequence, but it was the ending that erased so much of its perfunctory machinations. That moment of genuine sacrifice works so well emotionally because we're not in a world where magic pebbles will render it meaningless in the next entry. Rob Kotecki
Just once, I'd love to not have an answer for this question, but alas, it was another year full of soggy face masks. Right on cue I cried ugly during Judas and the Black Messiah and gayfully during Summer of Soul. The cry that caught me most off guard was at the very end of C'mon C'mon. By this point the rest of the audience was already sobbing and I thought I was immune to it, and then it punches you one last time in the feels before you go. Sheronica Hayes
The moment in Summer of Soul when Marilyn McCoo watches footage of herself from 50 years ago. Dave White
I busted during Ghostbusters: Afterlife along with a number of other people in the theater. Men, women, children, fathers, brothers, sisters, nieces, dogs and cats. We were all just busting together. It feels good to bust at an AMC theater as Nicole Kidman watches along. Busting. Back and forth. Forever. ))<>(( John Lichman
Every time someone in Summer of Soul said "I'd never seen that many Black people in one place before," I started bawling in the theater. Odie Henderson
I teared up at the opening crane shots of West Side Story and the ending of Petite Maman, and sobbed during a Mother's Day screening of A.I.: Artificial Intelligence at the Museum of the Moving Image. Kyle Turner
I'm not going to lie, I teared up several times during Spider-Man: No Way Home. I'm a huge comic-book nerd, and the Sam Raimi Spider-Man films were really big for me when they were released, so seeing that world revisited so skillfully really worked on me. William Mahaffey
Petite Maman, when the daughter reaches over and feeds her mom a Cheeto while driving. Simple, beautiful. Michael Sicinski
Nope. Craig D. Lindsey
Oh several. I'm an easy mark. Witney Seibold
We all know an A24 film won't end well for its characters. Lamb was an emotional watch, and it's the only 2021 film I've seen twice in theaters. An abundance of films featuring the theme of grief have been released in recent years, and Lamb confronts this topic differently than its recent predecessors: Instead of focusing solely on the trauma leading to grief (of course, this is an aspect of the narrative), the film explores how people often inflict trauma and grief onto others as a means to heal their own emotional wounds. Yep, it's a slow burn; the beautiful landscape, minimal dialogue and over-the-top ending follow a similar pace of a '70s family horror/drama, which is probably why I enjoyed it so much. Also, the lamb creature, Ada, resembles my dog, and I can't unsee it. Lisa Ellen Williams
I always cry at the end of It's a Wonderful Life, which I saw in the Belcourt's small screening room with my friends. It reminds me of my father and my brother and the New England Christmases of my youth. I cried when the peacock appeared in the Amarcord snowstorm — but that was more from astonishment. Nothing contemporary has so moved me this year. Erica Ciccarone
Dear Evan Hansen. Drive My Car (because the Saab 900 is a beautiful and noble car too good for this world). Inside. In the Heights. My Heart Can't Beat Unless You Tell It To. Parallel Mothers. Playdurizm. The Power of the Dog. Scenes From an Empty Church. Wojnarowicz. Jason Shawhan
I watched In the Same Breath through tears. The early stages of COVID's spread in the U.S. are still very raw. Steve Erickson
God, what didn't make me cry this year? But if I had to name just one moment, it would be the sequence in The French Dispatch when Bill Murray's character visits Jeffrey Wright's character in a jail cell. It reminded me of my former editor, mentor and boss Jim Ridley, for whom this poll is named. A truly beautiful moment that really got at the nature of a reporter's relationship with their editor better than just about anything I've ever seen. D. Patrick Rodgers
CODA and also Mass, which is a must-watch even though you'll never want to see it again after watching it. Sean Atkins
Tick, Tick … Boom! and Titane. Graham Skipper
---
What brought you the most visual pleasure this year?
The Harder They Fall was exhilarating filmmaking. Nobuhiko Obayashi's Labyrinth of Cinema is the best kind of visual noise. Lav Diaz's Genus Pan bore his usual glittering black-and-white textures. The weird, gross creatures in Psycho Goreman. Witney Seibold
The Scary of Sixty-First is so beautifully shot it literally gives me hope for the future. Matt McGuire
Belle was a gorgeous feast for the eyes. Even by anime standards, its beautiful images were staggering. Odie Henderson
A toss-up between my two favorite movies this year, Drive My Car and Licorice Pizza. It's always great seeing films from filmmakers who know what the hell they're doing. Craig D. Lindsey
The Abu Ghraib scenes in The Card Counter were some of the best-looking shots in 2021. Cody Lee Hardin
Marie Menken's 1966 short film "Lights." (It's on YouTube.) Dave White
I loved the simmering film grain, slightly muted palette, of Zola, the metatextual distortion of The Woman in the Window and The Voyeurs, the patient unfurling and morphing of composition in Days and Memoria, and the gonzo visual gags of Barb and Star Go to Vista del Mar. Kyle Turner
Faya Dayi, Old, Resident Evil: Welcome to Raccoon City, Annette, No Sudden Move. Scout Tafoya
The Power of the Dog. Jane Campion is one of my all-time-favorite filmmakers, and she has such a Hitchcockian sense of flawlessness in how she creates images and puts movies together. Ben Empey
Candyman. Come True. Dune: Part One on the dual-system laser at the Chattanooga Aquarium IMAX. The Green Knight. In the Heights. Lux Aeterna. The Night House. Playdurizm. Sator. Titane. The Velvet Underground. Zola. And the restorations of Eyes of Fire, Goodbye Dragon Inn, the Fred Halsted films and Silent Madness 3D. But few things compare to the majesty of the Wyrd Sisters echoing the Madonna/Chris Cunningham "Frozen" video in The Tragedy of Macbeth. Jason Shawhan
The French Dispatch, bar none. If I could see the world through a Wes Anderson color palette I don't think I'd ever feel sadness again. Sheronica Hayes
It's been a long slog of murky, bland blockbusters courtesy of most everything made by Disney or Netflix, but I sat in slack-jawed wonder at the splendor of films made by two of my least favorite heavyweight directors: Zach Snyder and Denis Villeneuve. In Zack Snyder's Justice League and Dune, both provided the grand scale that used to be the reason for Hollywood to exist. I wasn't even stoned, and I wanted to get lost in every sand-swept vista Denis made. And primed as I was to hate Snyder's version of his biggest movie yet, the palette and clarity of the images bowled me over. A close third is Nia DaCosta's Candyman, where her camera movement and production design was by far the most haunting element of the picture, making me want to linger a little longer in every scene. Rob Kotecki
Nightmare Alley was the most beautiful film of the year. I hope the production design wins the Oscar this year. The funhouse scene was demented eye candy. Brian Lonano
I'm not saying it's the grandest visual spectacle of the year, but seeing Godzilla and King Kong beat the stuffing out of each other for my first movie back post-vaccine was, to put it mildly, one of the most visually pleasing things I've ever seen. Cory Woodroof
Aside from Rhayne Vermette's Ste. Anne (currently on The Criterion Channel), I'd say The French Dispatch, Annette and James Benning's From Bakersfield to Mojave. Michael Sicinski
West Side Story. But another film that did just that was The Tragedy of Macbeth. The art direction succeeds at feeling like a small theater production, but Bruno Delbonnel's cinematography takes those sets and makes them feel grand in stature through his compositions and high-contrast lighting. Also Last Night in Soho had an amazing use of color and superimpositions that made the film a trippy experience in both digital and 35mm. Kevin Allen
I loved The Truffle Hunters, a little documentary about the aging Italian men who forage for truffles with their dogs in Piedmont. It's a beautiful, quiet film filled with unexpected delights and gorgeous vistas. I particularly liked taking the dog's-eye view as one frolicked through the forest. Erica Ciccarone
Titane, The Mitchells vs. the Machines, Dune and Pig. BJ Colangelo
Drive My Car. Hamaguchi's God's-eye view of the red titular vehicle floating down Japanese highways like a miniature toy. Sam Smith
Spencer and Parallel Mothers. Also, Mélanie Laurent created a scene in The Mad Women's Ball (Lou de Laâge alone in a cafe with book and cigarette) that mirrors a scene of herself as Shosanna in Inglourious Basterds, which thrilled me. Allison Inman
The opening credits of Candyman are spectacular, with the inverted buildings. Shang-Chi's opening romantic fight scene between Tony Leung and Fala Chen is also sensational. Brennan Klein
Zeros and Ones does wonders with cinematography so dark it's barely visible, while Siberia took us on an acid trip through Abel Ferrara's psyche, using many different styles and locations. The Power of the Dog brought a brittle beauty to its vision of the American West. Her Socialist Smile worked wonders with minutes of on-screen text. Steve Erickson
---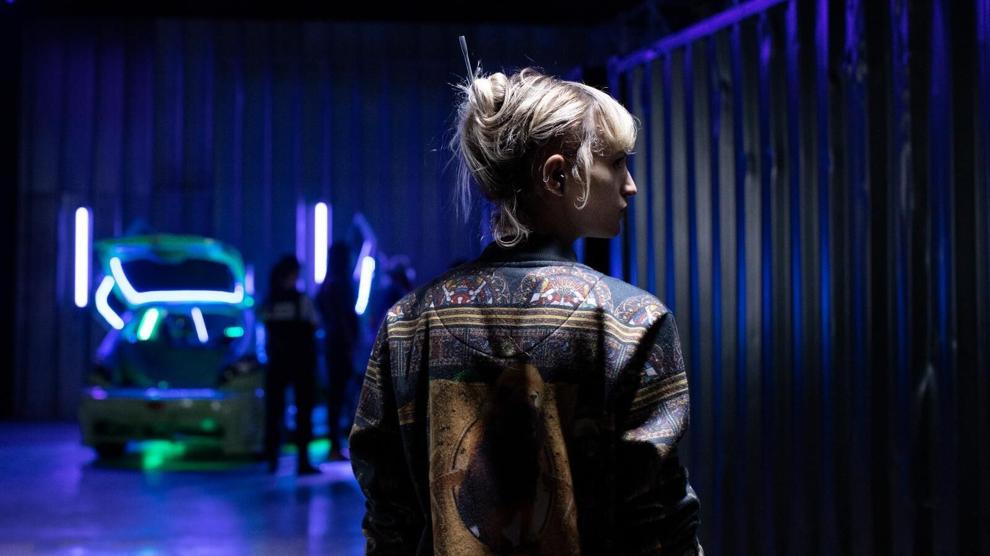 How do you feel going to the movies these days?
I had a great year at the movies and went at least 25 times. I felt an obligation to go and support my local independent theater (The Plaza in Atlanta) as much as I could to make up for lost time. They had a great selection of repertory and new releases both digital and 35mm/70mm screenings. The Plaza required proof of vaccination or a negative test in order to attend, which I was fine with. I did find myself sitting in the back row more often because I liked being away from most of the crowd, which was closer to the middle of the auditorium. Some screenings were more crowded than others depending on what was playing, but if I sat in the back row, I felt perfectly at ease. I've also gone to theaters where vaccination wasn't required and felt safe in the theater. I experienced my first 4DX screening when I saw Jungle Cruise and found [it] to be ridiculous in a fun and stupid way. Brian Lonano
Going to the movies feels totally bizarre still. Even though I work at a theater, the act of sharing an experience with an audience seems more vulnerable than ever. The escapism effect that the movies once offered just isn't there for me at the moment. I find it nearly impossible to relax and traverse realities. I feel hyper-aware of myself and of my surroundings, which is kinda the last place you wanna be mentally when heading to a theater. Eating and drinking has always helped me focus better when watching a film, so in a lot of ways, the pressure of eating fast or not at all to optimize mask-wearing has definitely impacted the way I watch movies. I appreciate the Belcourt in particular for continuing to find ways to protect its movie-loving community. I'm nervous and optimistic about the industry as a whole, but no matter what form I'm in personally, I'm so thankful that the movies are still around. Sheronica Hayes
Through it all, I've only been comfortable going to the Belcourt because of the theater's COVID precautions. But even with the well-observed rules in place and limited capacity, I haven't been to the movies very much. I've been depressed. My brain feels mushy, and I avoid activities that may elicit strong emotions. The one exception to this was the Belcourt's Essential Fellini retrospective. It was the high point of my year — not only cinematically, but overall. It happened in that brief post-vaccination, pre-Delta window. The weather was beautiful. The screenings were plentiful. And I thought the dangers of COVID would soon be behind us. I was as naive as Gelsomina. I look back at the Fellini series and hope that I'll feel that kind of joy again in a movie theater. Erica Ciccarone
I would have answered this question much differently a month ago, before Omicron began spreading in the U.S. I actually saw West Side Story in the theater today, but I may stop going to movies in the theater after the end of this year, depending on how things go with the virus. (I suspect the NYC government will make that decision for us some time in January.) I saw Licorice Pizza in 70mm on opening night with a sold-out audience, and thought, "Wow, moviegoing as an event is back." That no longer seems like such a good idea. But during the 14-month period before I was fully vaccinated, I watched at least one movie a day on my laptop, the only place where I could, and its limitations — as well as the numbing effect of barely leaving my apartment — were very apparent. Steve Erickson
I'm completely comfortable with it when the theater is less than 50 percent full. I wear a mask, minimize interaction with others and enjoy myself. D. Patrick Rodgers
I am comfortable going to a sparsely attended theater and wearing a mask the whole time. I often avoided crowded theaters even in pre-pandemic times, preferring to see films alone during the day as a matter of course anyway. I live in Los Angeles, where access to film, even with theater closures, is still more widely open than in other cities around the country. So I've felt very lucky in that theaters are open to me. Witney Seibold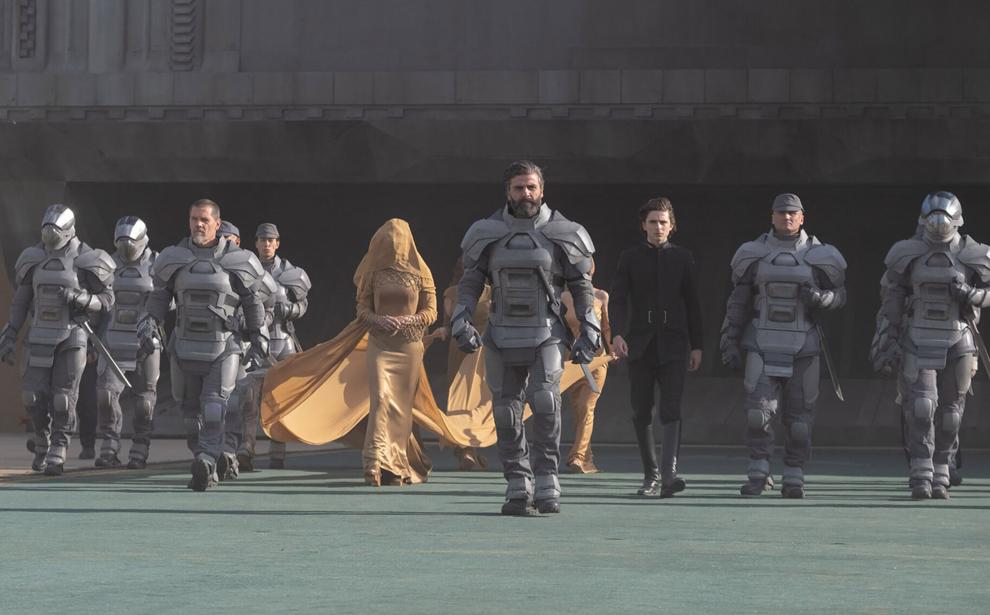 I'm in Los Angeles, so it's a company town when it comes to movies — we sit through the credits here. Our premiere theater, Arclight Hollywood, along with all the other Arclights, closed for good, which is a bummer because for whatever reason, the Arclight had better movie-watching audiences than most other theaters (i.e., they don't talk or take out their phones). We saw West Side Story on Christmas Day, and the theater was sold out. I'm comfortable in a crowd like that with a mask, and if the theater is less crowded I typically eat candy the entire time, so my mask is down. Sean Abley
At the moment I am not going to theaters. Dave White
As someone who was physically incapacitated for a couple months earlier this year (it wasn't COVID-related), not to mention the fact that Omicron is currently out there, I don't go to the movies unless it's absolutely necessary (read: if I can't see the movie online). I actually began going back to the movies a couple months ago, and from what I've seen, people — some masked up, some unfortunately not — are still ready to flock to the multiplexes to see whatever Marvel is dropping that week. Craig D. Lindsey
I live in Toronto, and Omicron is becoming a growing danger here. So naturally, theaters have tightened restrictions again. However, once they reopened earlier this year, although I was hesitant at first, I eventually dipped my toes in and I was back there almost every other week. What I was surprised to learn was that the theater felt more than ever like my haven: a dark bubble where I can entirely escape from reality, popcorn still very much in tow. With even fewer theater-goers — rooms have been mostly nearly empty — movie-going has felt more like my own personal experience in a way it never has. Sadaf Ahsan
I don't feel that comfortable going anywhere in public still, but I have made a concession to allow myself to see new movies. Although I normally only wear one mask in public settings, I double mask at the movies and try to go during the day on weekdays when theaters will be less crowded. (I have the privilege to work from home, which allows me to do this much more easily.) I live in the L.A. area, so theaters can definitely get pretty packed if you're not careful. Brennan Klein
I'm very comfortable at our local independent theaters that have had vaccine mandates in place for months. The chains are a bit dicier. Sean Burns
I tend to go to earlier screenings, even though most evidence points to the virus not spreading so well in theatrical settings. I just prefer smaller crowds these days. I'm excited for a time when a completely packed house for a movie that needs a big audience (i.e., horror films, B movies, etc.) will be heartening instead of disquieting. I'm so ready to experience that energy again. Zack Hall
My wife and I made the decision to move from the Midwest to Los Angeles this year, which means my days of attending matinee viewings where there's no one else in the theater are now nonexistent. I'm thrilled to live in a city surrounded by so many other movie lovers, but as someone extremely immunocompromised, I've not been to the theater all that much, and I think my favorite films of the year are a direct reflection of what was accessible for me to watch and enjoy from the safety of my home. During that very small window where it felt like things were finally safe, I was able to see In the Heights in the theater, and it brought me to tears. Seeing the pool scene on such a massive screen and absolutely flooded with surround sound felt like walking back into church and being greeted by the choir. Unfortunately, I have not been back since for my own safety. BJ Colangelo
With vaccine and mask mandates in L.A., I'm fine sitting in packed houses here. The end of Arclight and the limbo of its flagship Dome still stings — along with the fact that AMC has taken over most theaters in town, when they consistently underwhelm in the quality of sound and picture. Not to mention AMC's sad, cruel joke of a pre-show promo starring Nicole Kidman as a humanoid selling something we just bought, in an ad that is by far the most unpleasant part of the moving-going experience today. The one balm is the indie and revival houses that have somehow survived COVID, with the New Bev and American Cinematheque's Los Feliz 3 programming time and time again giving me an oasis where I can remember why I made movies my life. But perhaps what concerns me the most is how empty the theaters have been, especially at screenings for my favorite movies of the year. Rob Kotecki
As long as it's sparsely populated and people are wearing masks, I feel comfortable. My local theater doesn't often have many people at it anyway, and the theaters are large, so I feel fairly safe there. Besides, I prefer sparsely populated theaters with or without a pandemic, so I go at off-times anyway. Graham Skipper
I will go to the movies, though not as much as I used to pre-pandemic. I'm fine wearing my mask and so on. But I will never feel comfortable with the assigned-seat B.S.; last time, I sat next to someone who coughed like they were dying of consumption. Here in the NYC area, they demand proof of vaccination and that everyone wears a mask. That's been enough to make me comfortable enough to see something in theaters, though Omicron has me a bit worried. Odie Henderson
I feel very safe as long as I'm either around a bunch of empty seats, or if the people around me are masked. Ever since I started going back to movie theaters regularly in May, I haven't changed my routine too much, apart from washing my hands more and wearing a mask. They're small concessions but they're worth making so I can keep doing what I love. Kevin Allen
I need people to stop being fucking assholes. This includes giving guff about wearing masks as well as acting a fool in public screenings. Also, because of deadlines, we're all technically waiting for the Spider-Man variant to drop. Jason Shawhan
There's one theater in my area that doesn't do the assigned-seating thing. I caught Nightmare Alley there at 1 p.m. on a Wednesday, and there was just one other person in the theater, which was wonderful. I definitely wear a mask when I go, and try to space out from other people. Doctor Gangrene
I'm relieved to return to theaters, but I prefer to attend earlier on weekdays when it's less crowded. After being isolated for over a year, the crowd aspect doesn't appeal to me anymore — not necessarily due to COVID fears, but because I feel sensory overload in public spaces. While the challenge of 2020 was the desire to watch new media instead of indulging in the comforts of reruns and pre-pandemic nostalgia, the challenge of 2021 was transitioning to the way time now passes, and I continuously have to decipher whether a film was released this year or in 2019 when I originally saw the trailer. Despite the perpetual efforts to grasp time, I have found the 2021 theater experience to be pleasant, welcoming and a lovely and much-needed bit of normalcy. Lisa Ellen Williams
I feel totally comfortable with going to the movies and am very happy that I've been able to see so much in the theater this year. I am triple-vaxxed at this point and even though I know that's not fool-proof, I haven't really experienced any discomfort or anxiety going to the movies this year. I think that it varies a lot in Knoxville on how comfortable people are. I've seen most of the big releases this year, and they've had fairly good crowds, but it was still very noticeable how many seats were empty compared to how it would have been pre-pandemic. Spider-Man: No Way Home is the only movie that I've seen in the theater this year that felt like a "normal" screening. At our theater Central Cinema, it is much more noticeable that people aren't totally comfortable returning to the movies. We have rebounded pretty well since we reopened, but our idea of a good crowd has been adjusted quite a bit this year. William Mahaffey
We've forgotten how to behave in public during the pandemic, so perhaps I shouldn't be surprised that the multiplex movie theater etiquette of full-grown adults has reached near rock bottom, as has my tolerance for it. During my two non-Belcourt outings, I dramatically shushed one couple providing feature-length audio commentary at one, and asked for a refund at the other due to sound and screen issues. The Belcourt remains the only quality theatrical experience in Nashville. Their programming and awards-season slate was a godsend, and their survival is essential for our local moviegoing future as the streaming paradigm really begins to set in. Sam Smith
For the most part, I feel safe going to the movies. I live in Los Angeles, where a mask mandate has been in place continuously except for a single week in June. I go to repertory theaters quite often, and those screenings are usually close to selling out, which is heartening. New releases, aside from blockbusters, are a much bleaker story. I have often been the only person in a theater, to see something like All Light, Everywhere or Charlatan. Ben Empey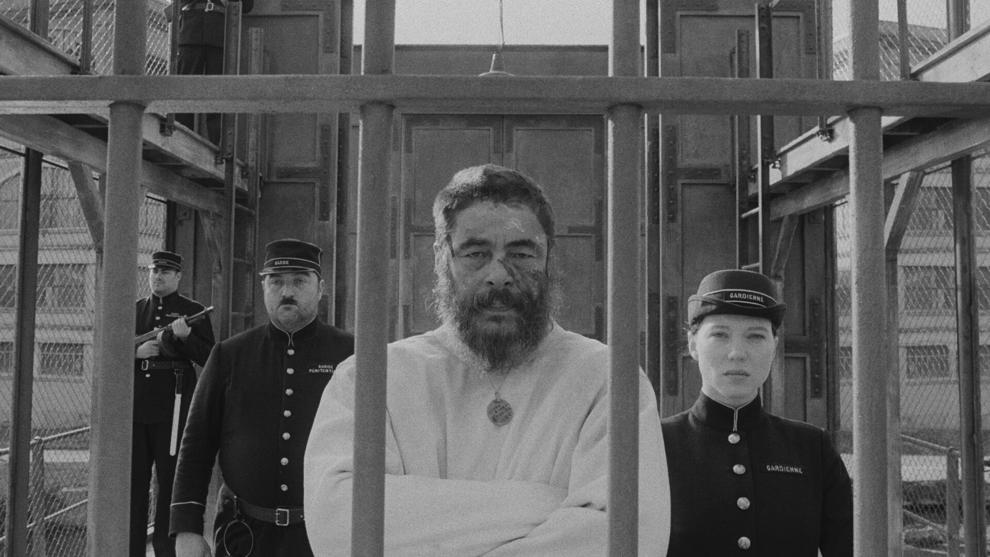 I do enjoy going to movies in the cinema, but I can honestly say that I don't know that I ever want to sit next to a stranger ever again. Here in Calgary, theaters can actually be at full capacity because everyone has to prove that they are vaccinated. Most recently, I've chosen seats that specifically make sure no one will be sitting next to me unless I know them. Brian Owens
I was feeling pretty OK about being in theaters until the Omicron variant. I went to a matinee of Annette and was the only one there. But now, the films I want to see have so few screenings (to make room for Spider-Man) that I'm sure social distancing will be a tad more difficult. I'll probably venture out once more before Lockdown 2. Michael Sicinski
Ever since the theaters began to reopen in May, it has been a gradual and smooth process getting back into the swing of it all. I couldn't have asked for a more perfect return to the movies with the title selection (8 ½) and venue (the Belcourt). Aside from a stray phone in the dark once in a while, there has been nothing amiss or horrors to declare with the audiences I've been a part of. James Spence
I find myself now having to get inspired to go to the theater for the first time in my life. Part of the problem is having tons of streaming services that pump out old and new films 24/7, including a number that in other times I would have had only the opportunity to see in theaters. While I don't necessarily buy the argument that streaming kills live film viewing, the performance of the new Spider-Man shows that making certain films available only in theaters does increase both audience demand and overall monetary performance. Here in Nashville, there aren't any restrictions that would limit my desire to attend films. But the studios are going to have a difficult time moving forward deciding whether to restrict streaming options on new films. Ron Wynn
I'm fine going to the movies in person these days here in Nashville since I recently got the booster. The only showings that cause me concern are ones where theaters are crowded with children, who are still deemed "super spreaders." Sean Atkins
I was fine with it until very recently; in New York, there's been a particularly dramatic surge in COVID cases, so I was going to the movies up until the last week or so, as of this writing. The last thing I saw in theaters was West Side Story, which was really so incredible and lovely to see on the big screen. To see a well-made movie musical, those sweeping crane shots, so big, it reminds me why I love movies. I wanted to see it again, but I think I'll have to wait until things settle down, hopefully. Kyle Turner
I made up my mind, rather recently, that I was finished allowing anxiety to cloud my movie-going experience. COVID is close to being endemic. It's here. It's not going anywhere. I want folks to be safe and to not do anything that makes them ill at ease, but I am done panicking every time there is a new surge or variant. I stay masked. I adhere to CDC protocols. I get tested every three days. I have enough confidence in myself and my handling of the pandemic to say — finally — going to the movies feels the same as it once did. At least, it does for me. Billy Ray Brewton
As someone who also works at a movie theater, I have felt pretty safe and secure. Mostly in the fact that ours and other theaters in our area have both a mask and vaccine mandate. Which can be seen as a little annoying, but it is far worth that protection. I've been working and attending movies since I was fully vaccinated, and it has been a worthwhile experience. Jacob Davison
In the D.C. Metro area we've mostly gone back to normal, with masks gently advised unless eating or drinking; and a few independent theaters have taken to asking for vaccination proof or a negative test for entrance (shoutout to the AFI Silver, Suns Cinema and The Avalon). Now D.C. is mandating vaccination proof as of Jan. 15, with minor caveats (12 and older, must have a second shot by February, etc.) due to our sudden increase in positive cases. I've become concerned about going back to theaters. It's wild to be in such a situation, but I frankly don't know what else to do. I'm not despondent, but seeing Licorice Pizza at a sold-out show was more exhilarating than I thought thanks to an Apple Watch purchase. (A 120+ heart rate the entire showing: COVID? Excitement? Poor posture? You decide!) John Lichman
---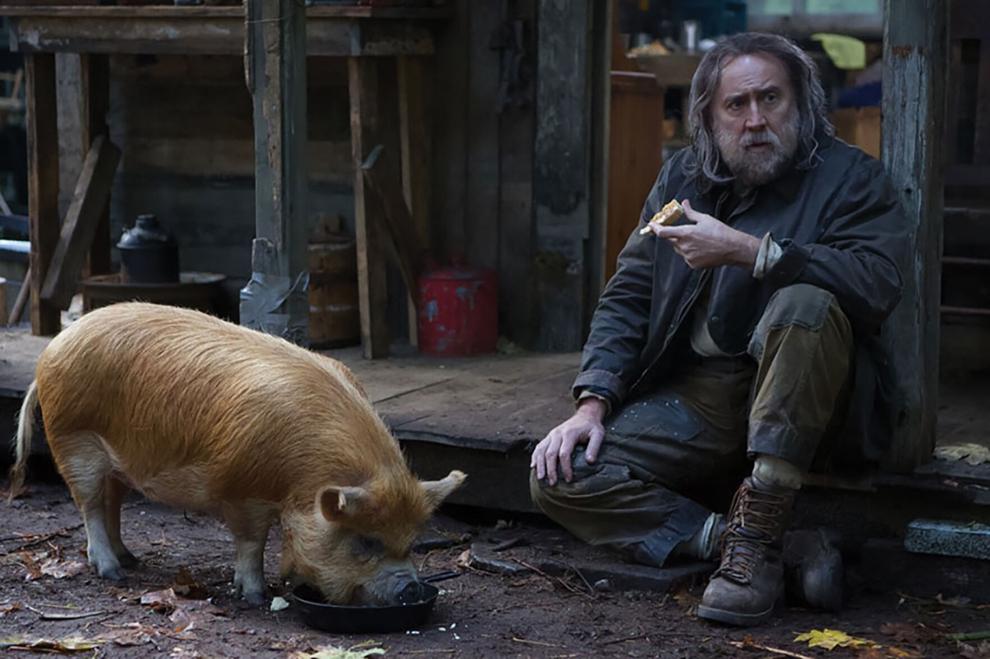 What are you most excited to see in 2022?
Jackass Forever, Magic Mike's Last Dance. Scout Tafoya
Avatar 2, The Batman, Killers of the Flower Moon, The Northman, Pinocchio [Guillermo del Toro version], Jackass Forever, The Unbearable Weight of Massive Talent. James Spence
I've been waiting for the Bob's Burgers movie for a very long time now, so that very much is atop my list alongside Jordan Peele and Damien Chazelle's new films, Avatar 2 (sue me) and Steven Spielberg's attempt at doing an autobiography. Also, I'm so ready for people to see On the Count of Three, which would've been my favorite movie of 2021 if it had come out this year. Jerrod Carmichael's about to have a big 2022. Cory Woodroof
Crimes of the Future, Nope, the new Claire Denis and Kelly Reichardt films. Steve Erickson 
MOONFALL! I WANT TO SEE THE MOON FALL. Graham Skipper
That movie where Nicolas Cage plays himself looks a'ight. Craig D. Lindsey
Honestly? I'm tired and I'm sad, and all I want is to see Tom Cruise run his little run. I want my heart to race and my head to hurt. I will likely be watching both Top Gun: Maverick and Mission: Impossible 7 (which I have been particularly and eagerly anticipating since the credits rolled on my first watch of M:I 6) an unspeakable number of times. Just take my money, Mr. Cruise, take it all. Sadaf Ahsan
Bullet Train, The Unbearable Weight of Massive Talent, Blonde, Knives Out 2 and Magic Mike's Last Dance. John Lichman
Everything Everywhere All at Once looks amazing, and you can't go wrong with Michelle Yeoh and Jamie Lee Curtis. Sean Abley
THE FABELMANS FROM SPIELBERG. Billy Ray Brewton
The only films I can think of in my brain fog are Death on the Nile (I'm an Agatha Christie fan), Bros and White Noise. Kyle Turner
I just want 2022 to be a less horrifying struggle than 2021 was for me. I'll take a year of shit movies if I just get out of 2022 alive. Odie Henderson
After Yang, Blonde, Crimes of the Future, Halloween Ends, Infinity Pool, Jackass Forever, Killers of the Flower Moon, Nope, The Northman (also every behind-the-scenes discussion between Nicole Kidman and Björk), Scream, The Stars at Noon, Time Cut, Vortex. And I'm ready for everyone to get a chance to see Black Medusa, Jane by Charlotte, Mom, I've Befriended Ghosts, Saloum, She Watches from the Woods, We're All Going to the World's Fair, The Yellow Night and You Are Not My Mother. Jason Shawhan
Licorice Pizza and West Side Story, because I haven't seen them yet, and Omicron has me avoiding maskless people in movie theaters again. Dave White
Cronenberg's redo of Crimes of the Future. Michael Sicinski
Scream! Scream is the most hyped I've been for a movie in like a decade. I'm going to go see it with the lowest of expectations, but it's nice to be able to step back into this universe after a decade. Brennan Klein
The Batman, because I'm curious to see if anything fresh can come out of this character. Jurassic World: Dominion, Doctor Strange in the Multiverse of Madness, Black Panther: Wakanda Forever and A Journal for Jordan, as well as the upcoming documentary on Bayard Rustin, a wrongly neglected central figure of the civil rights movement. Ron Wynn
---
It's time for Bold Statements!
I am Sorkin'd out. Lisa Ellen Williams
I simultaneously and passionately respected and loathed Titane, and the most underappreciated film of the year by far is Mia Hansen-Løve's Bergman Island. Sam Smith
Film Twitter, GROW THE FUCK UP! It's not discourse over there; it's chaos. Marvel heads are still mad at Scorsese, wokesters and right-wingers are offended by movies they haven't seen (and probably never will), and critics who were once buddies have become mortal enemies over a whole lotta nothin'. I'm so glad I got kicked off that infernal platform for posting a piece of an old Amerie video. Craig D. Lindsey
The single biggest dilemma of filmmakers moving forward is creating productions worthy of getting people out of their homes and also willing to pay ever-increasing costs for attending them. If you can see the same thing at home for only a nominal monthly charge, there has to be some sort of stimulus or inspiration for coming out to theaters, pandemic or no pandemic. Folks flocked to Spider-Man not only because it was only in theaters, but also because they found the storyline compelling. Why that wasn't the case with West Side Story is puzzling, because I thought that would be a hit, but it wasn't, despite the caliber of performance and production. So the challenge is two-fold — compelling stories and equally strong performers who can make those stories resonate with audiences to the point that they overlook rising costs and the relative inconvenience of venturing outside their homes and watching things on someone else's large screens. Ron Wynn
It will be impossible to watch a non-IP movie in a theater by 2025. Michael Sicinski
PLEASE less on-screen vomiting in movies. Stop trying to make every dance musical set piece into an MTV/Baz Lurhmann-esque music video; just shoot the dancers dancing and follow their movements. And too many dogs in movies, there should be more birds. Kyle Turner
If it weren't for properly calibrated psych meds, the dread and terror of being alive at this moment in history would be too much, and it threatens to punch through constantly and underlines any and everything. Jason Shawhan
All movies should be available to stream on opening weekend, at least until the pandemic is ACTUALLY at bay. Brennan Klein
West Side Story proved that we need more critics of color out there who are allowed to speak their minds about subjects far too many white film critics are given free rein to show their ignorance about in print and on Twitter. I'm glad this dusty old racist musical's remake flopped. Spielberg will survive. Odie Henderson
Ben Platt is ridiculously talented, he's just woefully miscast in Dear Evan Hansen. BJ Colangelo
By 2040, Marvel Studios will be a defunct subsidiary of Instagram. Gen Z will bring transgressive intent back to the mainstream and kill the Student Government vibe currently ruling the culture. The Erotic Thriller will return, filthier than ever before. Rob Kotecki
Frances McDormand is overrated. Erica Ciccarone
The pandemic won't kill movie theaters in the long run, despite the eulogy people offered for them throughout 2020. I'm not sure what the fate of movies themselves will be and what we'll get, but the spectacle that theaters bring people seems to be a hot commodity these days (even with Omicron surging). Independent theaters may have to pick up the slack as films like West Side Story and Nightmare Alley struggle to generate interest, but at the very least, you're always going to be able to see Spider-Man on the big screen. Theaters will begin their journey as word-of-mouth machines for streaming, but they'll abide. Don't wear black the next time you go, unless you're just in the mood. Cory Woodroof
Film festivals need to embrace new digital options. Sundance completely fucked up their digital/online service for 2022, and I hope other regional film festivals don't follow suit. I'd happily buy Nightstream, AFI or any other again as long as they didn't follow Sundance's model of upcharging nearly double. They're kneecapping themselves, as the situation isn't getting better and yet they could've made more money through this. But charging more for a day pass in 2022 and limiting users to four films for $100 (when daily online screening rentals are $20) is insane. Sundance is literally chastising people trying to do online remote viewing. And yet the New York Film Festival claimed they broke even in 2020. NYFF opted out of digital screenings due to a multitude of reasons in 2021 (unionization, rights, etc.). Online viewing is a viable format, and the only people that have ever spoken against it are folks who sit at the table for corporations. John Lichman
Film Twitter will explode The Discourse with hot takes by Oscar time as increasingly fewer people give a shit. Also, We're All Going to The World's Fair will outgross a MCU film next year. (We can all dream.) Steve Erickson
I think film criticism is in the worst state it's ever been, and very few writers are capable of evaluating movies on their own terms or not being influenced by the majority views of whatever internet bubble they exist in. There are some great writers out there, but overall I see very little thoughtful and honest writing about film anymore. William Mahaffey
It may not happen in 2022, but a Marvel movie will win Best Picture at the Academy Awards before a Netflix movie will. Doing the latter is basically the AMPAS admitting that streaming is the way of the future, and would be a death blow to theaters, while bending the knee to Disney assures their survival, but at the cost of catering to big-budget cinema. Kevin Allen
Licorice Pizza was just … not good. Even if you forgive the delusional age gap. Even if you forgive the unnecessary-ass racist Asian jokes — it's an uninteresting story with a bogus ending. What should have been a low-stakes feel-good movie ultimately just drew a big divide between white audiences who can easily recover from distasteful, racist content and those of us who have to sit in that discomfort for the entirety of the movie. It's so disheartening that white dudes still can't take accountability for the fact that sometimes they miss the mark and cause nonwhite filmgoers to feel completely disconnected or even targeted from their movies. In the words of Noname, "And this is all he can offer? And this is all y'all receive?" Sheronica Hayes