For one of the most acclaimed directors of the modern arthouse circuit, Park Chan-wook is often anything but respectable. Though Park has a refined eye for cinematography and a frequently inventive sense of montage, his films are at times almost gleefully lurid and sensationalistic, from the violent brutality of Oldboy to the erotic intrigue of The Handmaiden. It's easy to see why Quentin Tarantino was an early advocate of his work — Park Chan-wook strikes a balance between thoughtful artist and pulp stylist.
As Park has grown older, his work has taken on a more elegant and matured demeanor — his new film Decision to Leave is at times almost startling in its quietness, with a remarkable sense of patience and assurity. But first glances can be deceiving, and when you peer deeper into its dark heart, Decision to Leave is still of a piece with his earlier work, filled with Gothic tragedy, unpredictable melodrama and an almost shape-shifting plot. 
The protagonist of Park's latest will be familiar to fans of a detective thriller by another acclaimed South Korean auteur, Bong Joon-ho's Memories of Murder. In that twisted and moody mystery, Park Hae-il plays a man suspected of serial killings. Here, 20 years later, he's taken on the role of a world-weary cop himself, Det. Hae-jun, a devoted homicide detective approaching something of a midlife crisis. His scientist wife Jung-an (Lee Jung-hyun) is intensely methodical, always rattling off facts and offering practical solutions, and Hae-jun himself is a man of rigid habit and routine who never leaves work alone — there's a wall in his home of grisly photographs from all the unsolved cases he's ever worked on, haunting his every waking moment.
Despite his quiet demeanor, Hae-jun clearly lives for violence in a warped way, and becomes unsettled without horrific crimes to fill his mind with. He's looking for a break from the routine, and it comes in the form of a murder suspect, Seo Rae (Tang Wei), a mysterious Chinese immigrant whose husband dies under uncertain circumstances. Though Hae-jun eventually rules the death a suicide, there's still something off about this woman's story and past, and Hae-jun finds himself fully taken in, as late-night stakeouts turn more to De Palma-esque peeping sessions, and the lines between the two grow ever more blurred. Seo Rae has a comforting gentleness about her, but there's an unpredictably defiant streak as well, which is all the more noticeable because she's an outsider in South Korea who can't completely speak the language. As the relationship between the two develops, it grows increasingly beguiling and complicated, approaching Hitchockian layers of deception and intrigue.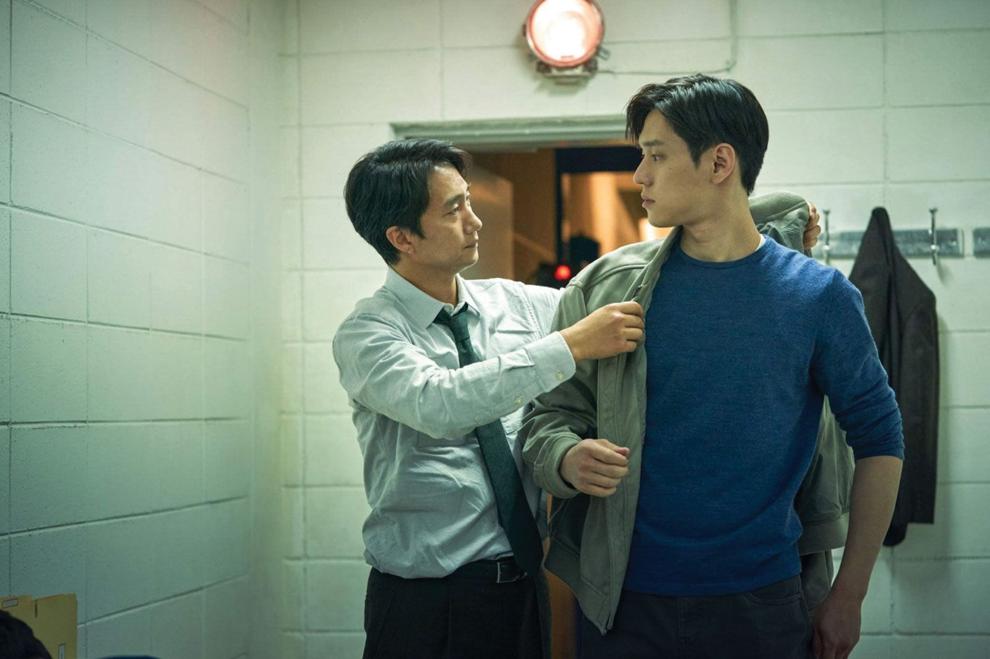 Though the narrative comes equipped with twists and turns, Park operates at a consistent tempo, with a more reserved tone than he's employed in the past. At times, he uses flashy match cuts of eye-catching editing tracks to weave us in and out of flashbacks, but Decision to Leave frequently has the iciness of a David Fincher thriller. Park's films have often centered separately around male protagonists (Oldboy and Sympathy for Mr. Vengeance, for example) or female protagonists (The Handmaiden or Lady Vengeance), almost splitting his career into two halves. Here, those two gendered strands come together — while Hae-jun is more of the primary protagonist, Decision to Leave is a dual story, not just a narrative about a middle-aged man in crisis, and not just a tale of a woman in trouble.
But more than illicit romance or shocking violence, what's always made Park Chan-wook's work so distinct is how his use of familiar genre tropes is informed by the unique geopolitical context of Korea. It's a region that at various points has been the victim of imperialist and colonialist meddling from the empires that surround it: Japan, China and the United States. Park's international breakout hit was JSA (Joint Security Area), a tense action thriller set within the contentious demilitarized zone between North and South Korea, and his work has always been preoccupied with borders and cultural exchange. The Handmaiden wasn't just a sapphic bodice-ripper, but a tale of imperialist tensions between Japan and Korea, delivered in a mix of both languages. 
Decision to Leave is similarly about what gets lost in translation. Seo Rae has a limited grip on Korean, frequently turning to a translator app to articulate her feelings, while Hae-jun begins studying Chinese as their relationship develops. Beyond the lurid thrills, what makes Decision to Leave specifically and Park Chan-wook generally so compelling is the effortless complexity, as a twisty plot somehow balances not only multiple genres and tones but different languages. The context and setting of Decision to Leave are South Korean, with strands of the nation's history woven in, and there might be familiar notes of Hollywood influence in the visual style — but the outcome is distinctly Park Chan-wook.