The centerpiece of the Belcourt Theatre's new Bowie on Film program is Brett Morgen's Moonage Daydream — a new experimental odyssey into David Bowie's creative, musical and spiritual journey. It's the first officially sanctioned documentary about the changeling singer-songwriter, and it features narration by Bowie, who tells his own story as one of the rock era's most prolific, creative and influential artists. Bowie inhabited compelling characters on the screen as well as onstage, and Bowie on Film illuminates the admirable breadth of the late, legendary musical artist's actorly ambitions. 
Morgen's Moonage Daydream (opening Sept. 23) lands loaded with early hype that casts his documentary as a work of art that matches its creative subject. It's not hype. Morgen's masterstroke is dismissing the familiar linear biographical story we see in countless documentaries and television shows made over the course of Bowie's six-decade-long career. Instead, the director offers a rich portrait of Bowie's evolving creative process that will have Nashville music, art and drama folk scribbling notes in their heads throughout the film's two-hour-and-14-minute runtime. The archival footage and music look and sound superb, and Bowie's insights into his creativity are mostly eloquent and generous — he was always the great gentleman of rock, even in gowns and plastic pumps. Morgen gets one strike for lingering over Bowie's popular superstar rise from "Space Oddity" to "Let's Dance," rather than diving deeper into the shape-shifter's neglected post-1980s oeuvre and his stunning adieu, the posthumously released Blackstar. 
Roger Ebert's review of Tony Scott's 1983 film The Hunger (showing Sept. 30 and Oct. 3) explains exactly why it's a cult classic: "The Hunger is an agonizingly bad vampire movie, circling around an exquisitely effective sex scene." It's a sentence that launched 1,000 VHS rentals, but it's also a limiting way to describe a unique, style-saturated take on the evergreen bloodsucker story: Catherine Deneuve is an ancient vampire, and Bowie is her dying human partner — he's lived for several centuries, but he's not immortal. Susan Sarandon is his doctor — and maybe Deneuve's next lover/victim? Is The Hunger pretentious? Totally. Should you see Bowie playing an elegantly ailing vampire alongside a pair of legendary leading ladies in an erotic horror movie by the director who brought you Top Gun? One-hundred percent.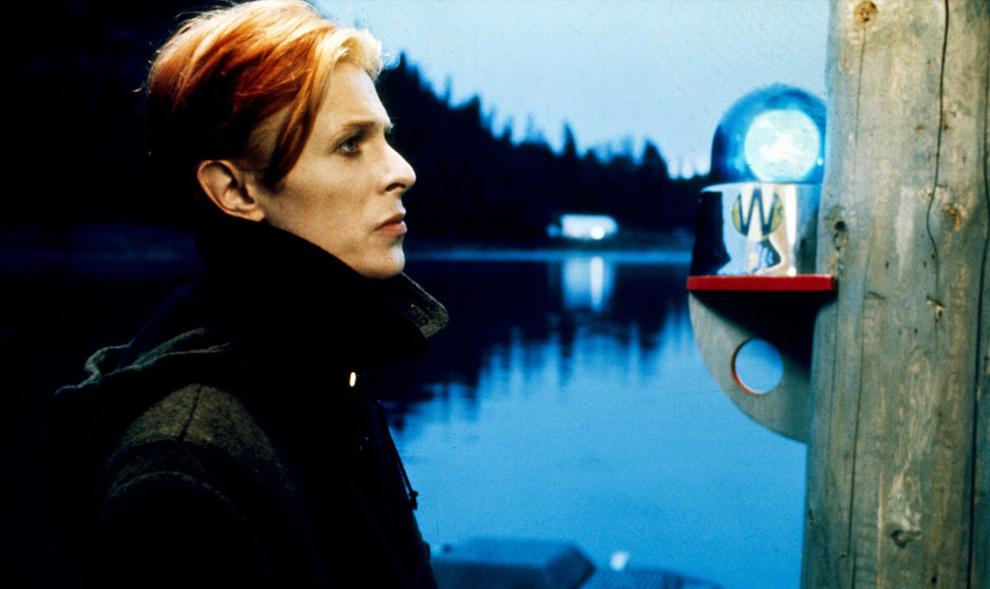 The Man Who Fell to Earth (Sept. 30 and Oct. 2) is my favorite Bowie film. The 1976 science-fiction drama tells the story of an extraterrestrial named Thomas Jerome Newton who crash-lands on Earth while searching for water for his drought-stricken planet. Paul Mayersberg adapted Walter Tevis' 1963 novel of the same name, and his weird script is the perfect vehicle for iconoclast director Nicolas Roeg and David Bowie in his first lead role in a feature film. Roeg was hitting his stride with a run of unique weird masterpieces: Performance (1970), Walkabout (1971), Don't Look Now (1973) and Bad Timing (1980). Like Roeg's other post-Performance films, The Man Who Fell to Earth is a strange tale featuring the director's penchant for experimenting, keeping his visionary flights in service of his story. Bowie's flair for embodying alien characters onstage — and a debilitating drug habit — made him a natural to play the otherworldly, naive Newton. The result is an intense, still-unique science-fiction movie about an alien who becomes a monster when he learns to be human. 
Paul Mayersberg also co-wrote Merry Christmas, Mr. Lawrence (Oct. 1 and 4) with director Nagisa Ōshima. The 1983 film is based on the memoirs of Sir Laurens van der Post, a prisoner of war in Japan during World War II. Bowie plays Maj. Jack Celliers, a British officer who radiates resilience and leadership. Japanese rock star Ryuichi Sakamoto plays the camp commander obsessed with his new prisoner. This is one of Bowie's best roles, and Sakamoto's synthy score is a big part of this movie's cult status — hear it on big speakers in a theater. The 1983 film debuted at Cannes just one month after Bowie dropped Let's Dance, and it's just-so-Bowie to be starring in an offbeat, sort of queer POW drama at the launch of his global superstardom.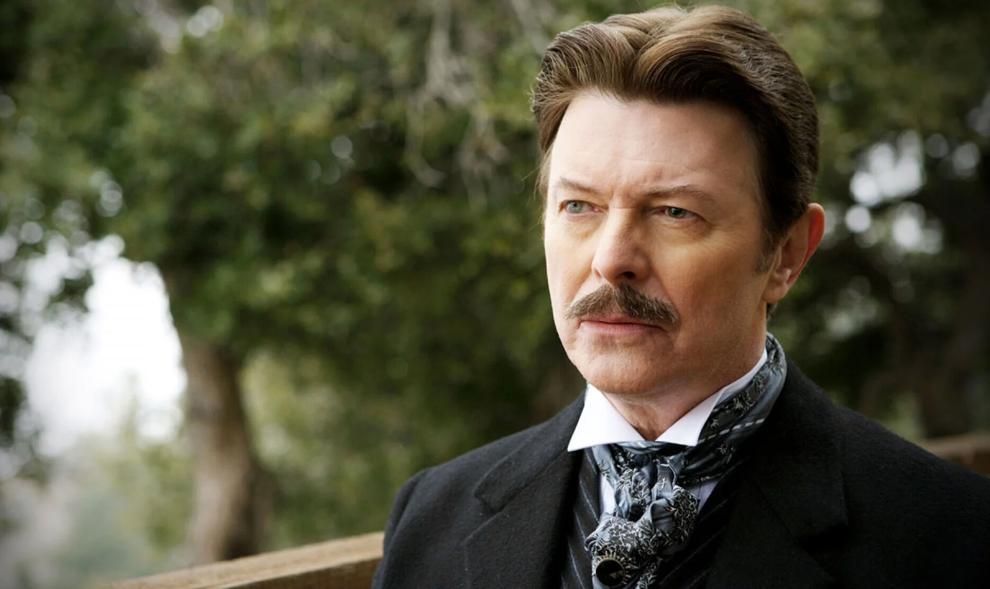 Christopher Nolan's 2006 film The Prestige (Oct. 1 and 4) is a fable about obsession: Robert Angier (Hugh Jackman) and Alfred Borden (Christian Bale) are rival magicians in turn-of-the-20th-century London, recklessly competing to discover the ultimate illusion. Bowie plays Nikola Tesla with dyed-black hair and a just-go-for-it Czech accent. I've written this entire paragraph in the voice of Michael Caine, who's perfectly cast here as a fatherly stage engineer.
Martin Scorsese originally offered Sting the role of Pontius Pilate in 1988's The Last Temptation of Christ (Oct. 2 and 5). Sting could have brought the petulance he oozed in his portrayal of Feyd-Rautha Harkonnen in David Lynch's 1984 Dune adaptation to the Roman Empire here, but Bowie gives us a different take. Bowie's Pilate is analytical and measured, skeptical and inquisitive — political. He only gets one long scene, but he embodies the casual cruelty of the state, and he holds his own with Willem Dafoe's ginger Jesus.
David Lynch's prequel to his television series Twin Peaks is one of the best-aged films of the 1990s. But when Twin Peaks: Fire Walk With Me (Oct. 2 and 5) hit theaters in 1992, it was so weird and violent that fans of the series were shocked and confused. Here Bowie plays FBI Special Agent Phillip Jeffries in the prologue of this haunting, painful movie documenting the last week of Laura Palmer's life. Jeffries walks out of an elevator into a Philadelphia FBI office after going missing for two years. He rants about Special Agent Cooper before disappearing into thin air. It's one of the weirdest scenes in Lynch's supremely bizarre filmography, partly thanks to Bowie with a high blond pompadour and a hot-sauce Cajun accent.