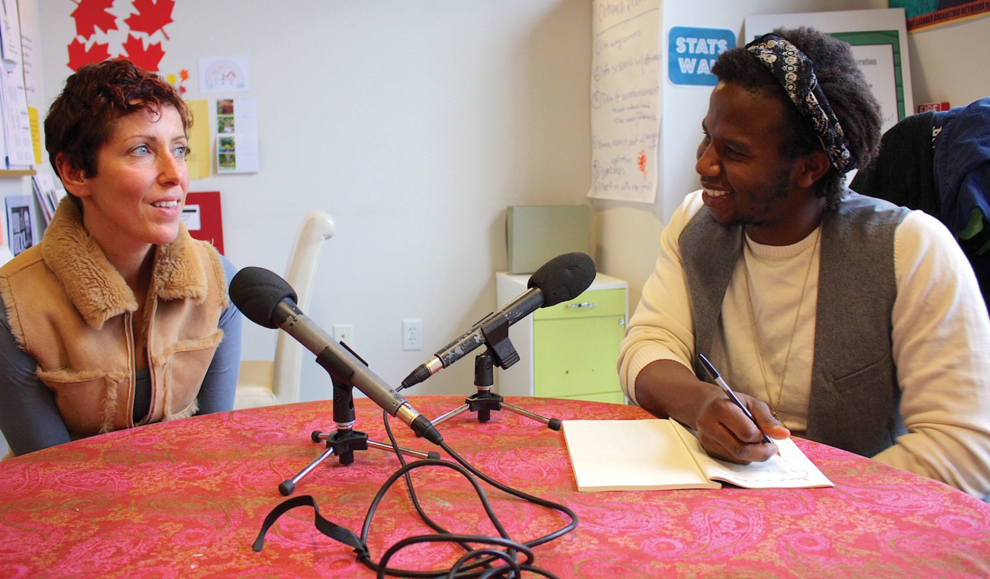 The old adage "Write what you know" has lost some traction in recent years, and for good reason. Listening to the stories of strangers can open doors to new worlds that poets and writers haven't yet explored. You can see this happening in real time on the podcast Versify, in which people sit down with writers to talk about their lives, and the writers transform the people's stories into poetry. 
These stories have a broad range. You'll hear about illness and near-death experiences, love and parenting, religion and war. But you'll also hear about dinosaurs, country music and the joy found in embracing one's heritage. Versify's host, Joshua Moore, says casting a broad net is part of the project.
"We're ... pushing ourselves to meet new and different types of people," says Moore. "We have a chance to help uplift stories and put them out a little more broadly. It would be a waste to put out the same type of story that's already being highlighted or being celebrated."
The seeds for Versify were sown when the local literary nonprofit The Porch launched its Poetry on Demand project in 2015. The group would set up tables at festivals and community centers and invite passers-by to sit down and have a conversation with a writer. The writer would find a quiet place and write a poem based on that story, and then meet with the storyteller again to read it. Moore enjoyed the process so much that he wanted to see it documented, and hatched the idea for a podcast with WPLN's Emily Siner. The NPR-affiliate station added Versify to its roster of stellar podcasts. 
"Poetry is a very visceral artform," says Moore. "It's interested in — for lack of a better word — cutting the bullshit." 
And the poetry is excellent. It showcases some of the best poets Nashville has to offer, among them Ciona Rouse, Destiny Birdsong, Amelia Edelman and Lagnajita Mukhopadhyay. Their work covers a lot of stylistic ground, from slam to self-taught to academic. Susannah Felts, the co-director of The Porch, has also participated. In the recent episode "I Call Myself Indigo," she writes from the perspective of a teenage Nashvillian who is gender-fluid.  
"It's fascinating to put yourself in a total stranger's shoes after talking to them for 20 minutes," says Felts, "trying to channel the emotional truth of that story and bringing your own emotional truth to it as well."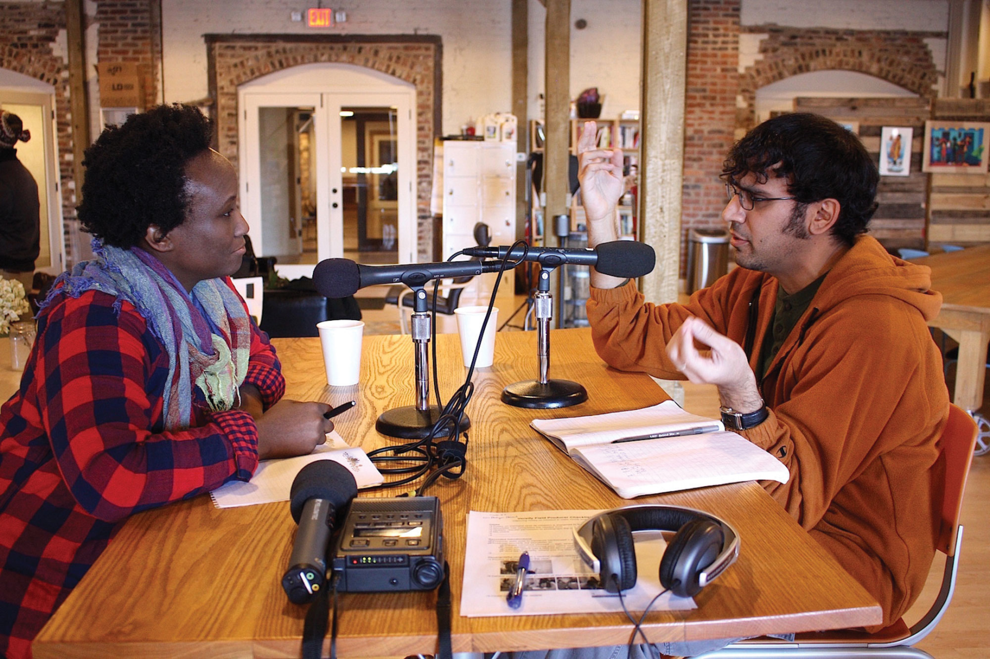 Moore calls it "the perfect marriage of strangers." While it takes plenty of courage for participants to share their stories — and for poets to produce a poem on the spot — Moore is tasked with writing and editing the episodes. He has plenty of guidance from WPLN producers and editors, and he skillfully weaves the conversations and poems into tight segments that breeze by in less than 20 minutes. 
"The poets that I love are really great at getting to the heart of the matter and speaking to difficult but important issues or truths," says Moore.
This is especially evident in "Bone Deep," an episode recorded at a Valentine's Day event. Serg Rodriguez tells Rouse about being cut off from his family and learning how to love unconditionally. It's based on his relationship with his younger sister, who was born with a chromosomal abnormality called trisomy 17, which is similar to Down syndrome. Rodriguez is no longer allowed to see her because he was excommunicated from his family's church. It's a simple story — there are no gunshots, hospitals or ceremonies — but Rouse's questions and Rodriguez's openness reveal the potential for strangers to truly connect. Rouse's poem is a gorgeous composition and uses bits of Rodriguez's language — the phrase "maybe yes, maybe no" emerges as a refrain that builds in momentum throughout the poem. 
Rouse says participating in Poetry on Demand has revealed an avenue into poetry that she wasn't familiar with before.
"With poetry," Rouse says, "so much of it is internal stories that I've been telling … hopefully in a universal way. And so there was something that felt very terrifying about holding someone else's story in a poem. Now it feels like maybe one of the most incredible honors that someone would let me into their lives in that way." 
You can hear the storyteller's reaction at the end of each episode, and they almost all marvel at what's been created in just an hour's time. Rouse says Rodriguez has stayed in touch. He even attended one of her poetry readings, which isn't unusual for the participants. A year after Felts wrote another poem based on a story told to her by a couple, they emailed her to say that they had it read at their wedding.  
"There's real magic that happens there," says Felts. 
Check out the rest of the Pod Goals series about Cocaine & Rhinestones: The History of Country Music, Mirror Mirror, Something's Not Right, The Promise and Nashville Sounding Board.