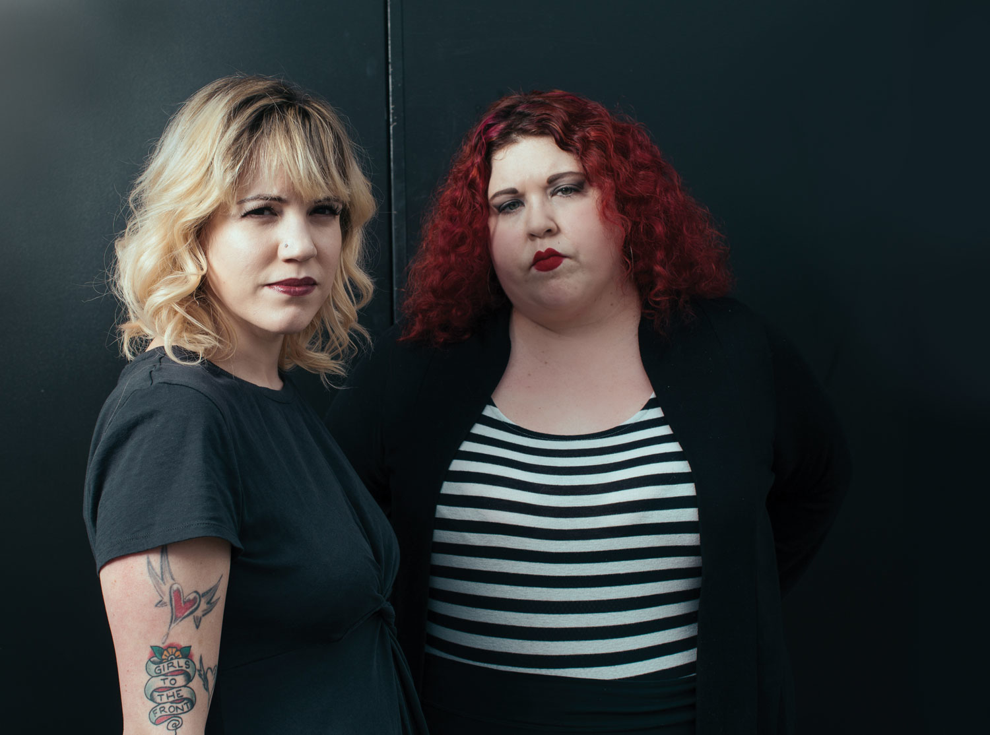 Last week the Sacramento County Sheriff's Department announced the arrest of Joseph James DeAngelo, a 72-year-old man believed to be the Golden State Killer and East Area Rapist. DeAngelo is alleged to have murdered at least 12 women and raped more than 40 others between 1978 and 1986. Hours after the announcement, Olivia Lind was waiting to pick her daughter up from school as she tuned into the sheriff's department's press conference.
"We were so excited," says Lind between sips of iced coffee at Frothy Monkey in the Nations. "I saw that first thing when I woke up, and then I set an alarm to remind me to watch the press conference. [My husband] and I watched it on my phone while we were waiting in the line at the elementary school."
Since March 2017, Lind and her pal Thashana McQuiston have hosted Something's Not Right, a true-crime podcast looking into some of Tennessee's most interesting, strange and sad cases. They've covered the 2003 disappearance of 13-year-old Tabitha Tuders, the 1985 Belle Meade bombing that killed Melba Lapidus, and the 1995 murder of Colleen Slemmer, who was killed by Christa Pike — the only woman currently on death row in Tennessee. There was an episode on Mary, the killer elephant who was publicly executed in Kingsport, Tenn., in 1916, as well as in-depth look at Billy Hull and his abandoned Tiki Palace in Chattanooga. But when asked which cold case she'd most like to see solved — a common question in the true-crime community — Lind's answer was always the same: California's East Area Rapist. McQuiston's choice is the Zodiac Killer. She laughs and rolls her eyes when Lind jokes that she's just unwilling to accept the truth: Ted Cruz is the killer.
McQuiston and Lind have been friends for years — they first bonded over a shared love of horror movies — but it wasn't until McQuiston opened up to Lind about her family history did the two realize their shared interest in true crime.
"One of my grandparents died before I was ever born," says McQuiston. "There were things about it that were questionable, as it was always relayed to me. I'm sure that that directly ties to me always having — it's always been a thing that has existed within our family. I just have been aware from a very young age that these are realities. I relayed the story to [Lind], and she just started looking into it."
Lind has an inherent reporterly instinct — her mother Terry Reuther Quillen is a journalist and author who worked as an editor at The Tennessean for more than 30 years, and she's also married to former Scene reporter and current Patch correspondent J.R. Lind.
"I've spent my whole life around [reporters]," says Lind. "Back when they used to keep the clippings in the library, in those folders, I would look through those. I guess that's where it comes from. I have a tendency to want to look things up and learn more about them."
"We talked about doing it as a long-form [podcast]," says McQuiston about her family's story. "We just hit a wall with it, and [Lind] was very respectful about it. But while doing research, she found other stories. I think that's when she said, 'What if, instead, we table that — we just do different stories?' "
Though true-crime podcasts are all the rage right now — searching the genre in Stitcher brings up hundreds of results — it's deceptively difficult to do one well. Many fail to find the balance between being entertaining and being tactful when it comes to such dark, delicate subject matter. And while Lind and McQuiston will giggle about boners, their occasional hate mail and childhood memories of Christmas Around the World parties, they're still very much aware of the responsibility that comes with tackling such sensitive topics. One thing they say sets them apart from many of the other podcasts out there is their focus on the victims, something that's often lacking in the seemingly serial-killer-obsessed genre.
"The focus is always put on the person who did it, not the [victims], who they were," says McQuiston of the problem with many other podcasts. "And that's a thing I like about our show — I think we both try and talk about, as much as we can, the victims, just who they were as a person."
The two also try to shun the temptation to gawk at headline-grabbing crimes, instead focusing on lesser-known stories and all-but-forgotten victims. Lind spends hours every week combing newspapers.com to find information from the pre-internet era.
"There's so many things that happen, like really fucked-up things that happen, that you don't even hear about," says Lind. "One we did recently, in Manchester [Tenn.], where this guy cut up a woman." 
Of all the cases Something's Not Right has covered, Lind says the episode she likes most is still their first: the story of Kathy Jones, a 12-year-old girl who was murdered in 1969. The case is still unsolved, and while Lind is proud of the in-depth research she did, she's still reluctant to tell people to give it a listen, due to sound quality. She and McQuiston are self-taught podcasters, and they record each episode in Lind's apartment — and they've learned a lot in the past year, she say.
"The sound quality is so bad on those first episodes, and the editing," says Lind. "I notice, in our numbers, there's a huge drop-off of listeners after the first couple of episodes. We got better!"