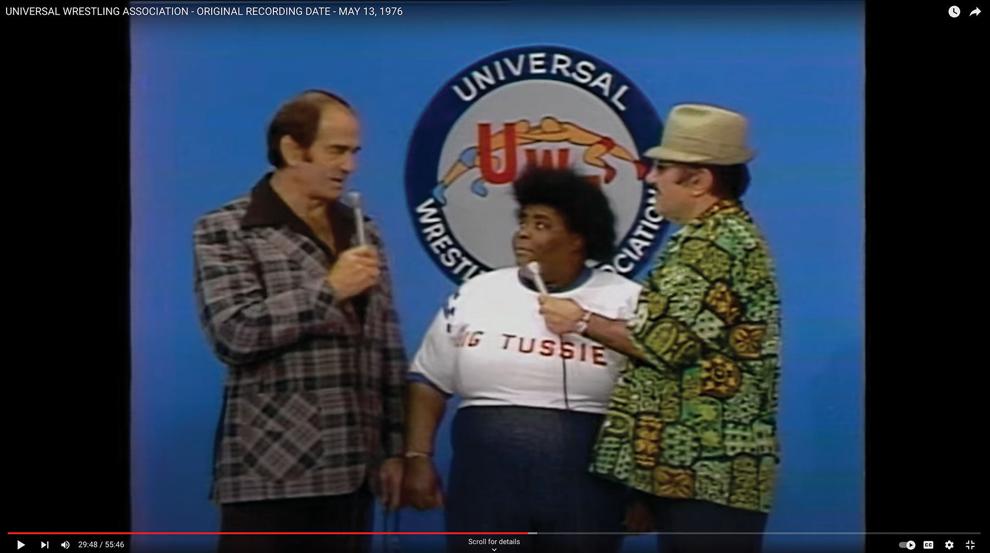 Countless colorful figures have called Nashville home in their time, but there have been few like Carrie Lee Jackson, the woman better known as "Big Tussie."
You may have heard about her feats of strength. Maybe the name rings a bell, since it was the inspiration for one of Lambchop's first album titles. Whether tall tales or truth, stories of Big Tussie's life have become something like local legend. She was a member of the choir at St. Mark Baptist Church. She was a mother. But far from your ordinary Nashville housewife, she was also a feisty bruiser who could allegedly bench-press more than 400 pounds. The myth has grown over the years, but her story has yet to be fully told, and much of the puzzle still remains unsolved. Though her wild encounters with the law have been documented, relatively little has been written about Big Tussie's unexpected career as a professional wrestler.
In the 1970s, the former resident of the John Henry Hale Homes developed quite the reputation among local authorities and media. In 1969, Jackson was charged with assault after reportedly single-handedly taking on three police officers — while the officers claimed they were writing Jackson a ticket, she maintained that they beat her on her way home, and it took six more officers to finally arrest her. The incident lit a fire in the powerful woman, and in 1971 she mounted a campaign for the Metro Council's District 18, in her words fighting for "benefits for the poor people, of which I am one." A 1976 profile of Jackson in The Tennessean, which investigated child abandonment charges that were later dropped, outlined her platform as "more jobs for the underprivileged, lower taxes, repeal of the auto sticker, air conditioning in housing projects, and against police brutality." In the same article, her former attorney Avon N. Williams Jr. implied that Tussie once almost threw him out of his office window.
When Big Tussie's political career failed to launch, she turned her strength of mind and will to a more physically suitable arena: professional wrestling. But to understand Tussie's place in pro wrestling, we first have to break down a little regional rasslin' history. For decades, wrestling in Middle Tennessee was controlled by legendary promoter Nick Gulas, with any would-be competitors ruthlessly squashed. In the 1970s, former world's champion Lou Thesz, who held the NWA Worlds Heavyweight title for longer than anyone in history and was considered a legitimately formidable athlete, attempted to lay claim to the Nashville territory. 
With financial backing from concert promoter and manager Buddy Lee — whose talent agency would later represent everyone in Nashville from Garth Brooks to George Strait to The Chicks — and singer Danny Davis of the schmaltzy Nashville Brass, the Universal Wrestling Association made its debut at Municipal Auditorium in 1976. Unfortunately for Thesz & Co., Gulas would lay the competition on thick, crushing his new rivals within the year thanks to the assistance of main-event superstars like Jerry Lawler and the Fabulous Moolah.
During its brief run, the UWA was home to several Tennessee legends, like heavyweight champion "Pistol" Pez Whatley, the first Black wrestler on the collegiate team at UT-Chattanooga and an outspoken figure in a sometimes racist industry. In the tag-team division, the UWA heavily pushed the Islanders, more famously known as the Wild Samoans, who were managed by another storied Nashvillian, "Gentleman" Saul Weingeroff. Before the crazed antics of Jimmy Hart and Jim Cornette, Weingeroff was one of the first masterful heel managers, with a reputation for starting riots and a long résumé of colorful stunts like entering the 1964 presidential election. Weingeroff was perhaps most infamous for managing the Von Brauners, a tag team with a Nazi gimmick — and openly embracing his own Jewish identity while doing so. After he retired from the ring, Weingeroff remained a fixture in Nashville, operating a sign shop and working as a volunteer sheriff's deputy. Considering his own pioneering and polarizing life, Weingeroff was a natural fit for Big Tussie, and helped her break into the business.
Sadly, a significant amount of early televised wrestling footage is lost, possibly because local stations didn't have the resources to maintain an archive — or because they didn't believe wrestling was worth preserving in the first place. Given the frequently "carny" nature of the wrestling business, there was usually no financial incentive to keep footage from the many fly-by-night promotions that have come and gone in Tennessee, so it's usually up to hobbyists and private collectors to preserve wrestling's past. Thanks to YouTube accounts like Armstrong Alley and Bryan Turner's VHS Rehab — the latter of which is run by its namesake Turner, a mainstay of the Nashville indie wrestling scene with a massive personal tape library — there's a growing wealth of Southern wrestling history, and especially Nashville wrestling history, available for free online. 
It's because of amateur archivists like these that I even discovered Big Tussie Jackson's wrestling career. Over the past year, a handful of once-lost episodes from the Universal Wrestling Association's show on NewsChannel 5 made their way onto YouTube, including an immediately iconic interview with the debuting super heavyweight and local legend. On a May 1976 broadcast of UWA, Thesz introduces Big Tussie alongside Weingeroff, who proclaims Tussie as one of the great new discoveries in wrestling and outlines her extensive training. Weingeroff emphasizes that he's teaching her proper wrestling technique, otherwise she might legitimately kick someone's ass.
When Tussie talks for herself, she's quick on her feet — Thesz asks if she's going to be able to play by the rules, and she asks with a straight face, "Will killing be permissible?" before cracking up. She clearly saw the economic potential and entertainment value in her natural gift for street fighting: "I'm a gospel singer, but that don't mean I'm not gonna whoop somebody when they run over me. I've been fighting free, and now I'm gonna fight for some money." When Thesz mentions she'll be facing off against the women of the UWA, she's quick to let him know that she'd rather wrestle men. In her words, she wanted to be "the lady 'rassler" equivalent of Muhammad Ali. But when asked if she'd ever consider squaring up with Ali, she replies, "No, he's my friend."
Unfortunately, Big Tussie doesn't appear in or near the ring in any of the UWA episodes that have surfaced, but she made several appearances on shows throughout 1976 as the Islanders' domineering enforcer — two decades before Chyna would become a superstar as Triple H's female bodyguard in the WWE. Chyna was briefly allowed to wrestle men and truly flex her capabilities, and it made her a superstar. But Big Tussie was a Black woman in a different era, and despite her desire to wrestle men, she wasn't afforded the same opportunities. Intergender matches are still rare on American television, but they're a regular feature of the modern indies, and it's hard not to wonder who Big Tussie could have been if she'd been allowed to show her full strength. But given her defiant streak, the idea of fixed contests and being told to lose probably didn't sit right with Tussie either. 
After she began her in-ring career, Big Tussie would make another court appearance that received a brief mention in The New York Times. This time, she'd been charged for "disorderly behavior" after reportedly breaking the furniture in a motel room by simply lying down on it. The judge advised her to "keep her chair breaking and bed breaking relegated to the wrestling ring."
Big Tussie died in 2005. If she had come up in a later era of professional wrestling, she could have been a verified hardcore star, breaking tables and light tubes like a fish takes to water.