This article is part of a two-story cover package on Nashville style. See also: Local Looks: 15 standout shops, brands and designers in Nashville.
---
Rae Young
Artist 
Style philosophy
"More is more. If 13-year-old me would like my outfit now, then I'm doing an amazing job."
Favorite pieces
"My vintage kuchi necklace dresses up my most casual outfits. My vintage Irish upholstery corset was the first corset I ever owned, and it started my interest in making custom corsets." 
On Nashville style 
"Nashville is a city that shows little judgment when it comes to style. I've seen the traditional tourist looks, the Jack White and Johnny Cash prototypes, the '90s Harajuku punk-inspired outfits here. Nashville's style is just about being yourself."
Rae is wearing
Corset: Katrina Marie Creative Garb collection; oversized wooden rosary: Rae Young; eye choker: @water_witch on Instagram; shoes: Dr. Martens Jadon; white chemise, beaded coat, scarf: vintage
---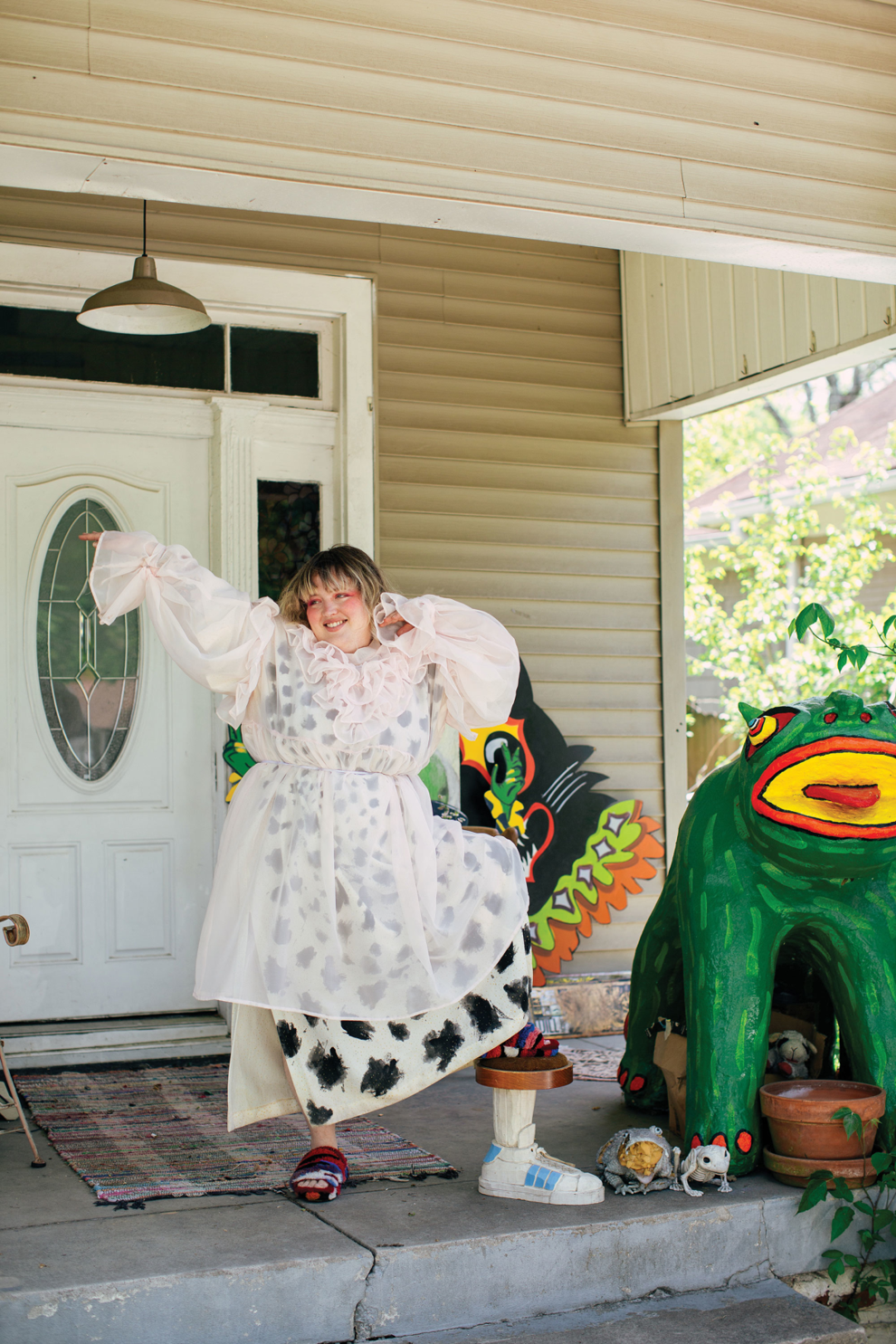 Ellie Caudill 
Artist (Instagram: @pinkpizzza)
Style philosophy
"Stay comfy and bold. Top it off with pink sunglasses. If it's not your vibe, paint it."
Favorite pieces
"The two dresses local designer Rae Young made for me. I was in my brother's wedding and was really struggling with feeling like myself. They collaborated with me to come up with my dream dress that I was also super comfortable in. Very Miss Piggy meets sheer, Victorian cupcake. I felt v Glenda the Good Witch walking the two toddler ring bearers down the aisle. The second dress was meant as a mock-up version, but they decided to go all-in and use this wild clown fabric and red tulle. So now I have two perfect dresses. I'm so lucky . I also love my slime-green plastic Uggs."
On Nashville style
"Being a native, I believe Nashville style, as a whole, has really lost its grit — as has most everything else in this town. Everything has become so polished and uniform. The last decade has really stripped Nashville of its raw essence, and the last couple of years have really tried to suck the last of it dry with the tornado and pandemic. Nashvillians though, the real ones, are warriors. Keep your swords up and your hearts open. Take care of one another. Be loud, be soft, be unapologetically yourself."
Favorite fashion designer, brand or boutique
"Rae Young for obvious reasons. They are the future of Nashville fashion. They are fashion. 
I'm also really into T-shirt brands — @_harch, @timechangegenerator, @cometees, @myfawnwy on Instagram."
Ellie is wearing
Dress: custom-made by local designer Rae Young (@raeyoyoung); dress underneath: vintage from local @anacondavintage, with hand-painted polka dots by Ellie; frog sculpture: local artist Brett Douglas Hunter (@brettdouglashunter); butterfly chair and footstool: local dealer John Baker (@johnboybakervintage)
---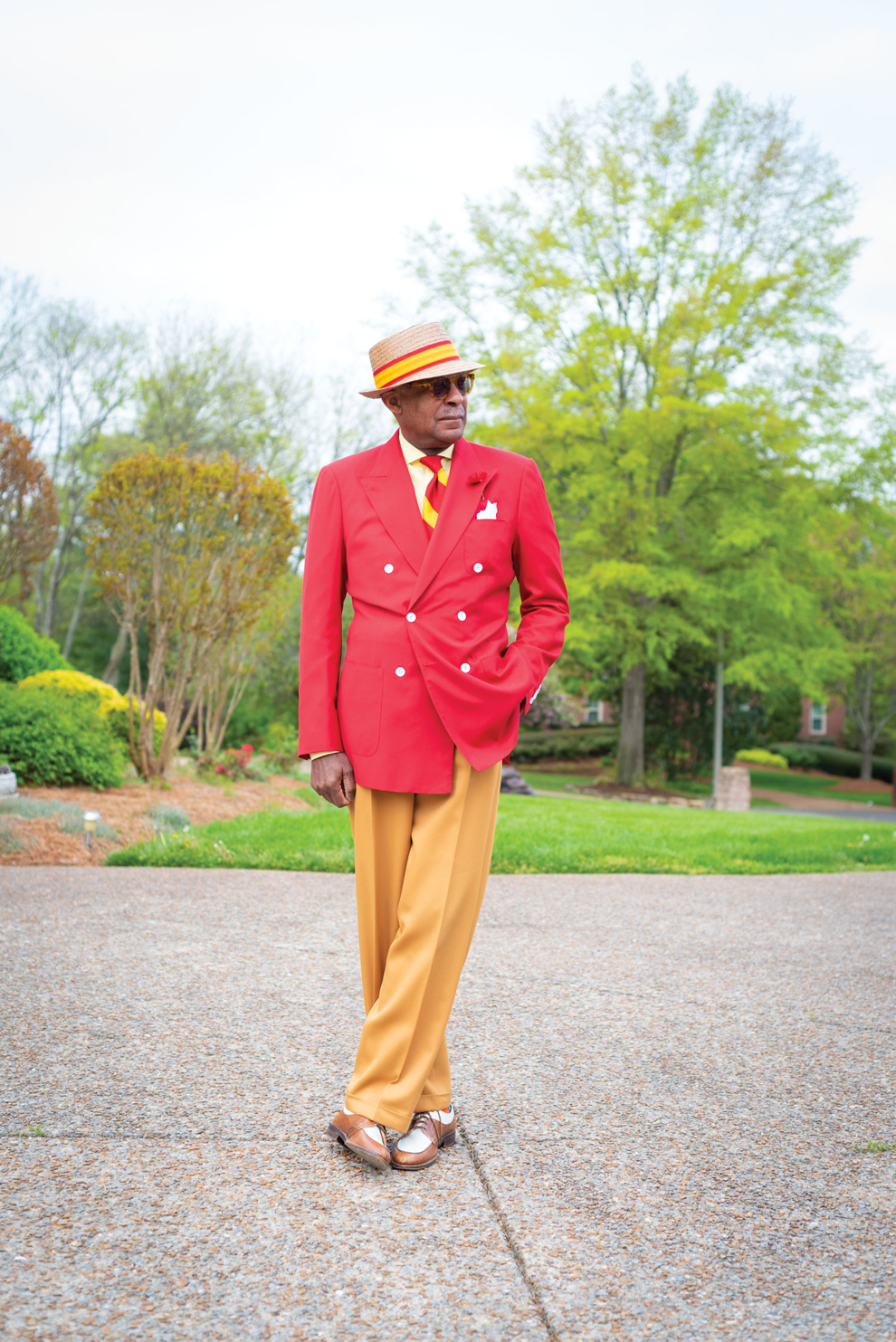 Dr. André Churchwell
Vice chancellor of equity, diversity and inclusion and chief diversity officer, Vanderbilt University; chief diversity officer, Vanderbilt University Medical Center; professor of medicine (cardiology)
Style philosophy
"Know your body's dimensions and your favorite color scheme and build a wardrobe around these factors. I studied Fred Astaire and Gary Cooper and Cary Grant and recognized they found a personal style in dress and never deviated."
On Nashville style
"Nashville is super eclectic — from cowboy style to Savile Row."
Fashion advice
"Dress is as unique a choice as is one's signature — most men don't see it that way, but it is. It also is the first thing the world sees when you are introduced. It is best to begin with a good first impression."
André is wearing
Blazer and trousers: Nandwani's Custom Tailors; shirt: Turnbull & Asser; tie: Paul Stuart; hat: Worth & Worth; shoes: Ralph Lauren
---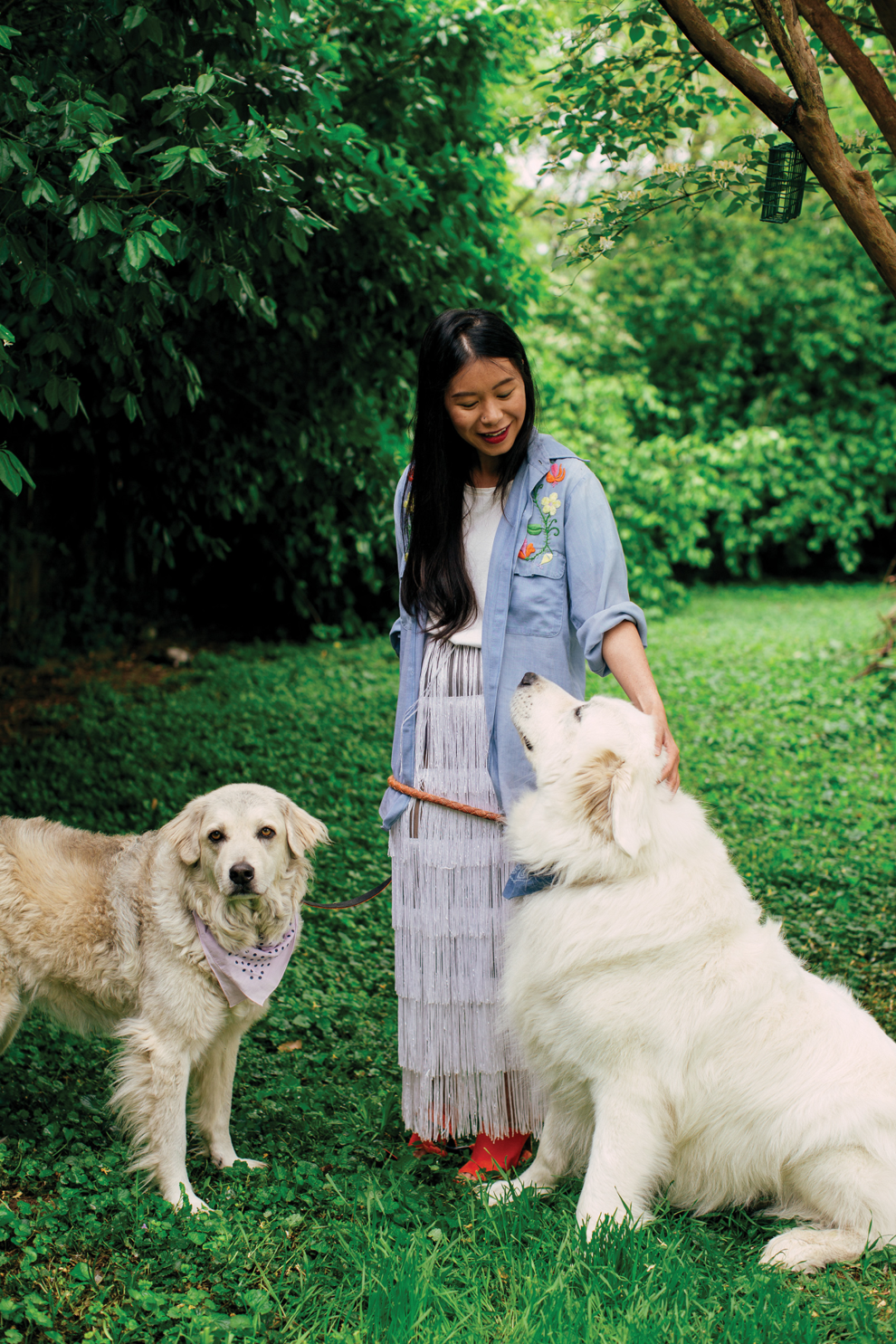 Van Hoang
Designer
Style philosophy
"I don't really pay attention to trends anymore since they come and go. Instead I focus on what I think looks good on my body and what I feel good in. As much as I wish I were a 6-foot model, I'm not, so I really have to pay attention to proportions. I like things that are comfortable, functional (i.e., pockets in everything), effortless and timeless. Wide-leg pants with a flowy top or a comfortable dress and I'm good to go. And I will never say no to a good monochromatic outfit!"
On Nashville style
"I love that Nashville fashion is so unpretentious, versatile, eclectic and personal. Everyone has their own twist that they bring to their style, which makes it unique, and there's an ease to it. You can dress most outfits up or down with a shoe change and no one would blink an eye."
Van is wearing
T-shirt and skirt: her own designs; button-down: thrifted from Closet Case Vintage
---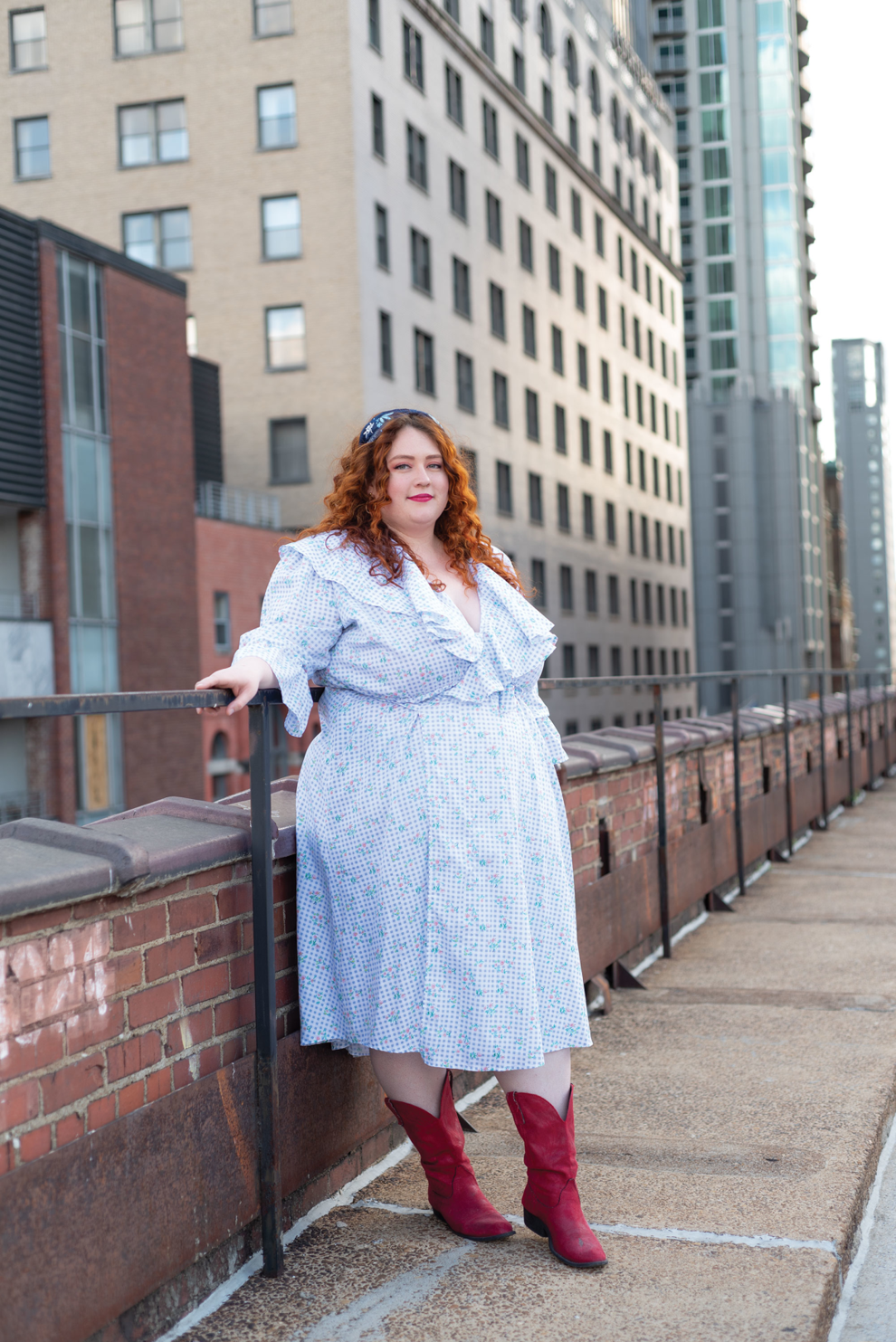 Kimmy Garris 
Fat-positive influencer and body-liberation activist
Style philosophy
"F*$k flattering — wear what makes you feel confident, comfortable and secure in your body." 
Favorite pieces
"I have a pair of orange corduroy cropped pants I bought from Target last fall and wore almost every day for three months. They just looked and felt so good, I couldn't take them off. But some of my all-time favorite pieces have been my dresses I have purchased from Loud Bodies, a Romanian sustainable brand. The dresses are handmade with sustainable fabrics and feel so classic. They're a bit whimsical, romantic and just make me feel good, like I am in a rococo painting."
Inspired by
"Locally, my favorite boutiques are: This Is the Finale, owned by Rachel Carter and located in the L&L Market, which serves up to sizes 3 to 4XL; and Hey Mavens, owned by Annika Chaloff and located in Shops at Porter East. They serve up to a size 6X." 
Kimmy is wearing
Dress: Loudbodies; shoes: Marti & Liz Shoes; headband: Target
---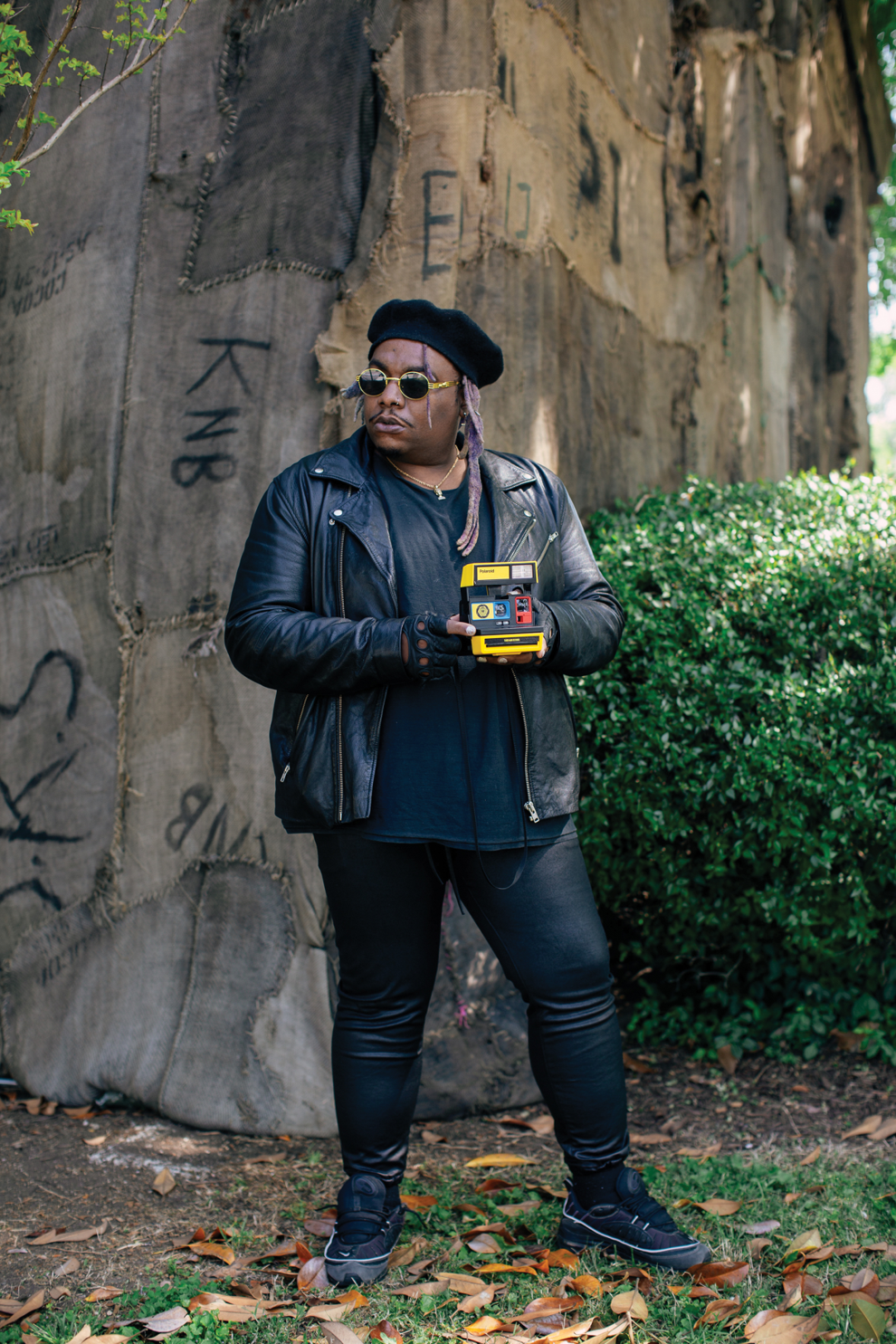 Marlos E'van
Artist
Style philosophy
"To wear it like nobody else can, and nobody else can wear it like me."
Favorite pieces
"Black leather pants and jacket together with a beret and leather gloves, with black Nike huaraches or Air Max 98s. With this look, I'm a biker, rebel, Black Panther and warrior all at the same time. I'm a pretty androgynous person too, so you'll see 'women's' pieces in my collection."
On Nashville style
"I'm not so sure about Nashville style as a whole. I just know that the people I'm close to have their own styles that don't really riff on country Western — we're not really into that."
Favorite designer, brand or boutique
"On Instagram: Ta'miracle (@tc.ragewrld); FUFUHERO (@fufuhero). Online: Cashville, (cashvilleetc.com); Cybelle Elena (cybelleelena.com/shop); FRKO (frkopestcontrol.com)."
Marlos is wearing
Shirt: his own design; shoes: Air Max 97; pants: Nike; Polaroid camera: Third Man Records; shades: Versace 
---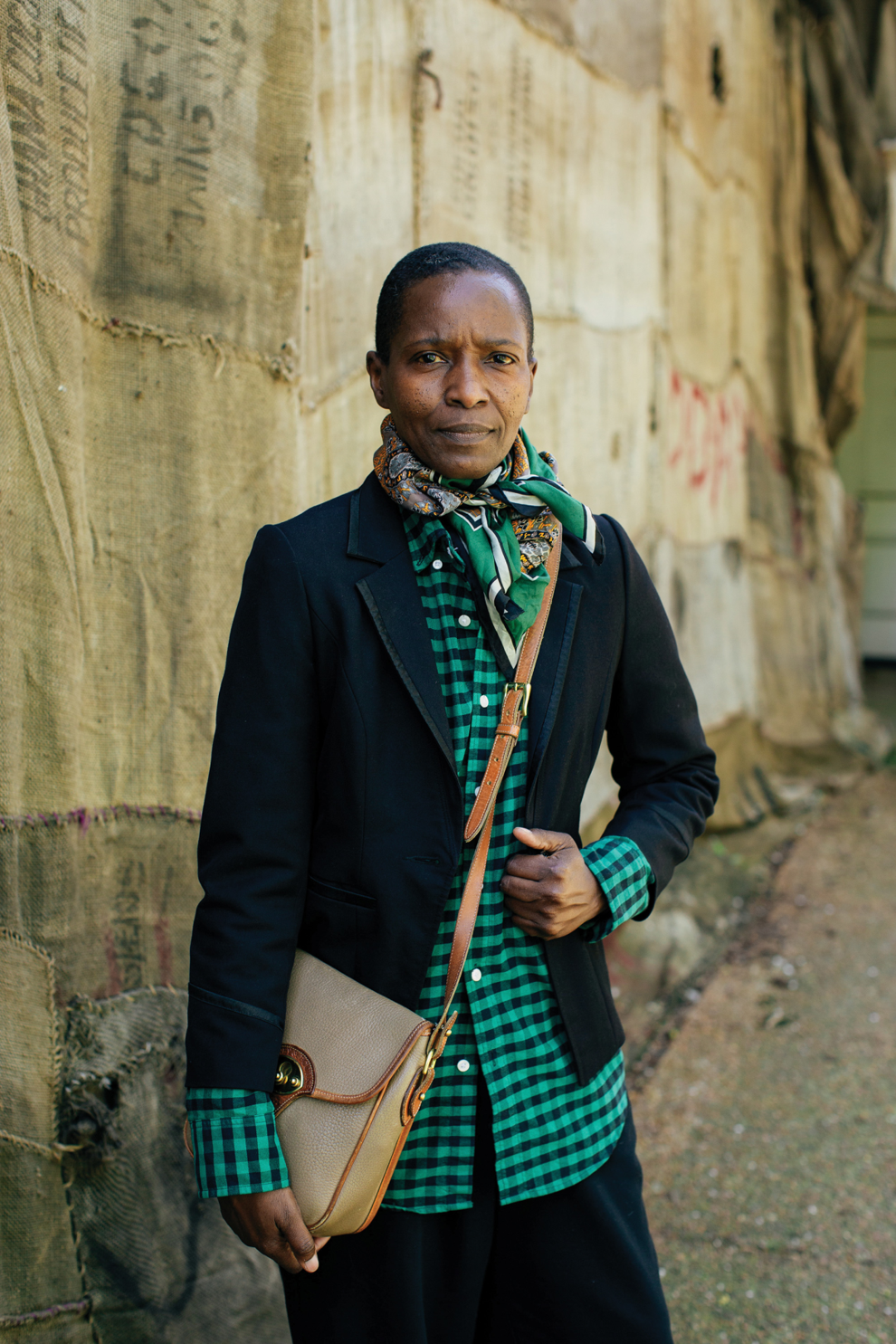 Alicia Henry
Artist
Favorite pieces
"Levi's 505 blue jeans and Dehner boots — classic comfort."
Favorite fashion designer
"Peg and Kris' cotton floral designs and tops — comfort and bold colors."
Alicia is wearing
Shirt: J. Crew; scarf: Anne Klein; jacket: vintage; purse: Dooney & Bourke
---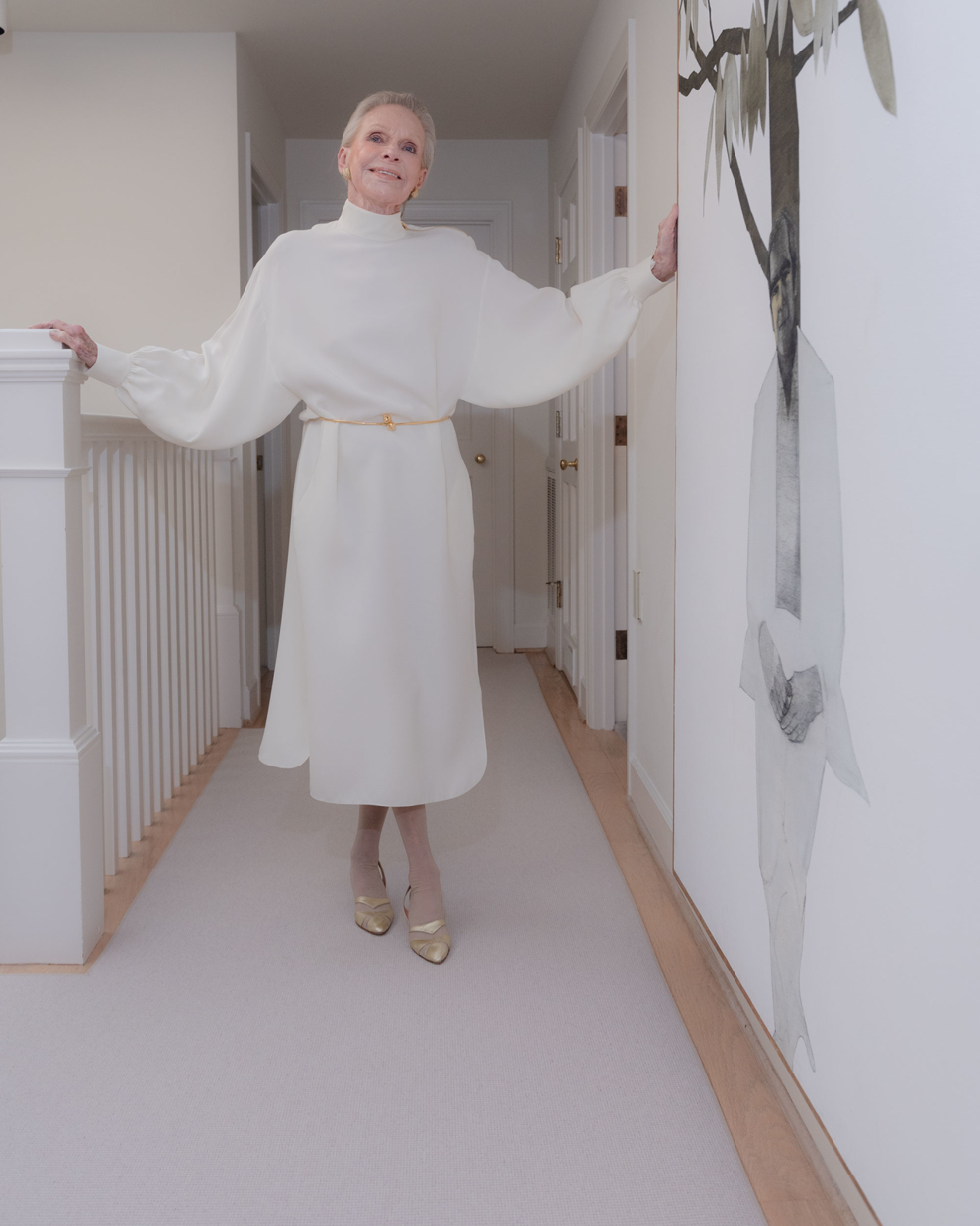 Clare Armistead
Philanthropist
Style history
"When I was young, I majored in fashion merchandising because I've always respected and admired beautiful clothes, pretty clothes, good-looking clothes. I've always liked clothes. Maybe that time is passing in this world. I don't know if many people are as interested now [in fashion] as they were, which must be hard on the manufacturers and the designers. I think people have gotten very casual, to put one adjective on the subject, about what they choose to wear. … I'm an old lady and I don't go everywhere and I don't see everything, so I may be missing something, but I don't see the same interest in fashion as there was when I was growing up. I mean, it was sort of a great big deal then."
Style philosophy
"My clothes, I feel, are very simple and mostly things with pretty fabric and simple design. If there's something quirky, I like that too sometimes, just for the fun of it."
On Nashville style
"I don't think that Nashville has a style that's peculiar to itself other than the folk and the country aspect of it, which I consider more of a way of dress than I would describe it as fashion."
Clare is wearing
Dress: St. John belted silk georgette dress in alabaster
---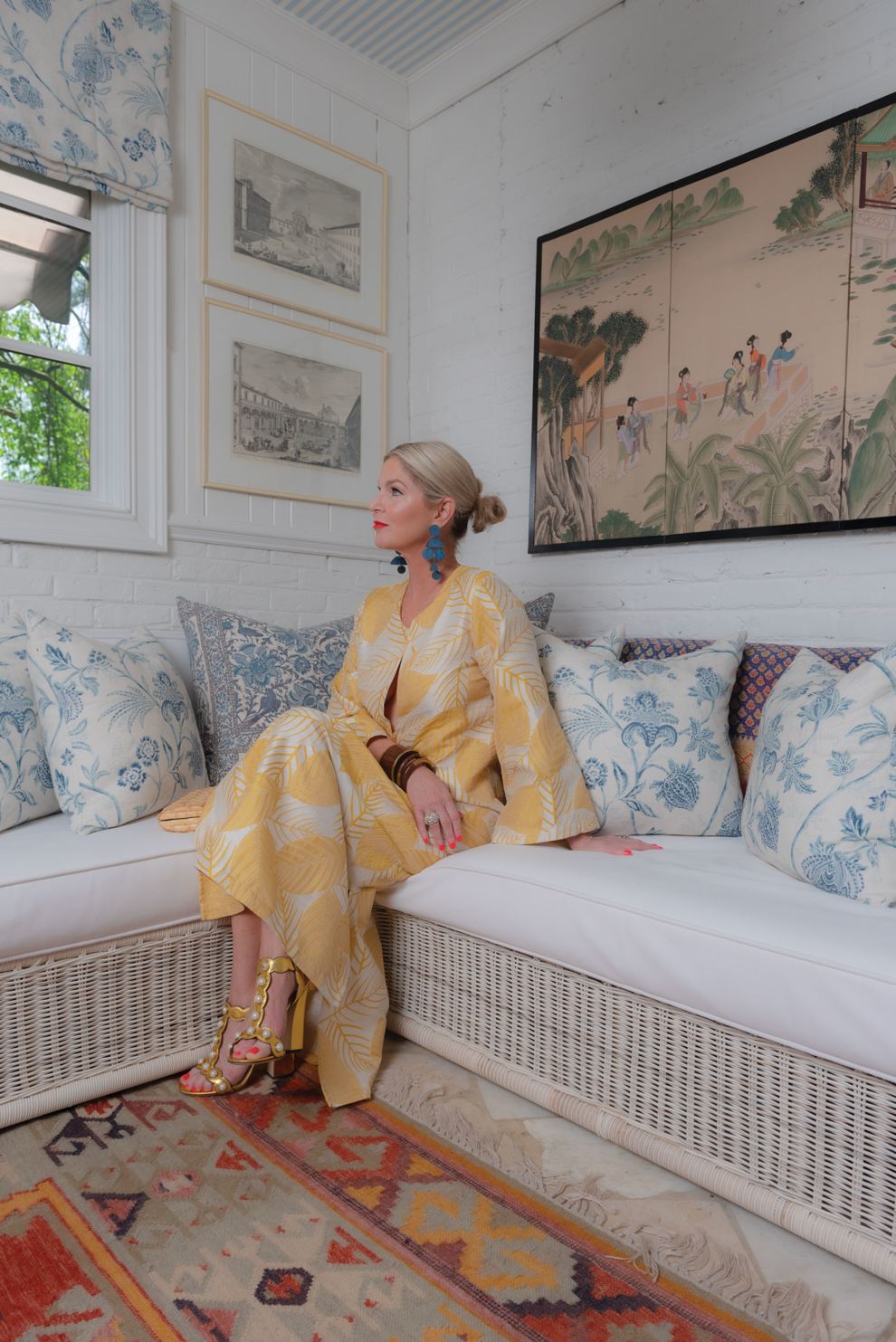 Gen Sohr
Owner, Pencil & Paper Co.
Style philosophy
"Your style tells your story! Find what you love and stick to it. For me, that's color and pattern mixed in unexpected ways, always with a dash of vintage surprise!"
On Nashville style
"The thing that really stands out to me about Nashville fashion and style is the incredible sense of community. I have watched Nashville's style grow and evolve over the last 20 years with an incredible influx of people moving to Nashville from other cities. I love to see how our little city has embraced this diverse mix of styles and people and has helped Nashville to become a creative hub!"
Favorite pieces
"I always appreciate a great vintage score, because you know that you're not going to show up at the party in the same dress as someone else! I have amassed quite a collection of pattern-filled vintage dresses that are so beautifully made and bring me so much joy. And I'm such a lover of pieces that tell a story and are filled with special memories. I absolutely treasure my father's chunky gold high school initial ring (we have the same initials: G.G.), and my grandmother's charm bracelet filled with charms from her life's travels. Plus, the most fabulous hand-embroidered Valentino palm tree dress that I scored at UAL for a song!"
Inspired by
"I adore the magical designs of Pierpaolo Piccioli for Valentino. His eye for color and the never-ending ability to create surprise and delight are extraordinary! And if you're really lucky you might find a Valentino treasure at UAL too."
Gen is wearing
Caftan: Sarah Bray Bermuda; earrings: Annie Costello Brown; shoes: Gucci; bracelets: vintage
---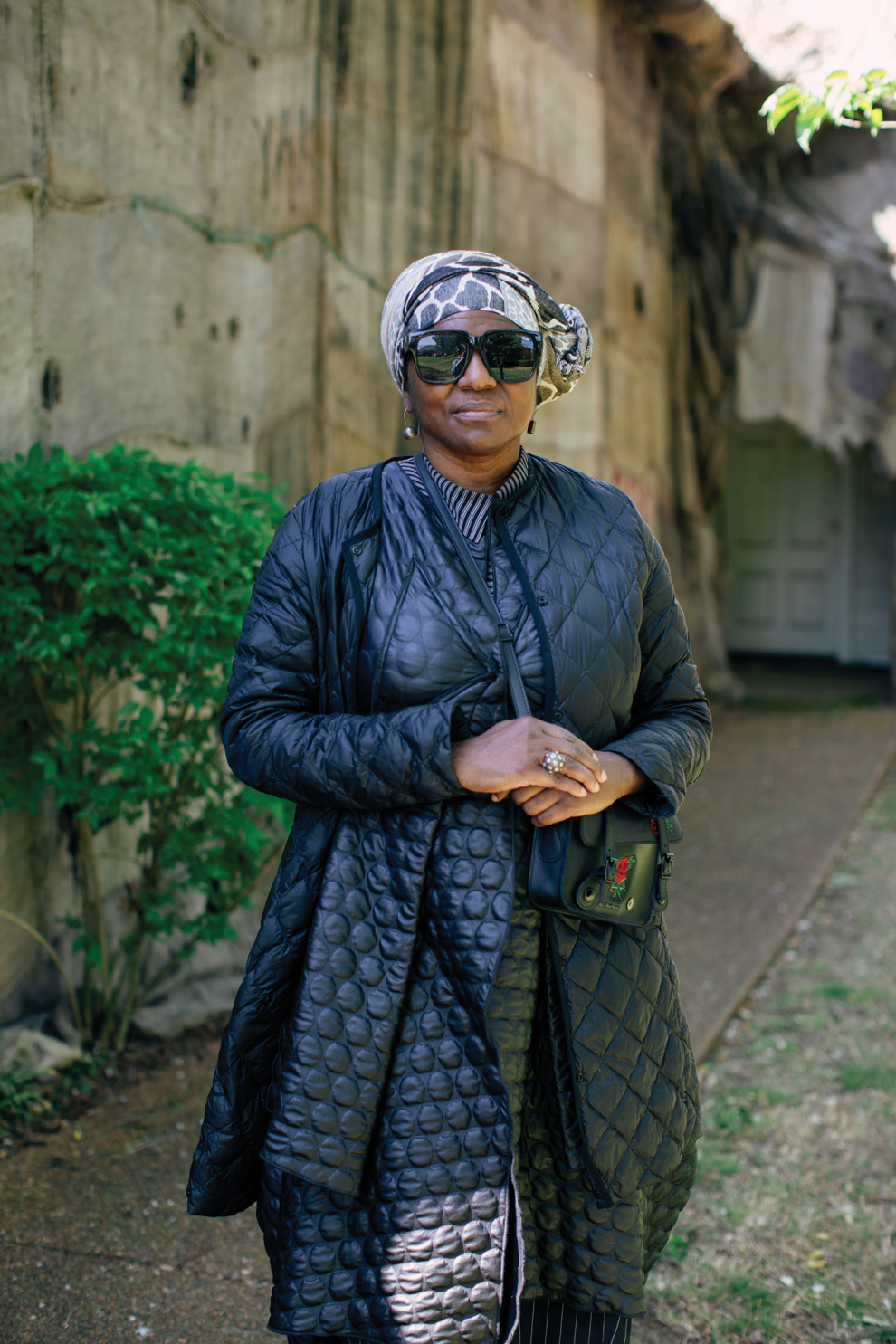 María Magdalena Campos-Pons
Artist, Cornelius Vanderbilt Endowed Chair of Fine Arts; founder of Vanderbilt's Engine for Art, Democracy and Justice 
Favorite pieces
"No favorites — it depends on the occasion. Everything in my closet is carefully selected — I consider dressing a social responsibility."
On Nashville style
"Nashville is an elegant city, very idiosyncratic, and from what I have observed, design matters here. I love that."
Favorite fashion designer
"Pants from Sun Kim, dresses from Zuri. Marimekko dresses are unique, simple, relaxed, beautiful."
Maria is wearing
Blouse: StyleWe; vest: Heydari; jacket: Uniqlo; boots: Dr. Martens