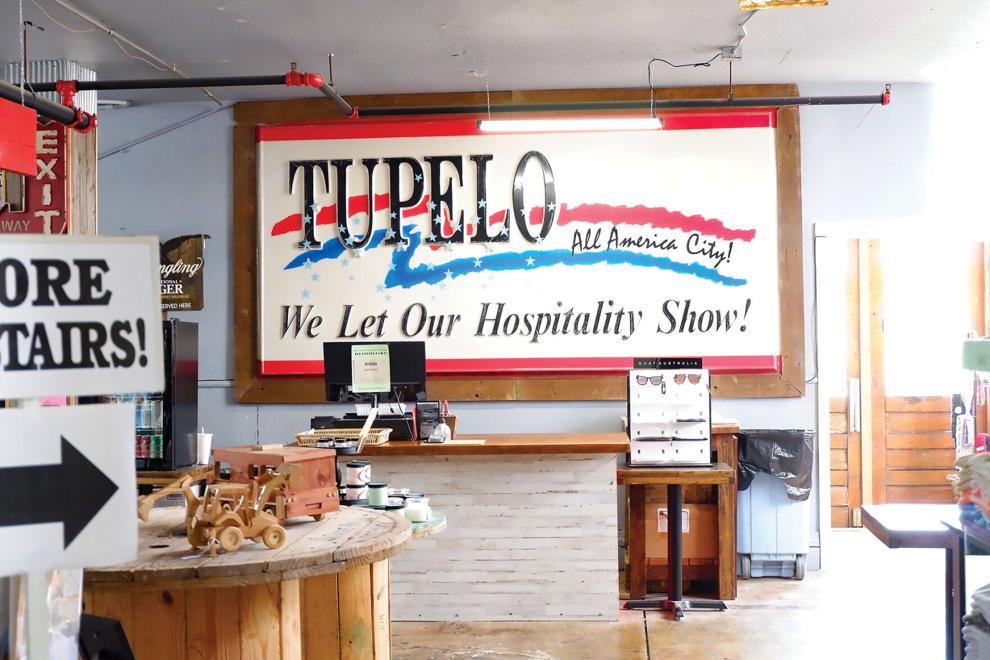 Half the reason I opted to make my road trip destination Tupelo, Miss., was to travel the Natchez Trace Parkway — a historic stretch of two-lane road that winds its way from Nashville southeast to Natchez, Miss. The parkway generally follows the Old Natchez Trace, a forest trail trod centuries ago by prehistoric animals, further blazed by Native Americans and later utilized by white settlers.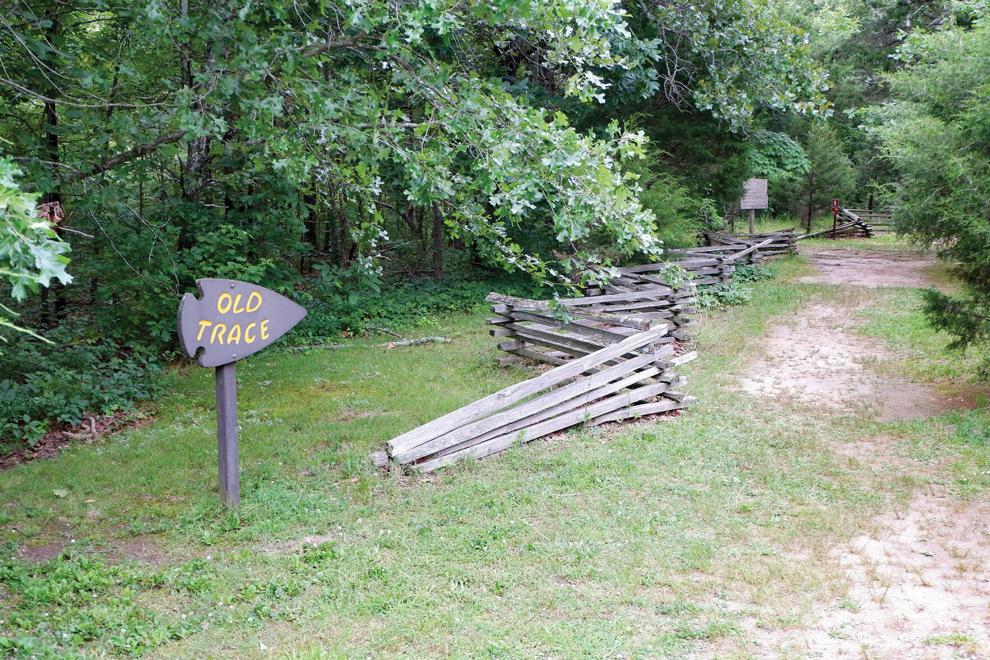 Natchez is the very definition of a scenic drive, immaculately maintained and peppered with roadside stops for vistas and historic sites. Up near the Nashville end you can find the final resting place of famed explorer Meriwether Lewis, who either killed himself or was killed by some unknown assassin in 1809 while making his way toward Washington, D.C. A memorial was erected to Lewis at his death and burial site near milepost 385, and it remains a popular stop for travelers. On my visit I noticed that an anonymous patriot had left a pocket compass and small American flag as tribute on one of the stones of the monument.
Down closer to the Tupelo end of the trace you'll find the Pharr Mounds — an archaeological site featuring eight domed burial mounds created by nomadic Native Americans some two millennia back. It's awe-inspiring to look out over the Pharr site and consider all the history and culture that existed long before European settlers came to the continent. It'll give you something to think about as you make that final stretch of the drive into Tupelo. 
Stay
The boutique-hotel boom hasn't yet made its way to Tupelo, meaning if you're looking to stay in a hotel while you're there … well, it'll probably have to be a Holiday Inn or Comfort Suites. But don't do that. You can search Airbnb or Vrbo for vacation-rental properties in and around the city, of which there are many. If you're willing to make a 20- to 30-minute trek, nearby New Albany, Miss., has some really lovely spots to stay — including the Concord Inn, a 150-acre country estate with several different suites on the property. My partner and I spent a recent weekend in the Concord's guest house, and with its various amenities (swimming pool, extensive cable channels, nearby cows and an ancient Labrador who might sniff around your quarters), we found it hard to leave.
But if you want to be closer to Tupelo's sites, find a spot to stay in the city's Fairpark district, where cute cottages and bungalows abound.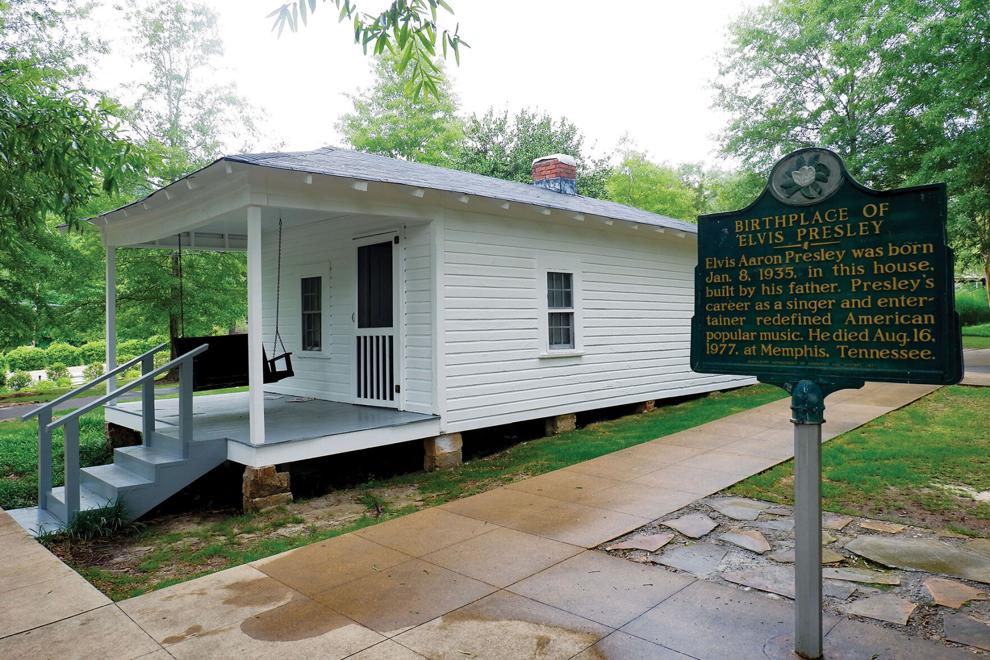 Do
Elvis, Elvis, Elvis. Elvis Presley. Have you heard that The King was born in Tupelo? If you didn't know before, you will the moment you set foot into town, with its various Elvis-themed murals and tours and historical markers. Many people make the trek to Northern Mississippi for this reason alone, and if you're a true fan, there are plenty of sites and experiences to take in. King among those (pardon the pun) is the Elvis Presley Birthplace, a museum and visitor center erected at the location where the future icon spent the first four years of his life. You'll find little tidbits about The King's childhood if you buy tickets and tour the Elvis Presley Museum and Memorial Chapel, but if you're moderately or less-than-moderately interested, you can also get a quick look at the grounds, shake hands with the "Elvis at 13" statue and move on to other local attractions.
When I made my way to downtown Tupelo on a powerfully hot Saturday morning, I spotted a fat ginger cat sleeping in the window of an attorney's office near the corner of Court and Broadway. On that same block is the Lee County courthouse, with a memorial to Confederate soldiers languishing in its lawn. These are the two sides of the American Deep South — the one we love to remember, and the one most of us would like to forget.
Tupelo has many options for folks looking to go antiquing or shopping for media. Relics Antique Marketplace features two stories of vendor stalls full of furniture, quilts, comics, records, action figures, vintage clothes, jewelry, books, art, novelties, Elvis memorabilia (naturally), big-ass pine cones and more. Ole South Antiques has particularly good antique picking. Like Relic, it's full of vendor booths featuring glassware, quilts, records, furniture, antique toys, pins, bottles, brooches, picture frames and military memorabilia. You name it. If you want to do some crate-digging or book-flipping, Greatest Hits is a fantastic repository of books, comics, records, tapes, memorabilia, art and vintage and antique wares — not to mention the largest assortment of DVDs I've seen in some time, and a genuinely strong record selection.
Then, of course, there's the eats. Everyone will tell you to eat at Neon Pig Cafe, and everyone is pretty much right. Both a butcher shop and a restaurant, Neon is the spot for a burger — specifically the Famous Smash Burger, made with Benton's Bacon mixed in with the grind. Sloppy and served on butcher paper, I'd call it a must. At the very cute coffee and dessert shop Crave, there's almost no ceiling to how decadent you can go — crème brûlée, chocolate cake and something called an Oreo Avalanche. It's also got a rock-solid cup of coffee and one of the better blueberry muffins I've had in recent memory. Strange Brew is a nice, bright little coffee shop in a former filling station with some baked-good and sandwich options. Nightlife is somewhat limited in Tupelo, but Amsterdam Cafe — a Palestinian-owned restaurant, bar and karaoke spot that offers shawarma, gyros and pizzas — was buzzing with activity on a recent Saturday night. And then there's Blue Canoe, a bar and live-music venue that stays open later than just about any other spot in town and has a good beer list and friendly clientele. Canoe also offers a "Nashville Hot" spicy crab sandwich if you're feeling adventurous and/or homesick, but we went with a very good (and incredibly sloppy) fried bologna sandwich with some "crack dip" cheese fries, and that hit the spot.
For a different sort of experience, the Tupelo Buffalo Park and Zoo offers a drive-thru that allows visitors to feed ostriches, zebras, bison, mini horses, camels and more. Just pay for a ticket and a bucket of feed, and roll through the grounds with your windows down — the animals will come to you. (Especially one particularly large, hungry and slightly rude camel, in my experience.) And if you're looking for an extraordinarily quaint spot to take a stroll, the downtown area in the aforementioned New Albany is impossibly charming. Two parts Mayberry and one part Pleasantville, there's a little strip of shops and restaurants near the Tanglefoot Trailhead — including Brain Freeze, possibly the most adorable frozen yogurt bar south of Nashville, where you can get a tasty dessert known as a "hot bottom." Nearby is the birthplace of literary icon William Faulkner — just a small, unassuming brick house with an inconspicuous historical marker out front. My partner and I happened across it completely by chance — just the sort of happy accident the Deep South loves to reward you with, if you go at your own pace and let a casual weekend afternoon take you where it will.