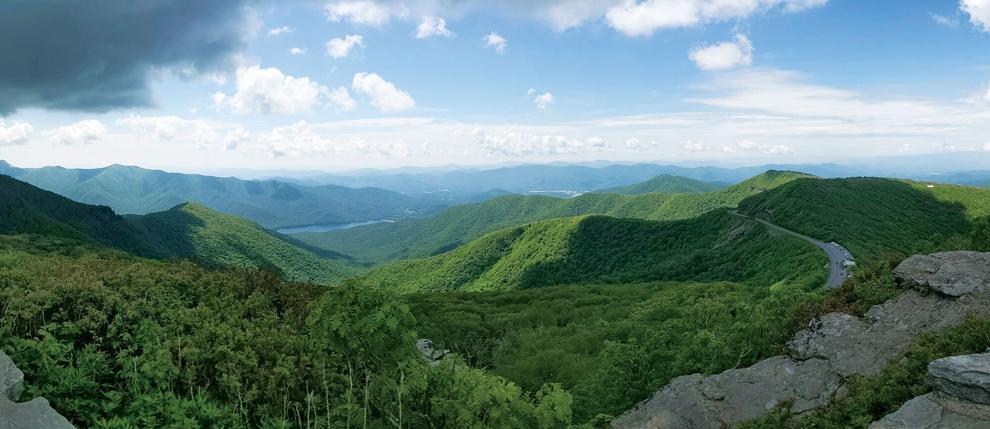 The Blue Ridge Parkway is a massive stretch of road snaking its way through mountains, across North Carolina and into Virginia. You could probably plan a whole summer exploring the various parks, trails and towns that dot the parkway. But for shorter excursions, you can also pick one of the four districts it's divided into and go from there.
The southernmost section is the Pisgah Region, contained entirely in North Carolina, and that's where my partner and I headed for the weekend. The Blue Ridge Parkway's official website is full of planner tools, suggested itineraries and even an interactive map, so be sure to check it out — especially since GPS and cell signals can get wonky out there. It's a useful starting point, but once you get on the road you'll likely find views, trails and more that interest you, so play it loose and enjoy the mountain air.
---
Stay
The headquarters of the Blue Ridge Parkway is Asheville, N.C. The town's popularity has boomed in recent years, thanks to a slate of offerings for outdoorsy and indoorsy types alike. There's no shortage of options for hotels and short-term rentals, but my partner and I decided to sorta-kinda rough it at the Campfire Lodgings campsite just 16 minutes from downtown Asheville. We checked in, drove to our designated site and set up a tent.
Campfire has other options, including yurts, cabins and spots for RVs. If you're a party of six, you could even rent out the Cliff House. The campground has a few hiking trails and a gorgeous outlook where you can take in some mountains and a river. As close to the city as you are — you can hear Asheville traffic and revelers leaving the downtown bars in the wee hours — you're still pretty close to nature, so be cautious. We were warned a family of bears lived on the mountain and would scrounge around for food at night. They weren't aggressive but would go after coolers and boxes. Other wildlife visitors to our campsite included lizards, hares, butterflies and a doe.
---
Do
Asheville offers easy access to state and national parks as well as smaller camping and hiking spots by driving the Blue Ridge Parkway. You could spend hours just driving around, taking in views and stopping at various overlooks. If you're not inclined to stop every few minutes to take a photo, you should still be sure to switch out driving duties so you can at least enjoy the views from the passenger seat.
When choosing trails, we kept our hikes on the easy side. Heading north on the parkway, you can travel to the Craggy Gardens. Many of the signature rhododendrons unfortunately weren't in full bloom (it looked like they'd peaked a couple weeks earlier), but the trees at the top were still quite impressive, framing picturesque mountain views. Drive one minute further, and you can also find an easy path to the Craggy Dome Overlook, which offers terrific views of the mountain ranges in each direction.
Less than an hour south of Asheville you can visit Mount Pisgah — drive right up to the summit or park at a trailhead of your choice. We parked at the Buck Spring Gap Overlook near the summit, and hopped onto the trail of the same name for a one-mile hike to the Pisgah Inn. The trail had some steep spots but was well-maintained — probably a good warmup for experienced hikers or any adventurers who have some extra energy they'd like to expend. It also had some rhododendrons that were still in bloom and healthy, plus a cool section of trees curving to form a tunnel. At the end of the trail you reach the Pisgah Inn, which also features an impressive observatory deck and restaurant. While there's a special magic to more natural overlooks, sitting in a rocking chair with a perfect view of the mountains was a nice reward after a short hike. If you're looking for waterfalls or for more challenging hikes, you can also explore elsewhere in Pisgah National Forest.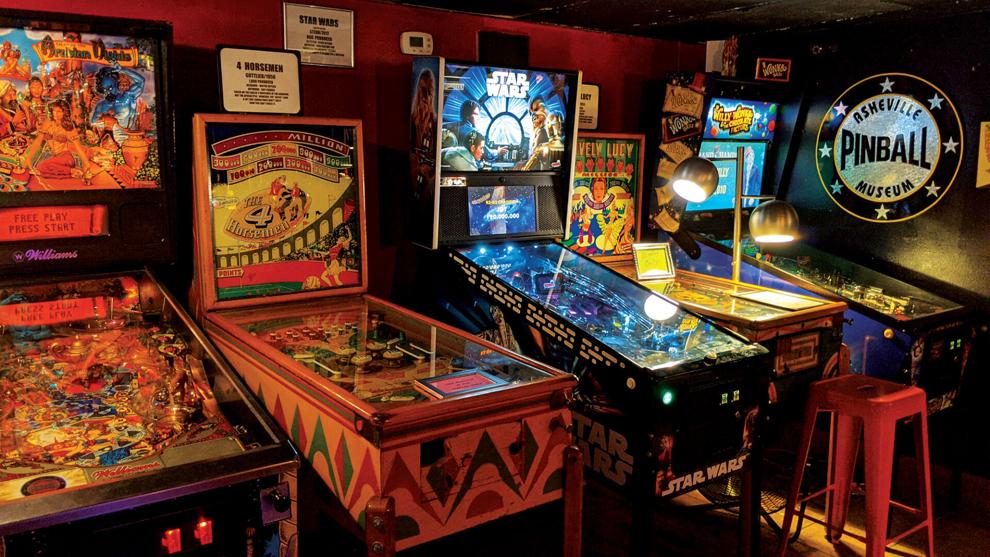 After a day of driving and hiking, you can unwind with an evening in downtown Asheville. There are plenty of museums, but one of the more interactive would be the Pinball Museum of Asheville. The museum features classic pinball machines (including some rare ones that are display-only) and newer games as well, plus some arcade cabinets in the back. For a $15 ticket, most of the games are free to play, and you can grab a snack or drink while you try to thwart Darth Vader and the Evil Empire one pinball at a time.
Outside of downtown, you can visit Grovewood Village, a collection of museums and art galleries that also makes for a good day trip on the way in or out of town. Various sculptures — including spinning flower-like wind sculptures made of steel — dot the strip of land. The Estes-Winn Antique Car Museum features two rows of classic vehicles, packing a lot of history into the small former mill, while the nearby Grovewood Gallery features lots of unique sculpture, jewelry, furniture and more (much of which was for sale). Nearby is the historic Grove Park Inn, an impressive hotel made of stone that features a terrace overlooking the golf course.
You'll need fuel for all that hiking, and Asheville's restaurant scene has you covered. For breakfast, hit up Liberty House Cafe for the sourdough pancake — perfectly crispy outside and fluffy inside, full of juicy blueberries — or the breakfast sandwich, a not-too-crumbly sausage with egg, cheese and sauce on a dense muffin that won't get soggy or hard to handle. For dinner, one of our most memorable meals was at the small-plate restaurant Red Ginger Dimsum and Tapas. The Red Ginger Tuna Tataki was a few slices of perfectly seared fish in a punchy ginger dressing, while the pork spare ribs were chewy and savory. For dessert, you can head to French Broad Chocolate Lounge, or if there's too long a line, hit up their boutique around the corner — I recommend the beer-infused bon-bons, which perfectly paired chocolate flavors and styles with local brews.
Speaking of beer, there's no shortage of breweries in Asheville. If you're looking for food or have a big group, try Wicked Weed's sprawling spot just south of Patton Avenue. Their Watermelon Dragonfruit Session is a great tart summer drink (and has made me far more receptive to sours), as is their signature Pernicious IPA. It's a great way to get off your feet, whether you've been summiting mountains or hoofing it around town.